We love picking fresh cucumbers and munching on them straight from the garden every day during harvest time. They have the perfect crunch and cool, mildly sweet flavor that is hard to resist. These vegetables are easy to produce, and we'll show you how to grow and when to harvest cucumbers and make dill pickles for long-term storage.
There are so many varieties of cucumbers. There are slicing cucumbers perfect for sandwiches, Armenian and lemon cucumbers for salads, gherkin and pickling cucumbers, and heirloom white wonder cucumbers.
With so many cultivars, it's no wonder this veggie is a favorite for gardening. The only downfall of growing cucumbers is that these plants require a good amount of space unless you choose a bush variety.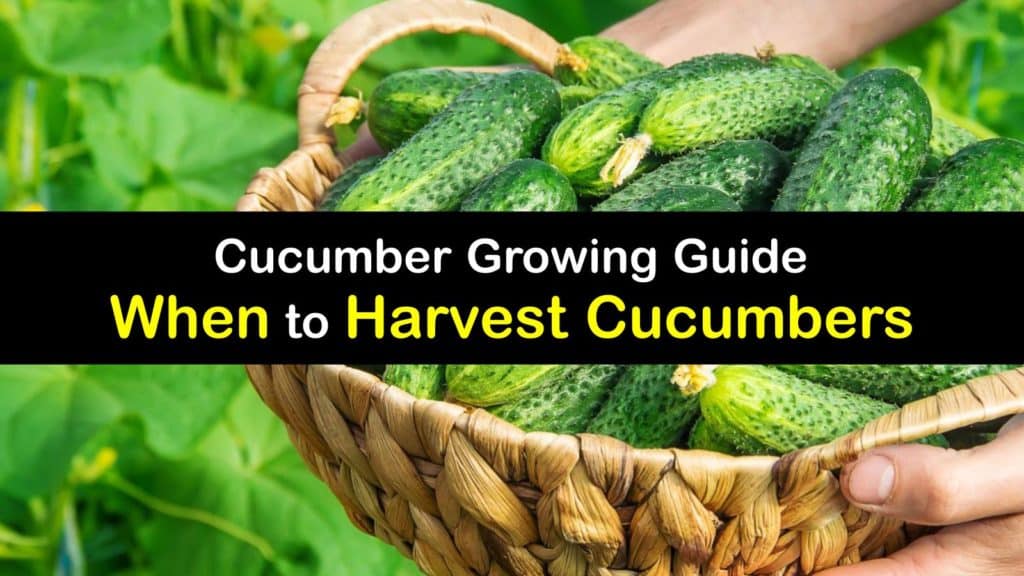 Growing, Harvesting, and Pickling Cucumbers
Whatever cucumber plants you prefer to grow, providing them with the right amount of sunshine, water, and food, rewards you with an abundance of fruits at the end of the growing season.
If you've never grown cukes before, you undoubtedly have many questions. Where is the best place to grow them, and how long do I have to wait to harvest them?
Learn how to grow cucumbers and give them the care they need, when they are ready for harvesting, and how to pickle them. Just like with all veggies, cucumber picking season varies from onion harvest season, along with gourds and eggplant. It depends on what you grow, the variety, and type of veggie.
What to Know about Growing and Harvesting Cucumbers
How long do cucumbers take to grow? It all depends on whether you start them from seeds indoors or young plants from the garden center. Which type of cucumber you grow also plays a factor in the growth rate.
There are two different types of cucumbers, vine and bush. Cucumber vines take up more space and are best grown in a garden bed, while bush cucumbers grow well in a raised bed and containers.
Slicing types have thin skins ideal for fresh eating, while pickling cukes have tough skin, making them perfect for preserving.
Burpless cucumbers are a popular choice among garden growers. Burpless varieties include Diva, Early Pride, Ashley, and Bush champion.
They contain little to no cucurbitacin, the compound responsible for bitterness. To avoid dealing with a bacterial and fungal disease on your plants, consider purchasing disease-resistant varieties.
Cucumber plants have both male flowers and female flowers and require bumblebees, honey bees, and other pollinators to produce healthy fruit.
Without pollination, the cucumbers do not grow or grow slow and deformed. However, it's simple to hand-pollinate the flowers yourself by using a Q-tip.
How Long Does it Take for Cucumbers to Grow in the Garden?
How long does it take for cucumbers to grow? Their growth rate ranges for a variety of reasons, including when to plant cucumbers in your hardiness zone. Are they vining or bush cucumbers? Did you start them from seeds or plants? We explain the growth rate for cucumbers and how long you have to wait before harvest.
Cucumber Growth Rate
If you grow them from seed, expect to wait about three to ten days before germination.
It then takes about 35 to 55 days to develop flowers and up to 70 days before you begin harvesting cucumbers. However, if you grow young cucumber plants in the garden, the process is faster.
How to Grow Your Own Cucumbers
Growing cucumbers is a great way to fill your kitchen with fresh cucumbers at the end of the growing season, especially if you are into organic foods. Here is how to grow cucumbers from seed indoors and plant seedlings and nursery plants in the garden. Growing cucumbers in a pot inside or out on the patio is also an option.
If you're starting your plants from seed, begin planting them indoors six weeks before the last frost. Follow the directions on the seed packet, fill a seed starting tray with dirt, and press a seed one inch beneath the soil of each compartment.
Cover them with dirt, spray them with water to dampen the soil, and then set the tray in a sunny windowsill. Once the seedlings have three to four true leaves, it's time to plant them in the garden in an area where they receive five hours of full sun daily.
Make sure to space cucumber plants six inches apart, with rows three to four feet apart. After planting, water them thoroughly to help the roots settle and spread mulch around them to retain moisture.
Feed the plants with a well-balanced fertilizer once they produce blossoms. If the cukes are vining plants, install a six-foot-tall trellis.
How long does it take for cucumbers to grow? At this point, it takes roughly 50 to 70 days for them to mature, depending on the type.
What to Watch for While Waiting to Harvest Cucumbers
Unfortunately, plants deal with various issues in the garden, including diseases and pests.
And, having your cucumber crop fail after going through the work of planting and nurturing it is devastating. Here are some problems to be aware of when growing cucumbers.
There are many fungal and bacterial diseases that plaque cucumber plants, but some are more common than others.
Powdery mildew is a fungus that favors damp and warm conditions and overwinters in plant debris. It is present when you notice a white powder on the foliage.
Downy mildew is one of the cucumber plant leaf problems that is more prevalent in warm and shady areas but doesn't survive cold weather. It causes the yellowing of leaves and fuzzy, dark gray spots. A fungicide works well to kill both downy and powdery mildew.
Another problem cucumbers deal with is insects, and some of the most bothersome are cucumber beetles and aphids.
Both of these bugs eat the leaves and flowers and stunt plant growth. The fastest way to eliminate these garden pests is to remove them by hand or use natural or commercial insecticides.
How and When to Harvest Cucumbers
You go through the effort of growing cucumber plants and watch them grow foliage and flowers while waiting impatiently for ripe cucumbers to appear. So, when is cucumber harvest time, and what's the best way to pick them?
Check the seed packet for your cucumber type for the number of days until harvest and fruit size. Cucumber plants develop flowers which then grow into a small cucumber.
As the fruits mature, they turn dark green, or sometimes white or yellow, depending on the cultivar, and quickly grow to the proper size.
At this point, harvesting cucumbers is easy. Pick cucumbers for sweet pickling, such as gherkins, when they are two inches long, and harvest cukes for dill pickling when they are about three to four inches.
For slicing cucumbers, pick them when they are seven to nine inches in length. To harvest cucumbers, put on a pair of gloves, since some cucumbers are prickly, and use pruners or a knife to remove the fruit from the vine or stem.
Make sure to leave a one-inch section of the stem on the end of the cucumber to help it last longer during storage.
While harvesting cucumbers, handle them gently since the burpless types bruise easily. It's easy to learn how to know if a cucumber is bad. Overripe cucumbers turn yellow and become bitter and are usually not fit for consumption.
How to Pickle Cucumbers from the Garden
Now that your table is overflowing with thick-skinned cucumbers, you have to figure out what to do with them all. Can you freeze whole cucumbers? What can you do with cucumber slices? Why not make dill pickles? Pickling is a great form of preservation, and a jar of pickles lasts six months to a year.
Here is a basic pickle recipe that is easy to spice up with your favorite seasonings and veggies.
Begin by boiling a tall pot of water and sterilizing the jars and lids in the boiling water for ten minutes. Wash and dry the pickling cucumbers, trim the stem end, and cut them into desired slices or leave them whole.
Put two smashed garlic gloves and one teaspoon of dill seed into each jar and pack in the cucumbers as tightly as possible, leaving a half-inch of headspace.
Combine the water, vinegar, and salt into a saucepan and bring the brine to a boil before pouring it over the canned cucumbers. Submerge the cukes with brine, leaving a half-inch of headspace, and tap the jars to remove air bubbles.
Fill a tall pot or water bath canner with water and bring it to a boil. Position a lid on each jar, screw the rims on finger tight, and set them in the boiling water.
Bring the hot water back to a boil and let the pickles process for five minutes before removing them from the water.
Let them cool completely, make sure the lids are sealed, and store them in the pantry. Keep any jars that did not seal properly in the fridge and eat them first.
While cucumbers have high water content, they have zero fat and are a good source of vitamin K, making them a good addition to your diet.
Their crunch and flavor make them hard to resist in a salad, and a sandwich isn't complete without a dill pickle at its side. Fortunately, these veggies are easy to grow, and harvest time keeps your kitchen well stocked.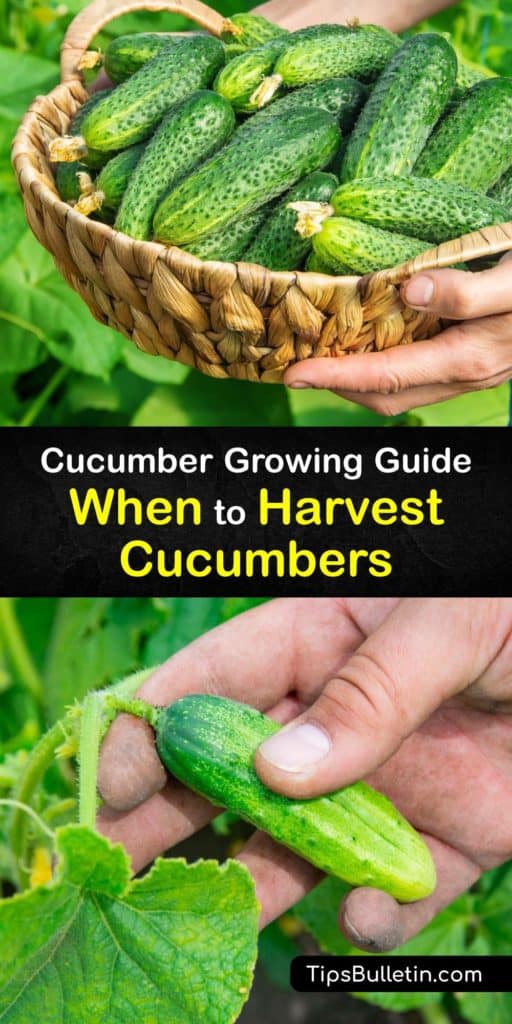 Now that you know how to grow your own cukes and when to harvest cucumbers from the garden, why not share our cucumber growing and harvesting guide with the veggie-lovers in your life on Pinterest and Facebook?