Onions aren't going to make you shed a few tears until you actually get them into the kitchen. There is nothing worse than harvesting your crops at the end of the growing season, only to find out that the crop barely produced anything. The timing for when to harvest onions is a little flexible, and you'll have so many that you won't know what to do with them all.
Onions are an incredibly high-yield crop. A small one-square-foot space is enough to grow between 20 and 50 onions. Still, knowing how to harvest onions could affect how many you get to use.
Harvesting onions is something that anyone can learn. After you do it once, you'll remember how to do it every growing season for years. When are onions ready to harvest? Of course, all onions are not made equal, and the onion varieties you work with determine when they are ready to be removed from the ground.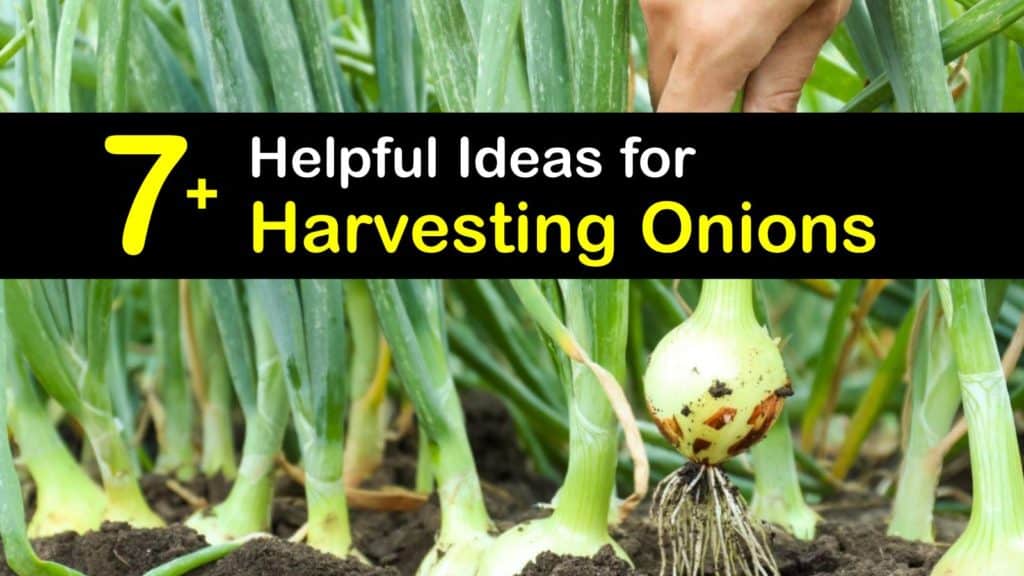 Different Types of Onions
Onions are alliums and close family members with chives, leeks, shallots, scallions, and garlic. Knowing when to harvest onions depends on the type you grow. Onion crops are grown from seeds, sets, or transplants.
If you're looking how to grow onion sets, they are young, dormant bulbs grown during the previous year. If you grow them from seeds, they take nearly five months to mature. Onions sets are much easier to plant compared to seeds and transplants because of their shallow root systems.
Other than the different ways to plant onion crop, there are also two types of plant growth. These crops are considered either bulb onions or bunching onions. Bulb onions range in size and include varieties like Walla Walla, Copra, and red onions.
Bunching onions are grown more for their flower stalks and harvested before their bulbs form. Green onions are the perfect example of bunching onion tops.
Now that you understand the different ways these plants grow, it is time to learn about one final way to distinguish between onion plants. Onion varieties are split into two categories: short-day onions and long-day onions.
These terms refer to the hours of day length needed for the plants to reach maturity. Long-day onion plants require 14 to 16 hours of daylight. Short-day varieties require about 12 hours of daylight. They also rely on the temperature. Planting onions in temperatures between 30°F and 40°F often results in slow growers.
Tips for Growing and Harvesting Onions
Planting, caring for, and harvesting onions are necessary aspects of the process. The work starts in the early spring and lasts well into late summer. Here are some of the best tips for growing large, flavorful, and healthy onion plants.
Planting Onions
The planting process is crucial if you want to have a successful harvest. Don't overlook the garden site when you plant seeds or sets. Onion plants grow the best when planted in loose and well-draining sandy loam and you allow the right onion set spacing to allow them room for the roots to grow.
They do better when lots of organic matter like manure and compost are mixed into the dirt. The soil must be at least eight inches deep and have a pH range between 6.0 and 7.5.
Working with Different Onion Types
If you plant red onion seeds or another variety, sow them indoors about eight to 12 weeks before the last frost date of winter. Sow the small seeds in pots or trays and thin the seedlings back to one inch apart after growing four inches tall.
If sowing seeds outdoors, do so about two weeks before the last spring frost or four weeks before the first autumn frost. Sow outdoor onion seeds a half-inch deep and one inch apart. When they grow, thin them to four inches apart.
For sets, plant the bulbs directly into the soil with the pointy end up. The round end is where the roots grow. For good air circulation, set bulbs one inch deep and four to six inches apart. Most sets should already be labeled as red onion, yellow onion, sweet onions, etc.
Whether you are working with seedlings you grew in a pot or practiced the way to grow onions from scraps, if you plan to transplant onions, move them to the garden beds once the soil is workable and at least 45°F. Place them one to two inches deep and four to six inches apart. Place scallions one inch apart.
Food and Water Requirements to Grow Onions
Before you learn how to harvest onions, you must understand how to care for them while they're growing. Even small onions are heavy feeders. Feed your crop with rich fertilizer to help develop larger bulbs.
Feed them once every month and keep them evenly watered during the spring and summer. Dry conditions might cause your bulbs to split. Give them about one inch of water every week. Transplants may require more water than sets or seeds.
Cut back on both food and water once the necks of the onion plants start to soften. Withholding water allows them to mature in dryer conditions and makes it possible to cure them quicker.
Other Tips to Care for Onions
Keeping up on food and water is only one aspect of growing big onions with vibrant green leaves. Keep up on weeding to prevent them from getting damaged or competing for resources. Consider spreading mulch around the beds to discourage weeds. Mulch also keeps the soil warm and moist.
Don't forget to regularly look for and remove any pests hanging around your plants. These pests could include anything from thrips to onion maggots. Most onion pests are removable by hand or with a DIY insecticide.
Put the garlic cloves into a blender or food processor and crush them until they are small. Add water and Castile soap and blend everything. Strain the solution through a cheesecloth or fine sieve and use a funnel to pour it into a jar with a tight-fitting lid.
When ready to spray your plants, dilute the entire mixture with an extra three cups of water and add it to a sterile spray bottle. Coat the tops and bottoms of the leaves on the affected plants every week.
One advantage of planting onions in the garden is that onions keep bugs away from other plants as well as other pests like rabbits and moles.
When to Harvest Onions
Knowing how to tell when onions are ready to harvest is possible even though you can't physically see the mature bulbs that are underground. The general rule for when to harvest onions is to wait for half of the plants to start to fall over before harvesting.
This timeframe is only ideal for dryer weather. For moist conditions, feel the necks of your plants for soft spots located a few inches above the bulbs. If rain is predicted, it is better to pull them a day or two early.
How to Harvest Onions
To harvest onions, gently pull on the neck of the plant and shake off the excess dirt. Avoid unnecessary bruising by refraining from rubbing them or being too rough with the plants. Leave the tops intact when harvesting until the outer layers start to dry and close up at the top of the bulb.
How to Cure Onions
Curing onions forms the protective outer skins that help with long-term storage. To cure them, wipe clean the onion bulbs and trim off any slimy leaves. Place the onions on an open shelf in a cool, dry place. After two weeks to one month, the bulbs are fully cured and ready to be eaten.
Storing Onions
Store onions in hanging mesh bags in a cool, dark place for the best results. Sweet onions typically last about three months before you can spot any signs of rotting.
Always check your stored onions for soft spots or signs of decay and remove them before they spread and infect the others nearby or touch them. While many people quickly use up onions in the kitchen, there are many onion-based recipes we bet you've never tried before.
It's sometimes possible to substitute shallots for onions and vice versa depending on the recipe. Other onion types can be used in a pinch, as well.
Add the water, vinegar, brown sugar, salt, pepper, red pepper, and half of the rosemary into an 8×8″ baking dish and mix everything to create a marinade. Trim the ends of the onions and cut them horizontally, leaving the skin on. Place them with the cut side down into the pan with the marinade.
Cover the pan with aluminum foil and keep them in the fridge overnight. The next day, heat your kitchen oven to 400°F. Flip your onions over in the dish and top each onion with half a tablespoon of butter.
Sprinkle the remaining rosemary evenly over the top. Roast your onions in the oven for one hour or until they look golden brown. Baste the onions once or twice during the roasting process. Remove the pan from the oven before peeling away the outer skins and serving.
The best-tasting onions are the ones that are harvested at the perfect time and cured to perfection. They are also plants that provide you with an abundance of produce, and knowing how to harvest onions will make all your favorite recipes taste even better.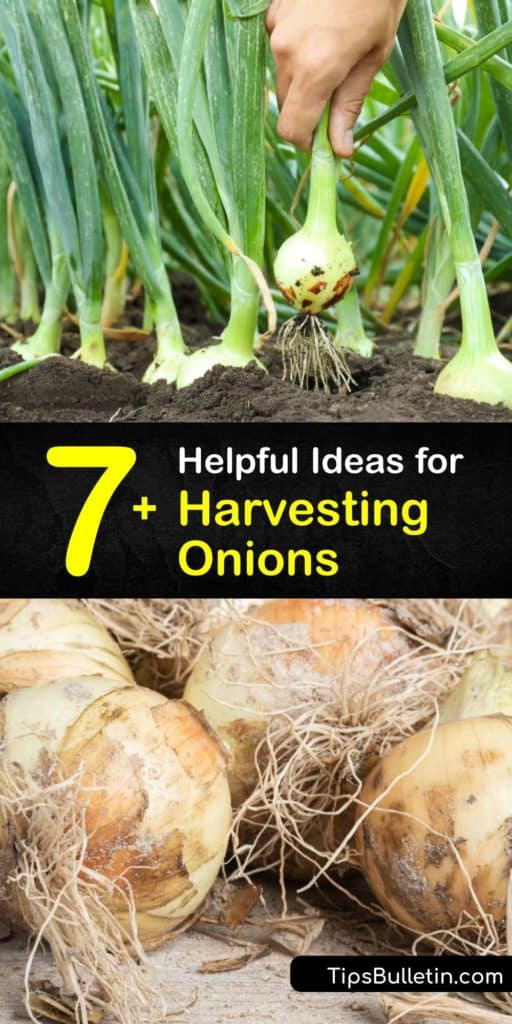 If you now understand the timing for when to harvest onions, share these tips for harvesting onions at the end of the year's growing season on Facebook and Pinterest.