Poblanos have just enough zest to add a little kick to recipes without being overbearing, like the cayenne, jalapeno, serrano, and habanero pepper. While we generally plant jalapeno peppers, banana peppers, and bell peppers, the poblano pepper is a great addition and easy to grow. Learn how to grow these peppers in your garden and when to harvest poblano peppers at the end of the growing season.
This mild variety of chile pepper is native to Mexico and roughly the same size as a bell pepper. It is similar to the anaheim and has 1,500 Scoville heat units. While many think a poblano is a different pepper than an ancho chile, they are the same pepper.
Ancho peppers are dried poblano peppers that are sometimes ground into powder. Poblanos are popular peppers for making Chiles Rellenos. They have a mild flavor, with just a hint of spiciness that sweetens when you cook them.
Their taste also varies depending on when you harvest them, since the riper they are, the spicier their flavor. Poblano peppers are high in potassium, vitamins C and A, and beneficial to your diet.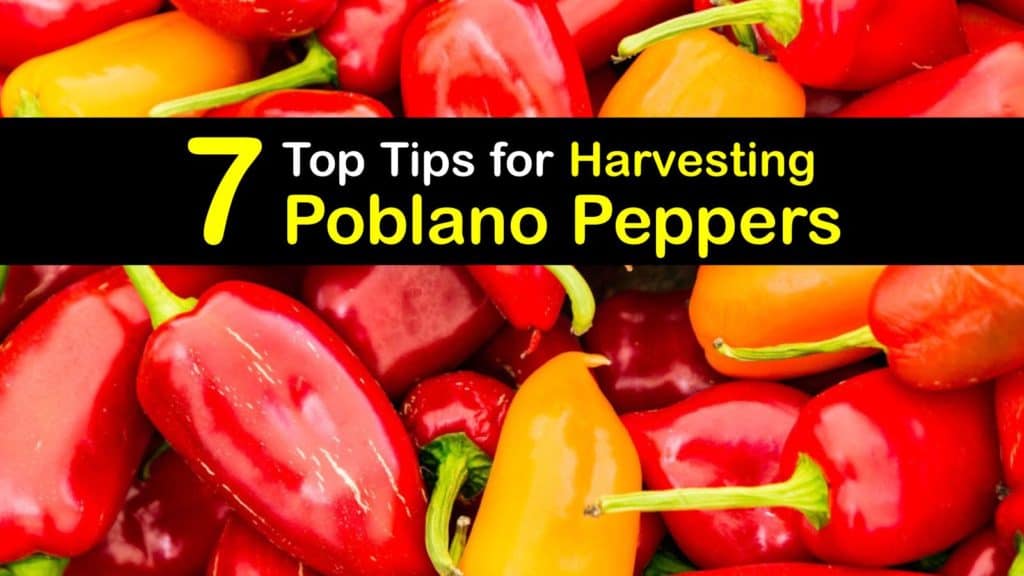 Growing and Harvesting Poblano Pepper Plants
If you think that the only place you can get fresh poblano peppers is the grocery store, think again. Like many other types of peppers, poblano plants are simple to grow in the home garden. Find out how to grow poblano peppers, how long they take to develop, and ways to use them in recipes.
When to Pick Poblano Peppers
You decide to plant your own poblano or ancho chili peppers at home and wonder how long they take to grow and when to pick poblano peppers for the best flavor. Discover the growth rate of these plants and how long they take to mature and produce fruits.
The poblano pepper plant (Capsicum annuum var. annuum 'Poblano') is a hot pepper with mild heat, and there are several hybrid and heirloom varieties.
They take two weeks to germinate from seed and 65 days to mature with fruit. The plants first produce small white flowers that eventually drop off, followed by fruit formation.
Growing and Harvesting Poblano Peppers
There is nothing quite like growing food at home and harvesting poblano peppers from the backyard for making hot sauce or stuffed peppers. Here is how to start these peppers from seeds and transplant them into the garden.
Ten weeks before the last frost, start your seeds indoors by sowing them in seed starting trays or pots. Press the seeds a quarter of an inch deep in the potting soil, spray them lightly with water, and set them in a warm, sunny area of your home.
When the seedlings are five to six inches tall, harden them off outside for a week or two before transplanting them in the garden. Wait until the night soil temperatures are between 60 and 75°F.
Pepper plants flourish in full sunlight, so pick a full sun area with rich, well-draining soil and space the pepper plants 12 to 24 inches apart. Water them right after planting and spread a layer of mulch over the ground to retain moisture.
How to Care for Poblano Pepper Plants
It's essential to give your plants proper care after planting them in the garden or patio containers. Here are a few plant care tips to help you produce the healthiest plants for a bountiful harvest.
Six weeks after transplanting the poblano peppers outside, feed your plants with a water-soluble fertilizer. Water them to give them an inch of water each week or as needed so that the ground is moist but not soggy.
Keep a lookout for garden pests, like aphids and cutworms. Aphids are tiny yellow-green insects that suck the sap from young leaves, and cutworms are small worms that damage stems. If you notice their activity, remove them by hand and use insecticidal soap as needed.
How and When to Harvest Poblano Peppers
You planted peppers in the garden and have been waiting all summer to reap the benefits. When are poblano peppers ripe and ready to pick? When do you harvest tobasco pepper plants? Explore the ways to tell when your peppers are ready for picking and how to harvest them at the end of the season.
Learn to tell when jalapenos are ripe as well as other varieties. Sometimes there is a difference between cultivars.
Poblano Pepper Harvest
When are poblano peppers ready to pick? Do you know when to pick shishito peppers? What is the best time to pick serrano peppers? The simplest way to tell if these chilies are ripe is to check their size and color. Wait until they are four to six inches long, and pick them when they are deep, dark green.
For a hotter, more flavorful pepper, wait to pick poblano peppers until they turn red before harvesting poblano peppers. Use sharp gardening shears to harvest the peppers by clipping their stems away from the main plant.
Ways to Store Poblano Peppers
Now that you know when to pick poblano peppers for the perfect ripeness, it's a good idea to learn how to store them. Here are a couple of ways to keep your peppers fresh short and long term so that none of them go to waste.
The best way to store fresh poblano peppers if you plan on eating them relatively soon is the refrigerator. Keep unwashed whole peppers in the crisper drawer of the fridge for seven to ten days and roasted, peeled peppers in a closed storage container for a few days.
To freeze peppers for longer storage, wash and cut the peppers into desired pieces. Spread them in a layer on a baking sheet and set them in the freezer to flash freeze for a few hours. Transfer the frozen poblanos to a freezer bag and return them to the freezer for up to eight months.
How to Make Poblano Peppers Stuffed with Cream Cheese
There are many ways to enjoy poblano peppers in dishes, including Chili Rellenos, a popular dish that originated in the Mexican city of Puebla. However, one of our favorite ways is to roast them and stuff them with cream cheese. The result is an earthy, gooey, and cheesy appetizer or side dish that's hard to resist.
Lightly oil the peppers with cooking spray and set them on a grill heated to medium-high heat. Close the lid and cook them for ten minutes, flipping them a few times during the cooking process. Take them off the grill to cool, and seal them in a plastic bag to steam.
Peel the skins off the peppers, slice them open and scoop out the seeds. Combine the cream cheese, cheddar cheese, and seasoning in a bowl and stuff the mixture into each chili pepper.
Return the stuffed peppers to the grill over indirect heat and close the lid. Cook them for ten minutes to melt the cheese and serve the stuffed peppers hot.
How to Pickle Poblano Peppers
If you grow several poblano peppers plants and have more peppers than you know what to do with, a great way to avoid food waste is to pickle your peppers. Pickling is a form of food preservation, and quick-pickled peppers last up to a month in the fridge.
Slice and deseed the peppers, cut them into inch-long pieces, and pack them into a Mason jar. Pour the water, champagne vinegar, sugar, salt, and garlic into a saucepan, and cook on medium to dissolve the sugar and salt. Pour the hot brine mixture over the peppers to cover them, screw the lid in place, and refrigerate.
We often think of poblano peppers and other chili peppers as only growing in Mexico. However, these peppers are just as easy to grow in your garden, just like any other. Caring for your plants provides you with a bountiful harvest at the end of the season.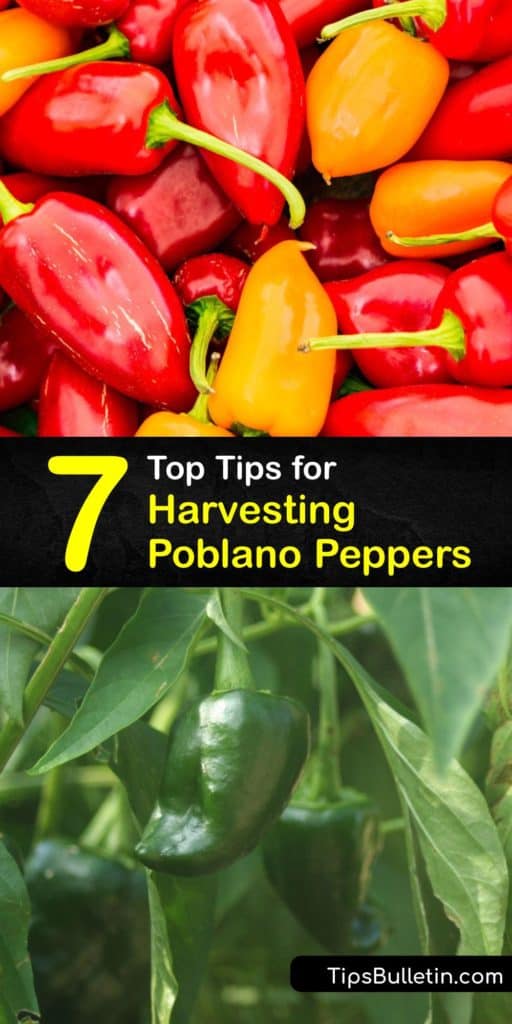 Now that you know when to harvest poblano peppers for the best flavor and ways to use them to prepare delicious recipes, we'd love it if you'd share our poblano pepper plant growing and harvesting guide with your family and friends on Pinterest and Facebook.