Have you ever experienced a craving for spicy food where you're dying to have your mouth feel a burning sensation? Anaheim peppers are a delicious, sweet, and spicy chili pepper fit to satisfy your craving. Knowing when to pick Anaheim peppers makes a world of difference depending on how sweet or spicy you want your peppers to be.
Harvesting Anaheim peppers isn't necessarily challenging, but it requires some knowledge that not everyone has had access to. Not to worry, though!
After reading this article stuffed with pepper picking tips, knowing when to harvest Anaheim peppers is going to be the least of your gardening concerns.
Before you know it, you'll be able to tell from only a brief glance when it is time to cut the pepper plants or if the hot pepper needs some time to ripen a little further.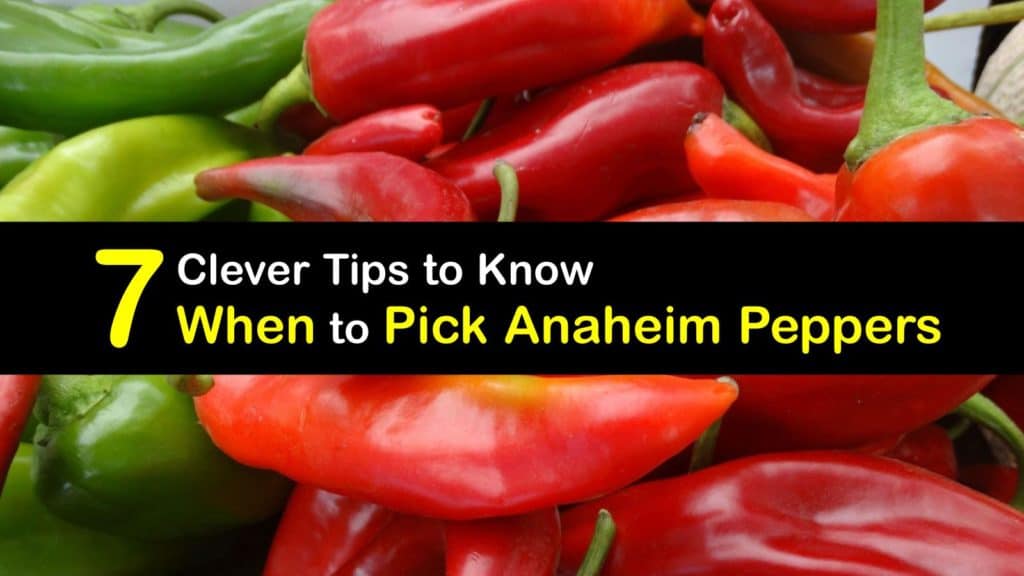 Anaheim Peppers and the Scoville Scale
Anaheim peppers, also called Capsicum annuum, are perennial plants, and they produce hot pepper fruits for about three years. Each plant grows to reach about a foot and a half tall.
It certainly won't scorch your mouth like other chile peppers, but it is a nice happy-medium between sweet peppers and ones that set your mouth on fire. Believe it or not, harvesting Anaheim peppers at certain times may play a role in how spicy they become.
Anaheim pepper plants, and all other pepper varieties, have capsaicin in them. This part of the pepper is responsible for giving them that hot, zesty bite we all know and love.
The level of capsaicin is measured with Scoville heat units, ranging in scores from zero to higher than 2,000,000. As you work your way up the heat scale, each of the chilies gets hotter and more unbearable.
If you started at the very bottom of the scale and worked your way up, you would begin with bell peppers, then go a step hotter to banana peppers, Anaheim peppers, poblano peppers, tabasco peppers, jalapeño peppers, serrano peppers, cayenne peppers, Thai chiles, habanero peppers, and all the way up to the dreaded Carolina reaper pepper.
Don't be fooled by the lower ranking of the Anaheim pepper. They may only be a few steps above a green bell pepper, but they are also only one step below a jalapeno pepper, which is too spicy for many people to handle.
Anaheim pepper plants have a rich, dark green color and are of the heirloom variety. They are extremely popular in New Mexico and with the residents' love of southwest and Mexican flavors.
These peppers may taste good, but they are also healthy, with high levels of calcium, potassium, fiber, and vitamins A, B, C, and K. Now that you're all worked up and ready to start planting them, you're probably bursting with questions.
When are Anaheim peppers ripe, and what are the best tips for harvesting Anaheim peppers? Listed below is everything you must comprehend about when to harvest Anaheim peppers.
Tips for When to Pick Anaheim Peppers
When are Anaheim peppers ready to pick? Do you know when to pick ghost peppers? This ultimately depends on the care you gave them at the start of the growing season. We are going to safely guide you through every step to take to harvest peppers the right way.
Growing Anaheim Peppers
Don't even think about when to harvest Anaheim peppers if you didn't grow Anaheim peppers properly from the beginning. These peppers are recommended for hardiness zones five through 12 and are a low-maintenance plant if you give them what they require for survival.
Start planting pepper seeds indoors about a month or two before the last frost of spring in your region. The seeds don't have to be pushed too deep under the soil. About a quarter-of-an-inch does the trick to get them started.
Anaheim peppers enjoy full sun, meaning they must have at least six hours of direct sunlight every day. They have sandy, loamy soil needs.
Before planting them, ensure the pH remains between 7.0 and 8.5. The optimal soil temperature for young seedlings is 65°F or warmer.
You start to notice your seedlings sticking out of the soil after only a week, and after about a month, leaves are appearing and signaling that they are ready to be transplanted outdoors.
Transplanting Anaheim Peppers
Pick a time during the beginning of the growing season when there is no risk of frost, and the soil temperatures remain above 50°F at night and 65°F during the day.
Take an additional week to harden off your young plants. Hardening off plants means taking the containers of the peppers outside every day of the week.
Each day, keep them outside for a couple of hours longer than you did the day before. Hardening them off helps them get used to the outdoors, so they don't go into shock when you transplant them.
When ready to transplant the peppers, ensure they are in an area with all the necessary sun, soil, and light they need. Plant each seedling at least two feet apart, or a little bit less in raised beds.
Once planted in their new area, water the plants regularly throughout the entire growing season to keep the soil moist. If you have to water them frequently, try adding mulch to the bed to retain water.
Caring for Anaheim Peppers
Caring for peppers basically requires you to feed and water them as much or as little as they demand.
It is best to water the plants so the soil is moist but not so much that it becomes soggy and drowns them. If the summer has long, hot, and dry periods, you may have to boost the frequency.
Anaheim peppers enjoy fertilizer once every month. Fertilizers high in calcium, phosphorus, and potassium aid the peppers, while too much nitrogen might hinder the fruit's growth.
Knowing When to Harvest Anaheim Peppers
There is a difference between when to pick green bell peppers and spicy peppers. When are Anaheim peppers ready to pick? When are serrano peppers ripe? These seem to be the questions of the day. You know when to pick Anaheim peppers based on their looks.
When to harvest tabasco peppers follows the same guidelines. It is safe to pick peppers that reach their full, mature size – for Anaheims, around seven inches. They usually have a light to dark green color and darken into red peppers as they become riper.
Harvesting Anaheim Peppers
Now that you know what a ripe Anaheim pepper looks like, you are ready to begin harvesting Anaheim peppers and turning them into something delicious. Grab a knife or sharp garden shears and take them out to your garden bed.
Cut the fruits from the whole plant instead of pulling them off, or you may damage the entire thing. Leave a small piece of stem on top of the fruit to help keep it fresher for longer.
Storing Anaheim Peppers
Once harvesting your Anaheim peppers is complete, you might be struggling with ways to store them. The best way to store peppers of any kind is to set them in a plastic bag and keep them inside the crisper drawer of your refrigerator.
Cooking with Anaheim Peppers
Hot sauce is probably the first thing you think to make when you have a lot of peppers to use. Hot sauce is great, but it gets old after a while. Instead, make a fresh and filling dish that the whole family loves.
Heat your oven to 400°F. Place the whole Anaheim peppers on a baking sheet and bake them for 20 minutes or until charred. Remove the charred Anaheim peppers from the oven and let them cool before peeling their skins off.
As the peppers bake, heat the olive oil in an oven-proof pan. Season the chicken breast with the creole seasoning and sear it in the pan with the onion to blacken it. Add a quarter cup of water and put it in the oven for ten minutes to steam and cook through.
Shred the chicken and onions in a bowl before adding the garlic, oregano, and cheese. Slit each pepper in half and scoop out the insides.
Spoon the chicken filling into the peppers and bake them for another 15 minutes before squeezing fresh lemon juice over top and serving.
There are dozens of pepper varieties to choose from, and Anaheim peppers don't get the credit they deserve. They are a perfect combination of mildly sweet and spicy, and finding the right time to pick them is crucial to their flavor.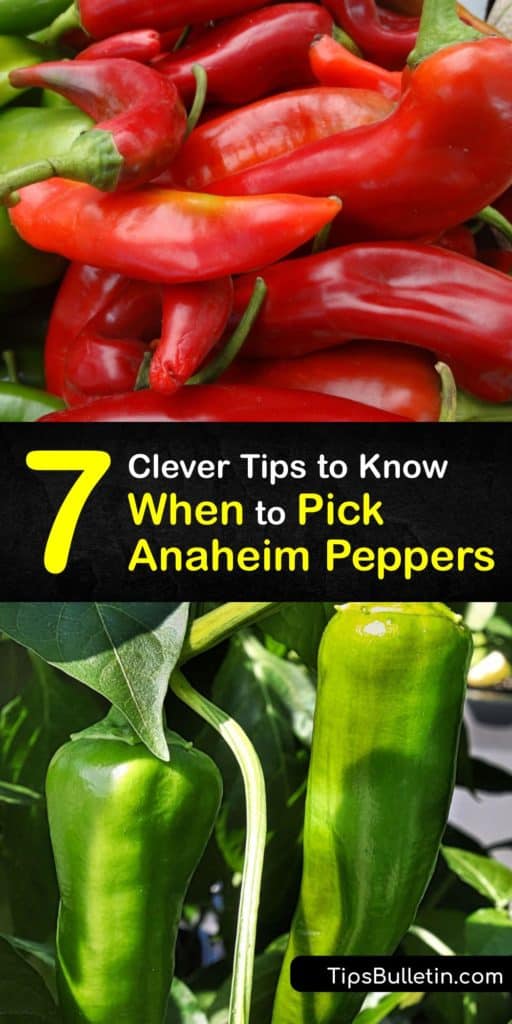 If learning when to pick Anaheim peppers taught you when to harvest all pepper types, share this guide for when to harvest Anaheim peppers on Facebook and Pinterest.