Although avocado trees take many years before they are mature enough to produce fruit, rest assured that harvesting avocados is worth the wait. In this article, you'll find out when to pick avocados and how to tell when your avocado fruit is ready for harvest.
From classic guacamole to bacon, lettuce, avocado, and tomato sandwiches, avocados have grown immensely popular in recent years. Persea americana by its botanical name, this subtropical evergreen tree in the Laurel family originated in Mexico and Central America.
Experts believe that ancient Mesoamerican tribes first domesticated avocado trees over 5,000 years ago. Avocados were introduced to Florida in 1833 by horticulturist Henry Perrine. Today, most US-grown avocados come from southern California and Florida.
Depending on the variety, avocados may have black, purple, or green skin. The richly buttery, nutty flavor of homegrown avocados is far superior to the fruits at the grocery store. Read on to discover how to harvest avocados for the best possible taste and texture.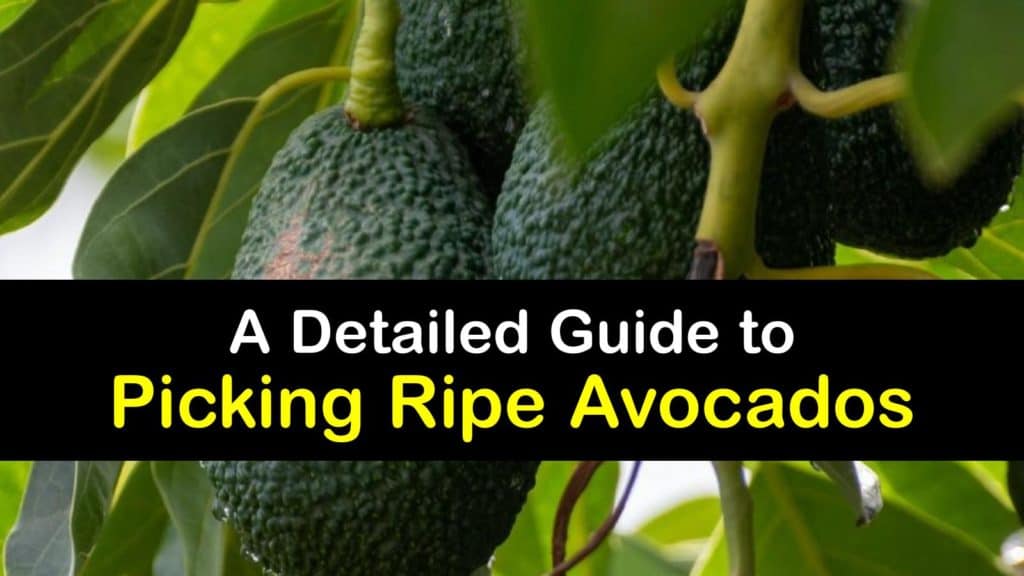 What to Know about Harvesting Avocados
Have you ever wondered, "When are avocados ready to harvest?" It depends on your growing climate, whether you are growing avocado trees from pits, and which avocado cultivars you planted, just like knowing when to harvest squash or tomatoes.
Avocados require warm weather to grow outdoors year-round. Their cold hardiness depends on the variety. Some avocado trees can withstand temperatures as low as 20℉. Others won't survive even a light frost. They do best in USDA hardiness zones 8-11.
In colder regions, many growers plant avocado trees in large containers. They spend the summer outside, then are moved indoors once the weather gets too cold. However, potted avocado trees usually take much longer to bear fruit.
Avocados are unique in that the fruit does not ripen on the tree. Instead, an avocado's oil content increases the longer it remains on the tree. However, if the fruit doesn't get picked in time, the oil turns rancid, and the rotten avocado falls to the ground.
Different Varieties of Avocados
To know when to harvest avocados, it's crucial to distinguish between the three principal types of avocados: Guatemalan, Mexican, and West Indian.
Guatemalan avocados are medium-sized and have thick, woody skins that are black, purple, or green. They normally ripen from late winter to spring, 14-17 months after they finish flowering. Guatemalan avocados are cold-hardy down to 26℉.
Mexican avocados generally have thin green skins and produce small, richly flavored fruits. Harvest time is typically from late fall to early spring, six to eight months from when the trees blossom. They're the hardiest cultivars and survive temperatures as cold as 20℉.
West Indian avocados produce the largest fruits, weighing up to two pounds. They are harvested from summer to fall, about nine months after blooming. These trees are the least cold-tolerant, and their cultivation in the US is limited to southern Florida.
Another distinction between different varieties of avocados is when their flowers open. Type A avocados have female flowers in the morning and pollen-producing male flowers in the afternoon.
Type B varieties do the opposite. It's helpful to interplant both types for the best pollination rates.
The Hass avocado, also spelled Haas, is a Type A Guatemalan-Mexican hybrid cultivar. Developed in 1935, Hass avocados now account for 80% of the avocado crops grown worldwide. San Diego, California has the most Hass avocado orchards in the US.
Here are several of the most suitable varieties of avocados for growing at home.
When to Pick Avocados
Your exact avocado harvest time depends not only on which varieties you're growing but also on environmental factors, including daily sunlight hours, air and soil temperature, rainfall levels, and pollination.
An experienced avocado picker uses several techniques to determine the ripeness of the fruits. The most apparent sign that avocados are mature enough to pick is when they grow significantly larger in size.
The green fruit may also turn a bit darker and should feel slightly soft under gentle pressure. If the avocado has dark brown spots throughout its flesh and skin, it's too far gone to eat.
After harvesting avocados, they must ripen off the tree for several weeks before they're ready to eat. Unlike most other fruits, avocados' sugar content decreases as they ripen.
Place your freshly picked avocados in a brown paper bag with a ripe apple, banana, or pear to speed up the ripening process. These fruits are heavy producers of ethylene gas, a naturally occurring chemical that accelerates fruit maturation.
How to Harvest Avocados
If you decide to plant an avocado seed, know that it will take much longer to be able to harvest your avocados.
Once you've determined that the avocados on your tree are ready, it's time to get picking. Mature avocados should detach from the tree fairly easily. Still, it's safest to use a sterile, sharp pair of garden shears when harvesting avocados to avoid accidentally damaging any branches.
Many home growers regularly prune their avocado trees to keep them at a more manageable size for harvesting. On their own, some types of avocado trees may grow up to 80 feet tall.
Avocados bruise quite easily, so avoid letting them fall to the ground when you're harvesting. Use a sturdy ladder or a pole harvester with a basket to reach the fruits on the highest branches.
If you have more avocados than you can use at once, consider leaving them on the tree a bit longer. Mature avocados can remain on the branch for several months. For the best possible results, only pick as many avocados as you'll use within a couple of weeks.
Storing Homegrown Avocados
After harvesting avocados, they need to ripen at room temperature for a week or two before they'll be edible. However, there is a relatively short time window for optimum ripeness. Their peak eating time only lasts for a few days.
As your homegrown avocados are ripening, be sure to check them regularly and use them as soon as they're ready. The way to keep an avocado fresh is to store fully ripe, uncut avocados in the crisper drawer of your refrigerator up to three days.
Cut avocados go bad much faster than whole ones. Store cut avocado refrigerated in an airtight container and use it as soon as possible.
Freezing avocados is an excellent way to extend their shelf life. Mash them, blend them into a purée, or cut them into pieces. Freeze them whole as a way to preserve an uncut avocado.
Sprinkle a small amount of lemon or lime juice on top of cut or mashed avocado before freezing it to minimize browning. Use frozen avocado within six months.
If you're searching for creative ways to use up your bumper crop of avocados, there are plenty of uses for these tasty fruits beyond the standard guacamole. Here's one of our favorite recipes for a deliciously creamy avo salad dressing.
Place all of the ingredients in a blender or food processor and purée them until your dressing reaches a smooth and creamy consistency. Stop processing to scrape down the sides as needed.
If your dressing is too thick, add water a few tablespoons at a time to thin the mixture. Store your homemade avo dressing in an airtight container in your refrigerator for up to two weeks.
How Long Does It Take for Avocados to Grow?
The time it takes for mature trees to begin producing avocados depends on if you planted a seed or a young grafted tree. Avocados are not one of the fastest growing fruit trees. Grafted avocado seedlings usually bear fruit after three or four years.
However, avocado seeds take anywhere between five and 13 years to grow into mature trees. Once an avocado tree is mature enough to begin flowering, the wait isn't quite over yet. After pollination, the avocado fruits develop quite slowly.
Depending on the cultivar, it takes between six and 18 months between blooming and harvest time. Mexican avocados tend to grow fastest, while Guatemalan cultivars have the slowest production rate.
Caring for Avocado Trees
As long as provide the proper environmental conditions, growing avocados is a relatively straightforward process. Several of the most influential factors to keep in mind are light, nutrients, soil, spacing, and water.
Avocado trees grow best in full sun to partial shade. Mature trees prefer at least six hours of direct sunlight throughout the day.
Young seedlings under three years old are typically more sensitive to the intense afternoon sun, especially at altitudes higher than 1,000 feet above sea level. They benefit from additional protection for the first few growing seasons.
Like most other fruit trees, avocados grow best when they get several applications of organic, nitrogen-rich fertilizer throughout the growing season.
Most growers recommend feeding avocado trees two or three times per year. The trees don't need fertilizer in the winter while the roots are less active.
Avocados have a relatively shallow root system, with most feeder roots in the top six inches of soil. They prefer loose, well-draining earth with a neutral to slightly acidic pH level between 5.0 and 7.0.
If you're unsure of your garden's pH level, contact your local cooperative extension service for a soil test.
Since they're originally from tropical regions, avocados require consistent moisture levels to stay healthy. On average, give your avocado trees around two inches of water per week or more during periods of especially hot or dry weather.
Although they're slow growers, avocado trees take up a lot of space once they're mature. To avoid overcrowding as they develop, plant avocado trees at least 20 feet apart. To keep them as semi dwarf fruit trees, prune them regularly, particularly if grown in containers.
It's best not to plant them near your lawn, where the growing avocados will be competing with the grass for nitrogen and other nutrients.
If your avocado tree is finally beginning to produce fruit, it's time to celebrate. Nothing compares to the rich nutty flavor and creamy texture of a ripe avocado picked from your own backyard.
When considering how to harvest avocados, it's crucial to distinguish between the different varieties of avocados and know which types you're growing. For optimal pollination, plant Type A and Type B avocados together.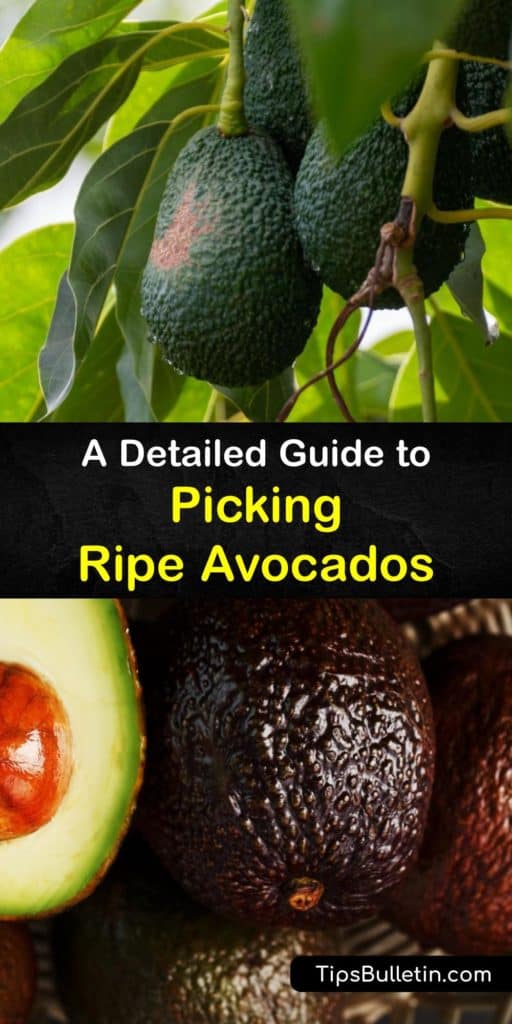 If you enjoyed learning about harvesting avocados, please share this article about when to pick avocados with your avo-loving friends and family on Facebook and Pinterest.