Bell peppers are a tasty vegetable to add to any backyard garden. When you grow bell pepper plants, several daily maintenance practices demand your attention. After you spend time successfully growing bell peppers, it's important to know how and when to pick bell peppers so the fruit has the best possible taste.
Harvesting bell peppers is not difficult, even if you are a novice gardener. In this gardening guide, you quickly learn how to pick green, yellow, or red bell peppers.
In this article, we describe when to harvest bell peppers, how to harvest peppers correctly, as well as tricks for growing a healthy bell pepper plant. Utilize the proper soil, fertilizer, and watering practices to promote quick germination.
Growing bell peppers in your garden is not difficult compared to other vegetables. However, the temperature is the one factor that must remain consistent in the early stages of germination.
A great thing about planting bell peppers is that you can start the seeds indoors, ensuring the temperature is consistent.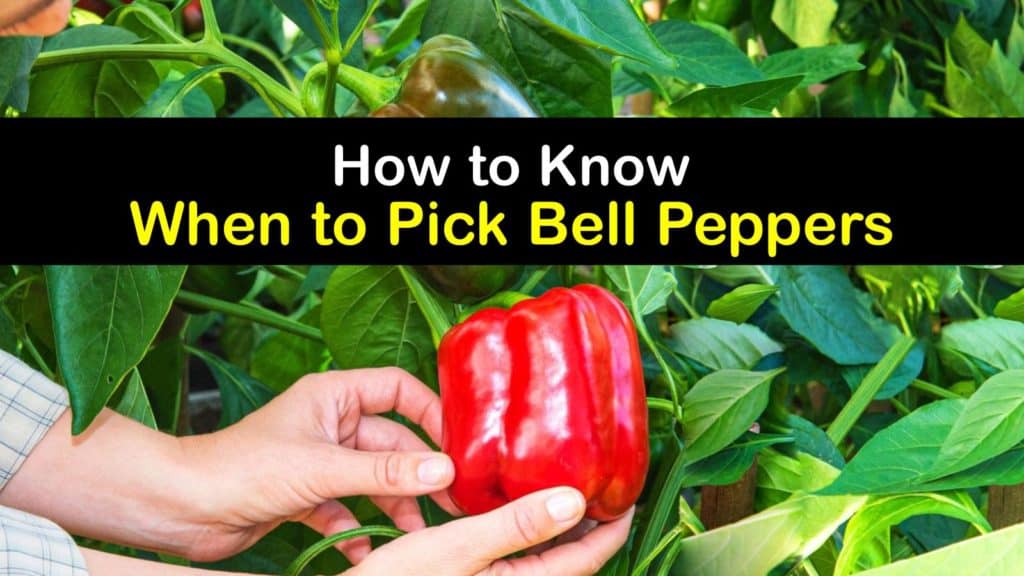 Growing the Best Bell Peppers Possible
Planting bell peppers comes with many benefits. Nutritionally, bell pepper varieties are rich in calcium, vitamin A, vitamin C, potassium, fiber, folate, and iron.
Bell peppers are full of nutrients and low in calories and can be included in a variety of lunch and dinner dishes. Other advantages of growing bell peppers in your vegetable garden include a positive impact on the environment.
Gardening reduces your environmental footprint, saves you money at the grocery store, and allows you to eat fresh produce free of pesticides or insecticides.
Learning When to Pick Bell Peppers
To have the best tasting pepper fruits, you need to know the best way to grow bell peppers as well as when to harvest bell peppers.
The unique thing about picking sweet peppers like bell peppers is that the harvest time depends on your personal preference for the pepper's taste and color. The same rules apply for when to pick banana peppers and many other pepper varieties, including when to pick jalapenos.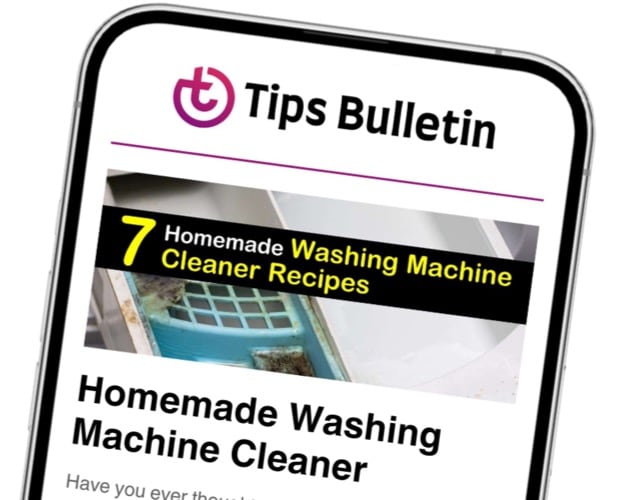 Finally, an email that Transforms Your Home.
Get the latest home and garden tips from our experts, delivered straight to your inbox.
When bell peppers mature, the first peppers are green. As the pepper remains on the vine, the colors change from yellow, to orange, to red. When are bell peppers ready to pick?
Peppers are ready to be harvested when the green bell peppers are big enough to eat. If you prefer sweeter peppers, let the fruit remain on the vine for a few more days and observe the color change.
As the fruits change color, the peppers become sweeter. A similar process happens with jalapeno peppers; as the pepper stays on the vine to ripen, the capsaicin matures and makes the pepper hotter.
How and When to Harvest Bell Peppers off the Vine
Whether you are growing red peppers in containers or green ones in the garden, to pick peppers correctly, you need a sharp knife or a pair of gardening shears. When the green peppers reach their full color, snip the plant from the stem clean off the plant.
The longer you wait to cut peppers, the sweeter they become. Additionally, the peppers contain more vitamin C the longer they stay on the vine. Harvesting bell peppers is similar to other capsicum varieties that are regularly found in backyard gardens.
Pick hot peppers like jalapeno, cayenne, Gypsy, and banana peppers using the same technique. Using a pair of scissors, snip the stem and completely remove the fruit from the plant.
After carefully tending to your pepper plants throughout the growing season, you must know when to harvest tabasco peppers and the correct time and way to harvest bell peppers.
To keep unwanted pests away, be sure to grow companion plants for bell peppers so that you have less work regarding garden pest control.
Identifying Spoiled Bell Peppers
Pick the healthiest fruit when harvesting peppers. When you identify a rotten or spoiled bell pepper, it prevents you from consuming harmful bacteria and other microorganisms.
Fortunately, spotting a spoiled bell pepper is simple and only requires you to look at and cut into the fruit. As a safety precaution, if you are ever hesitant about your bell peppers' health, throw them out to be safe.
The way to tell if a bell pepper is bad is if they become soft and have a slimy residue on the inside or outside of the fruit. Either of these indicators are signs they have gone bad.
Other signs of rotten bell peppers include white or black mold growth on the pepper, spots on the skin, and wrinkly skin. If your bell peppers have wrinkled skin, they are still safe to eat as long as you cook them, and do not consume the pepper raw.
What does a Healthy Bell Pepper Look Like?
An essential part of any growing guide is to harvest healthy bell peppers at the end of the growing season.
When you care for your bell pepper plant properly, fruit production goes a lot more smoothly, and you are more likely to harvest the best tasting peppers possible.
A healthy and ripe bell pepper has a shiny tint and feels smooth to the touch. Another way to identify a ripe bell pepper is to squeeze it gently. Ripe bell peppers feel firm and tight to the touch, no matter the color.
As you cut into a healthy bell pepper, it should be crunchy. These signs of ripeness for bell peppers apply to other pepper varieties as well, such as jalapenos, banana peppers, and cayenne peppers.
Storing Your Bell Peppers Correctly
After you learn how to pick bell peppers, store the veggie in the right place. When bell peppers are preserved properly, they stay fresh and crunchy longer. Keep your bell peppers in the crisper drawer of the refrigerator.
The fridge's cold temperatures slow mold growth and prevent other harmful bacteria from infecting your peppers. When kept in the refrigerator, bell peppers usually last between one and two weeks.
To keep cut peppers fresh and to help slow down the deterioration rate, place your bell peppers in plastic bags before placing them in the fridge.
Plastic bags remove the excess moisture on the pepper, which keeps the pepper fresh. Although it may seem elementary, storing full size bell peppers the proper way is critical for your overall health.
How to Plant Bell Peppers in Your Garden
Growing bell peppers, a member of the nightshade family, is a wonderful addition to your garden. How long does it take to grow bell peppers? With adequate care and regular maintenance, bell peppers take between 60 and 90 days to reach full size.
Purchase a seed packet at your local gardening store for bell pepper seeds. Sow bell pepper seeds about ¼ of an inch into the soil and ensure the plant is in direct sunlight.
Bell peppers demand consistent sunlight to convert the UV rays into organic matter needed to grow.
If you start your seeds indoors, sow the seeds the same way in a container and set them near a window that receives plenty of sunlight. When transplanting, place the pot outside for short periods to harden the plant.
What Soil do Bell Pepper Plants Prefer?
To harvest the ripest bell peppers at the end of the growing season, utilizing proper soil and fertilizer is key. Soil and fertilizer provide your bell pepper plant with the nutrients it needs to multiply and produce healthy fruit.
Another advantage of implementing a specific soil in your garden is that it promotes pollination from beneficial insects. Bell peppers grow quickest in rich, loamy soil.
Loamy soil is a well-draining soil, which helps prevent water pooling up at the root's base and causing disease.
Use a well-balanced fertilizer with equal levels of nitrogen, phosphorus, and potassium. Mix the fertilizer with the loamy soil before you sow your bell pepper seeds so the nutrients are evenly distributed in the ground.
Repelling Common Bell Pepper Pests
There are several insects and diseases to be aware of when growing bell peppers. It is simple to avoid and repel unwanted insects and harmful viruses from your plant with the proper care.
The most common pests that attempt to destroy bell pepper plants are aphids and flea beetles. Spraying your garden with an effective DIY bug repellent using dish soap and vinegar is a great technique to repel these insects.
Mix the ingredients and spritz your plants regularly to get rid of flea beetles, aphids, and other pests.
Two destructive plant diseases that impact bell pepper plants are blossom end rot and mosaic virus. Both viruses destroy your plant if left untreated. The best way to avoid these plant diseases is to ensure proper watering practices.
Only water your peppers if the soil is dry. To prevent excess moisture from leaving the ground, lay mulch over the soil during the growing season and lay black plastic tarps over the garden in the winter.
A bell pepper plant is a perfect addition to your backyard garden if you are looking for a crunchy vegetable used in various dishes.
Like other pepper varieties, bell peppers are relatively simple to grow as long as you follow careful gardening practices and regularly attend to the plant. Understanding when to harvest bell peppers is vital to make sure you have peppers with optimal taste.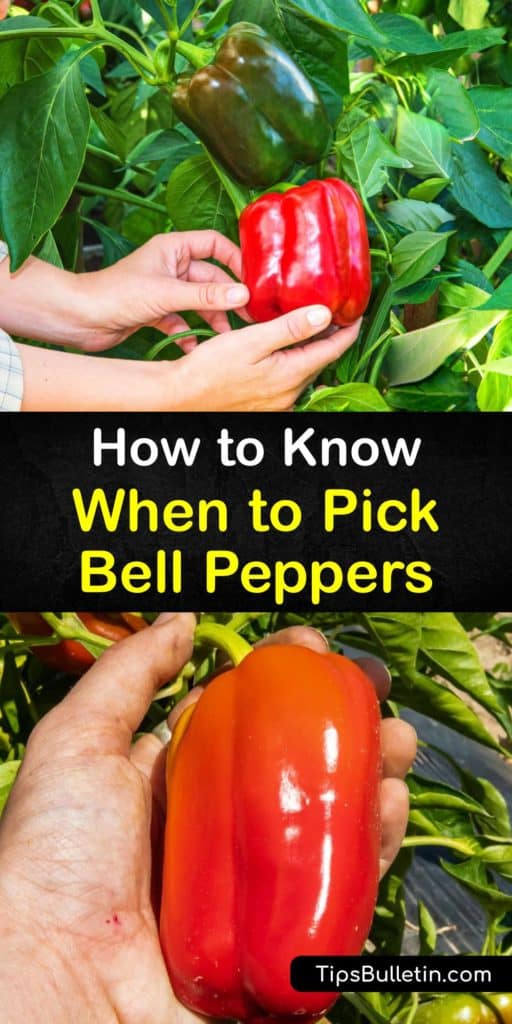 If you discovered when to pick bell peppers, share these tips for harvesting bell peppers with your neighbors and friends on Pinterest or Facebook.