Many people love the idea of growing tomatoes in their gardens but have no idea where to start or how to care for them. Eating a perfectly ripe tomato is a moment of pure bliss that most of us strive for, and learning when to pick cherry tomatoes at the exact right moment is achievable if you're willing to learn.
Harvesting cherry tomatoes isn't an exact science. Instead, you must pay attention to them and learn the signs to look for when spotting ripe tomatoes. You might be bursting with questions about the tomato growing process.
How long does it take for cherry tomatoes to grow, and when is the right time during the growing season to harvest tomatoes?
Different tomato varieties have varying harvest times, but it's possible to learn when to pick them with visual cues alone. If you are curious about when to harvest cherry tomatoes, use this article as a guide to help you through the process.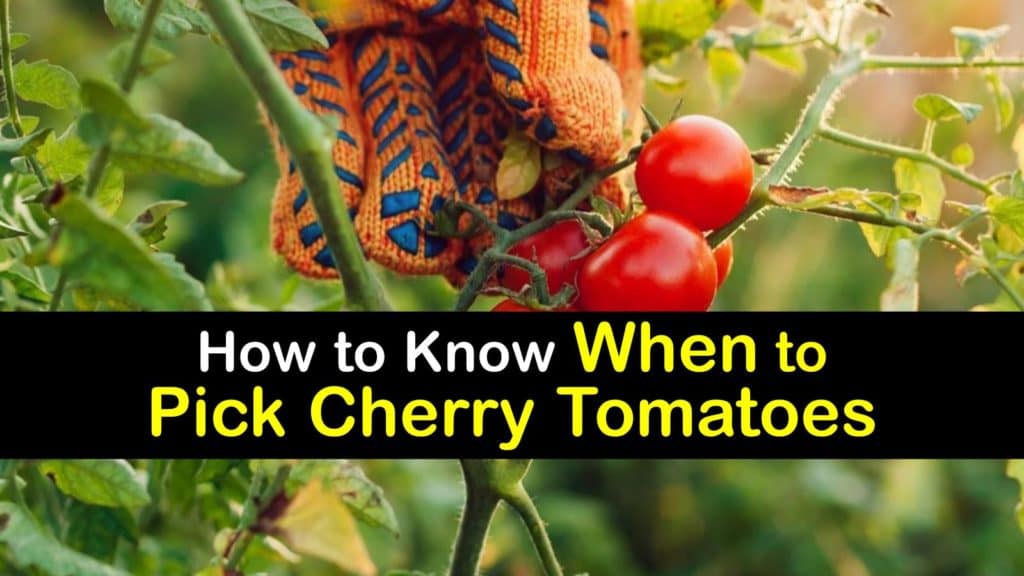 Choosing Cherry Tomatoes
If you put in the time to learn when to pick cherry tomatoes, it's equally important to choose some great types of heirloom tomatoes that add color and flavor to your garden.
Heirloom tomatoes are highly nutritious and colorful and make the growing process even more enjoyable. Some of the most popular tomato plants are Sweet Million, Black Cherry, and Sungold.
These varieties are filled with carotenoids responsible for giving the plants their yellow, orange, and red colors. Try to purchase indeterminate tomato plants instead of determinate types.
These kinds of plants are vining and continue to develop throughout the entire growing season. They provide ripened fruits throughout the summer and last until the first frosts of fall start to kill them.
Indeterminate tomatoes grow six to 10 feet long. They require tomato cages for support but also make the best choice for growers.
How to Grow Cherry Tomatoes from Seed
You might choose to purchase young plants at your local garden center and transplant them in your garden, but growing them from seed is an easy task that gives you even more satisfaction when they're ready for harvesting.
Start your tomato seeds in the early spring so that when they are ready for transplanting, there is no risk of frost after you plant them.
Pick out a few small containers and drill several half-inch holes into the bottom of the planter so that the water drains efficiently.
Sow the seeds under a thin layer of potting soil and then set the pots in a room temperature location that gets at least eight hours of sunlight every day, like a windowsill. There is no need for tomato cages until the plants are older.
Keep the potting soil evenly moist while they grow by watering them every two to three days or more if the weather is hotter and the dirt dries out quickly.
After the plants reach at least six to ten inches in height and the chance of frost is gone, they are ready for transplanting.
Prepping Tomatoes for Transplanting
Before you start planting your young tomato plants in your garden, you must harden them off.
Hardening off plants means that you introduce them to the outdoors over one to two weeks so that the plants become acclimated to their new environment and don't go into shock.
To harden them off, put the pots outside in a location that gets filtered sun but is protected from the wind. Leave them out for a few hours on day one and slowly work your way up in time over the next two weeks.
When the plants are hardened off, it is time to prepare the soil. The warmer the ground is, the better off your tomato plants are going to be.
Prepare the tomato beds a week before transplanting them, and make sure the bed is located in an area with around seven or eight hours of direct sunlight every day. Use a rototiller or garden fork to loosen the soil up to eight inches deep.
Spread several inches of organic compost over the surface and mix it into the ground. Use a metal rake to sculpt the loosened soil into a low mound less than four feet wide.
How to Transplant Tomatoes
Tomatoes are ready for transplanting when six to ten inches tall, and the nighttime temperatures of the ground consistently stay above 50°F.
Dig a medium-sized hole in the middle of the prepared mound that is at least three inches deeper than the pot's depth that the plants currently reside inside. How close can you plant tomatoes? Space each hole so that it is at least two feet apart.
Remove the seedlings from their containers and loosen the bottom of any roots that are clumped together. Plant the seedlings into the holes so that the topmost leaves are the only ones above ground to encourage the tomatoes to be more drought and wind-resistant.
Cover the hole with extra soil and firmly pat it down. Water the plants thoroughly the first time and ensure the ground remains moist but not soggy to avoid blossom end rot and other diseases.
Add mulch to the top of the ground around the plants to retain soil temperature and heat levels. Pinch off the suckers that grow from the main stem so that all the energy and nutrients go to the ripe fruit.
To help prevent pests, learn what to plant next to cherry tomatoes. Marigolds are an excellent choice, as they repel many insects.
Note that growing tomatoes in bucket is also possible. Pots should be at least 5-gallon size, but bigger is better so the roots have a chance to spread.
How Long Does it Take for Cherry Tomatoes to Grow?
One of the most common questions when learning about harvesting cherry tomatoes is how long does it take for cherry tomatoes to grow? Because cherry tomatoes have small fruiting bodies, they only take about 50 days to start bearing fruit.
The ripening process happens quickly, and chlorophyll soon turns green tomatoes into red tomatoes. Ripe fruit usually appears after only 80 days.
When to Pick Cherry Tomatoes
You know when to pick cherry tomatoes based on the look of the fruits themselves. Both size and color indicate ripeness. Homegrown green tomatoes are not ripe.
Ripening tomatoes may be a mix of green, orange, yellow, and red, depending on the variety you chose. Cherry tomatoes are ready to pick when they are a solid color and the size of a grape. They easily pluck from the stems of the plant as well.
Ethylene gas is released once you pick the tomatoes from the plant. If you remove some of the fruits too early, put them in a paper bag with a banana or apple to speed up the ripening process.
Harvesting Cherry Tomatoes
When planning to start harvesting cherry tomatoes, use some of these pick-tomatoes tips to ensure that you pluck them at the right time and don't damage the plant.
It is safe to start picking tomatoes from the stems after around 60 to 85 days after planting the seeds. Harvesting tomatoes continues until the first frost of fall. After that, the frost starts to kill the plants, and the tomatoes decline in quality.
Harvest only the tomatoes that are red, yellow, and orange on the vine and are an even color all the way across. The fruits are slightly soft when squeezed but still feel firm. If the tomatoes are cracked, it is a sign they are overripe and were left on the vine too long.
Keep an eye on your tomato patch as much as possible. Warm weather is what causes ripeness and not light. Check on the plants every day and harvest them as soon as you think they are ready so that they don't turn overripe and go to waste.
Storing Cherry Tomatoes
After all your hard work from growing and harvesting cherry tomatoes, how do you store them so they last as long as possible? Keep your cherry tomatoes at room temperature to hold on to their signature flavor and texture.
Avoid putting them in the refrigerator if possible. One of our favorite things to do with cherry tomatoes is putting them in a bowl on the counter so that we can grab a few to snack on when we walk by.
If your house's interior tends to be on the warmer side, it is okay to put them in the cool fridge for up to two days to stop the ripening process before it goes too long and spoils them.
What to Make with Fresh Cherry Tomatoes
Raw cherry tomatoes are delicious as they are. They are juicy and acidic, making them a delightful and healthy snack. If you're in the mood for a steaming hot dish, there is a light pasta recipe that uses simple but tasty ingredients to make a summer meal.
Heat your oven to 425°F. Bring a big pot of heavily salted water to a rolling boil and cook the pasta until just underdone. Drain the cooked pasta and reserve roughly one cup of the pasta water.
Toss the cherry tomatoes, garlic, olive oil, vinegar, basil, oregano, salt, and pepper to taste in a large bowl. Line a standard baking sheet with foil and dump the contents of the bowl onto the sheet.
Roast the cherry tomatoes for about 15 minutes or until they have softened, and then broil them for two minutes to create a small amount of char.
Put the tomatoes into the pan with the pasta and add a small amount of the pasta water so that everything gets lightly coated and has a smooth consistency. Stir in your desired amount of finely-shredded Parmesan cheese and separate the pasta into bowls before serving.
Cherry tomatoes are one of the most incredible summer veggies to grow. Cherry tomato plant care is simple and the fruits are delicious, both raw and cooked.
Finding the perfect time to harvest them is the key to keeping them tasty bites in your home all summer and is a valuable piece of information.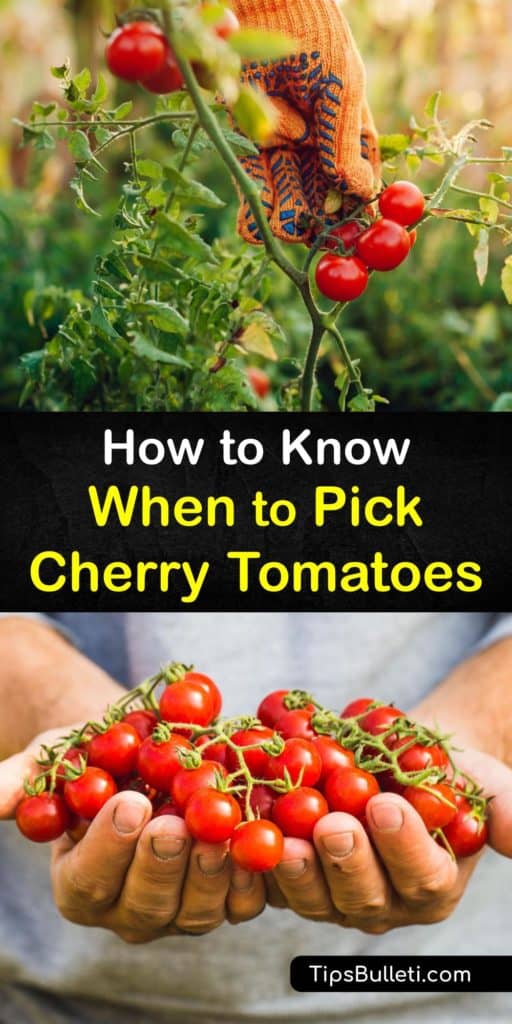 If knowing when to pick cherry tomatoes has given you the best-tasting tomatoes of your life, share these tips for harvesting cherry tomatoes on Facebook and Pinterest.