Have you been curious but also maybe a little intimidated by eggplant? There's no need to be mystified by this unique veggie any longer. Learn all about growing eggplant, when to pick eggplant for maximum deliciousness, and get some mouth-watering recipes for your hard-earned harvest.
It's eggplant in North America, aubergine in the UK, and brinjal in India. This perfect purple plant belongs to the Solanum melongena species and shares the Solanum genus with around 1,400 other species like tomatoes, potatoes, and peppers.
Eggplant relatives originated in northeast Africa about 2 million years ago and dispersed to Asia, giving rise to the ancestors of domesticated eggplant varieties. Many countries around the world have crowned eggplant the "King of Vegetables" because it's economically essential and absolutely delicious.
When to Harvest Eggplant
Discover everything you need to know about how to harvest eggplant. Learn when to pick eggplant, cook it, and how to preserve the extra for sharing with friends.
Eggplant can be prepared in so many ways, with so many flavors that there's sure to be something to please everyone at eggplant harvest time. Make this the growing season you enjoy eggplant straight from your home garden.
There are Many Kinds of Eggplant
In North America, we tend to imagine eggplant as the long purple veggie with squeaky skin and spongy white inside. However, like people, eggplants are unique and come in all shapes and sizes.
Before learning when to harvest eggplant, find out some of the common eggplant varieties you might encounter in your grocery store travels.
Eggplant is so diverse and can be prepared in any way you like. It also makes an excellent meat substitute for picky diners on your list.
You may have to try more specialized produce stores to locate unique varieties out of season in your area. Thankfully, growing eggplant and harvesting eggplant in your home garden is rewarding and much easier than you think.
Planting Your Eggplant for Success
Have we piqued your interest in harvesting eggplant? We have to grow eggplant first. Eggplant may seem intimidating, but with these tips, you'll be growing world-class eggplant in your home garden in no time.
All you need is reliably warm soil and weather. If your soil temperature consistently dips below 65°F overnight, the eggplant harvest will stall.
Begin seed starting indoors 8 to 10 weeks before your last predicted frost. Mix a few handfuls of organic matter into the potting soil, then plant your seed ¼ inch deep and with eggplant spacing of three inches apart. Water eggplant well, and leave them in a warm, sunny place.
After a while, you may start wondering, how long does it take for eggplant to grow? Seeds can take up to 3 weeks to germinate, so be patient and mist them regularly. You can also consider buying transplants from your local garden center or suppliers like Bonnie Plants.
Use your heating mat to keep the soil between 80°F and 90°F. Heating mats are inexpensive and make an excellent addition for anyone with a home garden.
Once your eggplant seedlings break through the surface, lower your temperature steadily to 60°F and decrease the water when you transplant eggplant seedlings outside; this process is called "hardening off" and prepares your plant for life outdoors.
While completing the stages of eggplant growing, eggplant can grow up to 3 feet tall and get pretty bushy. Plant eggplant about 3 feet apart and in an area with full sun for at least 6 to 10 hours daily. Water frequently to maintain moisture levels.
Learning when to best fertilize eggplant is important for a bigger crop. To boost your yield at eggplant harvest time, cover with liquid 10-10-10 feed about every 2 weeks. If you're short on soil space but still want an eggplant adventure, consider using a 5-gallon container for planting instead; your eggplant will grow just as well.
Eggplant Pests and Other Things
When learning how to harvest eggplant, other important points include dealing with minor annoyances like pests and diseases. Verticillium wilt is a common fungal infection that begins at the base of the eggplant plants, then yellows, and eventually kills the leaves.
Use an organic fungicide to treat the issue. Verticillium wilt can persist in your soil, so practicing regular crop rotation is crucial to the health of your other plants.
Regular pruning is also important for most any eggplant variety. Help the plant put its energy into growing larger fruit by keeping the leaves trimmed. It's easy to prune eggplant; if you see an extra leaf or extra blossoms, remove them with clean trimmers for larger fruit at eggplant harvest time.
You can also leave the plant to its own devices, and it will simply produce many small eggplants instead; the choice is yours.
How to Harvest Eggplant
You might be getting a bit impatient thinking, "But when are eggplant ready to pick?" Harvesting eggplant needs to happen at just the right time. If you started your eggplant seeds indoors, maturity should be 65 to 80 days or about 120 days if planting eggplant directly into the garden.
Ripe and ready fruit has firm, glossy skin. Some gardeners cut into the fruit slightly to ensure it's white and contains few seeds.
It may be tempting, but don't tug ripe eggplant from the stalks; they are fragile and will break. Twist the eggplant gently, or opt for a pair of pruning shears to make a quick, clean cut. As eggplant fruit ages, the skin accumulates anthocyanin, a plant pigment that causes a bitter taste.
An eggplant allowed to mature contains more seeds and more skin pigment; it will undoubtedly taste more bitter than those picked early and often. To increase your yield, harvest eggplants multiple times over a few weeks from July, August, or September, depending on when you planted them.
Preserving Your Eggplant Harvest
If your harvest goes better than expected, you may have more eggplant than you know how to use. Eggplant will only last about a week in the fridge, and the spongy texture doesn't hold up well to freezing. If you can't give all that eggplant away to friends and family, we suggest pickling for future enjoyment.
Cut the peeled eggplant into thin strips, coat them thoroughly with salt and leave them to sit in the fridge for 4 hours. Bring your vinegar, water, pepper flakes, and garlic to a boil in a large saucepan. Carefully add your eggplant slices, letting everything return to boiling, and simmer for 3 minutes.
Drain the mixture and remove any solid pieces of garlic. Pop your eggplant into the jars, coat the pieces with delicious olive oil, cover, and refrigerate. Pickled eggplant will keep in the fridge for about three weeks.
Tips for Cooking Eggplant
Although eggplants have seeds and are considered berries, we treat them as vegetables in the kitchen. Eggplant often requires a bit more prep work than some other foods, but it's worth it. Here are a few tips to help you on your way so that you can enjoy that eggplant immediately.
Harvesting eggplant opens your kitchen to many attractive culinary options. You can fry it, bake it, grill it, and more. Eggplant effectively mimics meat, absorbs seasoning exceptionally well, and works in a side dish or the main meal. Use your imagination, and don't be afraid to tackle new recipes.
When to Pick Eggplant and What to Cook with It
Of course, the point of knowing when to harvest eggplant is so you can eat it at its most delicious. If your mouth is watering and you're excited about eggplant ideas, why not try this easy recipe for Eggplant Parmesan? You don't have to be an expert in the kitchen to whip up this delicious dinner.
Tone down the eggplant's natural bitterness by coating the slices in a thick layer of coarse salt. Let the slices sit for at least 30 minutes, rinse with water and gently pat dry. Crack and beat your eggs, dip in the eggplant slices, coating generously. Dredge (or lightly coat) the pieces in dry, well-seasoned bread crumbs.
Now, we fry. Over medium heat, warm the olive oil in a heavy skillet. Fry each piece of eggplant for about 2 minutes per side, or until it looks deliciously golden brown. Ready some paper towels or absorbent material on a plate to suck up excess oil.
It's time to preheat, so set the oven to 350°F. Arrange a layer of eggplant slices to evenly cover the bottom of the baking dish, then cover with half your pasta sauce, half your mozzarella, and half your parm.
Repeat the process for the second layer and bake for 20 to 25 minutes, or until bubbly. Recipes like this make all the work you put in harvesting eggplant well worth it.
Harvesting Eggplant and Health Benefits
Eggplant's nutritional profile may not be incredibly dense, but it is very low-calorie and contains virtually no measurable cholesterol. Eating eggplant will also get you 3g of dietary fiber, about 230g of potassium, and 5% of your daily vitamin B6 intake per 100g serving.
Eggplant is versatile and can be seasoned to suit your tastes. It's filling and makes an excellent staple for people watching cholesterol levels but still wanting a full tummy.
Try This Roasted Eggplant Dip
You've learned how and when to pick eggplant; now it's time to share the bounty with loved ones. Don't go empty-handed if you've got a gathering of friends coming up. Instead, make this easy, delicious roasted eggplant dip. It's so good it might even win over some of those eggplant naysayers.
Preheat your oven to 400°F. Place the four halves of your eggplant white side down on the baking sheet. Pop them in the oven to roast for about 40 minutes or until the eggplant appears soft.
Once cooked and cooled, scoop out your eggplant and combine in a large bowl with all the other ingredients. Season the dip to taste, and serve with your favorite chips.
We hope you're excited to grow your very own eggplant this season, or maybe you're inspired to eat it more often. Once you're comfortable with purple eggplant, branch out to Indian eggplant, Japanese eggplant, or white eggplant.
Each eggplant variety has a unique and exciting flavor profile that will inspire you to expand your culinary curiosity further. Trying new things is exciting, and everyone can do it. Half your battle is knowing when to pick eggplant and how to cook it afterward, but now you're set in that department.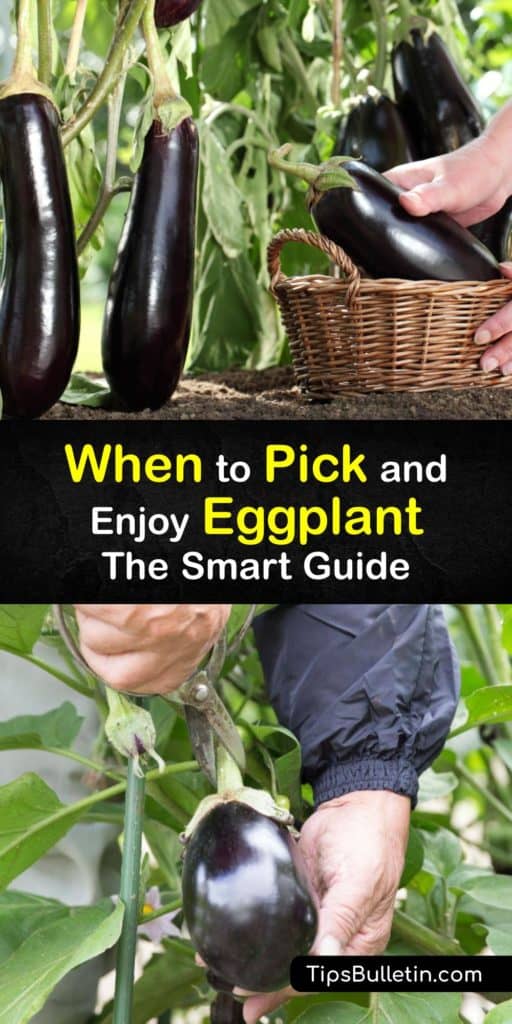 If you loved these helpful hints for when to pick eggplant, then share them with a friend on Pinterest or Facebook who's always excited about eggplant.