Many growers struggle to know when to pick green onions. Collecting your green onions at the right time is vital to achieving the best flavor and protecting your onion plants' health. Green onions make an excellent addition to the garden as they tolerate occasional cuttings, so you can trim off green tips to use as needed and harvest the entire plant later.
Exploring how long do green onions take to grow and the signs they're ready for collection helps you make the best decision about harvest time. Green onions go by several names, including spring onions, shallots, scallions, bulbing onions, and bunching onions. They are recognizable by their green tops and small bulbs.
Scientifically, green onions are known as Allium fistulosum and belong to the same family as the Allium cepa (regular bulb onion), other onion varieties, and alliums like chives and leeks. These onions are relatively straightforward to grow, provided you know when are green onions ready to pick. It's reasonable to expect a good harvest of tasty veggies.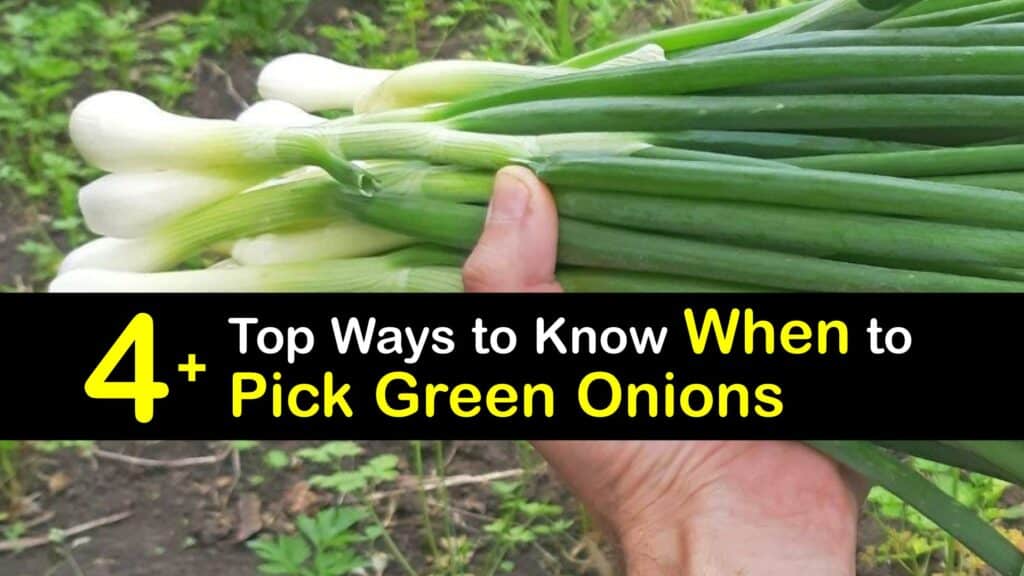 When are Green Onions Ready to Pick?
Anyone who grows them wants to understand when to pick green onions. Answering vital questions like how long do green onions take to grow allows you to establish when are green onions ready to pick.
Whether you have had your onion plants since germinating your onion seeds or regrew them using scraps from the grocery store, it's vital to know when to harvest this type of onion. Discover how in our easy guide to growing green onions at home. These veggies taste fantastic in stir fries and atop baked potatoes, making an attractive and delicious garnish for many meals.
Why You Should Know When to Pick Green Onions
Knowing when to pick an green onion is crucial to make the most of your homegrown produce. The timing of your harvest affects your onion plant and the quality of your product.
Discover the appropriate time to snip some onion tops without preventing growth and when to harvest the entire plant to ensure you get the most from your garden.
How Long Do Green Onions Take to Grow?
The standard green onion growing season runs about 90 days, like with the Tokyo Long White. Days to maturity may vary slightly depending on your chosen cultivar and local climate. Green onion seeds typically start in early spring after the last frost passes for a late summer harvest.
In some environments, it's possible to plant a batch of onion bulbs in the fall and enjoy a harvest as early as May the following year. You can grow green onion bulbs with fertilizer and standard soil in your garden. Reach out to your nearest cooperative extension office, or stop by a garden center for more information about cultivating green onions in your region.
Read on for more easy recipes to make a natural fertilizer for onions and scallions, and watch these green vegetables flourish in your garden.
Caring for Green Onions Until Harvest Time
Green onions prefer cool weather and thrive with full sun or at least six hours a day of direct sunlight. Your green onion plants may survive some shade though they generally won't grow as prolifically or be as hardy. Choose well-draining planting or potting soil rich in organic matter and slightly acidic to neutral pH.
Water your green onions often during the growing season and add a layer of mulch to help their delicate root system retain water. Avoid overwatering and saturated soil, as this invites fungal diseases and issues like white rot. Inspect your plants weekly for pests or diseases.
Use natural treatments like neem oil and insecticidal soap if you're practicing organic gardening. If possible, refrain from repotting your green onion plant to help its fragile root system stay intact.
When are Green Onions Ready to Pick?
Though it's impossible to harvest onion bulbs without destroying your plant, once your green onion plant has several good-sized leaves, it will likely withstand some cuttings to use in the kitchen.
Most green onions are ready for the entire plant to be harvested around 90 days from germination and have a few stems to spare in as little as two weeks. When the green stems of your onions turn brown and begin to wilt, it's a sign it's time to harvest them.
How to Harvest Mature Onions
To harvest some onion tops without removing the entire plant, use a pair of clean, sharp shears or scissors to snip off a few onion stems close to the base. Never cut more than a quarter of the available leaves at one time, and make sure you give your plant plenty of time to regrow before harvesting leaves again.
At the end of the season, when you're ready to make a final harvest and collect the whole green onion, including the bulbs, carefully dig them up using a small trowel. Start a few inches out from the base of your plants and dig inward slowly to avoid accidentally damaging the delicate onion bulbs while unearthing them.
Shake the bulbs to remove lumps of dirt and soil and set them in a dry and well-shaded place to cure for a few weeks.
Green onions are a fun garden project appropriate for any level of gardener. Though they are pretty easy to care for throughout the growing season, it's essential to know when to harvest your green onions to make your hard work worth it.
Unlike other vegetables, it's possible to pick some green tops and keep growing your plant for a later harvest of bulbs and stems. Visit your local garden center and start some green onions.
If you care for them well as they grow and know when to harvest them, you'll have a delicious addition to stir fries, salads, and more.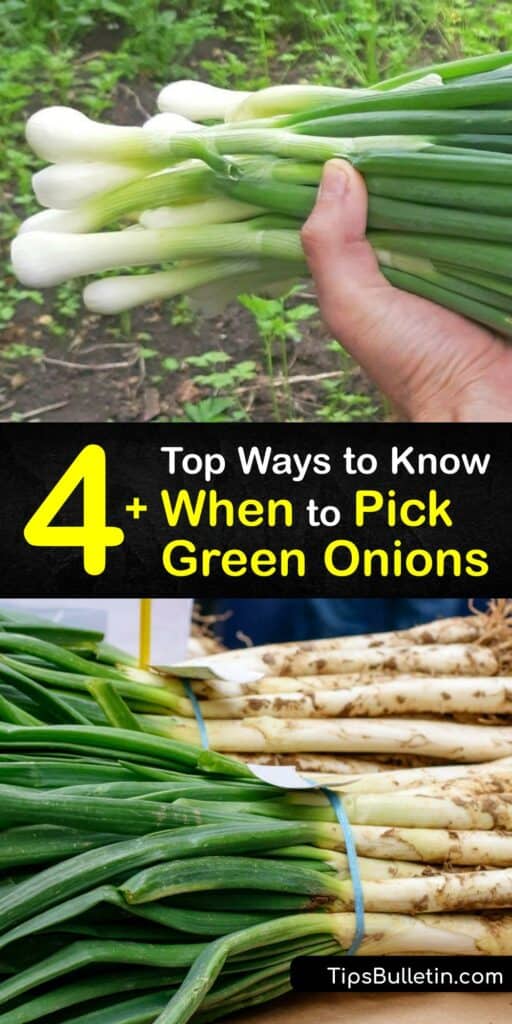 If you loved this article on when to pick green onions, please share this brilliant information answering how long do green onions take to grow with your friends and family on Pinterest and Facebook.