At the end of the season each summer, there always seems to be a few green tomatoes still hanging on. To make the most out of your late-season tomato crop, learn when to pick green tomatoes so that they'll continue to ripen indoors.
There are also several delicious ways to use green tomatoes that didn't mature enough to ripen off the vine.
Although tomatoes that ripen on your kitchen counter are usually a bit less flavorful than tomato fruits that ripen on the vine, it's undoubtedly a better alternative than no tomatoes at all.
Make sure only to pick tomatoes that appear healthy and don't show signs of damage, disease, or rot.
Most types of fruit produce a natural compound called ethylene gas during the ripening process. Placing your ripening tomatoes alongside other heavy ethylene producers helps speed things up significantly.
While bananas are perhaps the best-known ripening assistant, other useful fruits include apples, avocados, melons, peaches, pears, and plums.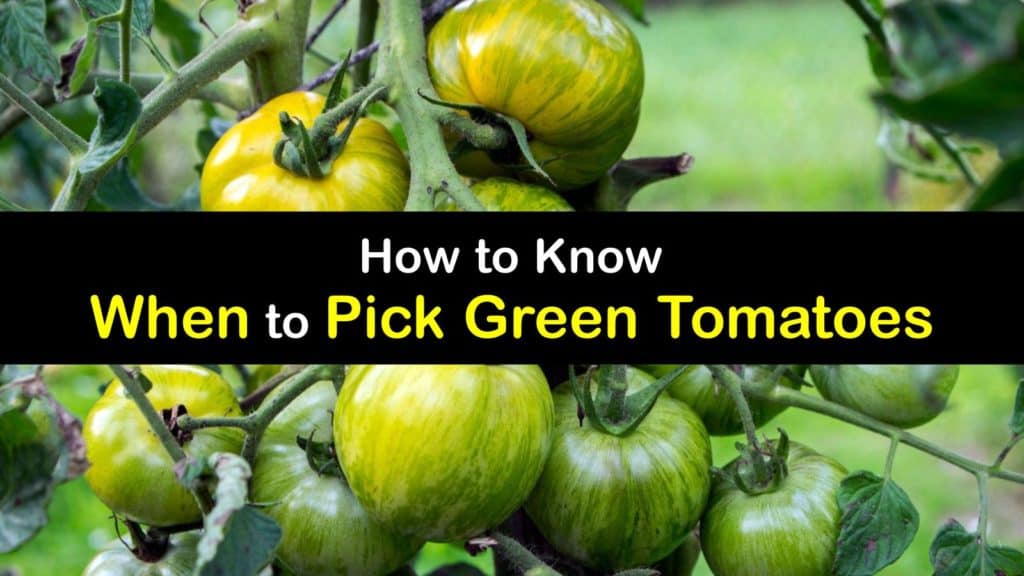 When are Green Tomatoes Ripe?
You might be wondering, "When are green tomatoes ripe, exactly?" The difference between immature and mature green tomatoes is subtle, so read on to find out what to look for when harvesting green tomatoes.
Once tomatoes reach their full size, they turn a very light, almost translucent green. You'll also notice white streaks spreading upward from the blossom end or bottom of the fruit. When to pick tomatillos is a little different. The husks start to split and the fruit is softer than when it was growing.
Ripening tomatoes begin softening as they develop a light blush of color. The easiest way to determine tomatoes' ripeness and know when to pick tomatoes off the plant is by giving the green fruits a gentle squeeze.
If your tomato plants are still full of fruit at the end of the growing season, it's best to harvest as many healthy tomatoes as possible before temperatures drop and the crop gets ruined by the first frost.
Types of Green Tomatoes
Some tomato varieties actually stay green when mature. The ripe tomatoes typically have a slight tinge of yellow or pink once they're fully ripe.
Red tomatoes are the traditional way to go, but why not add some exciting colors to your summer salads by growing differently colored tomato varieties? What are green tomatoes called? It depends on the cultivar. Here are several of the best types of green tomatoes, from heirloom beefsteak to different types of green heirloom tomatoes like Green Zebra.
If you grow your own tomatoes, knowing the correct pot size for growing green tomatoes is important. Strong, deep roots aid all kinds of tomatoes so pick a container that is at least five gallons but more is even better.
When to Pick Green Tomatoes in the Fall
Tomato plants can survive temperatures down to 33 degrees Fahrenheit. However, the entire plant starts experiencing stress-related problems at temperatures lower than 50 degrees Fahrenheit.
Cold temperatures inhibit the ability to use chlorophyll, which is the plants' green photosynthetic pigments, to convert sunlight and carbon dioxide into sugars. The fruit may also pucker or crack from the blossom end.
As such, growers need to harvest their precious tomatoes early enough and know when is the best time to pick cherry tomatoes that are green as well as other types of green tomatoes. There are a few other reasons for harvesting green tomatoes, as well.
These may include the branches becoming too heavy, a pesky rodent discovering your tomato plants and stealing the fruit or an impending summer hail storm that might put your plants at risk.
An excellent use for green tomatoes that haven't matured enough to ripen off the vine is to make fried green tomatoes. Try this easy recipe for some classic Southern comfort food.
Start by slicing your tomatoes a half-inch thick. Whisk the milk and eggs in a medium-sized bowl. In another medium-sized bowl, blend the cornmeal, breadcrumbs, salt, and pepper. Pour the flour into a third bowl.
Pour approximately a half-inch of vegetable oil into a large, heavy-bottomed skillet and heat over a medium flame. Coat your tomato slices in flour, then dip them in the milk and egg solution.
Coat them in the breadcrumb mixture and place them in the skillet to fry. Arrange the tomatoes in the skillet so that the edges don't touch.
Brown the tomatoes on both sides, then place them on a paper towel to drain any excess oil. Serve immediately with your favorite dipping sauce.
How to Ripen Green Tomatoes Indoors
After harvesting green tomatoes
from your garden, find a warm location out of direct sunlight to store them while they ripen. A corner of your kitchen counter or the top of the refrigerator are excellent locations for ripening tomatoes.
However, avoid placing them on a windowsill, as direct sunlight might scald the fruit and inhibit pigment synthesis.
Remove the leaves and stems, and wash your tomatoes to eliminate any remaining dirt. Once they've completely dried, place them in a single layer in a paper bag or cardboard box.
While mature green tomatoes eventually ripen on their own when left at room temperature, it may not be for several weeks depending on the variety and how mature it was when picked.
To speed up the ripening process, place another ethylene-producing fruit like an avocado, apple, or banana in the cardboard box or paper bag along with your ripening tomatoes.
Another delicious way to use up unripe tomatoes is by making a DIY green tomato salsa, so hang on to those bright summer flavors a bit longer with this delightful salsa verde recipe.
Cut the tomatoes into quarters and remove the stem. Line a large baking tray with a sheet of baking paper or aluminum foil and arrange the tomato pieces so that they do not touch.
Place the baking tray on the top rack of your oven and broil the tomatoes for five minutes or until they become lightly browned. While the tomatoes are broiling, place the diced onion in a small bowl and soak in cold water for five to ten minutes, then drain.
Place the broiled tomatoes in a blender or food processor and pulse it a few times. Add the onion, pepper, cilantro, lime juice, salt, and pepper and purée until it reaches your desired texture.
After tasting, add more salt, pepper, or lime juice if desired. For hotter salsa, use two serrano peppers instead of one.
The flavors become bolder after the salsa sits in the fridge for an hour or so. Store your green tomato salsa refrigerated in an airtight container for up to one week. If you're making a large batch, try freezing it to extend its shelf life.
Fried green tomatoes and salsa are great ways to use green tomatoes but pressure canning green tomatoes is also an option, as is freezing them.
If you still have large quantities of unripe tomatoes at the end of the growing season, don't worry. As long as they've fully matured on the vine, green tomatoes continue to ripen after getting picked.
Look for telltale signs like pale streaks spreading upward from the blossom end of the fruit, softening texture, and a slight blush of color. However, there are plenty of delicious ways to use unripened types of green tomatoes, as well.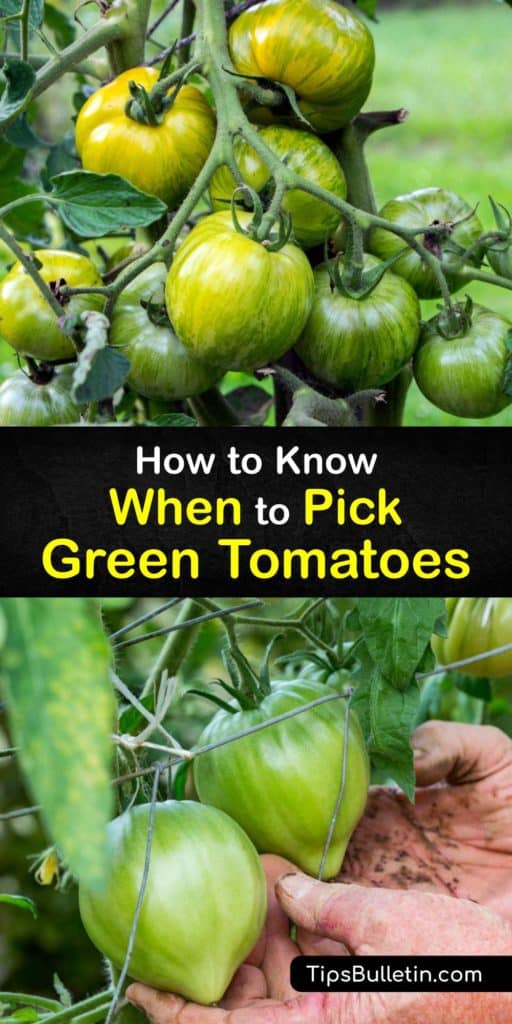 If you enjoyed learning these tomato harvesting tips, please share this article about when to pick green tomatoes with your friends and family on Pinterest and Facebook who may be wondering, "When are green tomatoes ripe?"