Strawberries are a juicy fruit that makes an excellent addition to your backyard garden. Although this red berry is relatively simple to grow, it is critical to know when to pick strawberries off the vine so you have the best-tasting fruit possible.
Whether you plan on eating strawberries plain, using them for a dessert such as strawberry shortcake, or freezing them for a tasty smoothie, we show you how straightforward harvesting strawberries is.
Not only does a strawberry plant produce fantastic fruit, but it is an excellent companion plant for other fruits and vegetables in your garden. Strawberries help control weeds when they grow next to horseradish, rhubarb, and asparagus.
Other gardeners grow strawberries next to chives, onions, and sage to naturally repel common pests that try to steal nutrients from your plants.
Throughout this article, we show that growing your own strawberries is simple when you have all the pertinent information. Additionally, we describe how to harvest strawberries correctly, so you do not damage the fruit.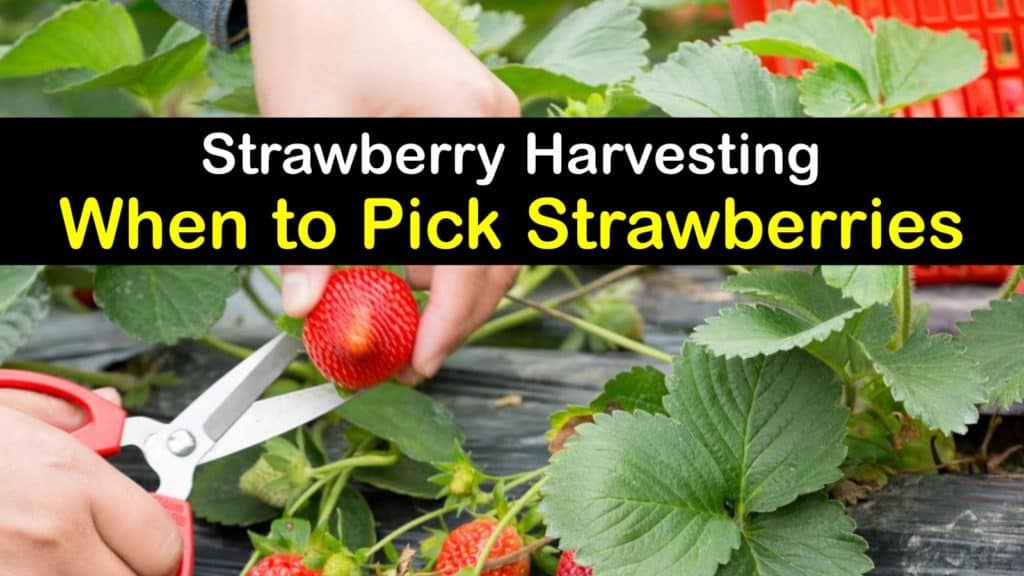 Advantages of Growing Your Own Strawberries
There are many benefits to keeping strawberry plants in your garden or growing strawberries in containers or pots throughout the growing season.
Although you can find strawberries at your local grocery store, planting them allows you to save money on groceries, reduces your environmental footprint, and allows you to get some fresh air outdoors.
If you do not know how to harvest strawberries, growing the fruit does not benefit you. Picking strawberries the right way is straightforward and does not damage the fruit.
The same principle applies to when do you harvest garlic and all other fruits and vegetables.
How to Harvest Strawberries Properly
As you grow strawberries in pots or the garden, understanding the correct harvesting time is critical. These red berries are usually ready for harvest time four to six weeks after the plant blossoms.
If you maintain consistent care for your strawberry patch, the growing season will likely not take the entire six weeks. When are strawberries ready to pick? Ripe strawberries are ready to harvest when the berry is entirely red.
Using sharp gardening scissors, snip the fruit at the stem. As you are harvesting strawberries, do not pull the berry, as it leads to damage.
Sometimes, a local farm or pick-your-own farms allow you to pick strawberries from the field. Even in these circumstances, it is crucial to know when to harvest strawberries, so you have only the freshest picked strawberries.
Planting and Harvesting Strawberries
If you plan to grow strawberries in your backyard, there are several helpful tips and tricks to make gardening more manageable. Planting time for strawberries is usually in the spring.
One crucial part of care to consider this strawberry season is the spacing of the seeds. When you grow strawberries from seeds and have the proper spacing between each one, they can spread their roots instead of being compromised for space.
Plant each strawberry seedling about 18 inches apart. Strawberries are sprawling plants, so space rows about four feet apart.
Bury the strawberry seeds in the soil, but make sure the crown of the seedling is not covered by dirt, leading to diseases and rot. An essential part of learning when to pick strawberries is to plant the seeds at the right distance apart.
Growing Strawberries in the Right Soil
Strawberry fields demand a specific type of soil to grow efficiently. When strawberries are planted in the correct soil, ripeness is positively impacted; it takes less time to harvest fruit, making water drainage effortless.
Most varieties of strawberries prefer loamy soil with good water drainage. Because loamy soil drains well, water does not build up at the plant's base, causing root rot and other harmful diseases that kill your plants.
Other green tips that assist your strawberries in sprouting include fertilizer and mulch. Fertilizer provides your strawberries with extra nutrients to aid development. Mulch helps lock in moisture, so you do not have to water your plant as often.
When to Pick Strawberries that are June-Bearing
One of the best types of strawberries for gardeners is the June-bearing strawberry. This variety of strawberry produces fruit in early June, making them perfect for the summer.
How long do strawberries take to grow? June-bearing strawberries bear their fruit over three weeks. One important aspect concerning June-bearing strawberries is their harvest time.
During the first year of development, June-bearing strawberry plants do not provide any fruit. However, the wait is well worth it, as the plant bears a lot of fruit when it comes time for harvesting strawberries.
Despite not sprouting any fruit during the first year of growth, a June-bearing strawberry plant still makes an excellent companion plant alongside other fruits and vegetables in your garden.
What are Everbearing Strawberries?
Another common type of strawberry grown by both novice and experienced strawberry pickers is the Everbearing strawberry plant. Unlike the June-bearing strawberry variety, Everbearing produces fruit in the spring, lightly in the summer, and again in the fall.
Because this strawberry variety produces so much fruit, you must know how to harvest strawberries when the time comes. Everbearing strawberries are also simple to incorporate into your garden.
Bury the seeds in the soil about the depth of your thumbnail and make sure the plant gets plenty of direct sunlight each day. Gardeners love the Everbearing strawberry plant because of the considerable harvest it offers throughout the majority of the year.
How to Store Your Fresh-Picked Strawberries
After you understand when to pick strawberries, storing the fruit becomes an important objective. Do not let fresh strawberries sit out at room temperature for too long, as harmful bacteria and mold grow faster.
To extend the overall shelf life of your fruit, place them in an airtight container in the fridge after washing and drying them. Refrigeration keeps the strawberries cool and ready to eat.
Another brilliant way to preserve your strawberries is to freeze them. Cover a cookie sheet with a single layer of parchment paper and evenly space out your strawberries on the sheet.
Place the sheet in the freezer. After your strawberries have completely frozen, transfer the berries into a freezer bag or airtight container to block oxygen that tries to sneak into the bag.
Repelling Spider Mites in Your Garden
Growing and harvesting strawberries is complicated when harmful pests are trying to suck the plant's nutrients. A strawberry plants' worst enemy is spider mites.
Spider mites leave tiny white and yellow spots on the plants' leaves. If left untreated, spider mites kill the plants in your garden. Fortunately, there is an easy DIY repellent that avoids the use of harmful pesticides.
After combing the ingredients in a spray bottle, mist a single layer of the deterrent over the strawberry plant to prevent invading spider mites.
Each element in this all-natural bug repellent plays an essential role in making sure spider mites do not harm your strawberries.
Baking soda and dish soap both slowly kill insects by coating their exoskeletons. Apple cider vinegar contains damaging acids that bugs are unable to survive.
Managing a backyard garden is a beautiful activity to do in the spring or summer; make sure you wear a little sunscreen to protect yourself from UV rays.
A manageable plant to include in your garden is the strawberry plant. Strawberries are easy to grow and require basic maintenance compared to other plants. A critical part of the gardening process is knowing when to pick strawberries.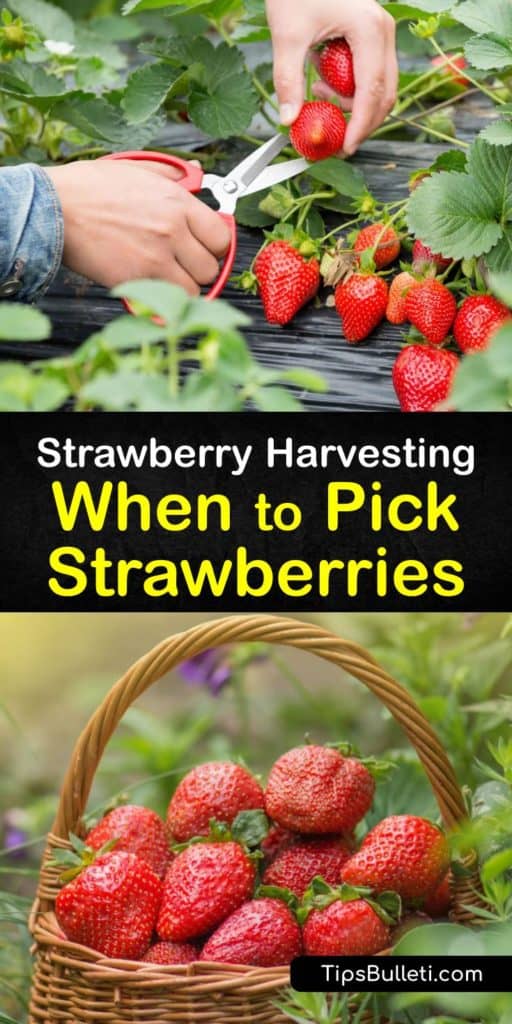 If you discovered how to harvest strawberries, share this article with tips for harvesting strawberries with your neighbors and friends on Pinterest and Facebook.