Tabasco peppers are a bright and colorful chili pepper from Mexico that is popular for making hot sauce. However, this hot pepper is also perfect for salsas, Mexican dishes, and dehydrating into chili powder. We explain how to grow your own peppers and when to pick Tabasco peppers for the best harvest.
Jalapeno, serrano, and bell peppers are common in many home gardens, but Tabasco pepper plants are just as easy to grow.
All these plants require is the right amount of sunshine and care, and they reward you with a bounty of green, orange, and bright red fruits at the end of the season.
How long does it take for Tabasco pepper plants to grow, and when are they ready for harvesting? It depends on whether you want a green pepper or prefer to wait until they ripen into a sweet red pepper. The growing conditions also play a role in when these peppers are ready to pick.
Growing and Harvesting Tabasco Peppers
If you think that growing Tabasco peppers is hard, think again. These peppers grow just as easily in the garden as any other. Here are simple ways to grow your own peppers and tell when to best pick peppers for the tastiest flavor.
What are Tabasco Peppers?
Some peppers are more common than others. The bell pepper is most popular with its sweet, mild taste, while the habanero pepper and ghost pepper (Bhut jolokia) are famous for their super-hot flavor.
We've all heard of Tabasco sauce, but what exactly are Tabasco peppers? Can you easily identify chili peppers over milder varieties?
Tabasco Peppers (Capsicum frutescens)
The habanero has 350,000 heat units and the jalapeno averages 5,000 on the Scoville scale. While not the hottest pepper in the world, Tabasco peppers range from 30,000 to 50,000 on the Scoville scale and are more comparable to the cayenne pepper.
These pepper plants grow quite bushy and reach a height of five feet. Their fruit size ranges from one to two inches long, and the color determines when to harvest Tabasco peppers.
Picking green peppers is fine and useful for making salsa verde, but if you desire a sweeter and more flavorful pepper, it's a good idea to let them mature into an orange or red color when they contain more capsaicin.
How to Grow and When to Pick Tabasco Peppers
Growing your own garden at home is a great way to produce and eat fresh veggies. Here is how to grow pepper plants, when to pick a Tabasco pepper, and how long these peppers take to grow and mature.
Start your pepper seeds indoor about seven weeks before the last frost. Fill a seed starting tray with moist potting soil and press a couple of seeds a quarter-inch deep into each compartment's soil.
Set the tray in a sunny windowsill where the temperatures are above 65°F. Keep the dirt damp but not soaked by spraying the tray each day and wait for them to germinate in about two to four weeks.
Cover the tray with a plastic bag to encourage faster germination. Once the seedlings have their true leaves, harden them off by taking the plants outdoors each day for a couple of hours a week before transplanting them in the garden.
Dig a hole in the garden bed that is slightly larger and deeper than the plant's base. Carefully take the seedling out of the original container, set it in the dirt, and cover the bottom with soil.
Give the plant good watering and cover the ground with mulch or organic matter. Begin harvesting the peppers after they produce fruit.
How to Care for Your Plants before Harvesting Tabasco Peppers
Unfortunately, there is a waiting game before harvesting Tabasco peppers. Give your plants proper care to ensure they provide you with a healthy crop of hot peppers during this time.
Tabasco Pepper Plant Care
Pepper plants require full sun to thrive, so make sure to choose a plant site where they receive six or more hours of sunshine. Spacing is important since Tabasco plants are bushy growers, so plant them roughly 24-inches apart.
When you grow ghost peppers or Tabascos, do not let the pepper plants dry out and water them so that they receive one to two inches of water each week.
Place mulch over the garden bed to retain moisture and keep the weeds at bay and fertilize the seedlings right after planting and then again when they produce fruit.
When to Harvest Tabasco Peppers
You check your plants daily in anticipation of budding flowers and colorful peppers, but they look just like they did the day before. We'll explain how long it takes for pepper plants to grow and produce fruit and when to harvest Tabasco peppers or harvesting banana peppers for the best flavor.
Tabasco Pepper Harvest
Tabasco pepper plants take a couple of weeks to germinate and approximately 80 days for the plant to mature. They begin flowering after about three months, and the fruit starts growing after that.
At first, the peppers are a light green color, and then they turn to medium green, yellow, orange, and finally red. Harvest the peppers at any of these stages by using a pair of garden scissors to clip the fruit stem from the plant.
The same rules apply for when are jalapeno peppers ready to pick, as well as other varieties.
How to Make Your Own Tabasco Sauce
After harvesting Tabasco peppers, you discover that you have more peppers than you know what to do with, and you're running out of cooking ideas.
Why not make your own batch of Tabasco hot sauce? While the McIlhenny company makes the original Tabasco hot sauce on Avery Island in Louisiana, that doesn't mean you can't make yours from scratch.
Combine the peppers, salt, and vinegar in a medium pot and bring it to a boil. Turn down the heat and simmer it for 15 minutes before pouring the mixture into a food processor.
Blend the peppers until smooth, strain out the seeds, and then pour the hot sauce into a bottle or jar.
Tabasco peppers are the perfect spiciness if you enjoy your food and pepper sauce with a lot of kick. Not only do they pack the heat, but these pepper plants are simple to grow in a garden, and harvesting at the end of the growing season is even easier.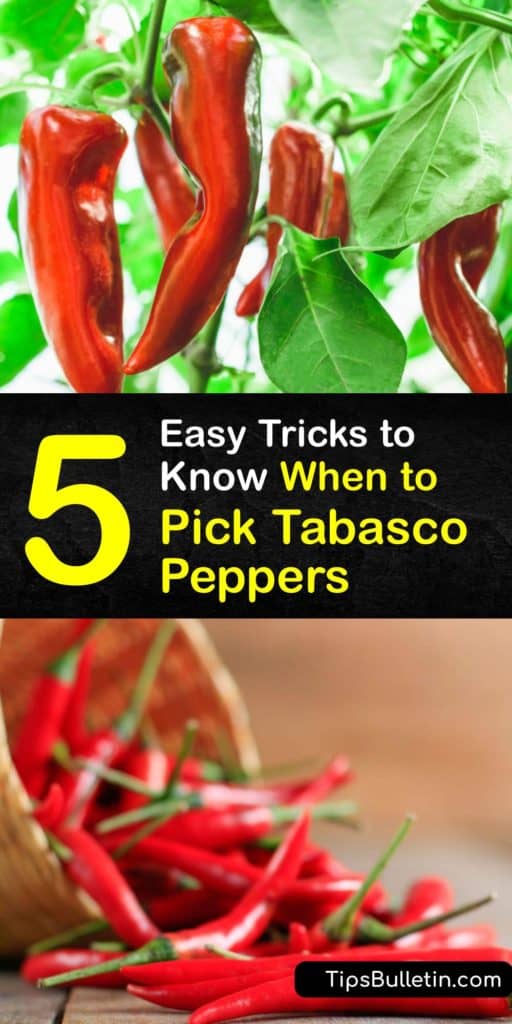 Now that you know how to grow pepper plants and when to pick Tabasco peppers for your favorite recipes, why not share our Tabasco growing and harvesting guide with your circle of family and friends on Pinterest and Facebook?