Growing tomato plants in your garden or indoors is one of the easiest gardening tasks. However, even the best cultivation practices do not matter if you do not know when to pick tomatoes off the vine.
Knowing the difference between a premature tomato and ripe tomatoes is relatively easy when you can access the proper tools.
Fortunately, this article demonstrates how simple growing tomatoes, identifying ripe tomatoes, and harvesting tomatoes are at the end of the growing season.
Not only are homegrown tomatoes an excellent way to repurpose extra space in your garden, but they are packed with vitamins and nutrients. Heirloom tomatoes are a great source of calcium, potassium, and phosphorus while remaining low in calories.
With the vast array of benefits to planting tomatoes, it is essential to know how to harvest tomato fruits.
Continue reading to find out when to harvest tomatoes, how to store tomatoes, and how to repel harmful pests like aphids. With the proper knowledge, growing tomatoes and picking tomatoes is easy.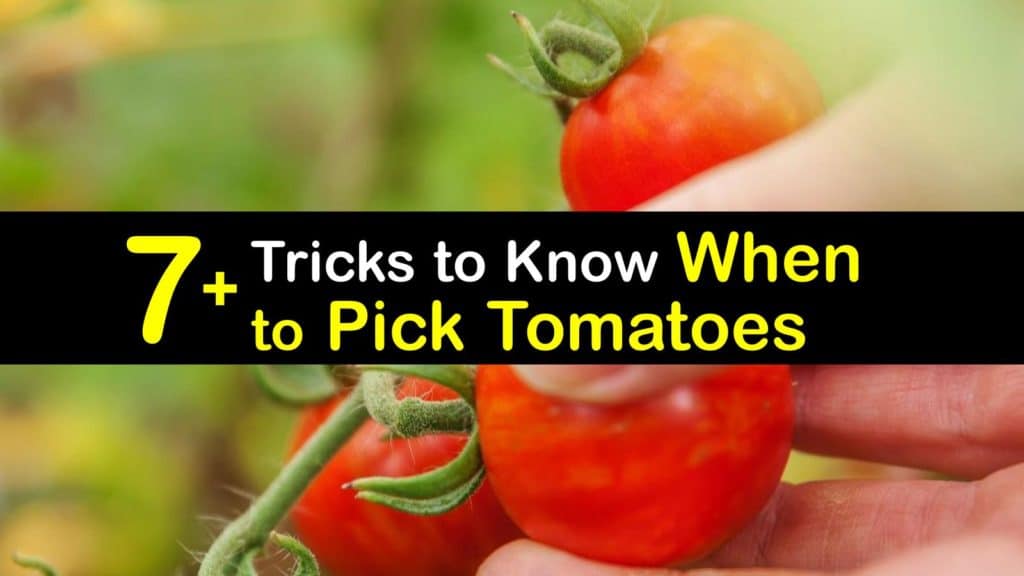 Understanding a Tomato's Ripening Process
Many factors go into producing the best tomatoes. How much room do tomatoes need to grow? Allowing enough space between plants helps prevent disease and pests and assures you of a better harvest.
Lycopene and carotene are the two carotenoids responsible for giving a tomato its red color and indicating when the plant is ripe. Knowing the tomato fruit's ripening process helps you pick the best tomatoes from your garden.
Temperatures between 70 and 75℉ speed up the ripening process. After you remove a tomato from the vine, it continues to ripen when kept at room temperature. Cut off all immature fruit from the plant to produce large, juicy tomatoes.
When to Pick Tomatoes off the Vine
Whether you grow heirloom or cherry tomatoes, after planting tomato plants or seeds, you need to know what signs indicate your tomato plants are ready for harvest. The bottom part of the fruit is the best natural indicator of ripeness.
Especially in large heirloom varieties of tomatoes, ripening begins from the bottom to the fruit upward. Learning how to tell if tomatoes are ripe requires a quick check of the tomato plant.
Test if your plant has ripe fruits by squeezing the tomatoes gently. Firm tomatoes with a little give to them are ready for harvesting. A common misconception is that you should not harvest green tomatoes.
However, when tomatoes are a bit red and a little green, also called the fruit's breaker stage, it is the perfect time to harvest the fruit. Green fruits result from chlorophyll in the tomato, and the fruit continues to ripen to a deep red color after harvesting.
Length of Growing Time and When to Harvest Tomatoes
Compared to other fruits and veggies, red tomatoes do not take that long to mature. Within 20 to 30 days of planting your tomatoes, they enter the mature green stage. The tomatoes reach their full size but have not yet begun to change colors.
As the fruit emits ethylene gas, the ripening tomatoes transform into their well-known red color. Throughout the next 20 days, green tomatoes start to show subtle hints of red, indicating they are ready for harvest.
When are tomatoes ready to pick? Ripe tomatoes have shades of both green and red. After harvesting tomatoes, they continue to mature even off the vine.
Tomatoes should be a little red and not entirely green in color. If you pick unripe tomatoes too early, they never fully mature.
Harvesting Tomatoes without Damaging the Fruit
If you plan on consuming tomatoes right away, harvest the fruit when your plant produces red tomatoes. Otherwise, ripeness continues to develop when the fruit is a little green.
With a pair of sharp gardening pruners, snip tomatoes off the vine. Make sure you leave about a ½ inch of the stem on the fruit to prevent premature rotting.
When you pick-tomatoes, avoid squeezing the fruit too hard, as it results in bruising and spoilage.
There are a couple of signs that reveal whether or not you have a juicy tomato. When a tomato feels rather heavy for its size, it shows the fruit is packed with juice.
Also, if a tomato has a robust earthy odor, it reveals the tomato has more flavor. Once you know when to pick tomatoes, harvest them without causing any damage.
Storing Fresh Tomatoes the Proper Way
The proper storage technique for your tomatoes depends on the fruit's ripeness and when you plan on consuming the tomato. A fully ripe tomato's shelf life is extended when kept at room temperature on your countertop.
The flavor of a red tomato is best within the first three days of harvesting. To keep the fruit freshest, how to store fresh tomatoes starts by making sure it sits with the stem facing up.
After harvesting tomatoes with a little green color on them, it is important to store them properly. When unripe tomatoes are kept in the right conditions, they mature much faster.
Place unripe tomatoes in a brown paper bag, stems facing downward, on the countertop at room temperature. Ensure the paper bag is away from direct sunlight, like a sunny windowsill, as it causes bacteria to grow. Enjoy your fresh tomatoes once they are red.
Familiar Pests Found on Tomato Plants
There are a few pests that like tomato plants. It is important to identify the signs left behind by aphids so you get rid of the insects immediately.
When you leave a bug infestation untreated, they continue to repopulate and eventually kill your tomato plant. Fortunately, locating a swarm of aphids on your tomato plant is simple.
Aphids are tiny, green insects that gather in clusters on a plant's leaves and stems. Although aphids are considerably small, they are still easy to spot.
Additional signs that your plant has aphids include wilting leaves, yellowing leaves, and leftover honeydew on the leaves and fruits. Controlling a few aphids is simple; remove the leaf they are infesting.
When these critters infect your entire plant or garden, use a bug repellent to deter and kill the pests.
How to Make a Homemade Bug Repellent
Some people believe that deterring aphids and other pests from your garden requires expensive or hard-to-find ingredients.
However, many everyday cleaning agents can be repurposed to form an effective and inexpensive bug deterrent. Liquid dish soap, vinegar, and essential oils contain ingredients that either kill or release odors that repel aphids.
Pour each of the bug-repelling ingredients into a glass spray bottle. Ensure you shake the solvent gently after all the ingredients are inside, so the oil absorbs into the water.
Mist the leaves and stems of the affected plants to kill and deter adult aphids and their larvae and eggs. Another excellent way to avoid an aphid problem is to plant marigolds near your garden, as they release scents that pests hate.
How to Avoid Life-Ending Plant Diseases
Inadequate care has the potential to lead to several bacterial or fungal diseases on your tomato plant. Before learning how to harvest tomatoes, it is crucial to take steps that promote healthy growth patterns.
Some of the most prevalent diseases found on tomato plants include blossom end rot, fusarium wilt, and verticillium. Because most fungal infections originate from the soil, correct watering techniques are essential. You also don't want mealy tomatoes from soil that is too dry.
Whether you are growing Cherokee Purple or cherry tomatoes, you must keep your tomato plant watered. We recommend using a drip watering system to reduce the chances of a fungal disease.
Another way to prevent overwatering is to use mulch. A single layer of mulch over the soil helps lock in moisture and reduces the number of times you water your garden. Also, continuously weeding your garden is a great way to avoid harmful diseases.
How to Locate Premature and Spoiled Tomato Fruits
Tomato plants are wonderful because they grow well indoors during the first frost and outdoors after the last frost.
Because tomatoes produce fruit all-year long when you grow them indoors, you need the proper knowledge regarding premature or spoiled fruit.
Consuming rotten fruit sometimes leads to foodborne illness and a wide array of unwanted symptoms that include an upset stomach. Perhaps the most reliable indicator of a rotten tomato is mold growth.
Mold is either white, dark green or black and forms spots on a tomato's skin. If there is a small spot of mold on your tomato, do not risk eating it.
Other signs of spoiled tomatoes include wrinkling on the skin and leaking fluids. Premature tomato fruits are small, dark green, and have difficulty reaching full maturity after being removed from the vine.
We highly recommend growing a tomato plant indoors or in your outdoor garden because the fruit is so diverse and incorporated in so many different recipes.
Tomatoes are simple to grow and do not take very long to reach maturity. Of course, an important part of growing tomatoes is understanding when to harvest tomatoes on the vine.
Know when to pick cherry tomatoes and other different tomato varieties. When the fruits have shades of green and red, they are ready to be harvested and left at room temperature until they reach their natural full red color.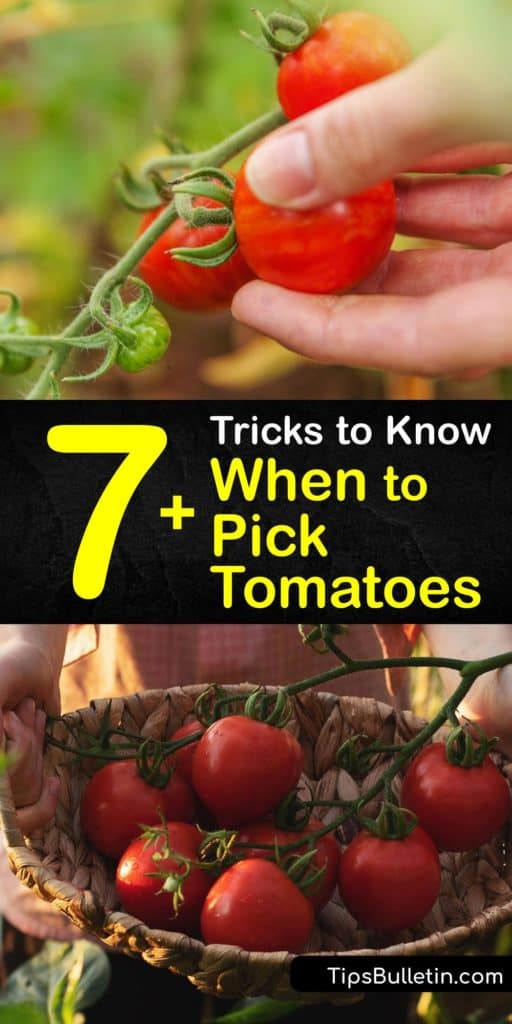 If you discovered when to pick tomatoes, share this article about harvesting tomatoes with your family and best friends on Pinterest and Facebook.