Arugula plants were originally prevalent in French and Italian cuisines and loved for the spicy zing they added to a salad. Today, people all over the world can't get enough of these unique salad greens. Knowing when to plant arugula will help you have a better harvest and give you greens that taste a lot better than what comes in store-bought mesclun mixes.
Ultimately, the arugula growing season is yours to embrace if you want to grow a leafy green with twice the flavor as lettuce. As you learn when to plant arugula seeds, we hope that you pick up some helpful tips to help you grow arugula year after year.
These plants have a flavor profile similar to radishes, but their tender leaves are much more delicate, and they are harvested for weeks on end. If you have been searching the internet for information on the best time to plant arugula, you've come to the right place.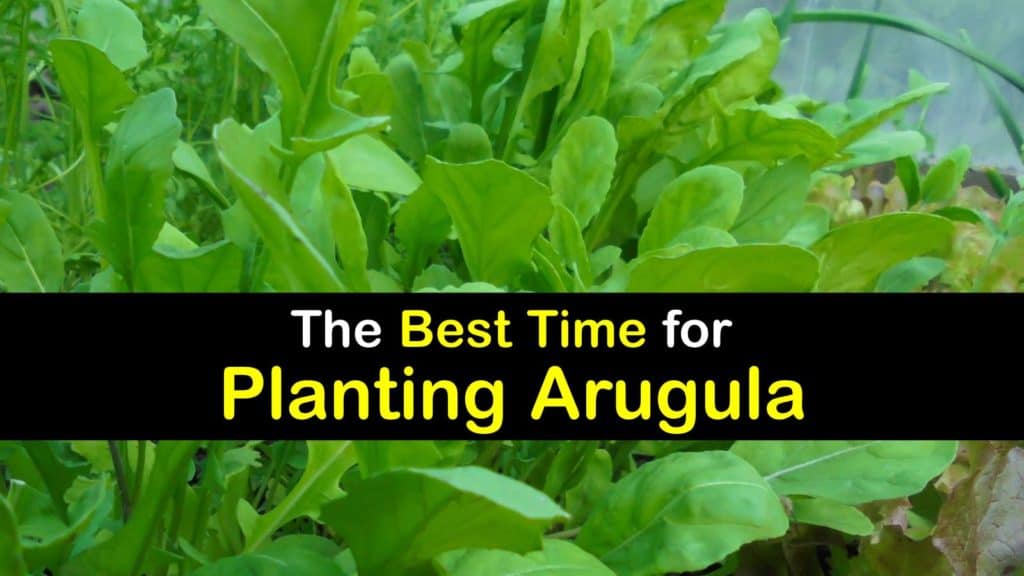 History and Cultivars of Arugula
The popularity of arugula plants, also called Eruca sativa, has fluctuated over time. Surprisingly, this plant is mentioned in the Old Testament; it has been around for as long as the sixth century BC.
Wild arugula leaves are native to Mediterranean regions and have been a staple food in Morocco, Turkey, Italy, and Portugal for decades.
One interesting tidbit that comes from learning when to plant arugula seeds is that the whole plant was considered an aphrodisiac by Romans and Egyptians.
Today, it is still used for medical purposes in west Asia and Pakistan. For example, the oils from the seeds are used to reduce dandruff, kill lice, promote hair growth, and reduce inflammation from skin conditions.
With such a rich history, humans have taken full advantage of the outer leaves and created many different cultivars. Some of the most popular types of arugula are Rucola, Roquette, Astro, Red Dragon, and Garden Tangy.
You can wait until the entire plant has matured, or you can grow any of these cultivars as a microgreen and throw them on hundreds of dishes for extra nutrition.
When to Plant Arugula Seeds
Knowing when to sow seeds for the arugula growing season, as well as when to plant kale seeds, is crucial information for any home grower. These are cool-season crops.
If the cool weather is too cold, they might not sprout, while if it is too hot, they start bolting too soon. It is ideal to find the perfect timing to encourage the entire plant to germinate and start growing.
When do you plant celery? Unlike the best time to plant basil, which is a warm-season herb, you can plant celery at about the same time you grow arugula.
When to Plant Arugula
Arugula leaves are cool weather crops that are okay to plant once the soil thaws in the early spring. This timeline for the way to grow arugula usually gives you a late summer or fall harvest.
Some growing zones do better to sow seeds in the fall for a winter harvest. Either way, you'll have a continuous supply of individual leaves if you learn when to plant arugula seeds.
To sow arugula seeds, place them a quarter-inch deep in rows that are spaced ten inches apart. Leave one inch spacing between each seed. It's possible to grow arugula in containers and traditional gardens. Follow the same general process for growing lettuce in raised beds as you would arugula, too.
If you prefer, sow seeds three or four days apart to have weeks and weeks of harvesting time. Arugula is hardy in USDA zones three through 11. If you're unsure of the exact right time to grow arugula, here is a guideline to help you remember.
Maintenance for the Arugula Growing Season
Once you've planted your seeds, you're ready to start maintaining your garden. Arugula isn't picky as long as it has rich soil that is loose for the root system to grow through. Ensure each one has full sun or partial shade.
Thin the plants back to six inches apart if they get too close. Use the baby arugula greens in a salad instead of throwing them out. Cover the base of the plants in a layer of organic mulch to help retain soil moisture.
Some people prefer to grow their arugula in containers. If you go this route, use a seed starting mix and amend it with regular potting soil as you transfer them to larger containers.
Harvesting Arugula
Harvesting arugula is something for you to complete however soon you'd like. After you determine when to harvest arugula for the tastiest veggie, pick the outer leaves before anything else. Use a pair of sharp but sterile scissors to make a clean cut and continue to harvest as the plant grows.
Arugula Pests
Arugula doesn't have many diseases because the plant is relatively hardy. Try not to overwater the soil throughout the growing season to keep any diseases lingering in the dirt at bay.
Your main concern is usually with pests like flea beetles or aphids. Floating row covers are the simplest way to keep insects from damaging your arugula plants. You can make DIY row covers with some old polyester netting if you have some at home.
Cooking with Arugula
Most home cooks know how delicious arugula is when raw, but they don't realize that it is even better when cooked.
Some go the simple route and stir the greens into a hot soup or casserole, but we prefer to embrace the peppery flavor and combine it with other ingredients that complement it.
Heat the cold olive oil in a large pan until it starts to ripple. Add the onion, mushrooms, and garlic for four minutes until the mushrooms release their liquid. Deglaze the pan with your white wine.
Stir in a small pinch of salt, pepper, and red pepper flakes. Add the arugula and cook it for another two or three minutes until wilted. Sprinkle some freshly grated cheese over the top and serve.
Arugula is a leafy green that we all know and love, but not everyone knows how much better this plant is when we grow it in our own gardens. This is a crop that gardeners of all experience levels enjoy because they can harvest it for weeks without fussing with maintenance.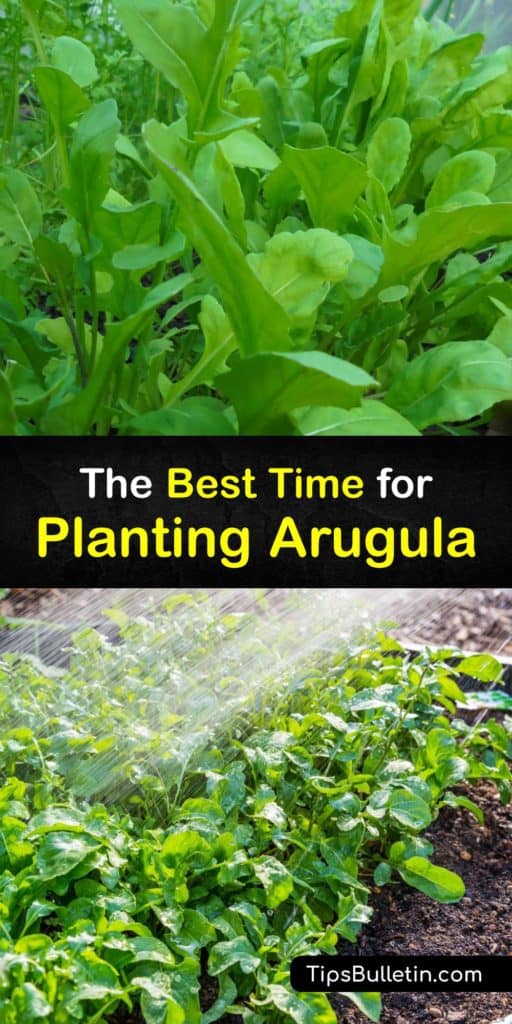 If learning when to plant arugula has helped you have a flourishing harvest, share this timeline for the arugula growing season on Facebook and Pinterest.