After you harvest all our summer veggies, you might feel like your garden beds become a wasted space throughout the fall and winter seasons. Beetroot is a cool-season crop ideal for those living in northern regions because it survives frost and nearly freezing temperatures. Knowing when to plant beets helps you keep your root crops alive so that there is plenty to harvest during the colder months of the growing season.
There are a lot of questions about growing veggies when there is cold weather outside. When are beets in season, and how do you take care of them? Beet growing season varies depending on the time of year that you plant them.
If you're somebody who loves fresh veggies and wants to keep your kitchen full of in-season foods, then growing beets is the perfect task for you. These root veggies are full of fiber, folate, iron, potassium, and vitamin C.
Although they might not be the most popular choice among home growers, they have numerous health benefits and are incredibly delicious if you know how to use them.
If you're curious about when the best time to plant beets is, skim through this guide to learn about all things beet related.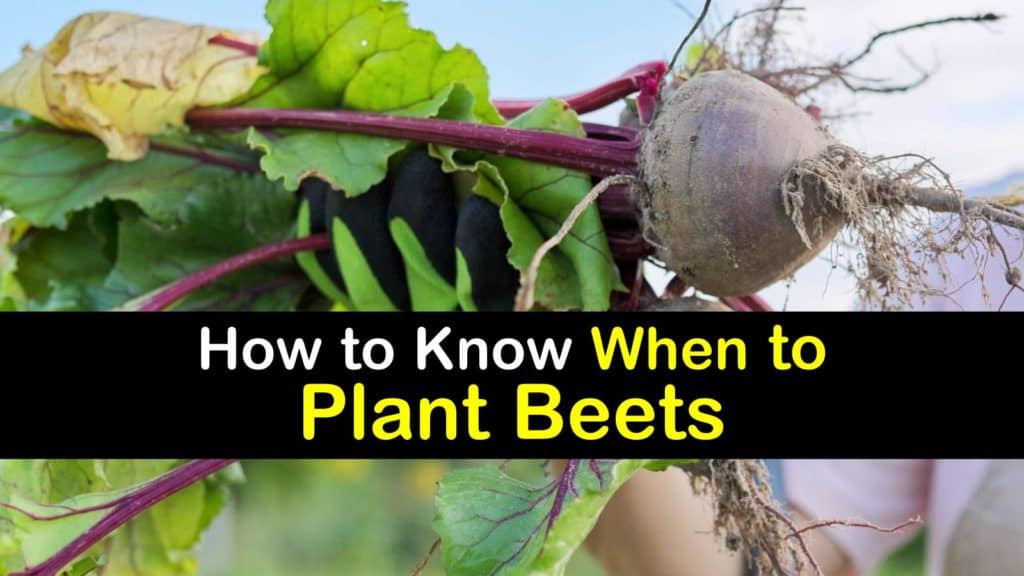 What are Beets?
Beetroots are versatile, biennial plants that are known for their earthy taste and spinach-like beet greens. Beta vulgaris comes from the Chenopodiaceae family and is closely related to spinach and quinoa.
Most people don't know that Swiss chard is a variety of beets grown for its edible greens. Historical records show that ancient Greek and Egyptian cavillations cultivated this bulbous root. They have transformed them into the beet varieties that we have come to know and love today.
When are Beets in Season?
One of the most frequent questions asked about these root vegetables is when are beets in season and when is the best time for growing Swiss chard? You'll find the best beetroot in your local grocery store during December.
However, like the Swiss chard growing season, these plants grow throughout the cool weather, and you might notice them making an appearance in fall and tapering off in early spring.
It's hard to know when to plant beets in zone nine or higher. If you live in a southern region with hot weather year-round, you might only want to plant beets during the winter. The summer months often get too hot, and your beets might not be prosperous.
Preparing for Beet Growing Season
Just like knowing when to plant celery in your garden, knowing when to plant beets is only one piece of the puzzle. Before you take on any planting, you must prepare the desired growing location. Beets enjoy being in an open and sunny place.
Areas with early morning or late afternoon partial shade are okay as long as they get full sun for at least six hours. The soil is one of the most important aspects for growing any plant because that's how they get all their nutrition.
Make sure the ground of the chosen site is well-draining and fertile. Planting beets in containers also works. Beets are easy to grow vegetables that enjoy loamy soil with lots of added compost, organic matter, and nitrogen.
Phosphorus, boron, and potassium are vital for their overall health, so keep these nutrients in mind when planning. Aim to keep the soil pH fairly neutral and between 6.5 and 7.5.
Because beets enjoy the cool weather, soil temperatures should remain around 60°F if you want them to flourish.
Beets overwinter at temperatures as low as 28°F to 32°F. If you have an especially harsh winter, try to avoid planting them outside too early in the spring or late in the fall.
When to Plant Beets
What month do you plant beets, and when is beet season? It's safe to plant beets in early spring when the soil is workable, around 45°F. This is also when you plant radish seeds for early radishes. However, you can learn how to grow beets from scraps indoors to harvest the greens anytime.
If the temperatures are colder outdoors, then germination happens slowly and might fail altogether. It is also okay to plant beets in the late summer or early fall, about 50 days before the first anticipated frost in your growing zone.
How to Propagate Beets
Growing beets from the seeds is one of the best strategies. Transplanting them is sometimes successful, but starting them from seeds is often easier.
Find beet seeds at your local garden center. The seeds are big and chunky, and one cluster contains multiple smaller seeds inside.
Beet seeds have a tough outer casing that sometimes hinders germination. Start by running your seeds under warm water for at least half an hour before planting them.
If you'd prefer, soak them in a bowl of warm water instead and let them sit for a full 12 hours overnight. Scarifying seeds is a way to assist the casing of the shell in opening more easily.
Soaking them is one way to do this, but scratching them against a rough surface like sandpaper before sowing them helps them even more. Once soaked and scratched, the seeds are reading for planting.
Sowing Beetroot
Once prepped, it's time to sow seeds in the ground. Dig out a few ruts about half an inch deep and drop one or two seeds into the hole. Make sure each one is at least an inch away from the others when planting them.
If you intend to row plant, keep each row four inches apart. Cover the seeds with the excess soil and water them thoroughly so the top of the ground gets a good soak without being waterlogged.
Germination usually takes place five to ten days after planting if the soil is kept moist and at a desirable temperature. If conditions are colder where you live, it might take a little more time for the beet leaves to emerge.
Caring for Beets
It doesn't take long for beets to begin growing. The leaves start small but soon get rather large after only a few weeks. Root growth occurs after only four weeks.
Red roots begin to show at the base of the leaf stalks, and they start to rise above the ground level slightly. Weeds are most dangerous to young plants because, even if the leaves are four inches tall, the weeds still rapidly outgrow and overshadow them.
Weeds suck nutrients from the soil and crowd them out until they no longer have growing potential. Try not to use large tools to remove the weeds, or you might damage the roots of the plants.
If you planted your beetroot in raised beds, they might attract roots from nearby grasses, trees, and other plants. Make sure you pull these often without disturbing the roots.
One benefit to growing beetroot is that they don't require that much water because they are so hardy. Excess water takes away from root development and redirects the energy to the leaves instead of the root itself.
Your crops will thrive as long as they get an inch of rain per week. Add mulch to the plants' base to help them hold on to moisture in the soil and keep the temperatures regulated.
Selecting Beet Varieties
Of all the beets to choose from, some grow more quickly than others. Detroit Dark Red beets are a classic heirloom variety that most people love for their tender texture and dark red color.
Chioggia beets are another heirloom variety that originated from Italy. They have a pink and white center and are used by chefs worldwide for their mild and sweet flavor.
A unique variety of beetroot is the Formanova beet. These beets are from Denmark and have a longer, more slender body that makes uniform slices.
It is so tender it has even gotten the nickname of "Butter Slicer." Ruby Queen beetroots are another popular choice for gardeners. They have the most earthy flavor and are popular for pickling.
How to Harvest Beets
If you've tended to your beets, you'll be happy to know that it's time to harvest them. Harvesting beets usually happens when the plants are at their most mature so that the roots get as big as possible without altering the texture.
If you leave them in the ground too long, the plants become woody and fibrous. Most varieties of beet take 55 to 70 days to reach maturity.
Harvest the roots when they are at least the size of a golf ball. Loosen the dirt around your plant and grab right above the root where they meet the leaves' base and pull them from the ground.
Beetroot Pests and Diseases
Pests are inevitable in a garden. While some are necessary, others wreak havoc and ruin all our hard work. Flea beetles and leaf miners are two common pests for beetroots. It's easy to keep these bugs at bay by installing a row cover.
Cercospora leaf spot is the most dangerous disease to beetroots. This disease is recognizable by small, pale circles with brown and purple borders appearing on your leaves. Treat Cercospora leaf spot by applying a fungicide explicitly made for this fungi.
Storing and Cooking with Beets
The beet greens don't last as long as the roots do. Cutting them off and washing the roots is one of the first things to do when storing the beets.
Putting the roots in a plastic bag in a cool, dry place, like a root cellar is a great place for beets storage. When you're ready to use them, look for fun new recipes to try. Pickling is a popular preservation method, but there are many flavorful ways to experiment with them.
Heat your oven to 350°F. While the oven range is heating, slice the beets so they're about a quarter of an inch thick. Lay the slices on a foil-lined baking sheet and brush them with olive oil.
Sprinkle salt and pepper over the beet slices and roast them for 40 minutes until tender. Heat a small drizzle of good olive oil in a large pan and quickly saute the chard until it wilts. Stir in the two teaspoons of balsamic vinegar and remove the pan from the heat.
Spread the softened goat cheese on four slices of bread and layer on the beet slices, chard, and the final bread slice. Cut the beet sandwich on a diagonal and serve them right away.
A refrigerator is an option for beet storage, too. How long do raw beets last in the fridge? Use beets from the fridge within a few days for the best flavor.
Just like knowing when to plant asparagus, it's important to learn the best time to grow beets and all about their care so you have delicious roots to cook with.
Most people either love or hate beets. Unfortunately, a lot of people only give them one chance before giving up on them.
Beetroot is highly nutritious with tons of benefits to our health. If you haven't given them a real chance before, try growing your own and experimenting with new and flavorful ways to cook them.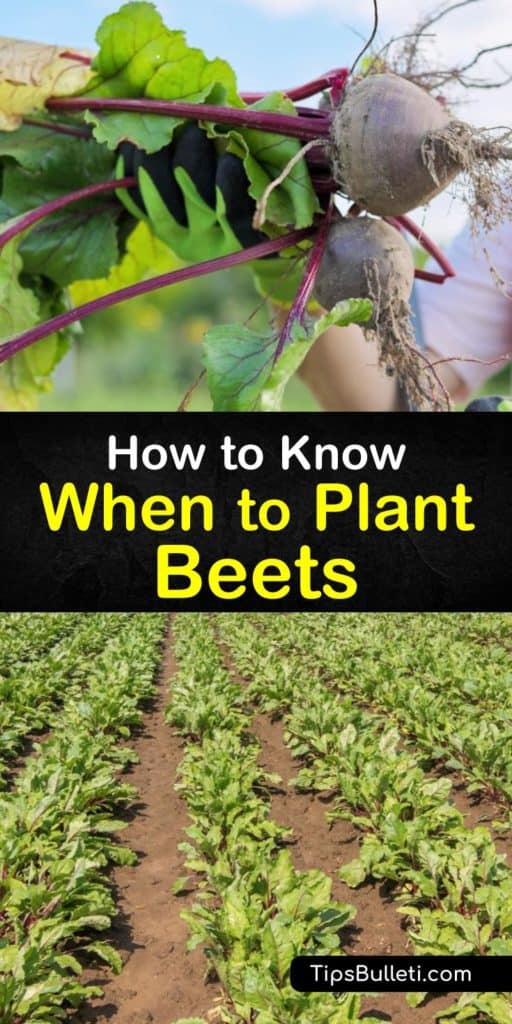 If learning when to plant beets helped you grow large and tender root vegetables, share this guide for beet growing season on Facebook and Pinterest.