Bok choy is a cool season veggie grown for its deliciously tender leaves and crisp white stalks. Also known as Chinese cabbage, bok choy appears in numerous Asian recipes. In this article, learn when to plant bok choy for the best harvest.
As a Brassica or cabbage family member, bok choy is related to Brussels sprouts, cabbage, and kale. Like other Brassicas, bok choy grows best in full sun to partial shade and fertile, well-draining soil. The plants prefer cooler temperatures between 55-75℉. They may begin bolting in dry or hot weather, so they're best as spring and fall crops.
When to plant bok choy seeds in the spring and fall depends on your growing climate. Check your locally forecasted first and last frost dates to determine your bok choy growing season. Read on to discover the best time to plant bok choy in your USDA hardiness zone.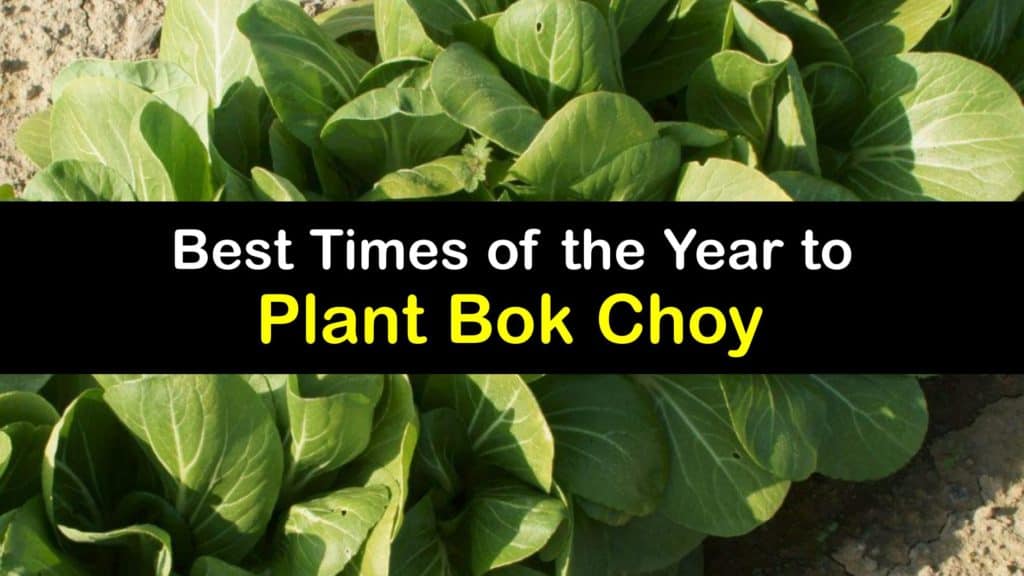 When is the Bok Choy Growing Season?
The different kinds of bok choy plants form a round rosette of dark green leaves that measure between six and 18 inches, depending on the variety. Full-size heads mature in seven or eight weeks. Baby bok choy is ready to harvest approximately 40 days after sowing seeds.
The difference between bok choy and cabbage is that bok choy leaves have a mild flavor between cabbage and Swiss chard. In addition to its enjoyable taste, bok choy is rich in essential nutrients like calcium, fiber, potassium, and vitamins A, C, and K.
Although they're usually grown annually, bok choy plants have a biennial life cycle. They develop their leaves and root system in the first growing season and produce flowers and seeds in their second year.
They're remarkably cold-hardy plants and survive down to 20℉. A light frost reportedly gives fall-grown bok choy a sweeter taste. However, spring freezes quickly followed by high temperatures may lead to premature bolting.
Bok choy is a veggie with many names. Alternate spellings like bok choi, pak choi, and pak choy refer to Brassica rapa var. chinensis. Tatsoi, or Brassica rapa var. narinosa, is a similar leafy green veggie.
When to Plant Bok Choy Seeds in the Spring
Are you wondering when to plant bok choy in zone 5? The best time to plant bok choy seeds in early spring is around the last frost date in your region. The same basic principles apply for when to plant broccoli in zone 7.
Since the plants grow quickly, most growers sow seeds directly in their garden beds or pots. However, start seeds indoors and grow bok choy in containers a few weeks in advance to get a head start on your first bok choy harvest.
Sow seeds in groups of three or four spaced one or two inches apart. When the seedlings are two or three inches tall, thin them out so the spacing between each plant is six to 12 inches. Use the culled seedlings like microgreens or add them to your compost.
Pre-moisten your soil to avoid disturbing the tiny seeds after planting. Sow bok choy seeds a quarter-inch deep and lightly cover them with soil and compost.
Bok choy seeds germinate best when the soil temperature is between 55-65℉. Germination takes between five and eight days or longer in cold soil. The seeds don't germinate below 40℉.
Add a few of the best bok choy companion plants to the space to take advantage of mutually beneficial growing properties. Carrots are a good choice.
Cover your planting site with dark-colored mulch or a sheet of black plastic to warm the soil several days before planting seeds.
Bok choy plants are heavy feeders and benefit from fertilizing every two or three weeks. Try this simple recipe for homemade fertilizer.
Stir the ingredients in a small bucket or lidded container. Spread one tablespoon of fertilizer around each plant's base and carefully water it. Store any leftover fertilizer in a sealed container or plastic bag.
What is Succession Planting?
Succession planting allows you to extend your bok choy growing season and enjoy a continuous harvest of tasty dark green leaves. It also facilitates the most efficient use of garden space throughout the growing season.
Beginning in early spring, plant bok choy seeds every three to four weeks from the last frost date until the weather warms above 80℉. Sow seeds between the established plants. Once they mature, it'll be time to harvest the larger plants.
When hot weather arrives, use that area of your garden for growing warm-season veggies like tomatoes, peppers, or squash. Plant more bok choy seeds in late summer and early fall.
When to Plant Bok Choy in the Fall
Bok choy is ideal for growing as a fall crop. If you're questioning when to plant bok choy in zone 7, sow seeds beginning in late summer or early fall once daytime temperatures are consistently below 75℉.
The plants are remarkably cold-tolerant, and many growers report that the leaves taste sweeter after one or two light frosts. In mild climates, it's possible to grow bok choy throughout the winter in a cold frame or unheated greenhouse.
Harvesting and Storing Bok Choy
Harvest baby bok choy leaves once they're at least four inches in length. Pick the outer leaves first to let the rest continue growing.
Bok choy has a loose, upright growth habit. Standard bok choy cultivars usually grow 12-24 inches tall. Smaller varieties stay more like eight to ten inches at maturity.
When your bok choy reaches full size, cut the entire plant about an inch above the soil level. If temperatures are cool enough, it may regrow a second, smaller crop of bok choy leaves. When succession planting, remove the older plants after harvesting to make room for the new seedlings.
Try to consume homegrown bok choy within three or four days of harvesting. For the best results, store bok choy leaves in a ventilated container or perforated plastic bag in the crisper drawer of your refrigerator.
Troubleshooting Common Bok Choy Growing Problems
Healthy plants are far more resistant to attacks from insects and pathogens. Giving your plants appropriate amounts of light, nutrients, and water is their best defense.
Insects that damage bok choy plants include aphids, cabbage worms, cutworms, and flea beetles. Cabbage worms and cutworms are moth larvae that aggressively feed on cabbage plants' leaves, stems, or roots.
Protect tender young plants with a floating row cover the first several weeks in early spring to prevent insect pests from laying their eggs on your seedlings.
If you notice an infestation, spray all plant parts with insecticidal soap or horticultural oil to kill eggs, larvae, and adult insects. Spread diatomaceous earth over the nearby soil surface to deter cutworms.
Fungal diseases like rust, powdery mildew, and leaf spot thrive in damp conditions and often spread via water droplets. Watch for black spots on bok choy and any other issues that may develop.
Keep the leaves dry when watering with drip irrigation or a soaker hose and check for adequate drainage during periods of heavy rain. Most fungal diseases can get treated with an organic copper or sulfur fungicide.
Keep the soil moist during periods of unusually dry or hot weather to help prevent your bok choy plants from bolting. If you plant bok choy seeds in late summer, it's beneficial to provide the plants with some extra shade until the cooler weather of fall arrives.
In a recipe, use spinach as a decent substitute for bok choy if needed. However, both plants are just as easy to grow.
Bok choy is a cool-weather crop that's easy and fun to grow in your home veggie garden. Since the plants bolt in hot weather, knowing when to plant bok choy seeds is crucial.
If you've ever asked when to plant bok choy in zone 6, the best time is in early to mid-April. For an autumn bok choy harvest, sow seeds between late August and early October.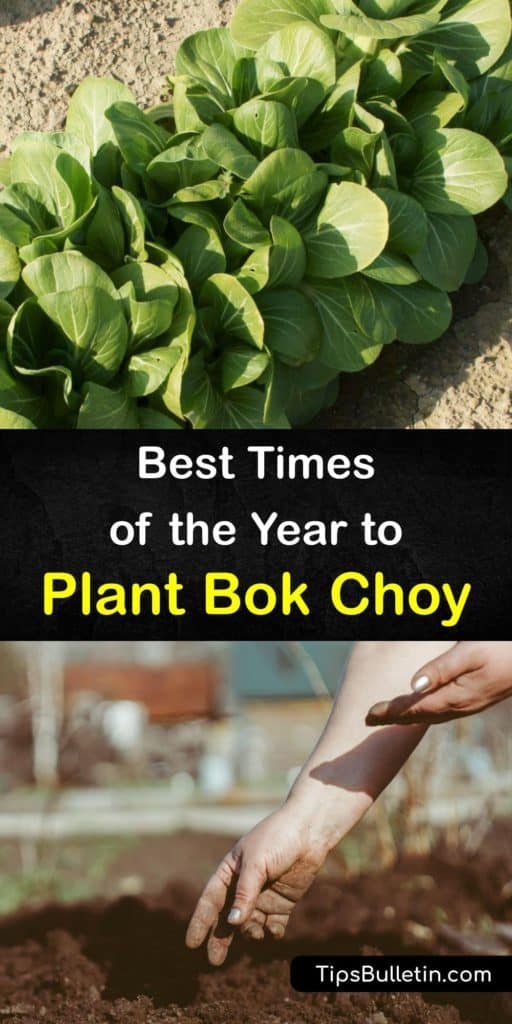 If you enjoyed learning about the bok choy growing season, please share this article about when to plant bok choy with your fellow gardeners on Pinterest and Facebook.