Cilantro (Coriandrum sativum) is a cool-weather herb popular in Asian, Thai, and Mexican cuisine, and you can usually find it fresh at your local grocery. However, cilantro plants are one of the easiest herbs to grow at home. Find out when to plant cilantro and discover planting and harvesting tips.
You're obviously a cilantro-lover since you're reading this. However, this herb is not for everyone, and many people detest its taste and aroma. In fact, some compare its flavor to dish soap, but that just means there is more fresh cilantro for you to enjoy at the end of the growing season.
This annual herb produces cilantro seeds, otherwise known as coriander seeds, that self-sow for a steady supply of new plants at the end of the year. It has a deep taproot, and each plant produces an abundance of cilantro leaves for use in your favorite recipes.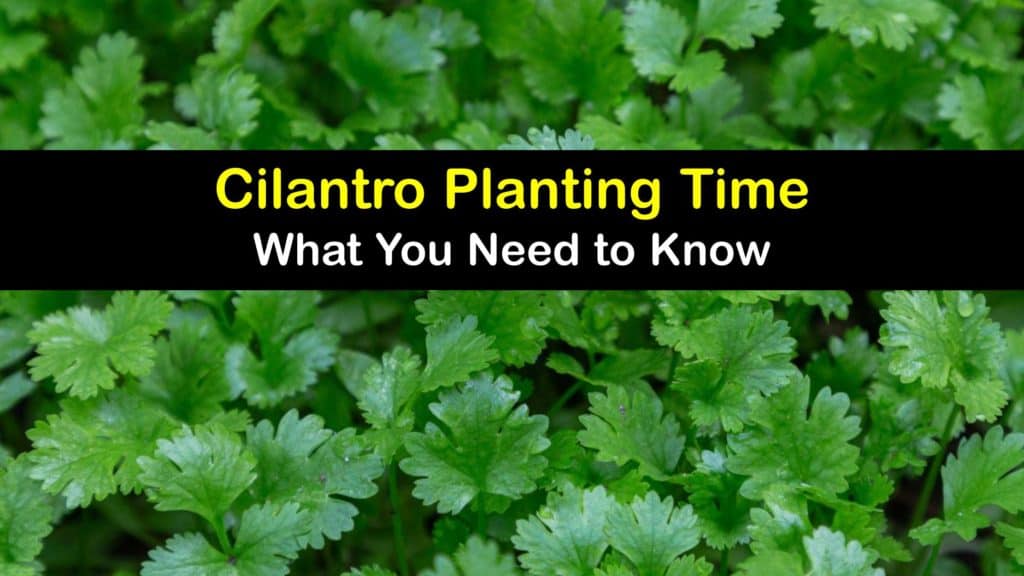 Planting, Growing, and Harvesting Cilantro
The cilantro growing season is relatively short, and it only takes this herb 45 to 70 days to mature after seeding, depending on the variety.
However, cilantro, or Chinese parsley, does not tolerate hot weather, and it's important to grow it when the weather is mild to prevent bolting. Plan your herb garden accordingly, whether you start cilantro indoors or outside. Cilantro and parsley require basically the same growing situation.
Learn when to plant cilantro seeds inside and outside in the garden when the temperatures are just right. Explore what these herbs want to thrive and produce healthy green leaves, when to harvest cilantro, the difference between coriander vs cilantro, and how to use your homegrown herbs in a tasty recipe.
Things to Know about the Cilantro Growing Season
The cilantro growing season is short, and it grows ideally when the outside temps are cool. It's vital to know when to plant cilantro in zone 6 and up and when to plant cilantro in zone 5 and under to ensure a good harvest of cilantro before it goes to seed.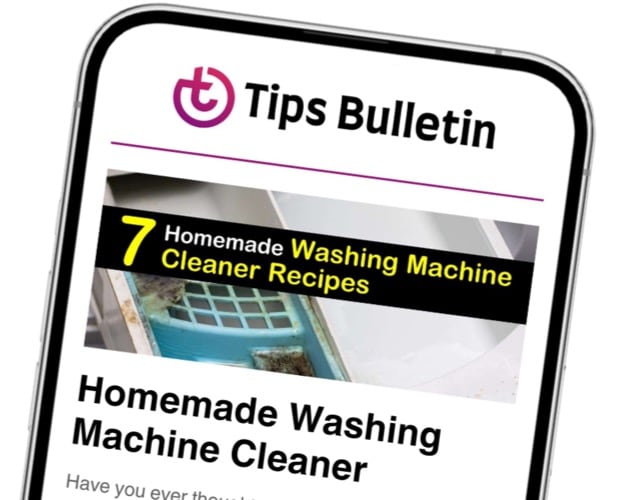 Finally, an email that Transforms Your Home.
Get the latest home and garden tips from our experts, delivered straight to your inbox.
Cilantro Growing Season
Cilantro plants have a life cycle that starts with seeds and ends with seeds. It grows best when the temperatures are between 50 to 85°F. Unfortunately, high temperatures cause this herb to bolt, shortening its life and causing the plant to go to seed.
USDA hardiness zones help you determine when to plant your herbs outside. The country is broken into sections or zones according to the average cold temperature of each region.
For example, hardiness zone 5 has an average minimum temperature of -10 through -20°F, while zone 9 is considerably warmer with temps ranging from 20 through 30°F.
Springtime varies by region, and it's essential to know your hardiness zone to understand when to plant cilantro in zone 7 compared to zone 3. The last frost in northern regions typically occurs in late April to mid-May, while a hard frost is no longer a threat in February in southern areas.
When to Plant Cilantro Seeds Indoors
If you're eager to get a head start on the growing season, you can start cilantro indoors to ensure your plants are ready for the herb garden as soon as the last frost is gone. We explain when to plant cilantro seeds indoors and how to encourage germination.
The best way to grow cilantro at home is, two weeks before the final frost, fill peat pots with potting soil and sand. If you plan on growing cilantro indoors through the entire season, a peat pot is unnecessary, and any container will do. However, make sure it has drainage holes in the bottom.
Sow the seeds a quarter inch deep and cover them lightly with dirt. Set the pots in front of a sunny window and spray them with enough water to dampen the soil without making it soggy. Do not let the dirt dry as the seedlings germinate and thin them out when they reach two inches tall.
How and When to Plant Cilantro Outside
Learn when to plant cilantro seeds and seedlings outside after the danger of frost is no longer present. Discover the soil type this herb needs, where to position the garden for optimal sun, and how far apart to plant cilantro for healthy growth.
In the spring after the threat of severe frost is gone, or in late summer, choose a spot to grow cilantro in your herb garden or other place where the plants receive at least six hours of full sun each day.
Try to pick an area where they get light shade during the warmest part of the afternoon. Tomatoes and dill are ideal to plant with cilantro. Enrich the dirt with organic matter, and make sure it is loose and well-draining.
If you started your seeds indoors, harden the seedlings off a week before transplanting them to acclimate them to the outdoors. Plant the peat pot directly in the soil and space them six inches apart with rows at least a foot apart.
To direct sow seeds, press them a quarter-inch deep into the dirt and plant them with two-inch spacing. Water them lightly right after planting, and do not let them dry out as they grow.
After the seedlings reach two inches tall, thin them by removing the weakest and leaving one plant every six inches. Finally, spread mulch over the bed to retain moisture and prevent weed growth.
Caring for Cilantro as It Grows
Now that you understand the best time to plant cilantro and you sow seeds in the garden bed, it's time to give your herbs the attention they desire. Here are some plant care tips and common problems while growing cilantro.
While cilantro is a cool-season crop, it is still susceptible to frost, and covering your plants with row covers may be necessary if you get unexpected cold weather. While this plant doesn't usually require fertilizer, a monthly application of an organic blend for herbs is helpful if you have poor soil.
Seedlings want about an inch of water each week, and mature plants need less water. They like moist soil that is not waterlogged, and overwatering your plants and splashing dirt on the leaves may cause powdery mildew and other plant diseases.
As your plants grow, you may notice insect activity. Aphids and armyworms are common pests for this herb, and the best way to eliminate them is to remove the bugs by hand. Bees and other insects pollinate cilantro plants, and some insecticides kill these beneficial insects.
When and How to Harvest Cilantro for Cooking
Since cilantro is a fast grower, harvest time arrives quicker than you may expect. Find out when these herbs are ready for harvesting and how to pick the fresh leaves from your plants. Learn how to collect coriander seeds to add to your spice cabinet.
Fresh cilantro leaves are often ready to harvest in under a month. When cilantro is ready to harvest, begin clipping the leaves once the plants reach six inches tall. Use scissors or garden clippers to snip away portions of the upper stem to promote new growth and a fuller plant.
Avoid clipping away more than a third of the cilantro at one time to prevent damaging the plant. If you cannot eat the herbs right after harvesting, one of the best ways to store fresh cilantro is to keep them in a glass of water in the refrigerator for a few days or freeze the stems and leaves.
To harvest coriander seeds, allow the plant to flower and leave the seed heads on the plant to dry. Remove the heads, place them in a paper bag, and shake the bag to release the seeds. Use the seeds whole in soup, stew, or curry, or grind them into a powder for your spice cabinet.
Using Fresh Cilantro to Prepare a Creamy Sauce
Fresh cilantro is a typical garnish for tacos, and we love adding it to stir fry and soup. However, this delicious creamy sauce is perfect for topping fish and chicken or a dip with tortilla chips.
Spoon the cream cheese, salsa, and sour cream into a food processor or blender and pour in the lime juice, garlic powder, black pepper, celery salt, and cumin. Add the chopped cilantro and blend until creamy and smooth. Scoop the dip into a container and store it in the fridge until you are ready to enjoy it.
Most grocery stores carry a variety of herbs, from chives and basil to cilantro. However, there is nothing quite like picking fresh leaves from the herb garden you grew yourself, and cilantro is so simple to plant that a green thumb is not required. Plant this herb during cool weather and give it some TLC, and your effort is rewarded with an aromatic harvest.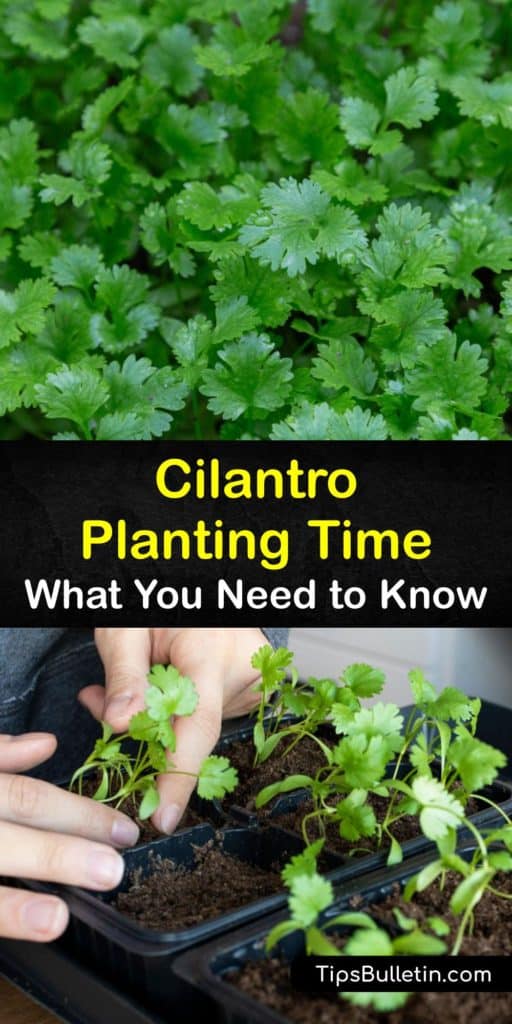 Now that you understand when to plant cilantro for the healthiest herbs, why not share our cilantro growing and harvesting guide with the herb-lovers in your life on Pinterest and Facebook?