Growing sweet corn at home is simpler and more rewarding than you might think.
To determine the best time to plant sweet corn seeds:
Check the soil temperature and ensure it's consistently at or above 60°F.
Wait until 2-3 weeks after the last expected spring frost in your area.
Choose an early-maturing corn variety if you live in a region with a shorter growing season.
Stagger planting different maturity varieties for a longer harvest period.
Consult your local cooperative extension office for region-specific advice.
Planting sweet corn at the perfect time ensures easy and abundant harvests. It's all about soil temperature and timing. Once the soil warms to 60°F, usually a couple of weeks after the last frost, it's the ideal time to plant. I make sure to select the right variety for my area, especially if I have a shorter growing season, choosing an early maturing type to get ahead.
I stagger my planting with different maturity dates, giving me the joy of fresh corn over a longer spell. Lastly, checking in with my local cooperative extension office gives me a tailored insight, ensuring my corn planting is a hassle-free success. Simple steps lead to deliciously sweet corn that is both economical and satisfying to grow.
Sweet corn is a perennial crop, producing yellow, white, or two-colored kernels in the ears. Many gardeners are interested in learning how to grow corn at home and eager to understand when to plant corn seeds. Corn needs a long, frost-free corn growing season to be productive.
Corn (maize) is one of the three staple crops (with squash and beans), and it has been farmed in various parts of the world for thousands of years. Several varieties of maize are well adapted for cultivation in home gardens despite being primarily produced on an industrial scale.
Because sweet corn gets pollinated by the wind, it is best planted in blocks of small rows instead of long, single-file rows to ensure optimal pollination. Sweet corn is a warm-season crop and thrives in any garden during the corn-growing season.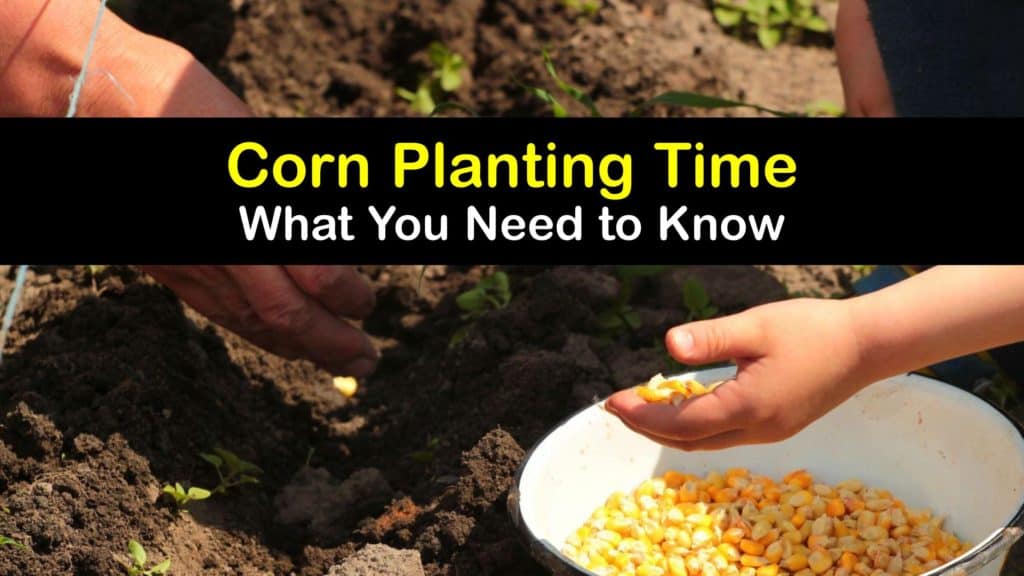 Understanding My Corn Growing Season
The field corn variety has a starchier taste and a slightly stiffer cob, whereas sweet corn has a softer texture and a sweeter, more pleasant flavor. Growing sweet corn is a simple operation similar to cultivating regular corn.
It produces throughout the summer with proper planting, allowing you to eat fresh corn on the cob from the garden as soon as you master when to plant corn seeds for a huge corn yield.
This article answers your questions about when to plant corn seeds and how long it takes to grow sweet corn. Sweet corn is a tasty summer treat that goes well with salads and other meals, and tasty corn on the cob is a welcome side dish.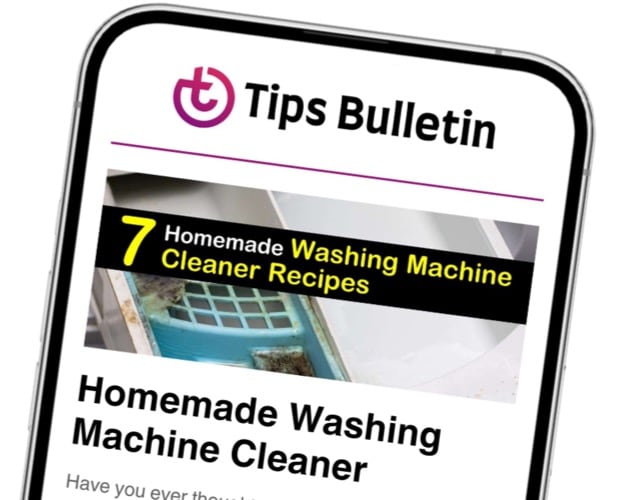 Finally, an email that Transforms Your Home.
Get the latest home and garden tips from our experts, delivered straight to your inbox.
Learn the best time to plant corn and include it in your backyard garden for delicious fresh produce and a fun hobby.
When I Plant Corn in My Garden
The corn plant is a delicate warm-season annual best planted once the soil temperature reaches 60°F, typically 2-3 weeks after the last spring frost. Depending on the corn variety and the heat throughout the corn growing season, corn takes 60 to 100 frost-free days to achieve maturity for harvest.
One of the best tips for growing sweet corn is to sow sweet corn seeds directly in the garden instead of transplanting them to avoid upsetting their fragile root systems. Plant corn seeds as soon as possible because growing corn requires a long growth period in warm conditions.
Selecting an early variety that matures well before the first frost is advisable for growers who live in a location with a shorter corn growing season.
When I Plant Corn Seeds
Corn is available in early varieties, mid-season varieties, and late-season variations. Corn with a planting date early in the season matures the fastest, whereas a late planting corn crop may take the whole corn growing season to attain maturity.
Planting corn varieties with different days to maturity, or staggering planting corn, helps you harvest longer. Combining early planting with later corn planting provides a more extended harvest period for corn plants. It allows a consistent supply of fresh corn of sweet corn varieties that grow longer.
Corn Varieties I Consider
Aside from seasons, corn comes in variations based on its sugar level. Understanding the properties of each sweet corn variety allows you to select the best sweet corn seed for your garden.
The three most common sweet corn types are regular sweet corn, supersweet corn, and sugary enhanced sweet corn. They differ in terms of taste, storage stability, and seed vigor.
Choosing the most appropriate type of corn and knowing when to plant corn seeds ensures the perfect crop with high yield potential when growing sweet corn in your garden.
When I Plant Corn by USDA Hardiness Zone
Referring to the USDA Plant Hardiness Zones is the top method for understanding which plants and trees are likely to succeed in a particular location and learning which species are compatible.
If you have a question specific to your area, like when to plant corn in zone 6, your local cooperative extension office is an invaluable tool for guidance.
The local cooperative extension office answers a query like when to plant corn in zone 7. They help growers select the cultivars of corn most suitable for their specific locale and may even direct you on where to purchase corn seed locally.
To know when to plant corn in zone 5, contact your local cooperative extension office for more information and advice on everything from integrated pest management to delayed planting.
Planting for My Corn Growing Season
Wrap the seed in damp paper towels and store them in a plastic bag for around 24 hours to speed up germination. Plant the seeds in rows approximately 2 inches planting depth and 4-6 inches apart.
Ensure each row is 36 inches apart. Consider planting butternut squash next to corn so the squash vines can climb the stalks. The same holds true for a cucumber companion plant.
Fertilize your corn with nitrogen fertilizer, such as manure tea, at planting time; this is beneficial since corn proliferates quickly and requires additional nutrition.
Before planting, mix the ingredients and pour them into the soil. Skip this step if you're sure about the soil's potential to sustain the plant. After planting your sweet corn seed, give it lots of water.
My Care During Corn Growing Season
After determining when to plant corn seeds and planting them, the next stage in growing corn is caring for your crop. Keep the juvenile corn plant alive until you have an entire crop. When the baby corn plants are 3 to 4 inches tall, thin them to keep them 8-12 inches apart.
Carefully weed around each corn plant to avoid damaging the roots. Corn has shallow roots and is easily stressed by drought, so make sure it gets enough water.
When the corn gets around 8 inches tall, side-dress it with a high nitrogen fertilizer like manure tea; repeat when it reaches approximately 18 inches.
Corn stalks may require support during heavy winds to keep them from snapping; pack mounds of earth around the base of taller plants to provide support and keep the stalks straight during severe storms.
How I Avoid Pests During Corn Growing Season
Knowing when to plant corn seeds is the first challenge of growing corn. Another is avoiding the pests plaguing it.
The European Corn Borer is a widespread pest. The adults are tiny brown nocturnal moths, and the larvae eat the leaves and burrow into the ears and corn stalk.
To attract males and prevent mating, use pheromone lures in with traps. To eliminate overwintering habitats, remove stalks and mow close to the ground after the season. Infected plant material is not suitable for composting.
Corn earworms are a sweet corn pest as well as for other crops. On the earworm body, stripes run lengthwise, with the underside being lighter. The larvae eat plants, although the more nutritional tips of corn ears are preferred.
Corn earworm control requires thorough spraying of the ear zone so when the eggs hatch, the larvae are exposed to a lethal dose of pyrethroid insecticides.
When corn is almost ready to harvest in the summer, sometimes the kernels become deformed into lumps marbled black or gray. As soon as you see traces of corn smut, pick infected ears and toss them in the garbage.
Rotate sweet corn crops since the corn smut fungus thrives in the ground for three years. Early sweet corn varieties have fewer smut issues than later-ripening kinds, and corn varieties with thicker husks may successfully prevent spores from reaching ears.
Harvesting My Corn
Corn takes 90 to 120 days to mature from seed to harvest. The length of time it takes to grow sweet corn is affected by the soil moisture, the seed planting depth, the temperature, and if growers followed the planting guide for sowing the seed.
When the temperature rises, corn matures more quickly. It usually ripens 15-23 days after silking, but it may ripen sooner if temperatures are exceptionally high.
When the corn is ready, and the kernels are milky, the tassels brown. To test if a kernel is good, pull aside a strip of husk and puncture it with your fingernail. If it's white or milky, it's ready.
In hot conditions above 85°F, sweet corn only peaks for one to two days, so check it often. Corn harvested a few days after it has reached the milk stage is sweeter. Harvest each corn stalk according to the readiness of each ear.
Growing corn is a great way to say goodbye to commercially grown corn from the corn belt and produce this staple in your garden. Whether you're interested in field corn, dent corn, flint corn, or sweet corn varieties, knowing when to plant corn seeds and how to work with the corn growing season assures you excellent corn yield.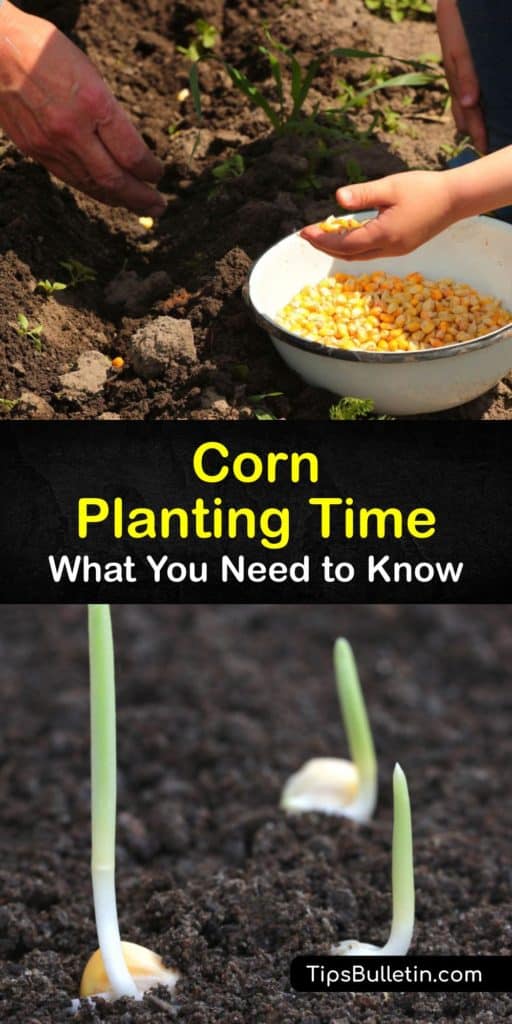 If you loved this article on when to plant corn seeds, please share these valuable tips about the corn growing season with your family and friends on Pinterest and Facebook.