Pictures and videos of commercial growers wading through bogs of floating cranberries have given gardeners the impression that this is the only way to grow and harvest them. However, fresh cranberries are something that most people in North America can grow at home. The most challenging part of this growing process is knowing when to plant cranberries and caring for them throughout the cranberry growing season.
Knowing when to plant cranberry seeds isn't always common knowledge, especially if you don't live in an area like Massachusetts or Canada known for producing these small berries.
Cranberry plants are relatively hardy, but there is a best time to plant cranberries in each growing zone in America. You don't need a natural bog or any fancy equipment. As long as you pick an excellent cultivar and location and supply them with a few basic needs, cranberry plants can grow in most places.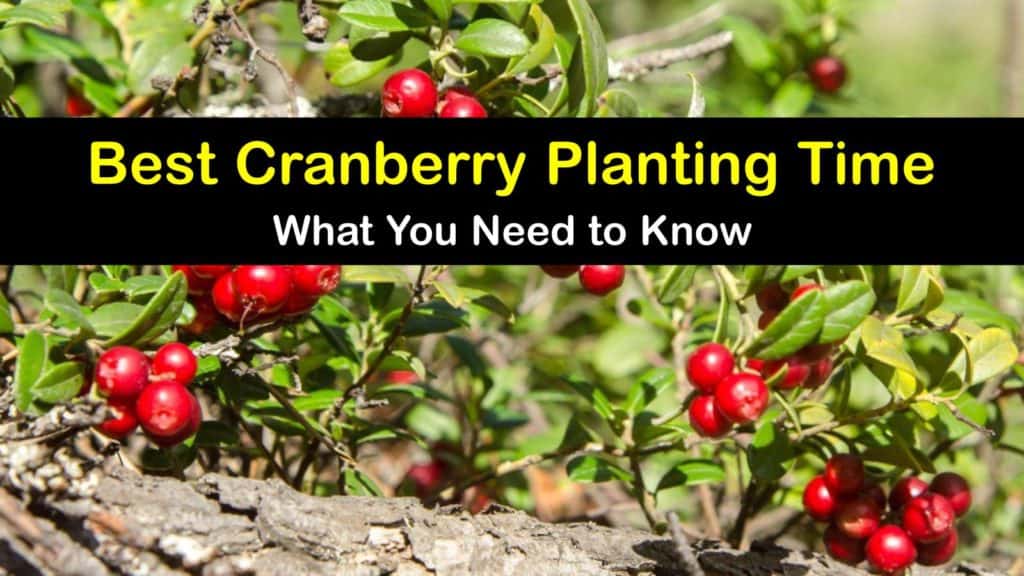 Cranberry Plant Background
Cranberry plants are also named Vaccinium macrocarpon. You likely eat them through cranberry sauce, jelly, or juice cocktail. These berry plants are native to North America and found in unexpected places like New Jersey and Oregon.
It is said that cranberries were first given to a pilgrim for a Thanksgiving meal in the 1620s, but the cultivation of the plant started around the 1800s. The Early Black cultivar has a small, deep red body and was discovered by Cyrus Cahoon in 1847.
The more popular heirloom variety called Howes was discovered in 1843. Now, there are over 100 different cultivars to raise in a cranberry bed.
One of the most popular cranberry types to date is the Stevens cranberry plant grown mainly in Wisconsin and Massachusetts. Finding out when to plant cranberry seeds is only the first step in having success where you're located.
The cranberry growing season changes only slightly based on where you live because they are wetland fruits. They often grow on trailing vines through sandy bogs and marshes, but you don't have to have a body of water to be successful.
There are a few factors to understand when you plant cranberries to give them their best possible chance at survival.
When you have a prosperous harvest of these red fruits, you'll get to appreciate the tart taste and antioxidants that benefit the body. Skim through this guide on when to plant cranberry seeds and decide if you're willing to put in the work.
When to Plant Cranberries
Cranberries native to North America are hardy in USDA hardiness zones two through seven but thrive in zones four through seven. These woody, low-growing perennials have rhizomatous roots.
They have runners that grow six feet long but are still fine to plant in a raised bed, container, or ground cover. If you can't get enough of their delicious fruiting bodies, keep reading to find out how and when to plant cranberry seeds.
When to Plant Cranberry Seeds
Gardeners all over the country need to know when to plant cranberries in their growing zone. The cranberry growing season doesn't change too much but does alter slightly.
Regardless of whether you're learning about when to plant cranberries in zone 5, when to plant cranberries in zone 6, or when to plant cranberries in zone 7, the most important thing to remember is that cranberry seeds require temperatures of at least 70°F to germinate.
Use this piece of information to adjust when you plant your seeds outside and determine where cranberries grow best. For some colder regions, starting them indoors a couple of weeks before the ground reaches this consistent soil temperature is ideal.
Caring for Plants during the Cranberry Growing Season
If growing cranberries from the seed, try to find packets labeled as pre-stratified. If not, they require a period of cold stratification before you sow them. To complete this task, set the seeds in the fridge for three months before you sow them indoors.
Then, sow the seeds in three to four-inch pots with acidic soil. Keep them in full sun for three to five weeks until they start to sprout. After they germinate, you're ready to transplant them outside.
Before you plant cranberries outside, like finding a good time to plant blueberries and learning when to plant a mulberry tree, you must locate and prepare the perfect location. High acidity and a low pH level between 4.0 to 5.5 are crucial. Do a soil pH test to ensure this range is accurate. Even though these plants enjoy moisture, they don't want to be waterlogged.
If your soil isn't acidic enough, add some peat moss or other soil acidifier like sulfur to the top few inches. To keep the soil draining properly, amend it with organic matter like mulch and bone meal.
When you grow a cranberry plant at home, spacing between each plant should be two to three feet apart. The plants only reach about ten inches high, but you may need to prune them back if they become overcrowded.
Water the root ball thoroughly once planted and then water them with an inch every week during the cranberry growing season. Give them a little extra during dry spells or heat waves.
It's important to keep the area free from weeds or other unwanted plants that might compete for water and nutrients in the ground. Adding thick layers of mulch around these shrubs that bloom all summer long is a simple way to keep these issues in check. Overwatering them could result in fruit rot.
When to prune cranberries is after fruiting and some of the canes start to die off. This ensures healthier plants.
Cranberry Problems
The cranberry fruitworm is the most common insect to infest your plants. These worms are also known for targeting blueberries, azaleas, and rhododendrons.
Other common pests to keep an eye on are cranberry weevils. Too much water or improper soil could welcome diseases and cause fruit rot or leaf spot. Amend all of these issues with insecticide or fungicide.
When to Harvest Cranberries
There are two ways to harvest cranberries – wet or dry harvesting. Wet harvesting is primarily used in commercial farming and preferred if turning the berries into juices and sauces, while dry methods are ideal if you want to bake or sell them fresh.
Cranberries are ready for harvest when the berries are evenly red and slightly firm to the touch. Harvesting season starts toward the beginning of September and lasts until the end of November.
Turn your fresh berries into a homemade cranberry sauce just in time for Thanksgiving dinner.
Rinse freshly picked berries in a colander and discard any that have bruises. Boil the water and sugar on high heat until the sugar dissolves, and add the cranberries.
Continue to boil the mix for ten minutes and most of the berries burst. Stir in a little bit of orange zest and remove the pot from the heat to cool to room temperature. Pour the berries in an airtight container and chill in the fridge until ready to serve.
Most gardeners are under the impression that these are off-limits plants unless you have a body of water to harvest them in. This belief is far from the truth.
Cranberries are often looked over when choosing plants for our garden beds, and there is no reason you can't have a high yield in your own backyard.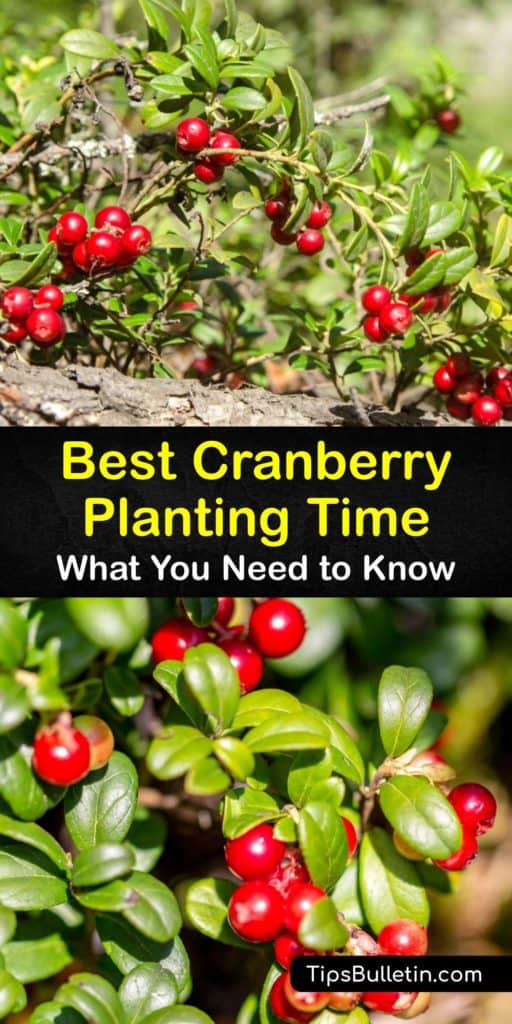 If learning when to plant cranberries has added new fruits to your crop rotation, share these tips to use during the cranberry growing season on Facebook and Pinterest.