Cucumbers (Cucumis sativus) are a must-have in the garden, and there are many types to grow, from pickling cucumbers to slicing cucumbers. However, these veggies have a long growing season, and it's essential to start your plants at the right time to ensure they produce fruit before the danger of frost in the fall. Learn how and when to plant cucumbers and give your vine crops care as they mature.
We love adding freshly sliced cukes to a salad bowl and stocking the fridge with pickles, and nothing quite compares to growing food in a home garden. You know exactly where your vegetables come from, and you're part of the entire growing process.
Vining cucumbers fill the garden space or trellis quickly, and bush varieties are perfect for small gardens, raised beds, or containers. Some cucumber varieties are seedless, and other cultivars like Gherkin are ideal for pickling, and they are all great additions to the garden.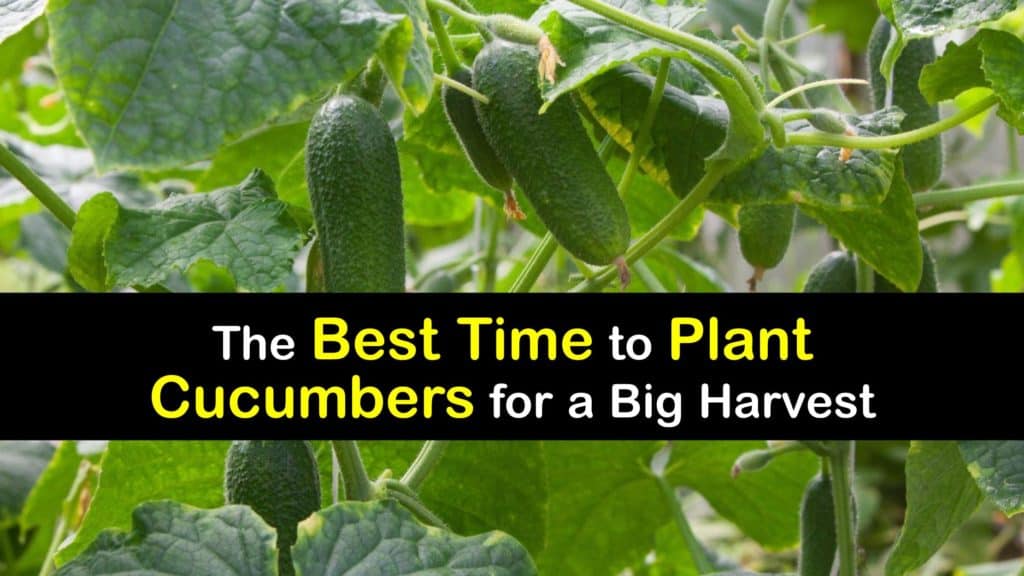 Growing and Caring for Cucumbers
While some garden plants produce fruits and veggies early, a cucumber's growing season is relatively long. It's a good idea to know the growth rate of your cucumber variety when preparing the spring garden.
Find out when to plant cucumber seeds indoors and transplant the seedlings outside. Discover what your cucumber plants need to grow healthy and set fruit and how to use your freshly harvested cukes to prepare a tasty dip.
Preparing for Growing Cucumbers in the Garden
When is cucumber season, and how long is it? Cucumbers, or cucurbits, take 50 to 70 days to grow. A typical cucumber growing season begins mid-spring after the last frost and goes until the end of summer. Prepare for cucumber growing at the beginning of the season so you end up with a bumper crop.
It's essential to understand which USDA hardiness zone you live in to know when to start cucumber seeds indoors. Usually, the best time to start seeds inside is three to six weeks before the last frost. Cucumbers do not tolerate frost and are not ready for setting in the garden until the soil temperature is around 70°F.
Before planting cucumbers in the garden, pick an area with full sun and work rich organic matter or aged compost into the soil. These veggies tolerate a range of dirt types, from fertile soil to sandy soils. Plan well for the garden if you grow several cucumber plants since the rows require three to four-foot spacing.
How and When to Plant Cucumber Seeds Indoors
Since cucumbers take a little longer to grow than some other veggies, it's a great idea to sow the different kinds of cucumbers seeds inside to encourage early germination. Explore how and when to plant cucumber seeds indoors to get a head start.
Start sowing cucumber seeds three to six weeks before the last frost. Soak the seeds in water overnight, fill peat pots with seed starting mix, and press two to three seeds into each container.
Water them lightly, cover them with a sheet of plastic wrap, and set them in a warm, sunny area. Do not let them dry as cucumber seeds sprout, and remove the plastic after sprouting. Thin the weakest seedlings, leaving one healthy plant per pot.
When to Plant Cucumbers Outside
After your cucumber seeds sprout and the outside temperatures begin to warm, it's time to prepare your seedlings for transplanting. Know when to transplant cucumber seedlings outdoors and follow the proper spacing.
Once the average daily temperature reaches the mid-70's, it's time to move your plants outside. Before transplanting cucumbers in the garden, harden off the seedlings by taking them outdoors each day for a couple of hours. After a week, they are ready for their new home.
Dig holes in the garden slightly larger than the peat pots. Spacing for cucumbers is about 36 to 60 inches apart, and trellised plants twelve inches apart to allow air circulation.
Place a pot into each hole and push in the dirt around the base of the seedling. Water them after planting and spread black plastic mulch over the bed to retain soil moisture and warmth.
Caring for Veggies through the Cucumbers Growing Season
All plants require food and water to flourish, and cucumbers are no different. While nature provides sunshine and rain, this isn't always enough, and it's time for you to step in and give your cukes some extra attention.
Inconsistent watering leads to poor-tasting fruit and oddly shaped cucumbers. Water your plants an inch of water each week during dry periods and try to water them at ground level to keep from spreading diseases like powdery mildew and bacterial wilt. Installing a drip irrigation system or soaker hose solves this problem.
If possible, trellis your cucumber vines to keep them off the ground and save space. Side dress your cucumbers a week after the flowers begin to open and follow with another application three weeks later.
Some common pests in the cucumber garden are aphids, cucumber beetles, cabbage loopers, and cutworms. Check your plants daily for insect activity and remove them by hand immediately so you don't end up with a slimy cucumber at harvest time.
Take caution if you decide to use a pesticide to eliminate them since many insecticides kill beneficial insects. Pollination is necessary, and pollinators transfer pollen from the male flowers to the female flowers, resulting in fruiting.
One way to deter bugs is learning what grows well with cucumbers. Companion planting is the ideal natural way to eliminate an insect problem. It can also help with diseases, like when you find spots on cucumber leaves and powdery mildew.
Cucumbers are ready for harvesting when they reach the desired size and color of your type, whether Burpless, English, Marketmore, or another cultivar. The harvest time varies, and it's essential to check your seed packet for reference.
Generally, you harvest pickling cucumbers when they are about two inches long and slicing cukes when they are seven to nine inches. You might want to wear gloves when you harvest them since some types are prickly.
How to Make Tzatziki with Fresh Cucumbers
Tzatziki is a simple yet delightful dip famous in Greek restaurants. It's refreshing and tastes great as a chip dip, sandwich spread, or gyro sauce. This recipe yields two and a half cups.
Start by squeezing the excess moisture out of the grated cucumber. Working one handful at a time, press the cucumber over the sink to remove liquid and then transfer the grated cukes to a bowl.
Add the herbs, olive oil, yogurt, lemon juice, garlic, and salt to the cucumber and mix the ingredients well. Let the dip rest for five minutes before serving, or chill it for later.
Cucumber plants are relatively simple to grow, and a veggie garden is not complete without them, whether you plant slicers or pickling cucumbers. While it takes some time before they begin before fruiting, it is well worth the wait.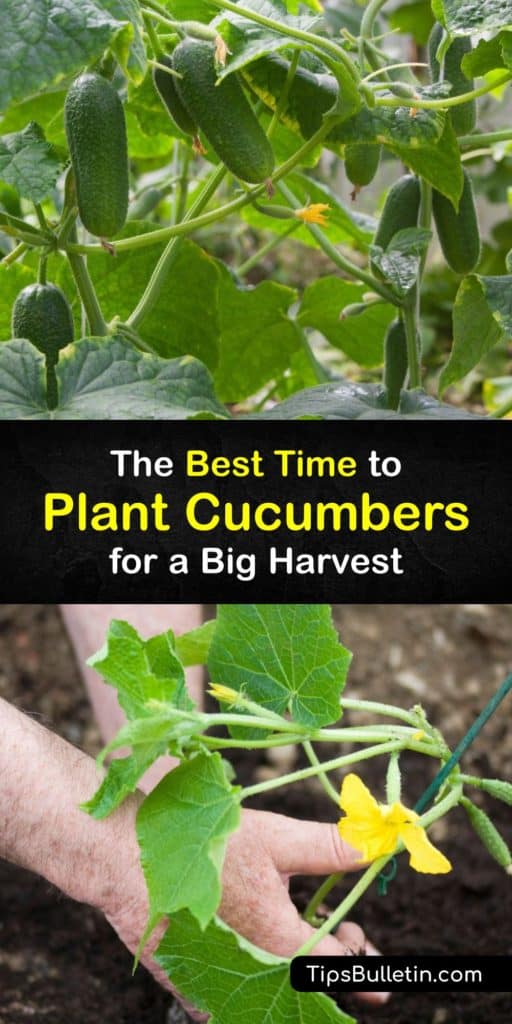 We believe that knowing how and when to plant cucumbers keeps your garden full of healthy cukes, and we'd love it if you'd share our cucumber planting guide with your gardening family and friends on Pinterest and Facebook.