Ginseng is a fleshy root system that closely resembles the legs of humans after you pull it from the ground. It has been coveted in China for thousands of years for its use as an herbal remedy and is believed to restore vitality, reduce stress, and serve as an anti-inflammatory. Knowing when to plant ginseng is only one piece of the puzzle.
Ginseng growing season is complicated and depends on how and when you plant ginseng seeds. The claims that ginseng growers received many tremendous benefits from these roots started in North America around the 1700s.
American ginseng, now called Panax quinquefolius, is highly sought after. The dried roots have seemed to help thousands of people with health issues.
Unfortunately, ginseng plants aren't the easiest to grow. The demand for ginseng roots nearly drove the plant to extinction and made the prices soar.
Poaching the crop is now illegal, and harvesting the natural resources in the wild is highly regulated. If you're curious about growing ginseng and want to know the best time to plant ginseng, you've come to the right place.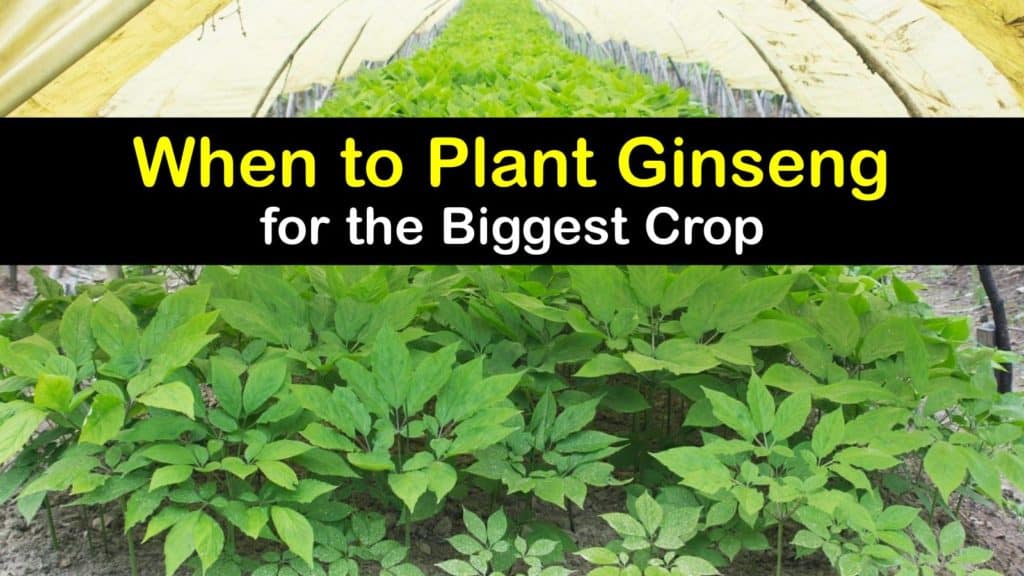 About the Ginseng Growing Season
Ginseng plants are small, shade-loving perennials. Growers cultivate different types of ginseng frequently for domestic sales and exports. However, wild-simulated ginseng is the superior crop.
Wild ginseng beds are found in forested regions and near poplar trees in the Appalachian mountains that stretch from North Carolina to Canada. You can also find ginseng in its natural habitat in Asian countries.
The timing for when to plant ginseng seeds is crucial because they are such slow growers. Regulation for harvesting these plants varies between states, like with Goldenseal, Solomon's Seal, Black Cohosh, Bloodroot, and Jack-in-the-Pulpit. Some permits may be attainable depending on where you live.
There are several cultivars of American Ginseng for you to choose from. All ginseng plants are divided into two groups called wood simulated or wood cultivated plants.
Both are grown in forest soil or tilled beds that use leaf litter and bark as nutrition. Wood simulated plants grow for up to 12 years, and wood cultivated plants grow for up to nine years. Field cultivated plants only take three or four years but are of lesser quality.
When to Plant Ginseng Seeds
Timing is everything during the ginseng growing season. If you've already decided that you're dedicated to ginseng production, you might as well learn the timing.
The Ginseng Growing Season
Ginseng is hardy in USDA growing zones three through seven. The cooperative extension informs us that this timing could change based on where you live.
When to Plant Ginseng and How to Care for Them
Determine when to plant ginseng seeds based on your growing zone, whether growing ginseng indoors or outside. The ginseng growing season doesn't ever really end, considering that seeds take up to 18 months to germinate and five years before they are ready for harvest.
Some gardeners use stratified seed stored in shallow sand or peat under cold conditions for a dormancy period of six months. Stratification is crucial for easier germination. Stratified seeds are easy to work with and take a lot less time to raise.
Start ginseng from either the seed or root. Always plant these roots in a well-shaded area on northern facing slopes. Try to find a sloping ground that is at least 75 percent shade.
The lack of sun keeps weeds from taking over and is less likely to interrupt seeding from foot traffic. If you don't have a sloped spot, simulate these conditions in raised beds covered with garden netting or practice the way to grow ginseng in containers indoors with plenty of air circulation.
Mulch is an excellent tool if you are having issues with nearby weeds. Sow seeds at a depth of one-and-a-half inches, or bury roots under three inches of soil.
If planting roots, always plant them in the early spring. Keep the spacing of each seed about one square foot apart from one another. This same rule applies if transplanting roots as well. Ginseng plants do best in moist conditions.
As you wait patiently for roots to grow, remember to harvest the red berries that grow each year. Ginseng berries are a rich source of dietary bioactivities and have even higher ginsenosides than the roots. Ginsenoside is used in herbal medicine to treat diseases and age-related issues.
Problems with Ginseng Roots
Pests are often a problem with ginseng plants. Slugs, cutworms, and mice are all issues that may or may not be treated with pesticides. You may also need a homemade deer deterrent as this wildlife species loves ginseng.
In addition, a fungus called Alternaria Panax is specific to ginseng plants. The disease affects plants of all ages and is worse in beds with prolonged moisture. Symptoms include infected stems with brown lesions or velvety spores. Thankfully, fungicide is all you need to rid yourself of this problem.
Harvesting Ginseng
Ginseng root is ready for harvesting after five to ten years. Look for at least three prongs on the leaves as an indicator of maturity. Harvest the plants in the fall of that growing season.
Remove the soil in a five-inch radius around the plant. Pull the entire root from the ground, loosening the dirt around it if necessary. Be careful not to break off parts of the root. Once harvested, chew on the roots raw or use them in tea, soups, and stir-fries.
Coat the ginseng slices in a generous amount of honey and stir. Let the honey and roots sit for 15 minutes. Heat the water in a kettle but don't allow it to boil.
Pour the very hot water over the ginseng and honey and allow it to steep for five to ten minutes. Scoop out the ginseng slices and pour the mixture into a tea mug to sip on.
Ginseng is an unusual plant that serious gardeners are dying to get their hands on. The demand for these roots is high, and it is a painstaking wait before you're able to harvest them.
However, once you have a good crop growing, you'll get to experience the benefits of this magical plant for years to come.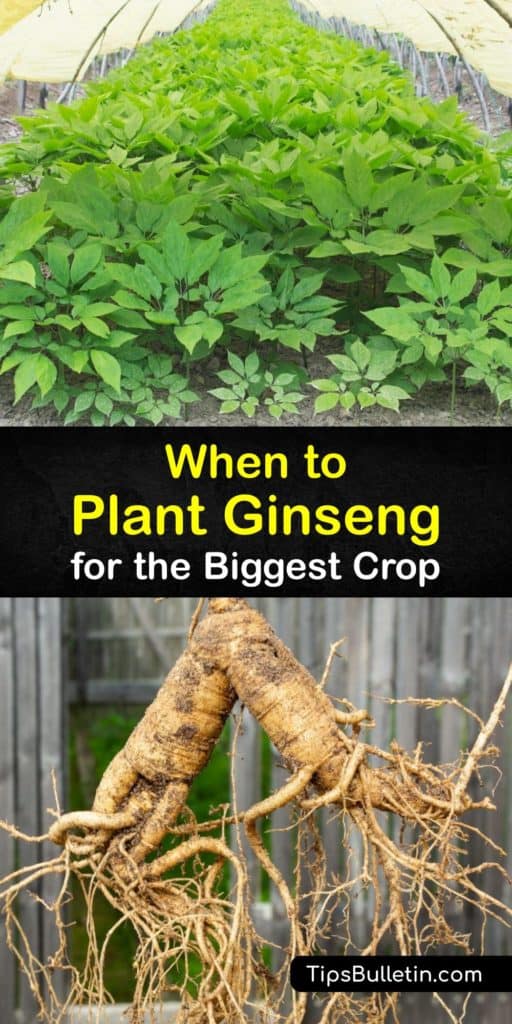 If the timing for when to plant ginseng has helped you grow this wonderful plant, share these tips on when to plant ginseng seeds on Facebook and Pinterest.