Ground cherry plants are a fun fruit to grow if you're looking for something different. They are fast-growing, sprawling shrubs, and the sweet-tart flavor of the husk cherries are hard to resist. Find out how and when to plant ground cherries in the home garden and harvest them for making homemade pies.
A ground cherry plant produces fruits that resemble a tomatillo. These orange-yellow fruits taste like a pineapple with a hint of tomato. The ground cherry, known as the cape gooseberry, husk cherry, or husk tomato, is small, like a cherry tomato. It grows inside a papery husk, and the fallen fruit is easy to harvest at the end of ground cherry growing season.
Ground cherries (Physalis) originate in South America – there are many types of ground cherries. However, the most popular are the Cossack Pineapple, Huberschmidt or Goldie, and Aunt Mollys ground cherry. Other varieties include the strawberry ground cherry (Physalis pruinosa) and the Peruvian ground cherry (Physalis peruviana).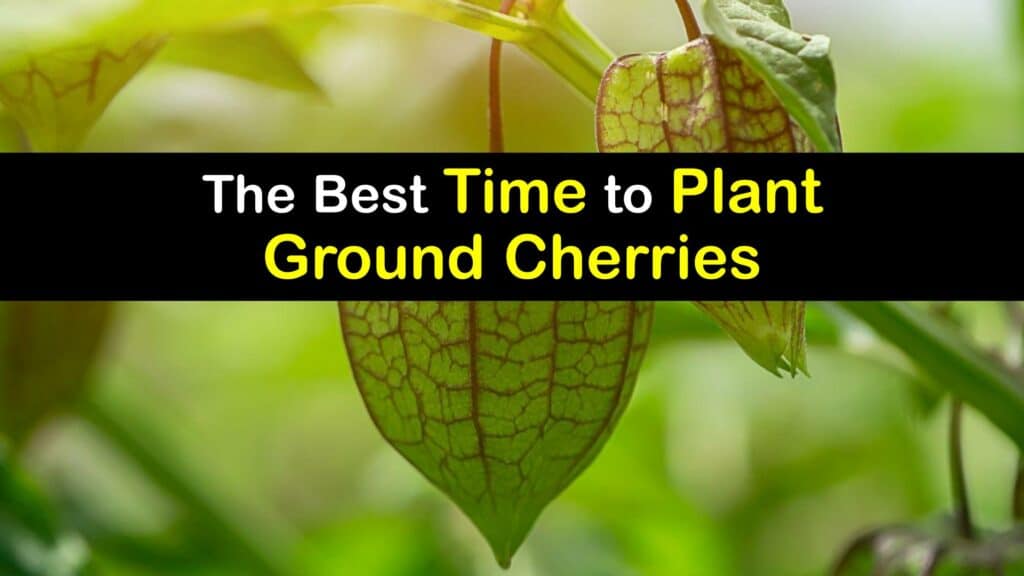 When and How to Grow Ground Cherry Plants
The ground cherry growing season goes by quickly. While this annual fruiting plant is not well-known, it's easy to grow and an excellent addition to the garden, whether you grow the strawberry ground cherry (P pruinosa) or the Peruvian ground cherry (P peruviana).
Our complete guide to growing ground cherry plants is all you need to produce these unique and tasty fruits. Discover how and when to plant ground cherry seeds indoors and transplant the seedlings outside. Additionally, find plant care tips to ensure you get an ample supply of ground cherries at the end of the growing season.
When to Plant Ground Cherry Seeds Indoors
While many plants are suitable for growing directly outside, it's always good to start them indoors before the last frost. Learn how and when to plant ground cherry seeds indoors to give your plants a kick start on the growing season.
About seven weeks before your area's last spring frost, fill peat pots with seed starting dirt and plant the ground cherry seed a quarter-inch deep in the dirt. Water lightly to moisten the soil and place them in a warm area where the temperature is between 75 and 85°F.
Ensure they stay moist, and neither dry nor soggy. Ground cherry germination time is about two weeks. Keep your seedlings in a sunny window until the danger of frost passes, and take them outdoors daily for a couple of hours when it's warm to help them acclimate to their new climate and direct sunlight.
While it's easiest to start seeds indoors, it's possible to sow a ground cherry seed in the ground. However, if you're wondering when to plant ground cherry seeds, it's best to wait until the spring temperatures are consistently warm.
How and When to Plant Ground Cherries
It's vital to know when to plant ground cherries in zone 5 versus when to plant ground cherries in zone 7. Explore when to transplant your seedlings outdoors based on region and how to grow them in the yard.
There are many varieties of ground cherries, from Aunt Molly to the Clammy ground cherry, and they are all simple to grow. However, since ground cherries are frost sensitive, it's vital to know when to plant ground cherries in zone 6 or less.
Ground cherry plants are hardy in zones 4 through 8, and the best time to plant an organic seed or seedling is two weeks or more after your average last frost date. Space your ground cherries two feet apart and plant the entire peat pot directly into the garden or raised bed at the same depth as their container.
Water them right after planting and position a tomato cage over the plant to keep the stems from flopping over as they grow ripe fruit. If you get an unexpected cold snap after planting ground cherries, consider using row covers to cover crop plants and protect them from frost.
After growing ground cherries for about 70 days, you'll notice ground cherry fruits on the bed around the plant's base. This plant behavior is perfectly normal, and harvesting them is as easy as picking a ripe ground cherry from the ground.
It's also possible to grow ground cherries elsewhere. Planting ground cherries in pots or containers you add to your deck makes a nice decoration. Ensure they get proper sunlight and water.
Make a Homemade Pie at the End of Ground Cherry Season
Once you know the best time to plant ground cherries and it's finally the end of the ground cherry growing season, it's time to start eating ground cherries. This ground cherry pie recipe is one of our favorites, and it takes less than an hour to make.
Rinse the ground cherry fruit under running water and spread them in a pie pan lined with pie crust. Combine brown sugar and one tablespoon of flour in a bowl, pour it over the cherries, and sprinkle some water over the top.
Mix the sugar with three tablespoons of flour, cut in the butter until crumbly, and top the cherries with the crumbly mixture. Bake your pie in a 425°F oven for 15 minutes, turn the heat down to 375°F and bake it for 25 minutes.
Ground cherry plants are the perfect choice for your home garden if you're looking for something a little more unique than the traditional fruiting plant. Growing them is pretty straightforward; they are relatively pest and disease-free, and they reward you with delicious, ripe fruit about 70 days after planting.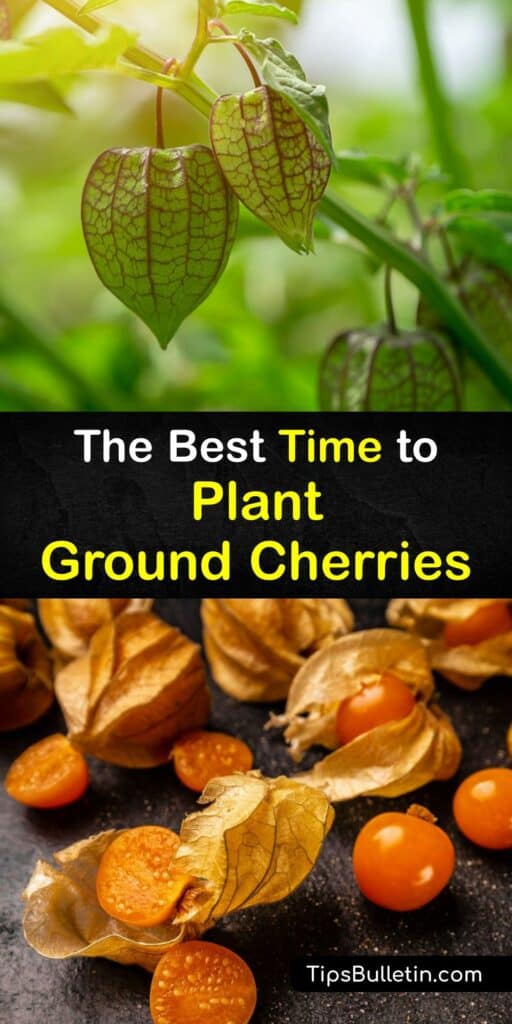 We hope that you enjoyed discovering how and when to plant ground cherries, and we'd love it if you'd share our ground cherry planting guide with your family and friends on Facebook and Pinterest.