Potatoes (Solanum tuberosum) are a common ingredient in many household kitchens and gardens. The tuberous roots of the potato provide nutrients and digestible carbohydrates, making it one of the world's most significant food plants and commercial crops. Many producers wonder when to plant potatoes for the best yield and the best time to plant potatoes in their specific area.
Potato plants grow quickly and produce a large yield for the amount of space they take in the garden. Whether you're a fan of tender fingerling potatoes or love a giant Russet baked potato, producing your own spuds in the garden is straightforward, economical, and a great way to be more self-sufficient.
Potatoes aren't fussy and grow well almost all year round in most climates. With a little knowledge, it's easy to know what month do you plant potatoes so you can take advantage of the growing season in your region.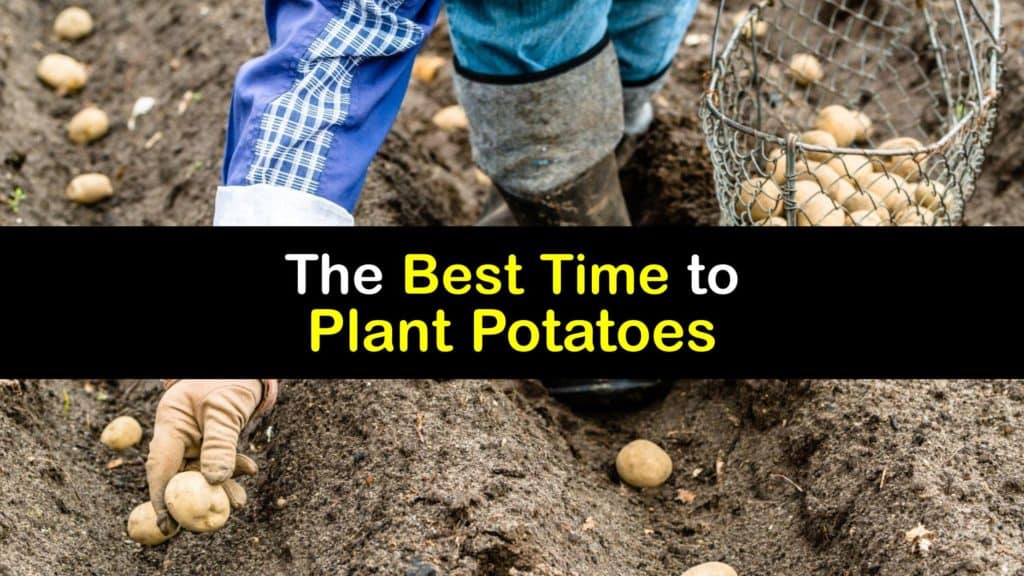 Essential Ideas for the Best Time to Plant Potatoes
Potatoes belong to the nightshade (Solanum) plant family, including essential foods such as tomatoes, peppers, and eggplants. Like all nightshades, potato leaves and other green components contain harmful alkaloid chemicals. However, the developed roots of potatoes are delicious and safe to consume.
Figuring out what month do you plant potatoes may be intimidating. Though they're easy to care for and appropriate for all levels of growers, these veggies have a preference on the best time to plant potatoes to ensure you get a bountiful harvest.
Potatoes generally like cool weather and do best when not trying to grow through the summer heat in warmer climates. When to plant potatoes depends on the last frost dates for your area, the soil temperature, and when your seed potatoes are prepared for growth.
What Month Do You Plant Potatoes?
What time of year do you plant potatoes? Sometimes potato planters struggle to identify when are potatoes in season in their home region. Most potato varieties enjoy an almost year-round growing season.
It is feasible to grow potatoes in the fall, winter, and early spring in hot southern regions and the late summer in cool weather northern locales. Plant potatoes after the soil temperature reaches 40 degrees F, usually 4-6 weeks before the last heavy frosts in spring. Plant them with the eyes facing up so they are sure to grow the right way.
Plant in-ground potatoes two weeks after the last freeze in your location. This is also a good time to plant onions. When planting in containers, you may be able to move the planting date ahead a few weeks because the soil heats quickly when exposed to sunlight above ground. Prepare to cover or move your potato containers indoors if a late April frost is forecast.
Potato Varieties for Homegrown Taters
Whether you prefer small potatoes or huge bakers, growing your own tubers saves you a trip to the grocery store and gives you access to homegrown spuds.
When scouring garden centers for seed potatoes to prepare for planting potatoes, choose a variety based on your culinary plans and garden conditions. Always pick disease-free seed pieces with no signs of greening or decay.
When to Plant Potatoes
Once you've identified potatoes growing season in your local area, it's potato grow time. Add organic fertilizer or organic matter to your soil to prepare to plant potatoes. In addition to this first feeding, feed your potatoes with a diluted fertilizer every couple of weeks, including manure tea.
To increase the soil's nutritional content, give the mix a good shake and pour it on top.
Save a trip to the garden center by using organic potatoes as seed potatoes. Cut your chosen seed potatoes into small pieces with a minimum of two growth nodes or eyes on each so sprouting and stalk development occurs. Allow for the growth of a scab on the cut side by letting them rest for a few days until planting.
Planting Potatoes for a Large Harvest
Choose an early and a late-season potato variety to extend your growing season. These are planted simultaneously, but the late variety is harvested some weeks after the main-season potatoes have been dug.
Don't plant potatoes in places where you grew other nightshades like tomatoes or eggplant the previous year. These vegetables are susceptible to the same pests and diseases as potatoes and may invite trouble if you don't practice crop rotation.
Digging a small trench approximately six inches deep and laying the seed potato pieces in the channel, eyes facing up, is a classic potato planting method. Bury the spuds with a couple of inches of dirt.
Some gardeners prefer to plant the seed potatoes directly in the soil, covering them with a few inches of mulch, and keep adding mulch as the plants grow. This strategy is probably not the most promising solution if you have a rodent problem.
Potato Plant Care
Potatoes cannot undergo sprouting without the sun and water. Ensure your plant gets full sun, at least 6-8 hours daily. Take care to water your newly planted potatoes thoroughly. One critical aspect of growing potatoes is to keep the soil damp but not wet.
Put your finger an inch into the soil to monitor the moisture level at least once a day. If your potato plant appears dry, it's time to water it. If it's especially hot or windy, water your plants more frequently. Water deeply and consider applying mulch to help maintain moisture levels.
Inspect your potato plants often for signs of disease or pests such as Colorado potato beetles, and treat promptly to maintain the health of your crop.
Hilling Your Tubers Increases Yields
When your potato plants are about six inches tall, hill them. Potato plants are hilled by surrounding them with a few inches of soil covering the emerging stems at the bottom. Make sure not to break any of the plant structures in the process.
The goal is to cover about a third of the stem so the earth covers the bottom leaves. Hilling is required for a successful harvest since the buried stems yield more potatoes. Repeat the hilling procedure a few more times as your plants grow. Potato plants grow fast, so keep an eye on them to ensure they don't overwhelm you.
Harvesting Your Homegrown Potatoes
Potatoes are ready to harvest any time after your plants flower. Typically, potatoes take around three months to grow. Reach down into the dirt and pull out a handful of new potatoes as you need them. Harvest all remaining potatoes at the same time when the plant turns yellow and dies later in the season.
If you used grow bags, the simplest method is to turn the buckets over and spill the contents onto a tarp. Dig about freely in the dirt in quest of every potato. If you planted in raised beds or traditional beds, search through the soil carefully to locate your produce.
If you stumble across a few little potatoes, don't discard them. Those are some of the sweetest potatoes, and they're perfect for stewing whole.
Storing Potatoes for Maximum Shelf Life
After you successfully plant potatoes and obtain wonderful fresh tubers, store them properly to extend their shelf life and enjoy your potatoes longer. Cook your potatoes immediately, or set them aside for later.
Before storing them, clean them and allow them to air dry for a few days. Potatoes must be able to breathe and are best stored in paper bags or natural baskets. Early potatoes should be appropriately stored and enjoyed throughout the season.
Potatoes are inexpensive, but recently dug spuds from your own backyard garden have a distinct flavor. Cultivating potatoes is a simple and gratifying activity with the potential to make a lot of food, whether you prefer tender new potatoes, expect to grow giant russet bakers, or are ready to try your hand at new potato kinds.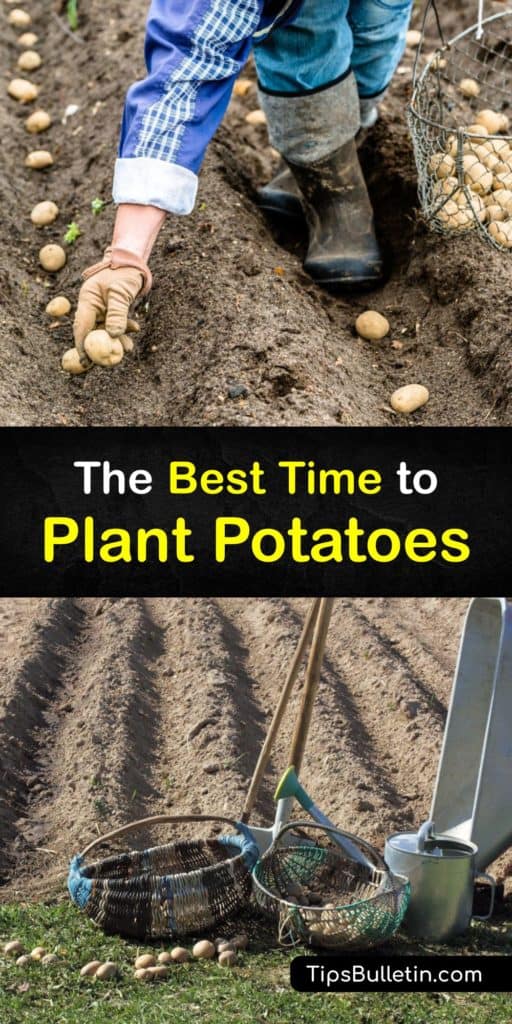 If you loved this article on when to plant potatoes, please share these brilliant tips on the best time to plant potatoes with your friends and family on Pinterest and Facebook.