Rhubarb is a cold-hardy perennial vegetable with edible leaf stalks. It has regained popularity in recent years thanks to its easy care and versatility in the kitchen. In this article, learn when to plant rhubarb to give it the best possible start in your home garden.
Rhubarb plants grow well in cool climates and require a winter dormancy period each year with temperatures below 40℉ for at least two months. Most growers plant one-year-old rhubarb crowns, which are available at your local garden center or from online retailers in early spring.
It's also possible to grow rhubarb plants from seed. However, it takes significantly longer and is more labor-intensive than transplanting established crowns.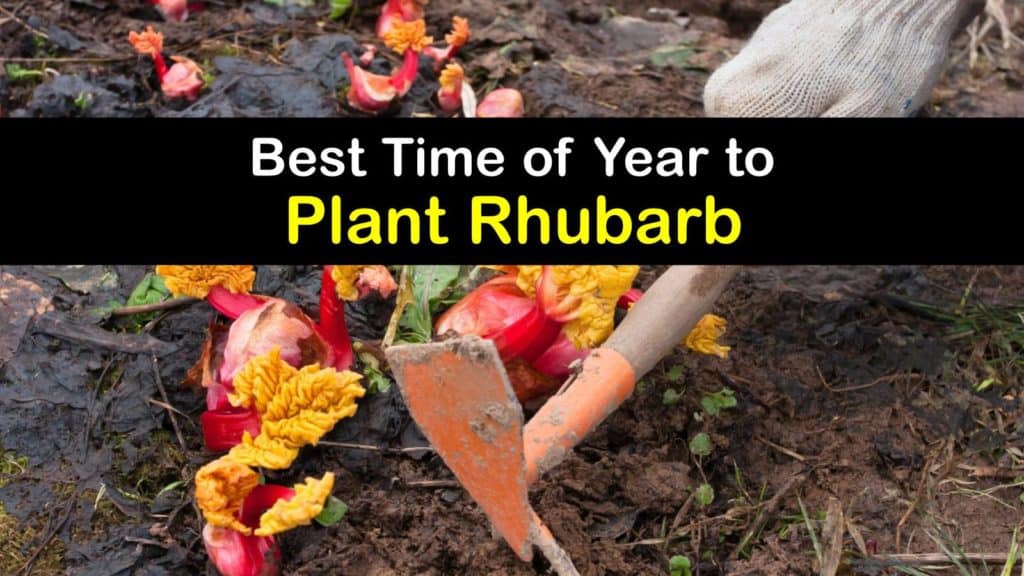 Best Time to Plant Rhubarb
Generally, the best time to plant rhubarb is in the early spring or late fall when the root system is less active. Read on to discover the advantages of transplanting at different times during the rhubarb growing season.
Rhubarb, or Rheum rhabarbarum, is a perennial plant that lives for ten years or more under the right conditions. Plant new specimens or divide existing rhubarb plants when they're dormant in late fall or early spring.
The plants grow best in mildly acidic soil rich in organic matter, with a pH level between 6.0 and 6.8. They're heavy feeders and benefit from regular fertilization throughout the growing season.
Consider growing rhubarb in a raised bed if you have especially heavy clay soil. Nutrient-rich and well-draining soil keeps the deep root system healthy.
While different types of rhubarb grow fastest when planted in full sun, they benefit from afternoon shade in warmer climates. In hot weather above 90℉, the plants often bolt and prematurely develop flower stalks. Prune emerging flower stalks right away to direct the plant's energy toward making thick, juicy leaf stalks.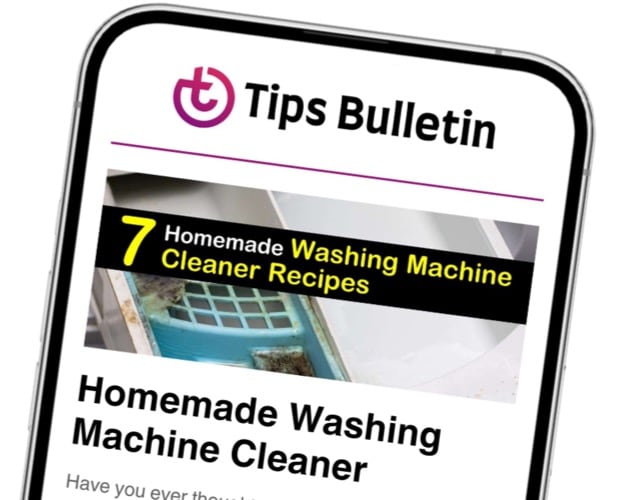 Finally, an email that Transforms Your Home.
Get the latest home and garden tips from our experts, delivered straight to your inbox.
Rhubarb plants produce large, reddish petioles or leaf stalks, the only edible parts. Rhubarb leaves have toxic oxalic acid levels.
To allow your plant to become properly established, don't pick any rhubarb stalks during its first year. Gather sparingly the second year and only harvest the thickest stalks.
After the third year, the rhubarb harvest season goes for eight to ten weeks, from late spring to mid-summer. In August, stop harvesting and allow the plant to store energy for the winter.
When to Plant Rhubarb Crowns
For the easiest and fastest results, transplant established rhubarb crowns. Bare root rhubarb plants are usually the simplest and least expensive option. Container-grown rhubarb is also available at most garden centers in the springtime.
Transplant shock happens when plant roots get damaged during the moving process. Leaves may curl, wilt, turn brown or yellow, and fall off. Avoid these problems by transplanting when the rhubarb roots are dormant.
You might be wondering when to plant rhubarb in zone 5. The ideal times are late April to mid-May and late October to mid-November.
Plant bare root rhubarb crowns as soon as you can work the soil in very early spring. It's alright if it's before the last frost date for your area, as the plants haven't yet woken up from their winter dormancy. Alternatively, transplant in late fall after all the foliage dies back.
Transplant container-grown rhubarbs after the last danger of frost passes to help prevent frost damage on the tender new leaves. Dig your planting hole about one foot deep and wide. Fill it with a 50/50 mixture of garden soil and organic compost around the rhubarb crown.
For bare root plantings, bury the crown two or three inches below the soil surface. For potted rhubarb plants, keep any emerging leaves above the soil and ensure all the roots are fully covered.
Another advantage of planting rhubarb crowns is that they grow true to the variety. Most rhubarb varieties are hybrids, and their seeds may not have the same characteristics as the parent plant. Here are some of the top rhubarb cultivars to grow in your home veggie garden.
When to Plant Rhubarb Seeds
Another way to grow rhubarb is from seeds. When to plant rhubarb seeds depends on when the last frost date is in your region. In climates with late spring frosts, plant rhubarb seeds indoors about eight to ten weeks before the average last frost date. It's one of the best seeds to plant in February in many areas.
Otherwise, sow seeds directly in your garden bed anytime the soil temperature is above 50℉. For reference, the optimal date range for when to plant rhubarb in zone 7 is two to three weeks sooner than when to plant rhubarb in zone 6.
Rhubarb seeds usually take one to two weeks to germinate. Transplant indoor-grown seedlings after the last danger of frost in late spring. Wait to harvest rhubarb planted from seed until the third growing season.
In USDA zones 9 and above, rhubarb often gets grown as winter annual. If you're questioning when to plant rhubarb seeds in warm climates for a winter harvest, try to time it so the seedlings come up after the temperatures cool below 75℉, between late August and early October. This is often the best time to plant Swiss chard in zone 6, too.
How Long does the Rhubarb Growing Season Last?
The rhubarb growing season lasts from early spring to late fall. The plants are most active in the springtime. Harvest rhubarb stalks from late spring to mid-summer when they're at least eight or ten inches long.
Once the weather gets hot in the summer, their growth rate slows down considerably. When temperatures start dropping below freezing in late fall, the leaves naturally die back. To overwinter your rhubarb plant, cut the dry stalks back to about four to six inches above the soil surface.
If you're looking for fun rhubarb uses, try this easy recipe for homemade rhubarb vinaigrette dressing. Give your salads a fruity twist, or use it for marinades.
Place the chopped rhubarb and orange juice in a saucepan. Cook the rhubarb at a soft boil until tender. Combine the cooked rhubarb, honey, onion, garlic, vinegar, salt, and pepper in a blender or food processor and purée until smooth.
Pour in the oil and process until the dressing becomes frothy. Store your rhubarb vinaigrette refrigerated in an airtight container for up to six months.
Special Considerations for Planting Rhubarb in the Fall
Fall is an excellent time for transplanting perennials, and rhubarb is no exception. However, timing is crucial. The plants aren't fully dormant and may suffer from transplant shock if planted too soon. However, it's equally important to plant rhubarb before the ground freezes.
Protect your newly transplanted rhubarbs with a thick layer of mulch to provide the root system with extra insulation. It also helps retain soil moisture and minimize weed growth.
Troubleshooting Common Rhubarb Problems
Rhubarb plants are normally low-maintenance. Nonetheless, they sometimes experience pest and disease problems. Healthy plants are more resilient against attacks from insects and pathogens. Providing your plants with appropriate amounts of light, nutrients, and water is their best defense.
Crown rot is one of the most prevalent rhubarb diseases. It comes from soil-borne fungi that infect new buds and thrive in damp conditions and heavy soils. If untreated, the disease gradually spreads to the whole rhubarb crown, which eventually turns black and mushy. The roots' centers also rot.
If applied early enough, an organic copper or sulfur fungicide is an effective treatment. Otherwise, dig up and dispose of the entire plant. The fungus remains in the soil for many years, so plant your rhubarb elsewhere.
Providing adequate air circulation and using a soaker hose or drip irrigation to keep the leaves dry reduces the risk of fungal diseases. Avoid covering the entire crown with mulch.
Rhubarb curculio beetles, also called rhubarb weevils, bore holes in leaf stalks to lay their eggs. The larvae burrow deep into the plant tissue to feed, causing the entire stem to wilt and die.
They're resistant to most insecticides, so the only direct control is hand-picking. Remove their wild host plants like dock, sunflower, and thistle from your property.
Growing rhubarb in your garden is worth the effort. The best time to plant rhubarb is usually in early spring or late fall when the plant's root system is dormant. When to plant rhubarb seeds depends on your region's spring temperatures. Or, plant bare root or container-grown rhubarb crowns for a faster harvest.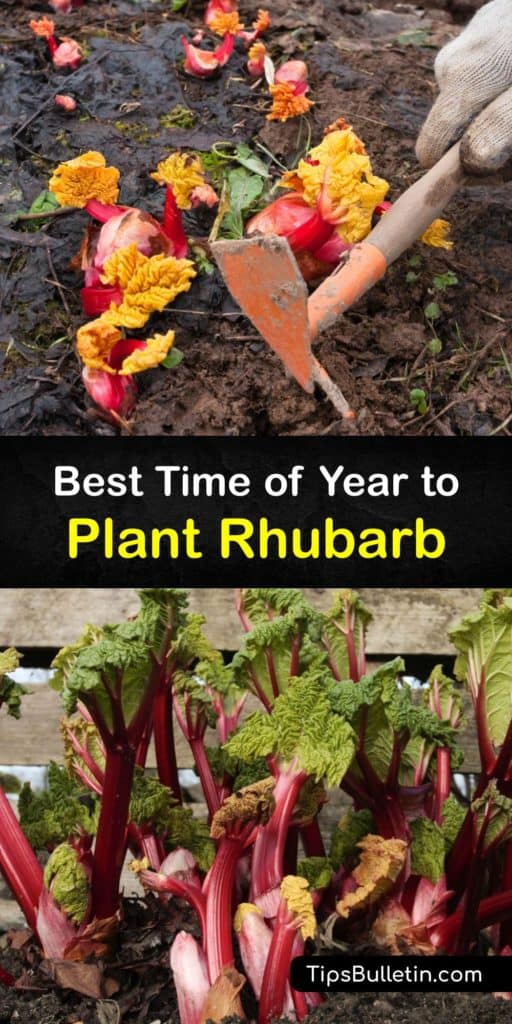 If you enjoyed learning about the rhubarb growing season, feel free to share this article about when to plant rhubarb with your fellow gardeners on Facebook and Pinterest.