Spring planting is a time of excitement for home gardeners. There are various leafy greens to choose from, like chard, kale, and spinach. One of the most challenging aspects of at-home gardening is knowing when to plant spinach and other veggies.
If you plant spinach too early in the spinach growing season, an early spring frost could permanently damage them. If you plant them too late, you might not be able to complete your fall harvest.
Within each growing zone, there is an ideal time to plant spinach seeds and plants.
Despite the hundreds of online articles, it's not always easy to find one that tells you when the best time to plant spinach seeds, when to transplant them, and what types work best for growers in your area.
We have assembled all of this pertinent information and compiled it into one place so that you know precisely when to plant spinach and how to care for it.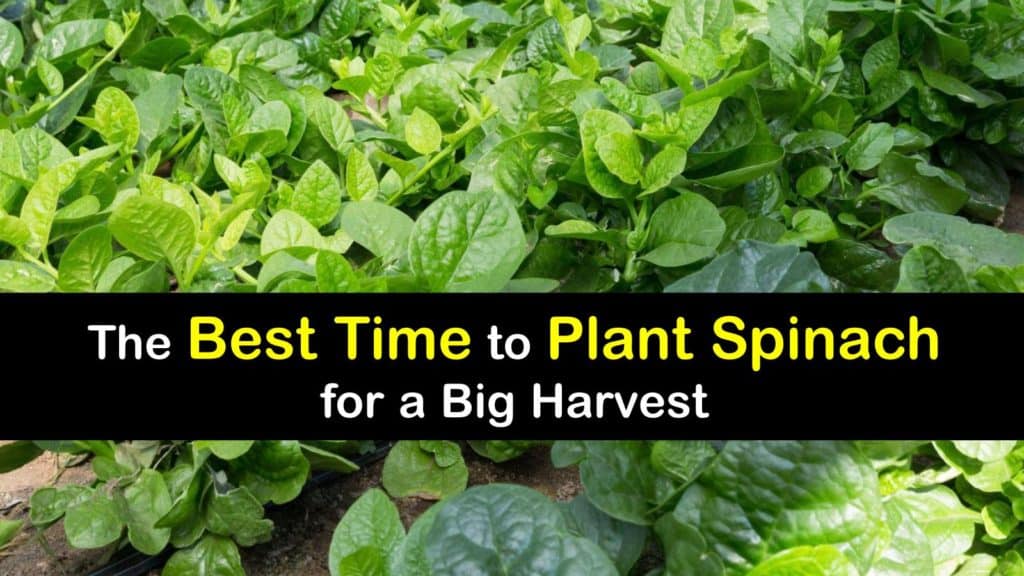 About Spinach
Spinach is a cool-season crop that is closely related to beets and chard. Also called Spinacia oleracea, you will likely have more success growing different kinds of spinach in cool weather than in hot weather.
However, that doesn't mean you won't be successful if you live in warmer growing zones. Spinach grows quickly and yields many leaves over a short period of time, making it an ideal veggie for most people.
Leafy greens are a favorite part of our food consumption because they nourish our bodies with many good vitamins and minerals. Spinach is considered very healthy and versatile since it is prepared in various ways.
Aside from being low in calories and over 90 percent water, these dark green leaves have loads of protein, fiber, and vitamins.
Because of their makeup, we know that eating spinach helps relieve stress, improve eye health, regulate blood pressure, prevent cancer, and more.
However, some people with underlying health issues should refrain from eating too much of it. If you have sensitivities to mineral salt, calcium, or vitamin K, it may not be the plant for you.
When to Plant Spinach
Is spinach hard to grow? Not really, but timing is crucial for any plant you're putting in your veggie garden. There are many other requirements for spinach for us to go over, but how do you know when to plant spinach seeds in your growing zone?
Keep reading to find out everything there is to know about growing spinach and how it relates to where you live.
Preparing for the Spinach Growing Season
When is Swiss chard in season? What about spinach and other greens? Most often, spinach is planted during the cool temperatures of the spring and fall. Regardless of where you live, keep spacing between spinach plants at least 12 inches apart.
Spinach loves soil with a neutral pH level of 6.5 to 7.0. Keep the ground soil moist, especially during the hotter months of late summer, and retain some control by adding mulch to the top of your garden beds or raised beds.
Like when to start Brussel sprouts and other veggies that like cooler weather, always start the season off right by prepping the soil and adding lots of rich organic matter native to your area. Incorporating a balanced fertilizer as a side-dress works, or you might try using a fish emulsion to boost fertility.
Germination takes place when soil temperatures reach 40°F to 50°F. Spinach benefits from full sun but also tolerates partial shade if necessary.
Successive planting is usually possible, depending on where you live, and plants or seeds should be put into your garden every two weeks, starting in the spring. The primary difference between spinach and baby spinach is when you harvest the leaves.
When to Plant Spinach Seeds Indoors
Starting seeds indoors is possible, but spinach doesn't always survive after transplanting, so the risk is up to you. If you want to plant spinach seeds inside, soak them in water for about 24 hours before placing them on paper towels to dry.
This process should happen four to six weeks before the last spring frost. Sow each seed in potting soil in individual pots and place them in a sunny windowsill to allow them to germinate, which could take up to three weeks.
Once you notice new leaves appearing, you may transfer them outside to your garden.
When to Plant Spinach in Zones 1-4
USDA growing zones one through four have the shortest growing season. These areas have extremely cold temperatures, with the last frost date around the middle of May and the first frost date around mid-September.
With such a short window, spinach is one of the few veggies that have a chance of survival.
The spinach growing season in zones one through four starts in the middle of spring, and gardeners living here should keep a very close eye on their plants so they don't freeze.
If temperatures are too low, use a row cover or cold frame box to protect them. Some of the best cultivars of spinach to grow here are Kolribi, Bloomsdale Long Standing, and Tyee.
When to Plant Spinach in Zone 5
We start to see some long days as we move into USDA zone five. Most planting is dictated by the frost that happens in the spring and fall.
The earliest spinach should be planted is around March or April. If using it as a fall crop, try to have them planted by late summer. Teton and Tyee are excellent cultivars to use in zone five.
When to Plant Spinach in Zone 6-7
Zone six is a great place to grow multiple veggies because it has a nice balance between hot and cold weather. If planting spinach in this area, try to plant them around the first of May or plant in November, depending on when you want to harvest them.
Indian Summer and Regiment spinach are popular choices. This information also applies to when to plant spinach seeds in zone 7.
When to Plant Spinach in Zone 8-13
The weather becomes milder once you get into zones eight and higher. Most gardeners grow veggies throughout the winter without any worry.
However, it isn't a smart choice to plant spinach in the winter in these zones. The summer temperatures get too hot for this cool-weather plant, so seeding in the fall is best. Cultivars that enjoy these zones are Malabar, Melody, and New Zealand Spinach.
Issues with Spinach
The spinach growing season is exciting, but keeping your plants healthy should always be your number one priority. Spinach plants are susceptible to downy mildew, leaf miners, and aphids.
Most of these issues are easily handled with a floating row cover to keep the bugs off and ensure the soil continues to drain well.
Using Your Spinach
Once your spinach matures, it is time to use it and take in all the nutritional benefits. When you harvest, start by taking off the outer leaves first and working your way inward.
When you have enough, leave the plants to produce more and come back to them in another week or so. Don't let your plants sit too long, or they start bolting and become inedible. After picking them, take your crops inside and find fun ways to use them in the kitchen.
Rinse your spinach leaves under cold water and dry them on paper towels. Heat a large pan over medium-high and add a few tablespoons of olive oil. Toss in the raw spinach and allow it to cook down.
Once the leaves start to turn dark and soft, sprinkle in salt, pepper, and garlic powder to taste. Cook for another two minutes until completely wilted, and remove them from the heat. Serve right away.
Gardeners love filling their beds with fruits and veggies, but it is a huge disappointment when some of your crops don't make it.
Many people plant their spinach too early or late in the season and are stuck trying to revive a plant that has no chance of surviving. Timing is a critical element of a flourishing garden, and we hope that this guide has helped make the process easier.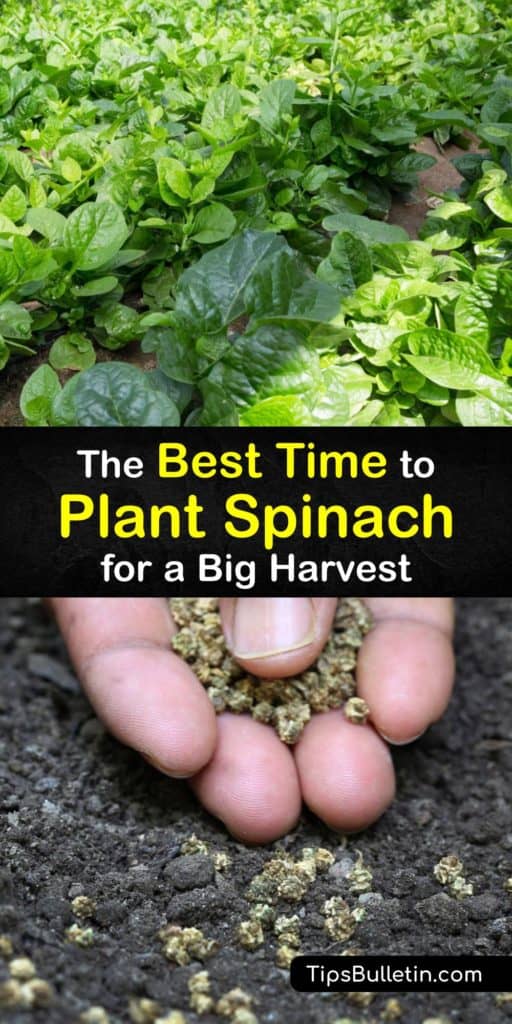 If learning when to plant spinach in your specific growing zone has led to larger yields, share these directions for the spinach growing season on Facebook and Pinterest.