The world of squash plants is vast and exciting, with many varieties available for gardeners. Knowing when to plant squash is crucial to your squash reaching maturity regardless of which type of squash you want to grow.
Squash plants come in two categories: summer and winter. They are equally delicious, and at times, the deciding factor in which to plant comes down to how you plan on using the squash. Summer squash grows quickly with thin skins – they do not last long after being harvested. Zucchini is the most common type of summer squash. Winter squash, like Cucurbita pepo, develop thicker rinds over a longer maturity period, making them ideal for storage.
Despite their names, both summer and winter squash are warm-season crops. Once you know the timing for your squash plants, the rest of the journey to bringing fresh squash to the table involves finding a suitable space in your garden for these sprawling growers.
When to Plant Squash Seeds
Squash plants are easy to grow because they do not require a specific climate to thrive. Whether you are wondering is a gourd a squash and what kind of squashes there are, know that summer and winter squash plants and gourds prefer full sun in growing zones three through ten, covering most of the United States. Within the squash family, there are squash varieties that mature faster based on their growth pattern, making it the ultimate vegetable to try to grow.
When to Plant Squash Plants
For a successful harvest, start planting squash plants directly into the garden after the ground thaws and soil temperature reaches at least 60°F. Learn what grows well with squash to take advantage of companion planting.
Waiting for the right soil temperature is crucial to ensure your seeds don't rot before they germinate and break through the soil. Monitor the ground with a soil thermometer to know when to sow seeds.
To get a head start on the squash growing season, start growing squash seeds indoors two to four weeks before the last frost date. Once your squash seedlings have a few sets of true leaves and the soil temperature is past 60°F, start transplanting them outside.
If you purchase starts from a garden center, wait for temperatures to reach at least 70°F before transplanting them into the garden.
Depending on your growing zone, the timing for planting squash seeds varies. For the warmer zones, this could be in late March, and for gardeners living further north, this could move your timeframe for growing squash into the beginning of the summer months.
When to Plant Squash in Zone 5 and Below
If you live in zones three to five, an area covering part of the Midwest up to the northernmost portions of the United States, you may have less time to grow squash than in the warmer zones. However, gardeners in these zones are not short on squash options.
Outside their growth rates, squash plants are divided by their growing pattern: bush or vining. Squash plants grow in either more compact bush formations or vining types known to sprawl out and take up garden space. Knowing how far apart to plant squash ensures they have enough room to grow.
Aside from bush-type squash taking up less room in the garden, they tend to reach maturity faster, making bush-type squash the perfect choice if you're fighting the clock on cold weather in your growing zone.
Early Prolific is a type of yellow straightneck squash. These summer squash reach maturity in around 50 days and are known for their light yellow club-shaped produce and buttery flavor.
Early Summer is a crookneck squash that grows with a bulbous bottom with a crooked neck near its vine. This summer squash lasts well after harvest and reaches maturity in around 50 days.
Sunburst squash is a scallop squash, also known as patty pans. Sunburst plants produce small bulb-like squash that reach maturity in over 50 days.
Monitor soil temperatures as the temperatures rise in April for zones four and five. If you live in the colder parts of zone three, temperatures should increase in May to start planting squash seeds.
If damp soil or poor soil temperature prevents you from planting squash, consider planting squash in raised beds or using black plastic in garden beds to help raise the temperature of your soil.
When to Plant Squash in Zone 6
For gardeners in zone six, temperatures begin to rise throughout April, but with the threat of rain and frost in some areas, the best time to plant squash is in May. For home growers living in the northern parts of Michigan and Washington, this may take you into June.
If you don't want to wait, plant your butternut squash seeds indoors and bring them outdoors after germination to harden off as the temperatures rise in preparation for transplanting. If you plan on growing squash indoors or don't have a lot of garden space, grow bush-type squash.
Bush-type squash doesn't grow long vines, but start with a pot at least two feet across and 30 inches deep for container growing. Select a pot with good drainage holes and fill it with a well-draining potting mix and a tablespoon of slow-release fertilizer if you plan on growing in containers long-term.
Plant five seeds into each pot, three inches deep, with a few inches of space between each seed. Water your pot thoroughly and wait for germination. As the sprouts emerge from the potting soil, thin them to just one strong seedling per pot.
When to Plant Squash in Zone 7 and Higher
If you live in the warmest parts of the country, the weather heats up earlier in the year, and growing squash could start as soon as late February for the warmest states. For these growing zones, the optimal time for planting squash seeds begins in March and April.
Because of the extended squash growing season, the option to grow slow-maturing varieties is available to home growers living in the warmer parts of the country. Include some winter squash options like Blue Hubbard, Futsu Black, spaghetti squash, and the dark green Sweet REBA.
When you grow spaghetti squash or yellow squash in warmer zones, it also allows you to stagger plant your squash. Plant slower maturing varieties early in the season and add faster-growing types as the season goes on for a steady supply of squash once it's time to harvest.
Squash plants like Blue Hubbard are known for their long vines and may require support as they grow. If you're directly sowing into the garden, use a trellis or tomato cages in the areas you plan to grow squash plants.
A trellis supports squash vines, which helps keep your plants off the ground. Allowing your squash plants to grow vertically makes harvesting more manageable and allows good air circulation, crucial to minimizing the risk of fungal diseases.
Growing and Caring for Squash Plants
Knowing when to plant squash seeds is only part of the battle when trying to grow a bountiful squash garden. Once you know which squash you want to grow and the seeds are in the ground, your job is just beginning.
Garden pests and diseases are common problems for any gardener as they threaten the health of your squash plants and may prevent them from reaching harvest.
Pests for squash plants include squash vine borers, cucumber beetles, squash bugs, and aphids. On their own, none of these pests is fatal to your garden, but if their numbers are left unchecked, you could have an infestation, causing damage your plant can't recover from.
Many pests are vectors for disease, and if they feed on your plants, they risk leaving behind more than just holes in the leaves. Cucumber beetles carry bacteria through the winter that causes wilting in squash plants.
Effectively protect your plants with row covers. Row covers are plastic structures covering the entire plant, blocking pests from visiting your crops. As squash plants grow, they produce male and female flowers, eliminating the need for outside pollination from beneficial insects.
Counter Unwanted Issues during Squash Growing Season
To ensure your squash receives all the necessary nutrients from the soil, add a layer of organic matter mulch around the base of your plants as they sprout. Mulch helps keep your soil moist between waterings and blocks sunlight from reaching any weeds in the ground, eliminating competition for nutrients for your plants.
Powdery mildew is a disease that affects squash plants. The wind carries the spores for this fungal disease to susceptible plants and thrives in damp environments. Once infected, the leaves of your squash plants develop a white film that looks like powdered sugar; however, it's a type of mold.
If you've dealt with powdery mildew on your plants in the past, try treating your squash plants with a preventative milk spray before infection.
Dilute milk with water in a spray bottle and spray your squash plant leaves weekly, ideally early in the day. Milk contains protein, and once the sun warms this protein, it forms an antiseptic that prevents powdery mildew from forming.
After you plant and grow your squash, it's important to know when to pick it for the best taste. When to harvest butternut squash is different than picking zucchini or summer squash. Know the difference so you harvest squash varieties at the right time.
Store your extra squash in the fridge if you plan to eat it within a few days. Squash is good for a long time if stored properly in the freezer or if it is canned, as well.
With proper planning on when to plant squash seeds, anyone can grow these delicious vegetables. Explore all the choices available to discover which squash plant you prefer to grow based on your growing zone to make the most out of each harvest.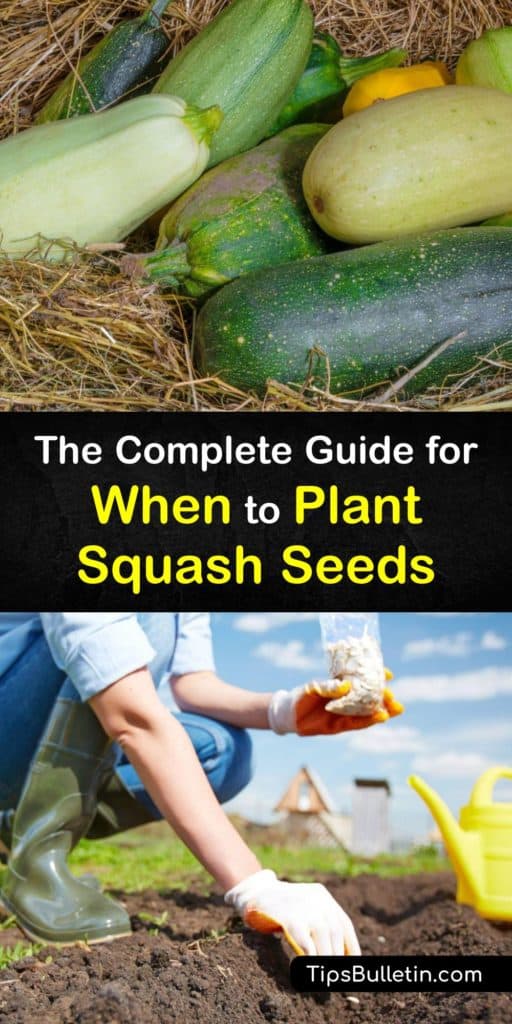 We hope our guide on when to plant squash helps you start your squash garden and that you'll share our tips for when to plant squash seeds with your fellow gardeners on Facebook and Pinterest.