Blueberry plants are a terrific addition to the home garden or raised beds. They grow back year after year without much work from you and produce an abundance of berries at the end of each growing season. Discover how and when to transplant blueberry bushes to ensure you get the healthiest fruiting plants.
There is much to learn when growing fruits and vegetables for the first time, which is also true of blueberries. There are different blueberry varieties to grow in varying USDA hardiness zones, ranging in size and appearance. Transplanting and growing blueberries in your yard takes patience and know-how.
Blueberry bushes are related to rhododendrons and azaleas and flourish in the same acidic soil. The highbush blueberry and rabbiteye blueberry are two of the more popular cultivars grown throughout the United States, producing tons of fruits for harvesting throughout the summer. However, there are many blueberry types to suit your needs.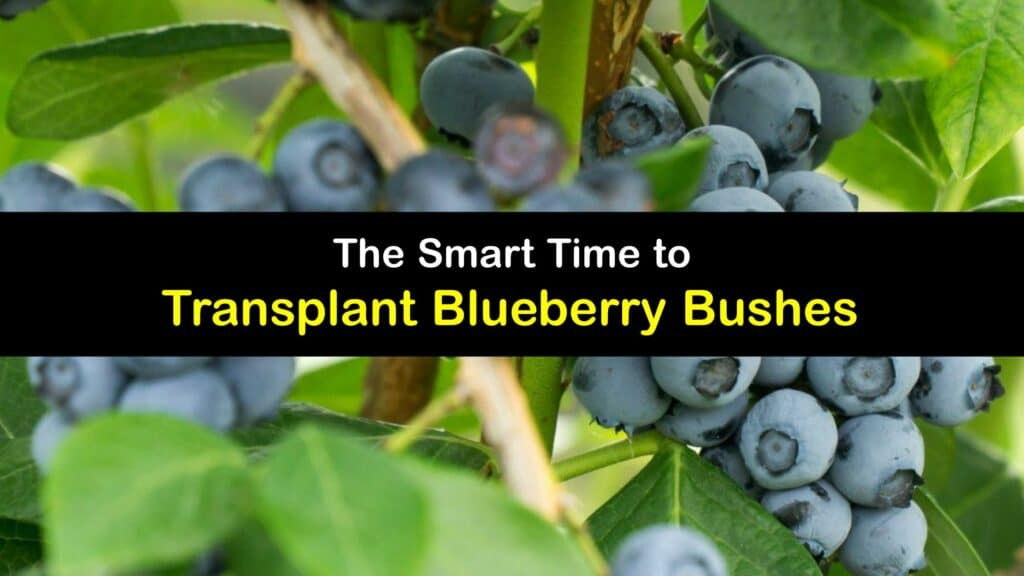 How and When to Transplant Blueberries
There are a few ways to grow blueberries, and transplanting blueberry bushes is relatively straightforward, whether you plant them from a cutting, bare-root plant, or nursery shrub. However, it's essential to transplant them at the right time of the year to promote vigorous growth.
When is the best time to transplant blueberries? Find out the best season for planting blueberry bushes according to your location and a few planting and growing tips to help your shrub develop and produce delicious berries year after year.
Best Time to Transplant Blueberries
While you may think it's possible to grow new plants whenever the outside temperatures are warm, this isn't always true. Explore the best time to transplant blueberries according to your hardiness zone and where to plant them in the yard.
If you reside in USDA hardiness zone 5 and lower, prepare for transplanting blueberries between early spring and mid-spring. For a warmer region, plan for planting in spring or late fall.
Choose a sunny spot in the yard for your bushes, as blueberries should be planted in direct sunlight to get at least six hours each day. If planting more than one bush, pick an area with at least two feet of space between plants to form hedgerows, and don't plant them too close to trees.
Check the soil pH of your garden spot to ensure the dirt is between 4.5 and 5.5, and amend it with organic matter or aluminum sulfate if necessary. Call your local cooperative extension office or the U.S. Department of Agriculture with questions about soil testing.
How and When to Transplant Blueberry Bushes
In most areas, it's safe to plant blueberries in spring or late fall. However, it's better to transplant them early to mid-spring if you live in a cold region. Here is how to transplant blueberry bushes in the yard and give them TLC to encourage leaf, flower, and berry growth.
Once you know the best time to transplant blueberries, it's time to get planting. Blueberry bushes prefer acidic, loamy, sandy soils and plenty of sunshine, so pick a planting spot accordingly. Also, consider planting more than one blueberry variety since cross pollination promotes larger berries.
Make the planting hole 20 inches deep and 18 inches wide, or twice as wide and deep as the plant's roots. Put the shrub in the hole with the root ball just below the ground surface and spread the roots over the potting soil. Push dirt around the base of the plant, pat it down tightly, and water it well to help the root system settle.
Mulch around your plants with sawdust, pine needles, wood chips, or peat moss. Fertilization is unnecessary when planting, but feed your blueberries one month later and then each spring at blooming time. Make a DIY fertilizer for blueberry bushes to help speed up the blooming and growing process.
Give your berries one to two inches of water each week, and do not allow the plant to produce fruit on the first year canes. Pinch away the blossoms on newly set plants to let the energy go to root growth.
You don't have to prune your plants for the first four years. After that, prune highbush varieties in late winter to remove broken, dead, weak, or spindly shoots and lowbush types down to the ground.
Using Fresh Berries to Make Jam after Transplanting Blueberry Bushes
Transplanting blueberry bushes and watching them grow is only half the fun since harvest time fills your basket with fresh berries. We can think of no tastier way to use blueberries than to make homemade jam, and this recipe preserves the sweet and tangy flavor of this fruit.
Pour three-quarters of the blueberries into a large pot and mash them over medium heat. Add the sugar, lemon juice, and the rest of the berries, and bring the mixture to a rolling boil. Add the fruit pectin and constantly stir to get it back to a boil; continue boiling for one minute.
Ladle the blueberry jam into the sterilized canning jars, leaving a quarter-inch of headspace. Place the flat lids on each jar, screw on the rings, and arrange the jars in the water bath canner.
Ensure they are submerged beneath an inch of water and bring them to a full boil before covering the canner and boiling them for ten minutes. Remove the jars, let them cool, and check the seals.
Of all the berry plants, blueberries are our favorite. These superfruits are highly nutritious, and growing blueberries in the home garden is easy. Transplant the shrubs at the right time of the year, and they reward you with five to ten pounds of fruit each growing season.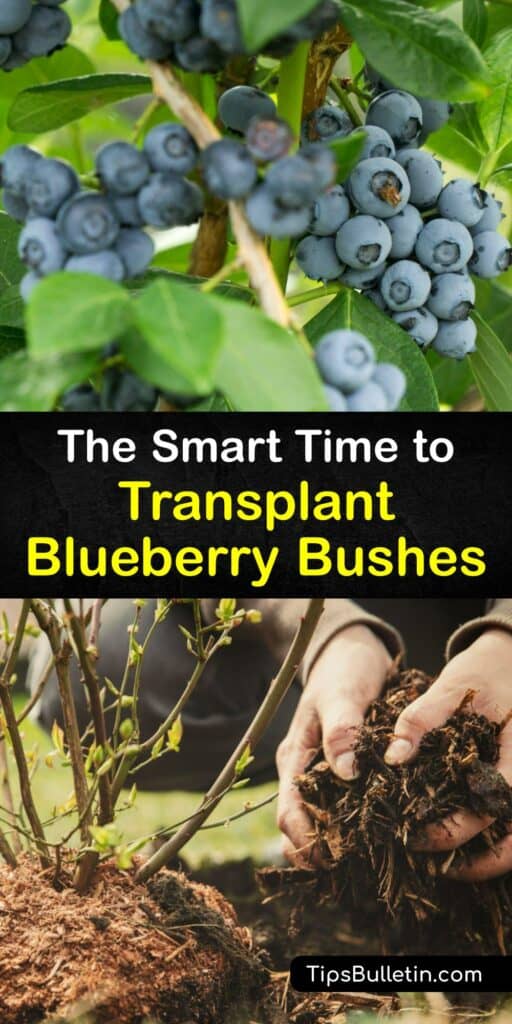 Now that you know when to transplant blueberry bushes and care for your plants as they grow, why not share our blueberry planting guide with the berry-lovers in your life on Pinterest and Facebook?