Eggplant (Solanum melongena) is a simple to produce vegetable that comes in various appealing varieties. Many growers start germinating eggplant seeds because of their popularity in many meals, but they're unsure when to transplant eggplant seedlings. The gorgeous eggplant fruit is generally a deep purple color and comes in several sizes and shapes, with purplish or white five-lobed blossoms.
In late spring, plant eggplant, a warm-season, fast-growing crop. It's crucial to remember eggplant leaves and flowers are toxic to humans and dogs. Transplanting eggplant is sometimes intimidating for growers concerned about the best time to transplant eggplant.
Starting eggplant seeds inside or propagating cuttings from a healthy plant at the end of eggplant growing season are simple ways to cultivate eggplant. Understanding when to transplant eggplant seedlings ensures your hard work in propagating them doesn't waste.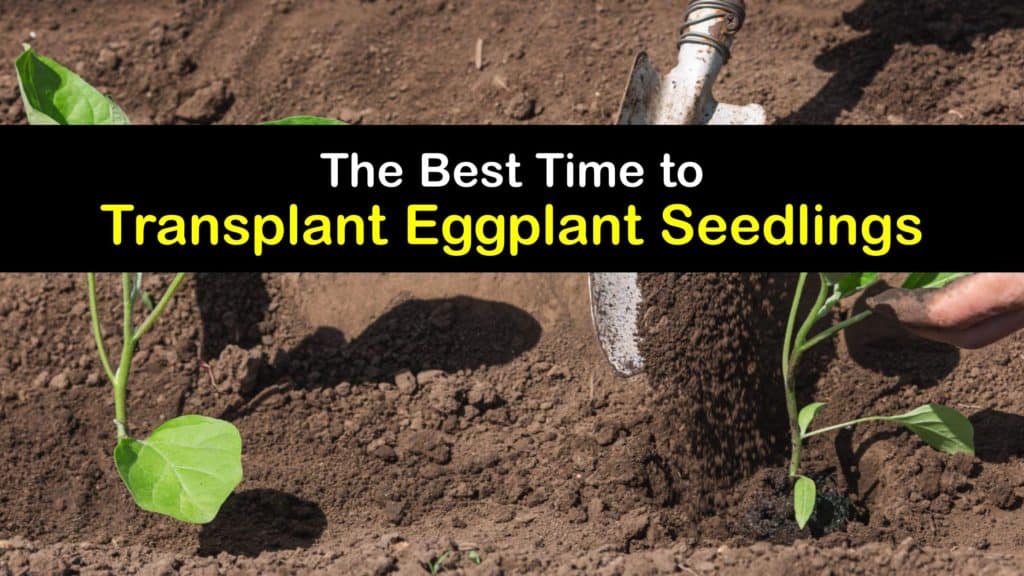 A Guide to The Best Time to Transplant Eggplant
Growing eggplant in your garden is a rewarding experience. There are various types of eggplant to choose from, each with its own size, shape, and color. Using a little gardening know-how to understand the best time to transplant eggplant ensures a smooth transition, so your seedlings develop and thrive.
Both eggplants and their relative, the tomato, are summer vegetables. Keep soil and air conditions in consideration while transplanting eggplant and ascertaining the best time to transplant eggplant in your area because eggplants grow in short, hot seasons.
Learn when to transplant eggplant seedlings and incorporate this tasty and versatile vegetable into your home garden without worries about seedlings failing.
Selecting an Eggplant Variety
Choosing the suitable eggplant variety for your garden and goals is the first step in producing tasty homegrown eggplant.
Every eggplant variety has something to offer, whether it's the pretty pink and lavender color of the Rosa Bianca, the unique flavor of the Thai eggplant, or the miniature size of the Fairytale. Choose from the kinds of eggplant to best fit your growing environment and the dishes you like to cook.
Starting Seeds and When to Transplant Eggplant Seedlings
Starting eggplant seeds indoors roughly eight or nine weeks before your area's last spring frost date is the first step in growing eggplant, whether you are growing eggplant in containers permanently or plan to put them outside. Grow eggplant seeds in a high-quality potting mix, in a seed tray or peat pot to prepare for transplanting.
Keep the soil moist and the seeds in a warm, sunny location when planting eggplant seeds. Follow the seed packet direction for germination. If you're concerned about when to transplant eggplant seedlings into the garden, the best time to transplant eggplant is when there is no chance of frost in the spring.
Most gardeners tend to wait two to three weeks after the predicted last frost date for the area has passed, and daytime temperatures stay over 70°F before transplanting eggplant.
Your seedling's leaf is a good indicator of their readiness for the garden. The first leaves or cotyledons are long and thin, while the next leaves or true leaves are broader. Once your seedlings have true leaves, they are ready to transplant.
Transplanting Eggplant for Success
After determining when to transplant eggplant seedlings, it's time to start transplanting eggplant. At the best time to transplant eggplant in your area and considering eggplant sun requirements, lay each eggplant seedling in the garden bed with their shoots at the soil line. Remove the dry surface dirt from the planting location with a scraper.
Dig a large hole to easily receive the transplant's root ball with a hand shovel. Gently press the root ball into the dirt and backfill the hole until the young plant is standing upright in the soil. Water the transplant and firm the earth around the roots.
Plant seedlings in rows with two feet between each seedling and a minimum of three feet between rows. To avoid unsettling the roots once the plants are established, stake them while they are still little to ensure a good eggplant yield.
A length of bamboo or a wooden pole put deeply into the soil about 1-2 inches away from the young plant works well for practically any eggplant variety.
Care after Transplanting Eggplant Seedlings
Temperatures between 70 and 90℉ are optimal to create a warm soil temperature and grow eggplant. Ensure your eggplant plant gets at least six hours of sun most days. It's ideal to have a loamy or soil rich in organic matter with good drainage. Maintain soil moisture by watering your eggplants regularly.
Cover the area with plastic mulch or organic mulch like wood chips to keep the soil moist. Before you plant eggplant seedlings, mix a 5-10-10 fertilizer for eggplant or aged compost into the ground. Fertilize again when the first fruits appear and a few weeks later.
Pruning is beneficial but not required. The best time to trim eggplant is when it starts getting bushy. Pruning diverts energy from the leaves to the fruit, leading to larger eggplants at harvest time.
Eggplant Pests to Avoid
Common pests and diseases afflict nightshade plants like tomatoes and eggplant; including Colorado potato beetles, flea beetles, and tomato hornworms. Two diseases afflicting these plants are verticillium wilt and powdery mildew.
Choose disease and pest-resistant cultivars, and make sure your growth environment is optimal, with no rotting organic waste to attract bugs. Healthy plants protect themselves against a wide range of pests and illnesses. Consider eggplant companion planting with peppers to help ward off problems like the flea beetle.
Harvesting Eggplant
Depending on the cultivar, eggplant is often harvested in the mid to late summer in North America. It's best to pick it when it's young, so look for eggplant fruits just beginning to ripen. Transplants take 65 to 80 days to mature, while seeds take 100 to 120 days from planting eggplant.
Harvest eggplant with smooth, wrinkle-free skin and flesh with some give to it. Remove the stem from the eggplant with a knife, leaving about an inch on the eggplant fruit.
Although eggplant can be eaten raw, it is frequently baked, grilled, or cooked in another form, such as in wonderful Eggplant Parmesan. Uncut and unwashed eggplant keeps for about a week in the refrigerator.
Many people enjoy eggplant since it is a delicious and adaptable dish. Learning when to transplant eggplant seedlings allows you to start growing eggplant in your backyard and enjoy this delicious vegetable. Home gardeners quickly grow eggplants from seed to table with appropriate soil temperature, water, sunlight, and pest control.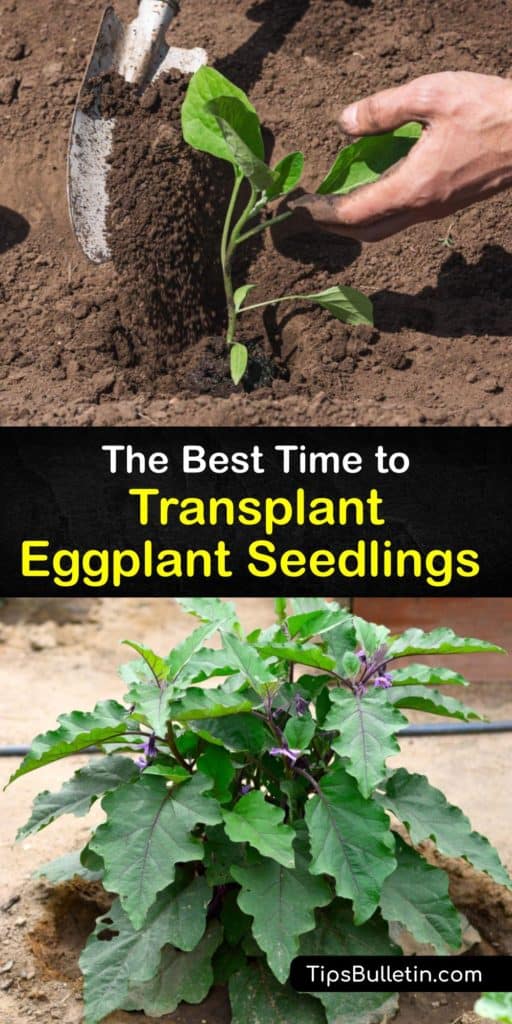 If you learned something from this article on when to transplant eggplant seedlings, please share this brilliant information on the best time to transplant eggplant with your family and friends on Pinterest and Facebook.