Gnats belong to the group of tiny flying insects that you typically find roaming free around your home. Gnats are extremely annoying little insects that will continue to disturb you in your garden, kitchen, and near your drains if you don't properly treat the gnat infestation. If you find that you have a ton of gnats in the house, you may be wondering where do gnats come from, and how can you get rid of them?
It's important to understand that these small flying bugs in a house are found near moist and damp areas in the house because they like to feed on decaying organic material and like to lay their eggs inside the wet soil.
This means you can usually find most gnats in plants, around your garbage cans, circling your drains, and infesting your overripe fruit. But, where do gnats come from and how do they find their way into the house?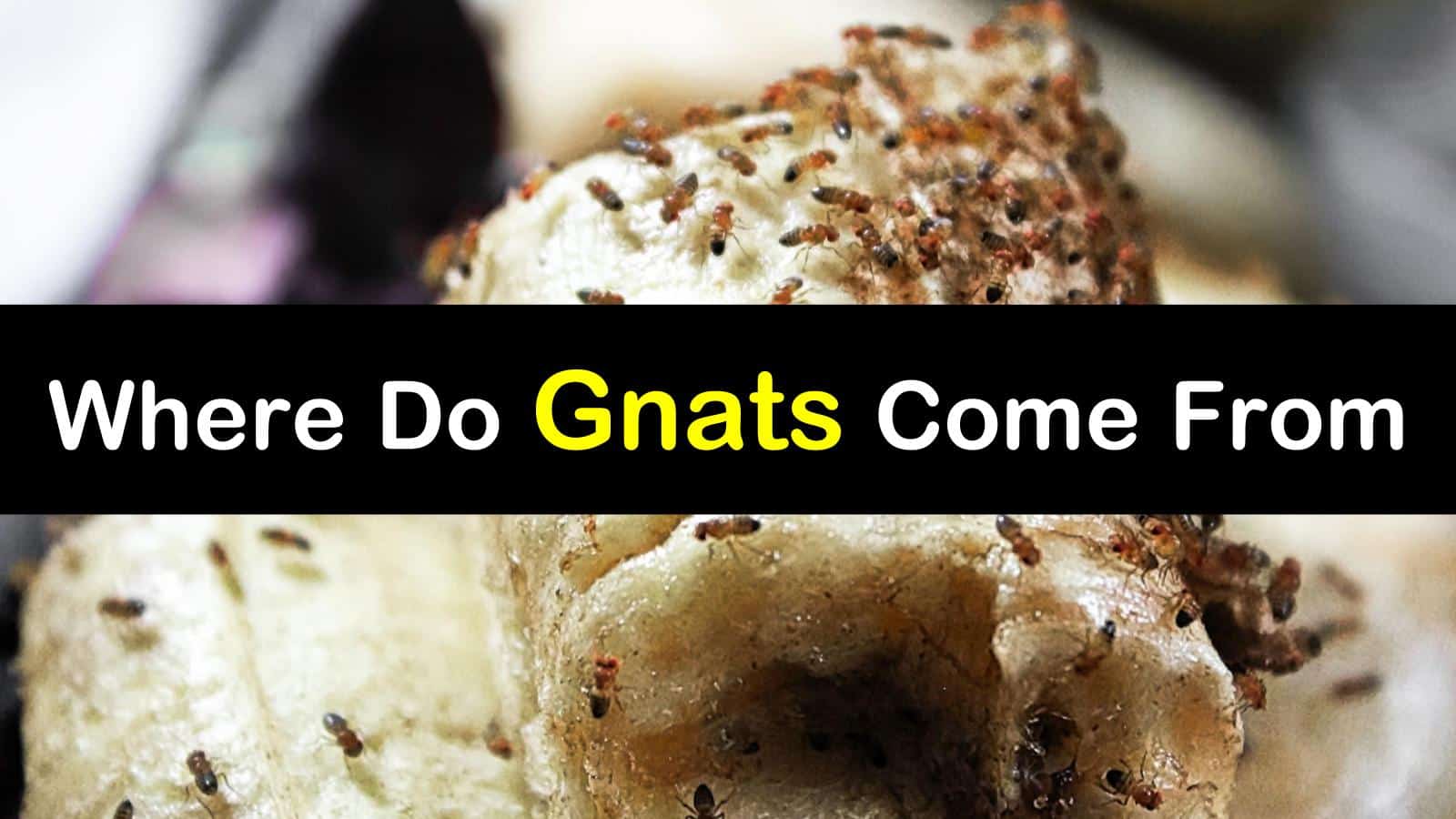 What Causes Gnats in Your Home?
There are so many different types of bugs that it can sometimes be challenging to identify what you have if you find some. Where do weevils come from that are crawling around in your bag of rice?
Where do gnats come from? Notably small in size and unbelievably prolific when it comes to reproducing, gnats quickly increase in numbers over a relatively short period if not dealt with appropriately.
In some cases, you will unknowingly bring gnat eggs and larvae into your house on everyday household items like the soil of potted plants or pieces of fruit. Here are some other ways that you can end up with an infestation of gnats in a home.
Gunk in your sink and bathtub drain often causes gnats in the bathroom, as well as the kitchen.
Garbage Heaps
One of the main reasons you might find a gnat problem in your home is because of garbage heaps in and around your house. The foul smell that comes with garbage attracts these black gnats in large numbers.
The moisture and proper environment of the trash, make it the best place for gnat eggs and larvae to feed and grow. To keep gnats from getting into your home, make sure you dispose of waste properly to get rid of nats.
Overwatered Plants
If you find a large number of gnats in a house and need to treat the gnat infestation, it could be an indication that you are overwatering your potted plants. Soils that have excess amounts of water present will attract gnats in large quantities.
When you overwater your plants, you will end up with root, crown, and stem rot and will become infected by fungal pathogens. This rotting organic material is precisely what fungus gnats thrive on.
They love to lay their eggs in the moist soil, so their larvae and pupae can easily access the organic material they need to survive and grow. If you're interested in getting rid of gnats in your home, be sure not to overwater your plants and allow the soil to dry before watering again.
Uncovered Drains
If you're dealing with gnats in the bathroom and kitchen, they could be coming from your drain. Most pipes, especially in older homes, have built-up organic material lining the walls, which gnats love to feast on.
Drain gnats will lay their eggs in the decaying organic materials inside of drains. When the eggs hatch, the larvae, and pupae will feed off the organic material until they are ready to mature into adult sewer gnats.
Left Out Food
When you leave leftover food sitting on the counter, it will start to decay rapidly. This decomposition will release a foul odor that will attract gnats. These tiny flying bugs in the house will infest this decomposed food at a high rate.
For the most effective gnat control, make sure to dispose of food in a covered garbage can, and remove the trash bag once it is full.
Small Holes in Window Screens
To get into the house, gnats will make their way through the tiny holes in your window screens. To keep flies out of your home, be sure to fix any holes that you might have in your screens. You also want to make sure to seal up any cracks or gaps in your window or door frames, because this is another way these tiny flies can make their way inside.
Where Do Fruit Flies Come From?
Bugs of all types are annoying, particularly when they come inside. Depending on their size, you may not even know you have a problem. How small are bed bugs? What about gnats and fruit flies? These insects are tiny.
To learn about where do fruit flies come from, it helps to know what they like. Even though fruit flies are relatively small, they can detect the smell of ripe fruits from far away. If you have a bowl of ripe fruit on your counter, there's a good chance that fruit flies are looking for a way into your kitchen.
They can get through the screens on your windows and between crevices in your windows and doors, and once they find their way inside, they reproduce, leaving you with a horde of tiny flies in the house.
Sometimes, these fruit gnats will catch a ride into your house on the fruits and vegetables that you purchased at the grocery store or farmer's market. The fruit flies will lay their eggs on the skin of the ripe and fermenting fruit, make you the unwitting ride for a new generation of fruit flies.
How Long Do Gnats Live?
Luckily, gnats have a relatively short life cycle but reproduce on a regular basis. The gnat lifespan lasts for no more than four weeks, from egg to adult, but the female gnats can lay up to 300 eggs each during their life.
They lay their eggs in areas that have moist soil. Those eggs, after a couple of days, will hatch into larvae and remain in this stage for about two weeks.
Then they will enter into their pupal stage, which lasts anywhere from three to six days, before they metamorphosis into winged adults. The adults will live up to ten more days and may produce up to 300 eggs before they die.
Home Made Remedies for Gnats
When you find gnats in the kitchen and around your potted plants, it's important to utilize one of the effective methods for getting rid of nats before they become a more significant problem. Here are some of the most effective remedies to get rid of gnats in your house for good.
Apple Cider Vinegar
A popular and effective home remedy for gnats and fruit flies is to make a homemade gnat trap of apple cider vinegar. Gnats are attracted to the smell and get quickly trapped in the DIY gnat trap. Follow the instructions for how to make a gnat trap using apple cider vinegar.
Put the apple cider vinegar, sugar, and liquid dish soap in the mason jar. Add the water and stir to mix. Cover the mouth of the jar with the plastic wrap.
Use the rubber band to secure the plastic wrap in place. Using a toothpick, punch several small holes in the saran wrap. Place the gnat traps in areas where you have a gnat infestation.
Kill Gnats with Tea Tree Oil
You can make a natural gnat repellent by combining tea tree essential oil and dish soap. The natural insecticidal properties in tea tree oil will quickly kill off any adult gnats, and the dish soap will work to kill off the eggs and larvae.
Pour the water into a spray bottle. Add the soap and the tea tree oil, and shake to combine the ingredients.
Spray the mixture directly onto the gnats to kill them safely, whether you need to get rid of gnats on the ceiling or elsewhere in the house. You can also use this mixture in the cracks and crevices around your home where you think gnats might have laid their eggs.
Repel Gnats with Lemongrass Essential Oil
Gnats detest the smell of citrus fruit, so you can use the strong-smelling lemongrass oil to keep gnats at bay. The oil itself won't kill the gnats, but it will prevent them from entering your home.
For getting rid of stink bugs on tomatoes or for gnats inside or outside the house, pour the water into the spray bottle, then add the lemongrass oil to the container. Spray the homemade gnat repellent around your kitchen counters, near your potted plants, and other areas in your home where you've noticed the gnat problem.
To prevent fruit flies and gnats from getting into your house, it is essential to keep your kitchen and bathrooms clean. If they happen to find their way into your home, there are several natural remedies that you can use to rid your home of these tiny pests.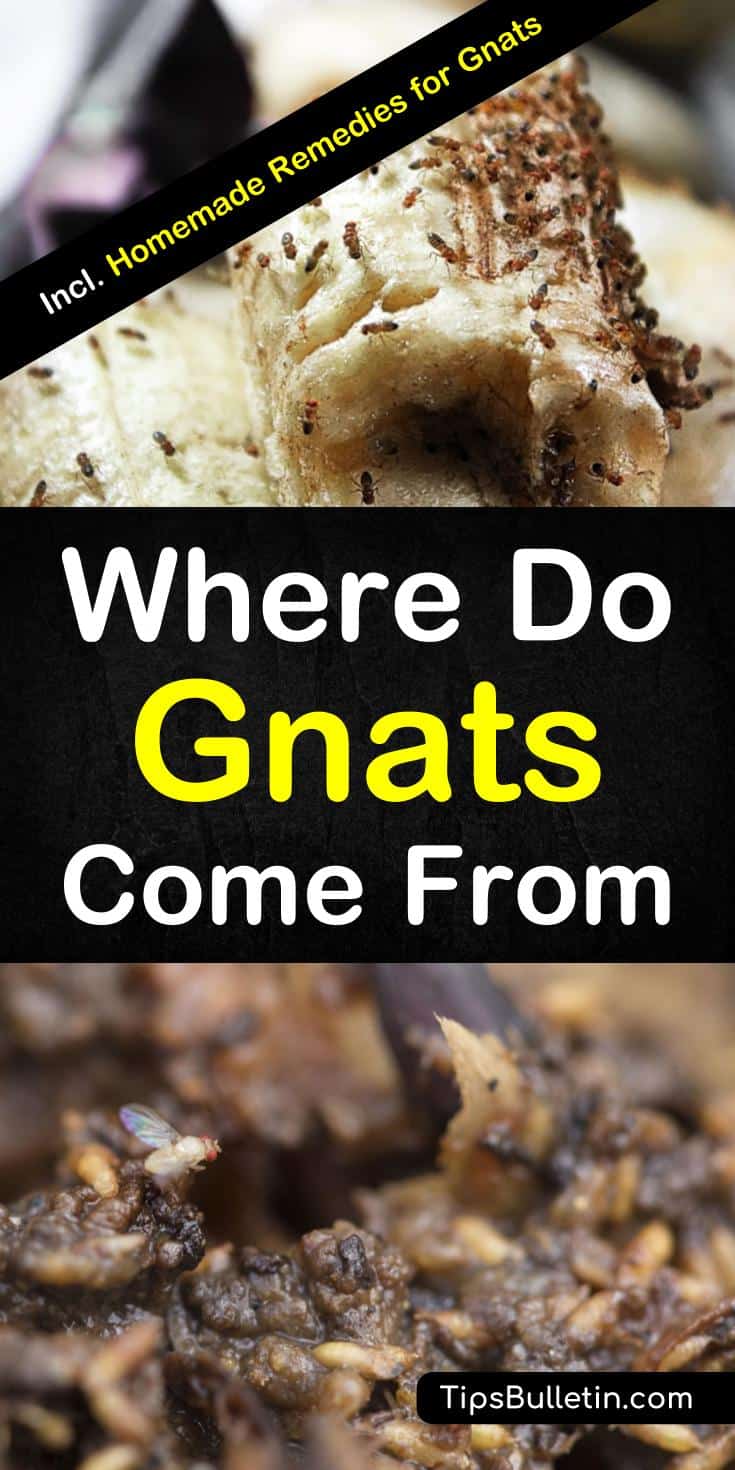 We hope you enjoyed this article on where do gnats come from and if you found the information useful, please feel free to share it with your family and friends.