You've probably noticed one or two of these creepy crawlies around the house. I mean, how could you not when the sheer thought of a bite from venomous spiders is enough to put even the calmest of homeowners on high alert? But where do spiders come from in the first place, and how do they get into your homes?
While we all realize spiders come into our homes from the outside world beyond, it isn't always so clear what sources bring them there. Why do spiders come in the house, and more importantly, how do we get them to stop? When dealing with spiders, there are a few essential points to keep in mind.
You want to know precisely which spiders are in your home, where the possible points of entry may be, what's attracting them to your home in particular, and what you can do to keep them at bay. Does vinegar repel bugs? What about peppermint? You'll find out soon enough in these incredible tips for spider control and why spiders also want to make your home theirs.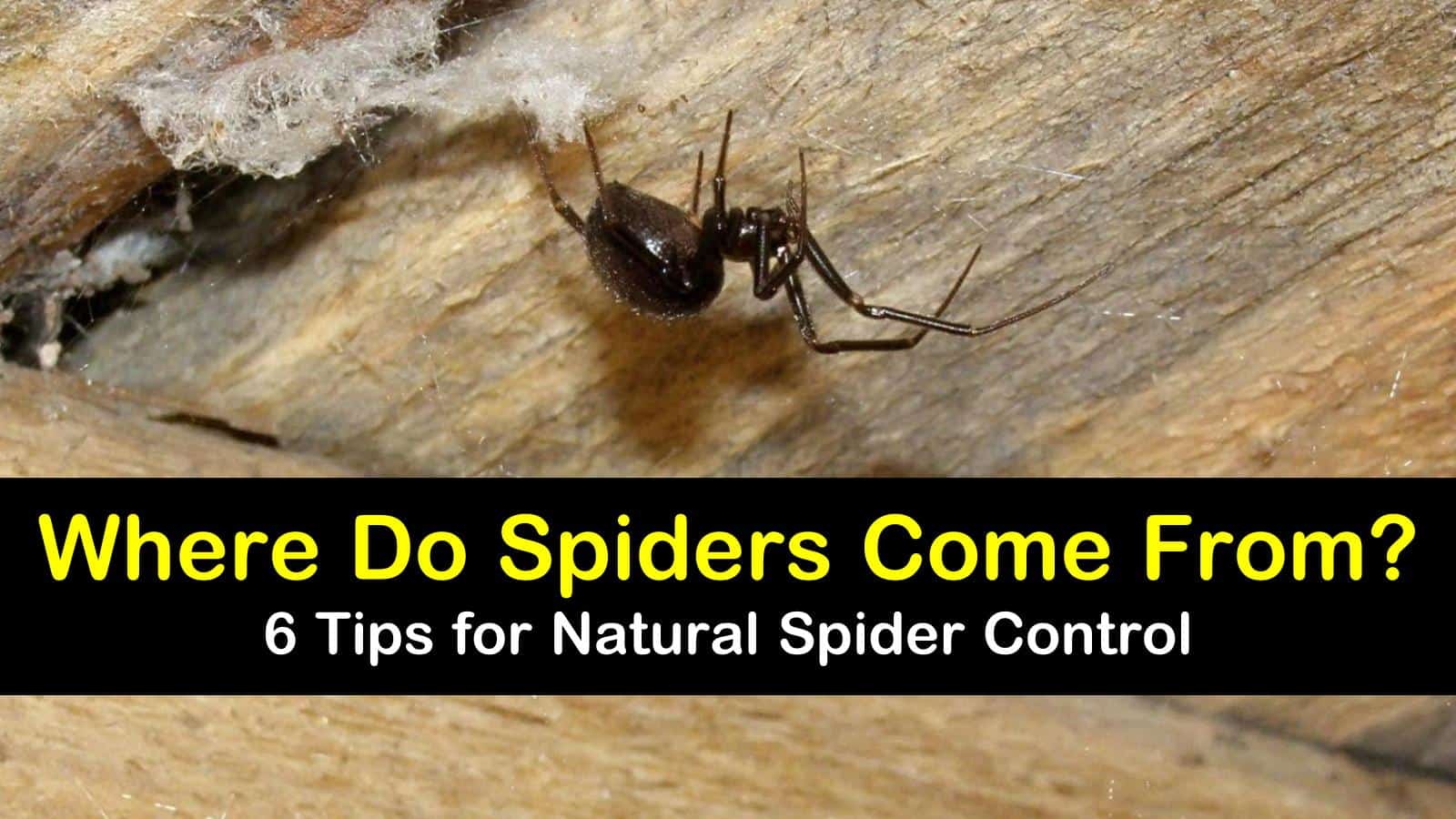 Why Do Spiders Come in the House?
There are numerous ways to answer that question, all of which pertain to spider preference. Whether your home offers a safe habitat, a quick meal, or gives off an odor that makes arachnids want to turn tail and run, these factors play a role in the spider's decision to enter your home.
Actually, these reasons apply to all different kinds of insects, not just the arachnid variety. What attracts moths or ants or earwigs? Knowing what is appealing to these bugs is very helpful in dealing with them and eliminating them from the house for good.
Know What Types of Spiders You're Dealing With
Knowing the types of spiders you're most likely to encounter, as well as the significant differences between them, will better prepare you for dealing with spiders in general. One common myth associated with spiders is that they all spin webs.
While the presence of cobwebs in your home is an indication of spiders, the absence of spider webs doesn't mean your house is spider-free. For example, jumping spiders and wolf spiders do not spin webs but instead rely on their hunting skills to track down prey.
Another common misconception is that spiders are aggressive or dangerous. A couple of spiders every now and then is great for pest control, since they eat other tiny, home invaders like cockroaches, mosquitoes, and earwigs.
Only a few are dangerous to humans, including the Brown Recluse and Black Widow spiders. While seeing either of these spiders in your home may be cause for alarm, it doesn't necessarily mean you should call the exterminator right away, especially if you live in a part of the country where these types of spiders frequently inhabit.
It should, however, be something you take into careful consideration when dealing with extraction, cleaning, and examining other areas they might be hiding.
Where to Find Spiders in Your Home
When it comes to knowing where to locate spiders at home, this also depends on the type of spider. While most spiders prefer hiding spots in isolated crevices that are free of heavy foot traffic, the climate they enjoy may change.
Some spider species prefer moist locations, which means they'll be attracted to dark, cold areas of the house like crawl spaces and cellars. The best way to kill cellar spiders is a little different than getting rid of other house spiders that may prefer warmer, drier rooms in the house, which include locations like air vents, ceilings, or attics.
However, sometimes, you can use a solution that works in all types of areas. Outdoor spiders may even build a home near easily-accessible entry points bordering the home. These homes may come in the form of a cobweb on window sills, or small nests buried under freshly cut wood logs for the fireplace.
Once you know where the spiders plant roots, you'll also be able to narrow down spaces in that area in which they might have entered. Patch up any holes in window screens, and use caulk to seal up any cracks in the walls to prevent spiders from entering your home in the future, and it also allows you to regulate the presence of any spiders who have already breached the barriers.
You'll also want to move wood piles further away from the house or place them in sealable bins so spiders can no longer use them as personal hiding places.
Tidy Up Storage Spaces to Keep Spiders Out
Another essential step to take when you locate spiders in your home is to clear away clutter and unnecessary boxes. These areas are perfect for spiders to hide in since the clutter makes it easier for them to disguise themselves.
Knock down any cobwebs you see in corners and ceilings. In areas that don't see much foot traffic, it's normal for spiders to set up spider webs to capture different types of gnats and flying termites.
But, if you continuously knock those cobwebs down, they'll eventually get tired of rebuilding them. Wouldn't you? By keeping the area organized, tidy, and free of cobwebs, you'll also be doing your part to keep spiders away.
Why Do Spiders Come in the House? Food!
The number one answer to this question is food. While spiders also seek shelter from harsh elements and conditions, they're more likely to make their home in a place with a well-stocked pantry.
So, what insects do spiders like to eat? Some of the most common examples of spider food are listed below.
By knowing the favorite food source of your spiders, you'll also be more equipped to keep them out of your homes. If moths are a frequent problem outside your home, you may want to limit the amount of lighting in the evening to keep them away.
Equally, if you have an issue with any of the usual household pests, use the appropriate pest control to eliminate them from the household, as well.
Introduce Ladybugs Outside as Competition
If you have a garden, you already know one of the best ways to keep certain pests off your favorite plants is my employing a ladybug assassin to do your dirty work. While ladybugs don't eat the spiders themselves, they do eat many of the same insects that spiders prey on, including beetles and moth larvae.
Especially if your garden is close to your house, this could be one of the leading reasons the spiders have decided to make your home their own. The easy access between shelter and regular food supply gives them plenty of reason to stick around.
But, plop a ladybug or two in your garden, and you have a natural deterrent for outdoor spiders. Employing this method also reduces the amount of spider mite bites taken out of your plants.
Does Vinegar Repel Bugs?
Yes! It certainly does. Not only does the pungent odor of vinegar send most arachnids heading for the hills, but it is also a significant deterrent for other insects, like ants, roaches, and even flies.
Vinegar makes an excellent fly repellant spray and deters most arthropods from coming anywhere near it. A variation of this spray, geared explicitly towards spiders, is listed here.
When it comes to common house spiders, you need to do a little more than move some boxes around and attempt to eliminate the food source. These types of spiders spend their entire life indoors, which means they're not going to budge without a fight.
This situation is where a repellent like wonders. To use it, mix all the ingredients into a spray bottle, shake well, then spray around entry points and locations you know spiders frequent.
Other strong scents can help to deter spiders and snakes in your home. Try using onion powder and water for snakes. The strong onion scent can effectively deter slimy creatures in your home.
Additional Questions about Where Do Spiders Come from
If you notice a lot of spiders in a particular area of your home or are seeing an abundance of the arachnids spread throughout the house, you need help to get rid of them.
Sometimes dealing with a spider infestation on your own is much more than you should have to handle. Know when to call in a professional exterminator and when it's acceptable for you to take care of spider control on your own.
When should I call an exterminator for spider control?
There are multiple situations where calling an exterminator is your best option; all of them range from the best and worst-case scenario. One obvious sign that it's time to call an exterminator is when there are visibly too many spiders to handle.
In some cases, this influx of spiders may be due to egg sacs bursting or breeding areas in the house that are beyond your reach. In other cases, the increased presence of spiders may be due to an infestation of insects that make up their food source.
Sometimes seeing the spiders themselves is not always an accurate indication of how many are in your home. Other signs that suggest an infestation may be using the techniques listed throughout the article and still seeing an issue with spiders. If spider webs are popping up as fast as you pull them down, if clearing out clutter doesn't stop the problem, or you notice spider bites, you may have more spiders in your home than you realize.
While these are all legitimate reasons to call an exterminator, call for help whenever you feel uncomfortable dealing with spiders, especially if you are concerned about venomous species or have arachnophobia.
By now, you should have a clear idea of how spiders enter your homes, why they come around in the first place, and what methods you can use to get rid of them. We hope this information on why do spiders come in the house will keep those creepy crawly creatures out of your life for good.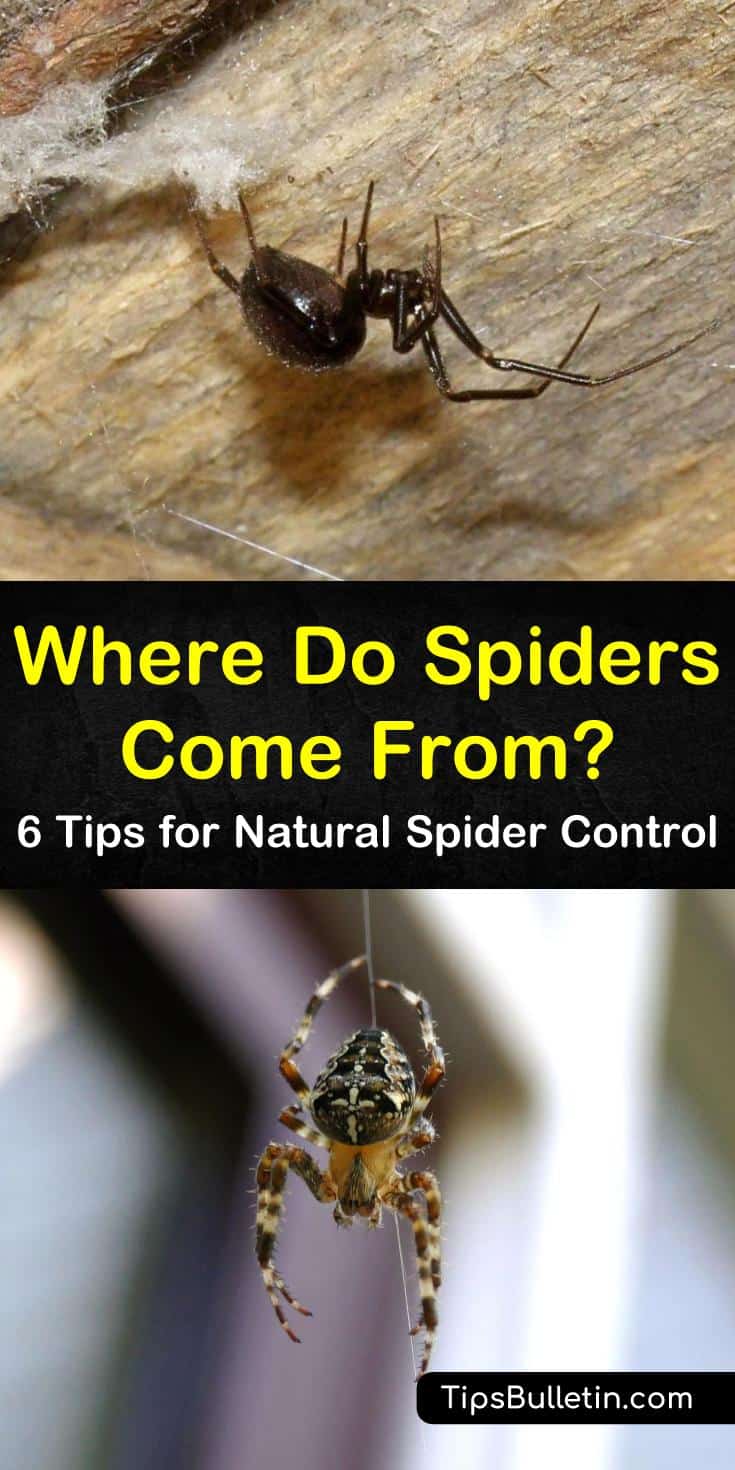 If you found these house spider control tips helpful, then don't forget to share this article on where do spiders come from with everyone you know on Facebook and Pinterest.