Blackberry plants are easy and satisfying to grow in your garden at home. Your efforts pay off with an abundant harvest of delicious, sweet berries each summer. In this article, discover where to plant blackberries to keep them healthy and productive for years to come.
Blackberry bushes often grow to be quite large. Erect blackberries maintain a columnar shape while trailing blackberries develop a sprawling growth habit. Training them to climb up a trellis helps contain the long thorny brambles (although there are a few thornless varieties).
Have you ever asked, "Where do blackberry bushes grow well?" As long as you plant them in an area that gets full sun and has well-draining soil that's rich in organic matter, it's pretty straightforward to grow blackberry bushes.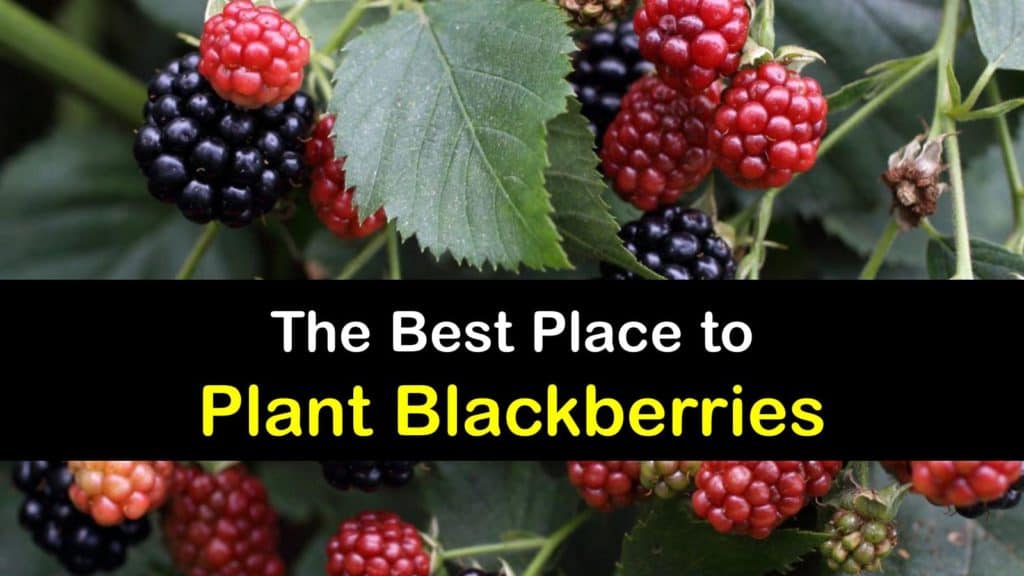 Where do Blackberry Bushes Grow in the US?
Read on to find out about blackberry bush sun requirements, their ideal soil pH level, yearly pruning schedule, when to water and fertilize throughout the growing season, and more useful tips for choosing the perfect spot to grow blackberries.
Blackberries are native to temperate regions of Asia, Europe, and the Americas. Wild blackberries are especially abundant in northeastern North America and the Pacific Northwest.
Like where to plant blueberries, blackberry plants are incredibly versatile and thrive in USDA hardiness zones 3-9. For optimal results, plant blackberries in fertile soil with good drainage and practice adequate blackberry plant spacing. Amend heavy clay soils with organic compost, grass clippings, leaves, and other organic matter, or grow your blackberries in raised beds to ensure a healthy root system.
In the blackberry vs mulberry debate, blackberries prefer acidic soil with a pH level between 5.5-6.5. Contact your local cooperative extension office for a soil test if you're unsure of your soil pH.
As long as they're growing in rich ground, fertilizing your mature blackberry bushes once each spring is usually enough. Decide how much fertilizer to give the plant based on its overall performance.
If it's producing vigorous new growth, the plant is getting the right nutrients from the soil and doesn't want much supplemental fertilizer. However, if it seems stunted and not growing many new canes, the root system is probably undernourished and could use extra nutrients.
How Much Sun Do Blackberries Need?
Many beginner blackberry growers might wonder, "How much sun do blackberries need?" Like most other types of fruiting plants, blackberries grow best in full sun with six to eight hours of direct sunlight each day.
Nonetheless, these adaptable plants also grow in partial shade. With less light, you may notice your blackberry plants yield a somewhat diminished harvest, though. Note that it's much faster to grow seedlings rather than blackberry seeds for planting, although that's still one option.
Once your blackberries begin to ripen, it's just a matter of finding ways to use them all. If you're tired of blackberry jam and baked goods but still have buckets of berries to eat, try this creative blackberry and ricotta pizza recipe. The sweetness of the berries pairs wonderfully with the savory cheeses.
Start preheating your conventional oven to 450℉. If you're using a pizza stone, preheat it now. Otherwise, line a pizza pan or baking sheet with parchment paper.
Roll out your pizza dough or place your pre-made pizza crust on the baking sheet. Drizzle the tablespoon of olive oil over the dough and use a pastry brush or your fingers to coat it evenly, taking special care around the edges.
Place the fresh blackberries in a medium-sized mixing bowl and use a fork to lightly crush them. Scoop out the pulp with a fork or slotted spoon and spread it over the dough like pizza sauce.
Sprinkle the Parmesan and mozzarella or Swiss cheeses over the top of the pizza in an even layer, including a little bit on the crust. Use a spoon to scoop small dollops of ricotta cheese over the top.
Evenly distribute the whole blackberries and chopped green onions, then season with freshly ground salt and pepper to taste. Transfer your blackberry and ricotta pizza to the oven and bake for eight to ten minutes or until all of the cheese has fully melted and the edges of the crust are golden brown.
After removing your pizza from the oven, garnish it with the chopped basil and serve immediately.
Where to Plant Blackberries in Your Garden
When choosing where to plant blackberries, consider essential factors like their mature height and width, how much sunlight do blackberry bushes need, whether or not they might block light for other plants, and what else is growing nearby.
Do raspberries and blackberries need lots of sun? Blackberry plants and raspberry plants produce fruit best when they get adequate light and airflow.
Spacing between erect varieties should be at least three feet. Take care of planting blackberry bushes that are semi-erect and trailing blackberries approximately ten feet apart. Mint, borage, bee balm, and roses are ideal blackberry plants. Plant these with blackberry bushes to draw pollinators and other beneficial insects.
It's best to plant container-grown blackberry canes in mid to late spring after the last danger of frost passes. The best time to transplant bare-root blackberry plants is in early spring while they're dormant.
Prepare the planting site by spreading out a generous layer of organic compost or dark-colored mulch to warm the soil. During the first year after transplanting, new blackberry bushes benefit from a little extra fertilizer while they establish their root system.
Sprinkle one tablespoon of organic, all-purpose fertilizer in the bottom of your planting hole,. There's no difference when fertilizing blackberries vs black raspberries. Fertilize again in mid-summer and late fall.
Different Types of Blackberries
In general, blackberry cultivars are divided into three primary groups: erect, semi-erect, and trailing. Erect varieties support themselves, and trailing blackberries require the help of a trellis. Semi-erect types don't climb on their own, but it's best to grow them on a trellis, as well.
While blackberries have a perennial root system that lives for many years, their canes are biennial. First year canes, or primocanes, are usually vegetative and only grow leaves. Second year canes, also called floricanes, bear fruit in mid to late summer.
Prune old canes that have finished fruiting to the ground in late fall after they've gone dormant. When you trim a blackberry bush, removing fruiting canes at the end of the growing season encourages more new growth in the spring.
Homegrown produce always tastes significantly better than what's available at the supermarket. Here are a few of the top blackberry cultivars to grow at home.
If you're thinking about adding blackberry plants to your home garden, you might have a few questions. Where do blackberry bushes grow best? How much sun do blackberries need?
As long as you have an area with nutrient-rich soil, six to eight hours of sunshine daily, and ample space for them to spread out, you'll have a productive blackberry patch within several years.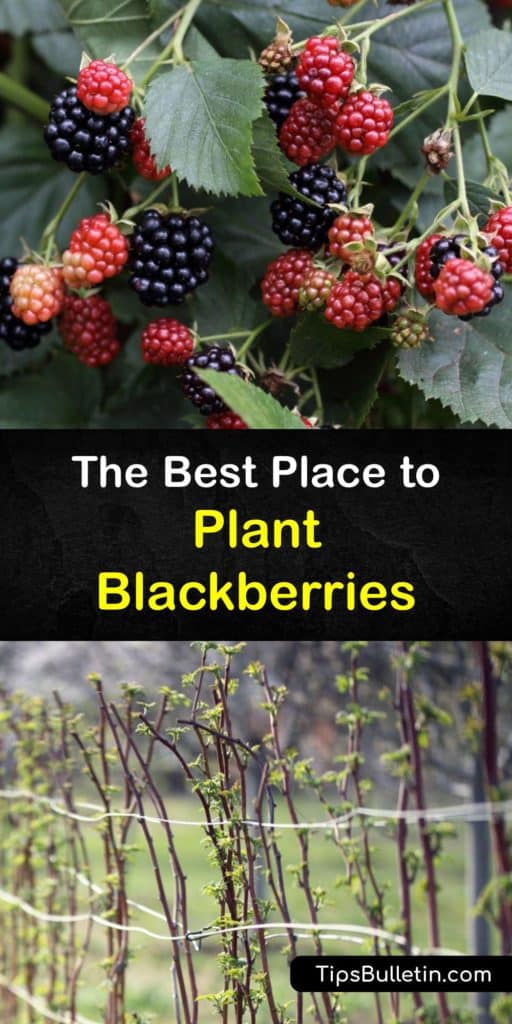 If you found these blackberry growing tips helpful, please share this article about where to plant blackberries with your green thumb friends and family on Pinterest and Facebook.