Blueberries are juicy and mildly sweet and packed with so much nutrition that they're the perfect snack for a healthy diet. However, fresh blueberries from the grocery store are often expensive and may be treated with unnecessary chemicals. Discover how, when, and where to plant blueberries in your own garden.
Blueberry shrubs take a long time to grow, and they seem to stay the same size year after year. This can be frustrating to the gardener who seeks immediate gratification.
While blueberry shrubs are slow growers, taking two to three years to produce good crops and up to ten years to reach a mature size, they are well worth the wait.
There are more reasons to grow blueberry plants in the home garden. Not only do they provide you with a yearly crop of delicious berries, but the bushes are attractive with leaves that turn crimson and orange during the autumn months, adding beauty to your yard while you wait for the fruits to make their appearance.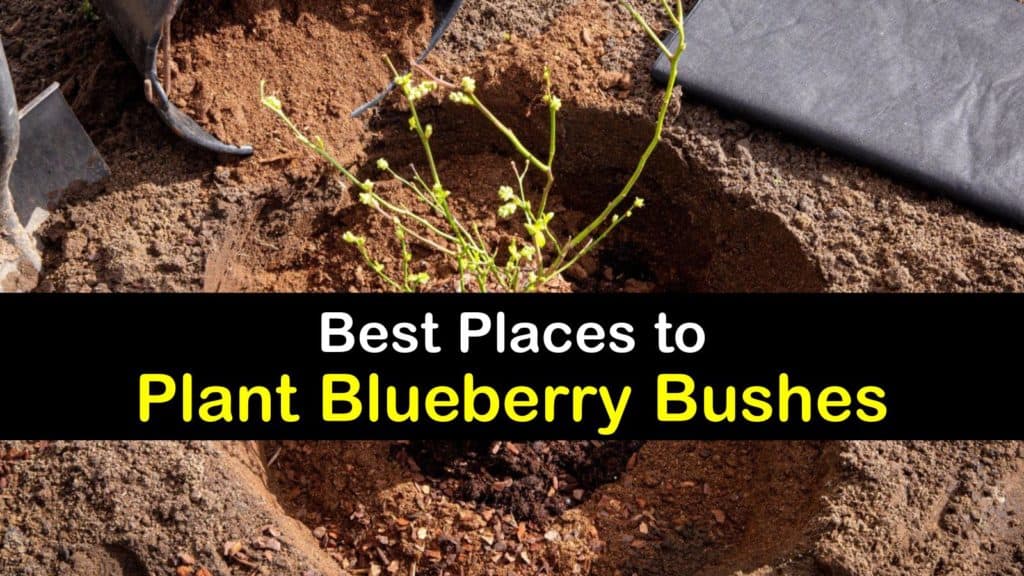 How to Grow Blueberry Bushes
Where do blueberry bushes grow? These berry shrubs grow throughout the United States; however, they require specific growing conditions to thrive. They are native to North America and grow naturally in the acidic soil of Main and Canada. Several blueberry varieties are easy to grow in a backyard setting.
Make plans for when you decide to plant blueberries. How much sun do blueberries need and where is the best place to grow them are common questions. We answer these and more to ensure that all your hard work rewards you with healthy fruit production.
Where do Blueberry Bushes Grow?
Where do blueberry bushes grow? North America is the national origin of blueberries, and it produces 95% of the world's berries. Discover the different cultivars of blueberries and their varying growth habits to help you choose the right one for your area.
There are five major types of early-season, mid-season, and late-season blueberries to choose from, and these are southern highbush, half-high, northern highbush, lowbush, and rabbiteye. The most popular of these is the highbush variety since it is more disease-resistant than other varieties, and it is self-fertile.
Lowbush blueberries grow shorter than their highbush counterparts, only reaching a little more than a foot tall, and they desire less pruning. On the other hand, northern highbush types grow five to nine feet tall and want consistent pruning.
Southern highbush types are hybrids that grow six to eight feet tall and are great for growing in areas with mild winters.
Rabbiteye blueberries grow six to ten feet tall and thrive during long, hot summers but are more susceptible to cold damage than northern varieties. Half-high types like Bluecrop grow three to four feet tall and tolerate temperatures between 35 and 45°F.
How Much Sun do Blueberries Need?
Are blueberries picky about soil type, and how much sun do blueberries need? Blueberry shrubs need the right amount of sun to flourish and enjoy growing in acidic soil similar to azaleas. Here are the growing conditions blueberries need to thrive.
How much sunlight do blueberry bushes need? Blueberry bush sun requirements are pretty similar to other plants, and they flourish in full sun while tolerating partial shade. For optimal results, plant your berries in an area where they receive six to eight hours of sunshine daily.
Blueberries prefer acidic soil like the rhododendron, and it's essential to perform a soil test or send a sample to your cooperative extension office to ensure the soil pH is between 4.0 and 5.0. If the pH is too high, the berry plant growth slows, the leaves discolor, and the blueberry shrub may die.
If your garden is not acidic, consider mixing pine bark, pine needles, sawdust, peat moss, or other organic matter into the planting area.
Spacing varies with blueberries. Blueberries have a shallow root system, and you can plant them as close as two feet apart to form hedgerows or space them up to six feet apart so that they grow individually.
How and Where to Plant Blueberries
The best place to grow a blueberry shrub is in a full sun or partial shade location. Test your soil for acidity at your local cooperative extension office. Once you pick the perfect area of your yard for growing blueberries with the correct soil pH and sunshine and purchase a plant from your local garden center, it's time to get to planting.
When choosing blueberry plants, make sure to purchase those that are winter hardy to your USDA zone and pick bare-root plants or nursery plants that are at least two to three years old. If you plant blueberries in raised beds, make sure the bed is eight to twelve inches high and two to five feet wide.
When deciding where to plant blueberries, pick an area of the yard with full sun and avoid areas surrounded by trees. While they tolerate partial shade, too much shade causes them to produce fewer blossoms and fruit.
In April or May, dig a planting hole large enough to fit all the roots comfortably and make it deep enough to cover the upper roots with three to four inches of earth.
Place the root ball in the hole, push dirt over the roots, and pack the soil firmly over them. Spread two to four inches of mulch around the plant's base and water thoroughly after planting.
Caring for Blueberry Bushes as They Grow
Planting a blueberry shrub is only the first step in the growing process. These plants need attention from you as they start growing and regular maintenance as they grow year after year. Here is how to care for your blueberries to encourage fruiting.
Water your blueberry plants evenly on all sides and avoid splashing the soil on the leaves, which spreads soil-borne diseases. Give them at least an inch of water weekly throughout the growing season.
Blueberries generally do not require support, but if your plant grows at a non-vertical angle, tie the stem gently to a stake with a strip of fabric.
Most blueberry shrubs are self-pollinating and grow well as long as you have pollinators in your area. However, cross-pollination between different types encourages better berry production.
After the first year, prune the bushes in early spring before new growth appears by removing dead and diseased wood. Prune as needed to keep the bush's shape and stimulate new shoot growth. Always keep four to six healthy old stems and one to two new shoots, which eventually replace older branches.
In fall, apply another layer of mulch around the shrubs to offer them winter protection and consider fencing in the area around them at the beginning of winter to keep out the rabbits. Remove the flowers during the spring for the first two years to encourage productive plants.
If at any time you notice light green or red leaves on your blueberry plants, this is an indication that the soil is no longer at the proper pH, and it's time to add an organic acid fertilizer.
Add one ounce of ammonium sulfate to each bush three times during the first year as a form of fertilization, rising to four ounces by the time the plant is four years old.
The Japanese beetle and spotted wing drosophila are two common insects that cause havoc to berry plants. One is an invasive fruit fly that lays eggs in the fruit, and the other is a beetle that feeds on the blueberry leaves. Apply insecticidal soap if you notice activity to eliminate the pests.
Homegrown blueberries are not usually prone to diseases. However, keep an eye out for cankers that are discolored areas of the stem. These spots are gray and brown with reddish margins, and careful pruning and disposing of diseased plant material prevent further infection.
Using Fresh Blueberries to Make Salsa
After your blueberry plants take off, you may find that you have more berries than you know what to do with. While they taste great in pancakes, muffins, and other desserts, our favorite way to use fresh blueberries is to make a vibrant salsa for topping on fish and chicken.
Pour the fresh blueberries into a medium bowl. Dice the mango, large red bell pepper, and small red onion and mince the jalapeno pepper. Add them to the berries.
Add the chopped cilantro, lime juice, and salt and mix the ingredients gently. Use the salsa as a topping to grilled meats, salad, or anywhere else you enjoy salsa as an ingredient.
While blueberry bushes are slow growers and are not very productive during the first year of the growing season, these acid-loving plants are worth adding to your garden. Plant them in the proper USDA hardiness zone, give them some TLC, and they eventually reward you with a healthy crop of yearly berries.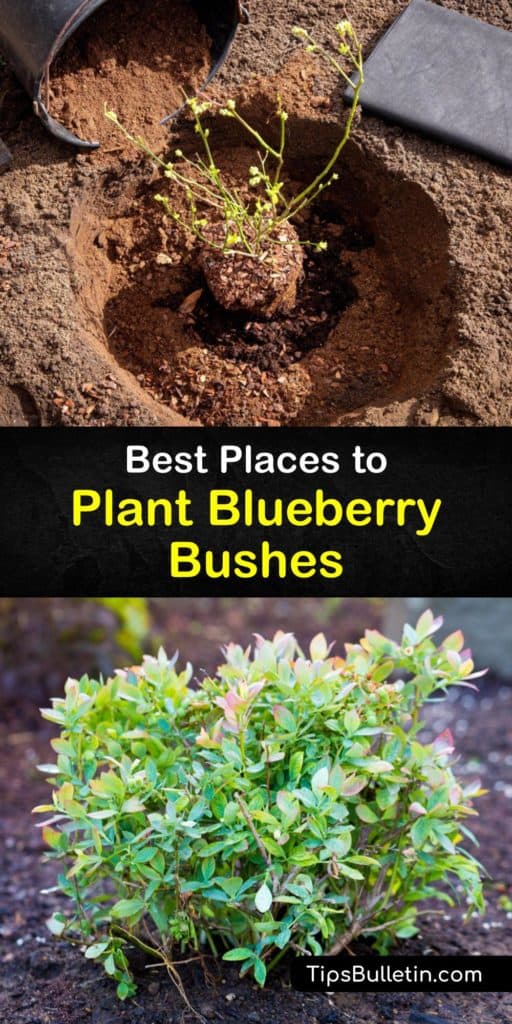 Now that you understand how and where to plant blueberries for the best berry production, we'd love it if you'd share our blueberry planting guide with the home gardeners in your life on Pinterest and Facebook.