You've probably heard about elderberries with their high levels of antioxidants and vitamin C that work wonders for boosting your immune system, but did you know it's simple to grow elderberry shrubs in your yard? They are fast growing plants, and the berries are tasty for making wine, juice, and jam. We explain how and where to plant elderberries after starting them from seeds or cuttings and ways to use them after a harvest.
There is more reason than one to grow elderberries. These deciduous shrubs or small trees fill the space with brilliant white flowers in the spring, stunning foliage during the summer, and small, dark purple or black berries in the fall.
They are useful for yard decoration, food, beverages, and medicinal purposes. However, they are toxic to cats and dogs, so caution is necessary if you have pets.
Elderberries are moderately fast growing shrubs that reach six feet across and twelve feet tall once they mature.
They are one of the best bird attracting plants and perfect for drawing many types to the yard for nesting. Butterflies and other pollinators also love these shrubs, and elderberries are a food source for various wildlife.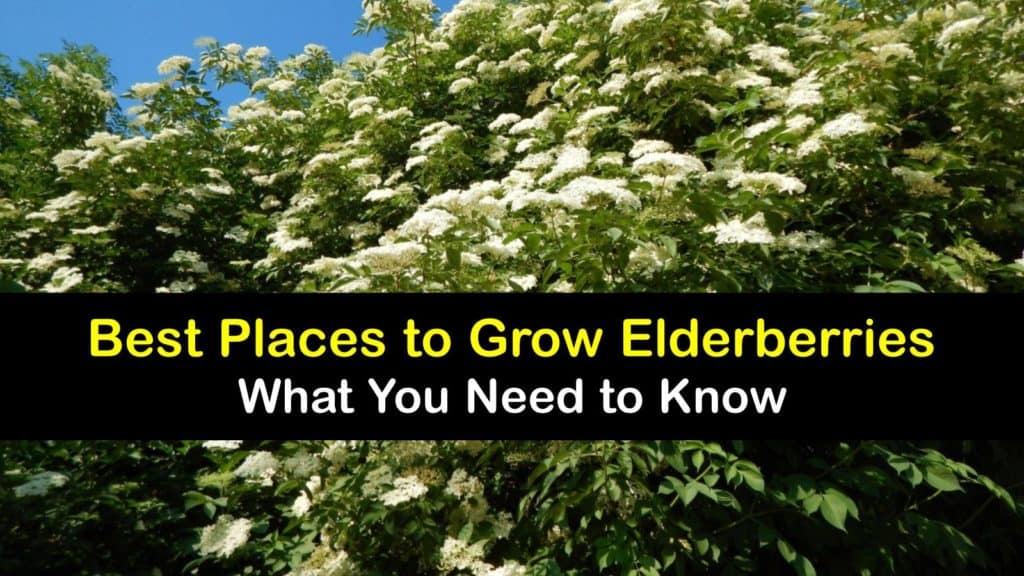 Ways to Grow and Harvest Elderberries
Where do elderberries grow? They grow happily almost anywhere where they receive equal amounts of warm and cold stratification.
There are different varieties, and native elderberry shrubs or trees grow in moist, open swamps throughout eastern North America. However, it's easy to grow elderberries in your backyard if you live in the correct hardiness zone.
How much sun do elderberries need? Elderberry plants are not as fussy about sunshine as other plants, so growing them in an area where they get some full sun and partial shade is fine.
Learn how to grow your elderberry bush from seeds and cuttings and give it the care it wants to thrive. We also provide you with harvesting tips to ensure you pick elderberry fruits when they are just right.
Where do Elderberries Grow?
What exactly is an elderberry bush, and where do elderberries grow best? While these plants grow in varying regions of the United States, they desire certain conditions to thrive.
Discover the different elderberry cultivars, where they grow naturally, and ideal areas to plant your own elderberry shrub.
Elderberries are native to areas of North America east of the Rocky Mountains and southward to Bolivia. There are two main types, the European elderberry and the American elderberry.
Common blue, red, and black elderberry varieties include the Nova, Beauty, Black Lace, Adams, Johns, Variegated, Scotia, and York. They range in size, color, and sweetness, and some produce more fruits than others.
Before choosing your favorite elderberry type and planting it, it's essential to understand which USDA hardiness zone you live in.
Most elderberries prefer growing in zones 3 through 11. They are deciduous in hardiness zones 3 through 8 and evergreen in zones 9 through 11.
The simplest way to decide where to plant an elderberry tree is to observe your yard throughout the course of a day. Watch where the sun travels and learn which areas get the most sun and the most shade.
Elderberry bush sun requirements are pretty simple, but choose an area where it receives sun to partial shade. These fast growing evergreen shrubs for shade appreciate some cover if your area gets hot during the summer.
Elderberries love growing in slightly acidic soil that is rich and moist, so test your soil and amend it if necessary.
Starting Elderberry Plants from Seed
There are many ways to grow elderberry plants, and starting them from seed is one of the easiest.
However, growing them this way takes a bit more time and patience, and there are a few extra steps to take to ensure they germinate. Here is how to grow an elderberry shrub by sowing seeds outdoors in the fall.
Elderberry seeds have a strong outer shell and require stratification before you plant them in the ground. They also grow best if you plant them in late fall, so plan well before starting them.
Start by mimicking nature with warm stratification for two to three months, followed by cold stratification for three months. To do this, mix the seeds in a plastic bag with compost and sand that is moist but not wet.
Store them inside your home where the temperature is around 68°f for the first part of stratification and then place the bag in the fridge for the second part.
In the fall, prepare the garden by testing and amending the soil if necessary. Then, sow each seed a quarter of an inch beneath the ground, cover them with dirt, and water them gently without washing them away.
Don't let the garden dry out, and watch for the sprouts to appear in two to three weeks. Elderberry seedlings have smooth tear-dropped leaves rather than the typical saw-toothed edges of a mature plant, so do not mistake them for weeds.
Where to Plant Elderberries Cuttings
Sowing seeds is not the sole way to grow elderberries. These plants are easy to propagate from cuttings, and this method skips the germination step for faster growth.
To use an elderberry stem to plant a new bush, and all you need is a mature red elderberry (Sambucus racemosa) or black elderberry shrub to get started.
While many nurseries offer bare root plants for your garden, it's just as easy to propagate your own. Select a soft elderberry branch that is just beginning to turn from green to brown and cut it into five-inch long segments.
Pluck off the leaves from the lower two-thirds of each cutting, leaving one set of leaves at the top. Set each cutting in a jar of water with the bare side down, and set it on a sunny windowsill for six to eight weeks, changing the water every couple of days.
After about two months of rooting, it's time to plant the cutting in the garden, test the dirt and prepare the bed for planting.
Dig a hole for each cutting and bury the roots with the stem level with the ground. Water the plants to help them settle and give them about an inch of water each week.
It's a great idea to plant elderberries in pairs to help cross-pollination between elderflowers and increase your yield of dark berries.
While they have shallow roots, these low maintenance perennial shrubs desire plenty of space to stretch their feet and grow new canes, so plant them six to eight feet apart from each other and other plants.
How Much Sun do Elderberries Need?
Do elderberries want a lot of water to flourish? How much sun do elderberries need? Learn how to give your plants proper care by providing them with adequate sunshine, water, and food and ways to maintain the shrub for optimal growth and fruiting.
Although not exactly one of the windbreak shrubs, they can handle a steady breeze once in a while. We also discuss common problems to watch for as they grow to ensure they stay healthy.
While an elderberries sun requirements are not as strict as other plants, they do love a decent amount of sunshine to flourish.
Grow them in a yard area where they get full sun for about eight hours of the day, but try and give them protection during the afternoon when the sun is at its peak.
They also love getting even amounts of water, so make sure to water your plants so that they get about an inch weekly when you experience low rainfall.
Elderberries thrive in fertile soil, so add organic matter or manure to the garden before planting and fertilize them in early spring each year.
During the first two years of growth, pruning isn't necessary, and this gives the plants time to grow vigorously. However, it's important to prune them after this time during the late winter to remove dead, weak, or broken canes.
Spreading a couple of inches of mulch throughout the garden is a great way to prevent weed growth and retain moisture. It also prevents dirt from splashing up on the plants during rainfall, which leads to fungal disease.
Leaf spots, powdery mildew, and cankers are some of the most common diseases, and a fungicide is often necessary to save the plants.
Garden pests are also an issue for elderberries and aphids, alder shoot borers and cecropia moths are top on the list.
They devour the leaves and shoots and become an infestation if you don't deal with them quickly. Remove the insects by hand as soon as you spot them, prune dead canes, and use insecticidal soap to kill them.
When and How to Harvest Elderberries
While elderberry shrubs begin to produce berries the first year, it's not until two to three years after planting that they start to fully fruit. Learn when your shrubs are ready for harvesting and the proper way to pick berries and flowers for use in the home.
Elderberry Harvest
If you decide to harvest elderflowers, wait until the entire cluster is open, and snip off the bloom from the stem. The flowers are usually ready for picking in late June.
To harvest the berries, wait until they are rich, dark purple or black, and slightly soft. Ripening usually happens from mid-August to mid-September, depending on your region.
Unripe elderberries have a high toxicity level, and consuming them too soon is dangerous. Once the large bunch or umbrella of berries are fully ripe, clip the stem to remove them all at once. Then, inspect the berry bunch and remove any that are still unripe.
How to Use Elderberries after Harvesting
Once you have a basket or two full of ripe elderberries, you're probably wondering what to do with them all.
While the first thing that comes to mind is jelly, there are many other uses for these unique berries that you might not be aware of, and some of them are surprising. Here are several ideas for using up those berries to help get you started.
There are many uses for elderberries after they ripen, and they are great fresh or dried and wonderful for making jam, syrup, pies, and semi-sweet tinctures. The flowers are also edible and are useful for making tea, wine, and liqueur or adding to potpourri.
To dry the berries, rinse and dry them and spread them in a single layer on dehydrator trays. Dehydrate them at 140°F for ten hours or until they are dry when you pinch them. Add the dried berries to muffins or pancakes or use them to make a tincture.
If you're looking for a healthy tonic to chase away a bad cold or flu, try making a simple elderberry tincture. Fill a jar with dried elderberries and cover them with 80 proof vodka, leaving one inch of headspace. Screw the jar lid in place and give it a good shake.
Write the date and contents on the container and store it in a cool, dark area for four to six weeks. Use a fine-mesh strainer to strain the tincture and pour the liquid into an amber-colored jar or bottle.
Keep the elderberry tincture in an area that is dark and cool and use it within five years. To boost your immune system, adults take one teaspoon daily after coming into contact with a sick person and a teaspoon three times a day at the first sign of illness.
Elderberry plants are one of the easiest shrubs to grow, no matter which of the elderberry varieties you decide to plant, and they have more to offer than fruit.
Their flat clusters of fragrant, white flowers attract butterflies and pollinators, and the dark berries are a favorite of many bird species. Whether you grow these bushes for visual appeal or to harvest fruit for sauces, elderberries are a delight to any yard.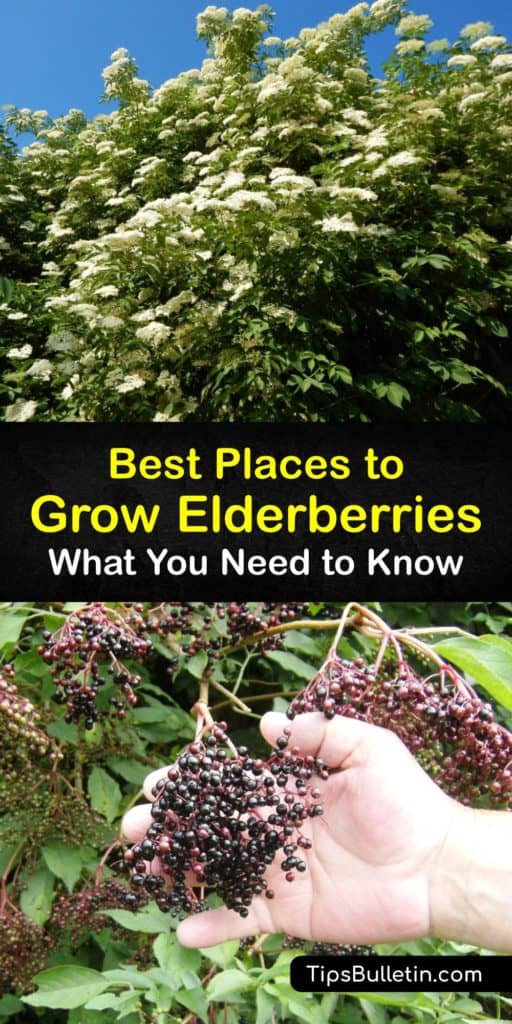 We hope that you enjoyed reading how and where to plant elderberries for beautiful white flowers and vibrant berries, and we'd love it if you'd share our elderberry growing guide with your social circle on Facebook and Pinterest.