Many people can't go a day without sipping on a hot cup of joe. Coffee is a worldwide and popular drink that humans can't get enough of, and keeping coffee fresh makes a significant impact on the overall flavor. Knowing where to store coffee is essential if you are a daily drinker.
When searching for a place to store fresh coffee, there is some vital information for you to understand about the beans and roasting process.
Learning where to store coffee beans is easy. You might run to Starbucks every morning, but nothing beats the convenience of brewing a fresh cup at home.
Not only is it cheaper, but it's possible to make the coffee taste just as bold and flavorful; that is, if you know where the best storage places in your kitchen are.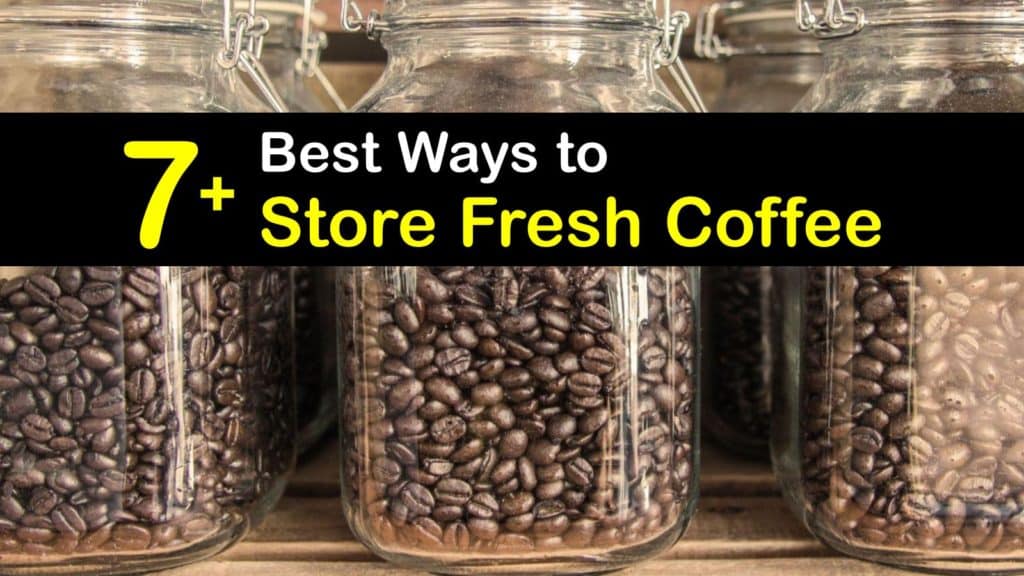 Finding the Freshest Coffee Beans
You either buy ground coffee from the store, or you purchase whole beans and grind them yourself. These two products are commonly recognizable, but do you know what a coffee tree looks like before this stage?
The trees are covered in waxy leaves, and they live up to 100 years old. If you take your coffee for granted, you might be surprised to learn that there is only a single bean in each fruit that the tree produces.
A lot of labor goes into harvesting espresso, so make sure you give the beans the love and care they truly deserve.
Beans only start to lose freshness after they hit the roaster and complete the entire roasting process. After the beans are roasted, they are good for three to four weeks.
The beans oxidize, and carbon dioxide is released while they roast. You must wait three days after the roast date for them to reach their peak freshness. You don't have to become a barista or have a fancy coffee maker to make a deeply savory cup of coffee.
How to Store Fresh Coffee
Coffee storage might not be high on your priority list but brewed coffee benefits tremendously from sitting in the right location.
This statement is also true for long-term storage and instant coffee. If you love to brew at home, implement as many of these tips as possible and notice the drastic difference in your beans' taste.
Store Fresh Coffee Beans Whole
When learning where to store coffee, keep in mind that the bean is your priority. When you purchase beans, try to avoid buying pre-ground products. Are espresso beans different from coffee beans in terms of storage? No, store them the same way to enjoy the freshest cup of coffee or espresso you can.
When the beans break, they oxidize much quicker than if they are put fresh in the grinder and brewed right away.
If you don't have a coffee grinder, it is worth the small investment to get one. On top of that, if you've never made a cup of whole bean coffee, you might be interested in trying that out, too.
Factors that Affect the Flavor of Coffee
Like many foods, some environmental factors cause the beans to spoil and taste bad. Air, light, moisture, and heat are all enemies of the freshest coffee beans.
When learning where to store coffee beans, keep all of these in mind so that you can find the perfect place in your kitchen to put them.
Where to Store Coffee Beans
Before keeping your coffee in the original packaging and tossing it on your countertop, some interesting tips are going to make you a better coffee brewer.
Coffee beans require a few days to sit after they roast. Always double-check the roast date on the sealed bags. This date lets you know how soon to drink it and also gives you an indication of its shelf life.
Always pay attention to the packaging that the coffee comes in when you purchase it. Paper bags and coffee bags are good options with a low carbon footprint, but they let in too much air and should never stay in the bag for long.
If keeping the beans in a bag, make sure that it has a one-way valve that keeps excess air out.
Removing the beans from their original coffee bags and putting them into an airtight container, sealed container, or canister is an intelligent move. An airtight storage container is the best way to store whole coffee beans because it keeps air out and extends the shelf life.
Try not to put the beans in an opaque container because they might become exposed to too much light, especially if the receptacle sits on your kitchen countertop.
It is best to keep the coffee in a cool, dark, and dry place. Room temperature is perfect as long as the coffee is away from light, heat, and moisture sources.
Storing Coffee in the Fridge and Freezer
Avoid putting your coffee beans in the fridge or freezer whenever possible. Although heat isn't good for the beans, too much cold isn't good for them either. When you keep coffee in the refridgerator or freezer, they also become exposed to a lot of moisture, and it causes them to spoil quicker and become wasted.
The freezer is slightly better than the fridge, but it isn't a good place to store fresh coffee. The freezer makes coffee old and sometimes gives the beans freezer burn.
On top of all of that, they might absorb unpleasant odors from foods that are nearby. After all, who wants to taste coffee that tastes like other old food?
If you want the best way to freeze coffee beans anyway, be sure that they are in an airtight container and don't leave them there too long.
Utilize Old Coffee Beans
It might seem possible to use up all your coffee beans before they spoil, but that isn't always how it ends up. There are times where we run through our entire supply and other times where we couldn't drink it fast enough.
How long until coffee goes bad? It depends on where you store the beans. However, if you have old beans, don't throw them out. Stale coffee beans make a delicious cup of cold brew and taste even better than traditional coffee when brewed this way.
How to Roast Coffee Beans at Home
Once you know where to store coffee beans, you get the fun challenge of roasting your own coffee beans. Not everyone enjoys taking the time to do this with their busy schedules, but if you're a fanatic of these beans, you'll definitely want to try it at least once.
Raw and green coffee beans maintain their flavor for up to a year before you have to roast them. Don't be afraid to experiment with ingredients in the kitchen and try out new flavors. Coffee sometimes tastes even better with some natural additives.
Heat your oven to 450°F and place a metal colander in the refrigerator. Spread the raw beans evenly across the veggie steamer's entire surface area and make sure no beans overlap one another. Set the steamer with the beans in the oven for three minutes.
Open the range and stir the beans. Cook the beans for another three minutes and stir them again. Keep doing this until the roasting time reaches ten to 12 minutes. You'll know the roasting is complete once you hear some of the beans make a soft popping noise.
Remove the beans from the oven and put them in the cold colander that was chilling in your fridge. Let the colander of coffee sit at room temperature until everything cools.
Never put your freshly roasted beans in a plastic bag. Instead, put them in an airtight container or coffee canister and set them in a dark cupboard. After three days, remove the beans, grind them up, and use them in your coffee maker.
Adding Flavor to Coffee Beans
There are a lot of unusual varieties of coffee out there. If you haven't tried pumpkin spice coffee, it tastes magical in the fall. You only need three simple and delicious ingredients, and it helps switch up the monotony of your day.
Put a filter inside your coffee machine and fill the basket with freshly ground coffee to make an entire pot. Sprinkle the store-bought pumpkin pie spice evenly over the top of the grounds and close the lid.
Add the maple syrup or the brown sugar to the bottom of the carafe and set it back in the coffee maker. Brew an entire pot of coffee as you normally would and enjoy the unique coffee flavor that you can make at home instead of having to go all the way to a café.
The Best Guidelines for Where to Store Coffee
When it comes down to it, there is only one place that coffee should ever be. Avoid heat by moving the canister away from oven ranges, stoves, and kitchen windows.
Keep moisture away by putting the beans in an airtight container. Don't let light hit the beans. The best place for it is in a dark cabinet where it won't be disturbed. If you follow these guidelines, the coffee beans stay fresh for up to a month.
What about brewed coffee? How long does brewed coffee last? Short-term storage is best in the fridge but you can freeze the brew, too.
These store-coffee-beans methods are an excellent guide for beginners. They also offer information for anyone who didn't know that their morning beverage could taste better than they ever imagined.
Roasting coffee beans and turning them into a boiling hot drink is an art to some, and like many things, it only takes a little bit of patience and practice to master.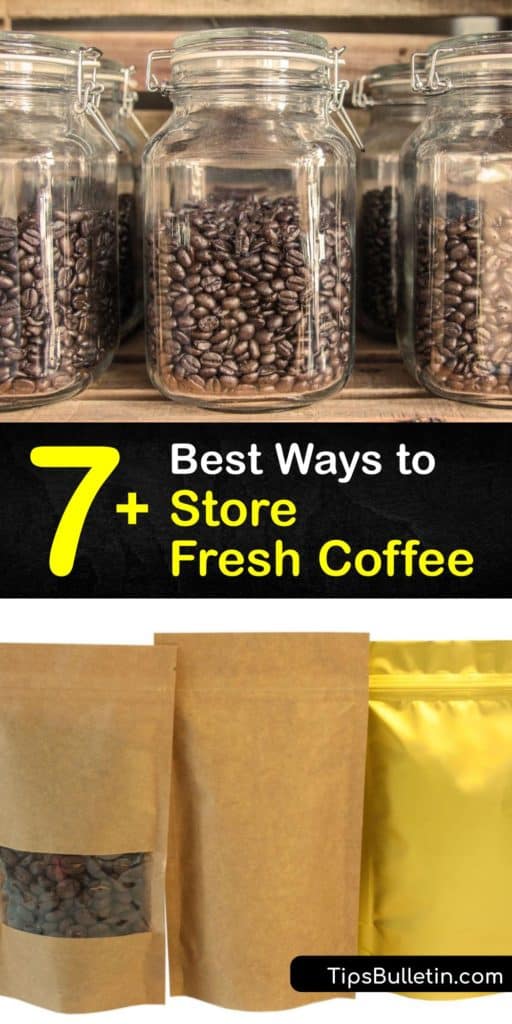 If this article telling you where to store coffee has helped perk you up in the morning, share these flavorful coffee storage tips on Facebook and Pinterest.