Onions are one of nature's most fabulous creations when it comes to food. They turn bland meals into something divine and taste great, both raw and cooked. Of course, it's easy to grab any onion from the bin at your local grocery store when a recipe calls for onions but did you know there is a difference between white onion vs yellow onion?
The onion is an extremely versatile vegetable that tastes wonderful in everything from tacos, stir-fry, and guacamole to onion rings and French onion soup.
They are the perfect garnish, and caramelizing them with olive oil mellows the flavor if you prefer less oniony food. They are even fantastic for pickling.
There are many onion types, from spring onions, green onions, and scallions, to leeks, pearl onions, and shallots. Some are dainty with a mild flavor, and others are large with a pungent flavor.
They also range in color, including green, red, yellow, and white. With so many choices, it's often challenging knowing which ones to use. Therefore, it's essential to understand the differences when using them to create dishes.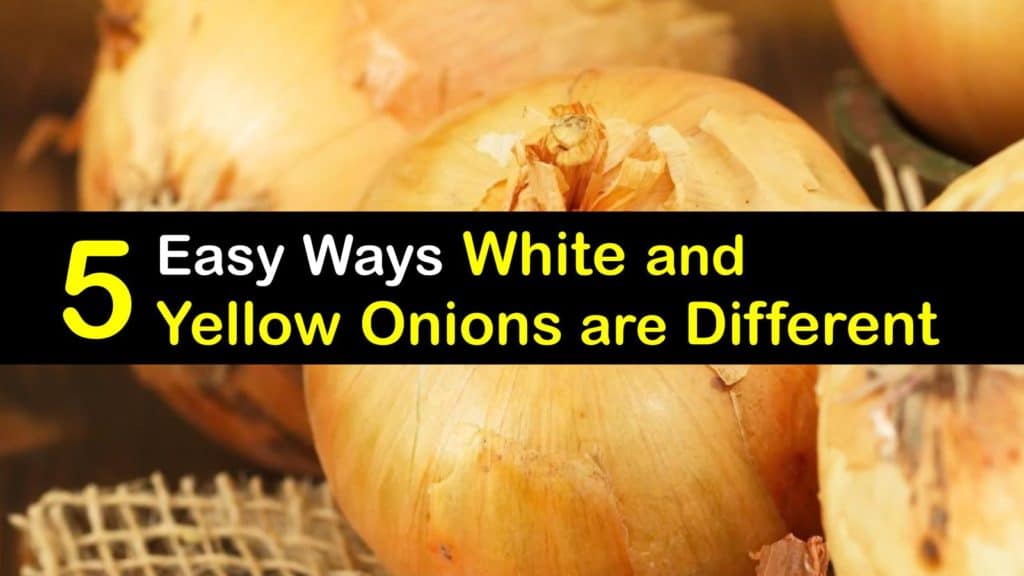 Differences and Similarities of White and Yellow Onions
While white and yellow onions are similar, and growing onions from scraps or bulbils is the same, they differ when it comes to taste and appearance. Plant sprouted onions in a container or out in the garden.
Discover the difference between white and yellow onion and their nutritional values. Read some tips for using them in recipes.
Are White Onions and Yellow Onions the Same?
You decide to make a new recipe that calls for onions. This seems simple enough until you head to the store and see bins full of various onion types. Not sure what to do, you grab both a white and yellow onion and head home. But, are white onions and yellow onions the same?
All onions are alliums, but some of them we use as bulbs, like white and yellow onions, while others, like chives, scallions, and green onions, we use by harvesting the green leafy tops.
There are four main types of onions: red, white, yellow, and sweet onions. But, are white onions and yellow onions the same?
Both yellow and white onions have papery skin over their flesh, but white onions have white skin, and yellow onions have light brown skin. They are a healthy addition to your diet, whether you enjoy eating raw onions or you prefer to brown onions with butter.
As far as storage goes, how long do onions last in pantry, fridge, and freezer? Luckily, these onions all last about the same amount of time no matter what preservation method you use.
Nutritional Difference between White and Yellow Onion
We all understand that carrots are rich in beta carotene, and tomatoes contain lycopene, but is there much of a nutritional difference between white and yellow onion? Learn which vitamins, minerals, and antioxidants both onions have and which one is healthier for your diet.
Both onions have little to no fat or cholesterol. They are low in calories and carbs and contain fiber, protein, vitamins C and B6, folate, and potassium.
However, yellow onions contain nearly eleven times more antioxidants than white varieties. In addition, they feed the friendly bacteria in your gut and are linked to lowering blood sugar levels and improving bone health.
Store cut onions in the refrigerator whether they are yellow or white.
The Appearance and Taste of a White Onion vs Yellow Onion
Red onions are the most obvious with their red, papery skin. But white and yellow onions are sometimes tricky to tell apart since they are closer in appearance than the red variety. Here is the flavor and appearance of a white vs yellow onion to quickly tell them apart.
The main difference between yellow and white onions is the flavor. Yellow onions have a taste balanced between pungent and sweet, making them an all-purpose onion, while white onions have a more intense flavor that doesn't go over well in some dishes.
Yellow onion varieties include the Vidalia, Walla Walla, Maui, and Spanish onions. They have pretty tough skin that is brown and meaty inner layers that become sweeter if you cook them.
White onions have a thinner, white papery skin and tender layers that taste great, diced raw and crispy.
Uses for Yellow Onions
Now that you know the answer to what is a yellow onion and how it is different from a white onion, it's time to explore the many uses for yellow onions. Here are some of our favorite ways to use these onions in the kitchen.
Yellow onions, like Spanish and Vidalia onions, have higher sugar content and are perfect for caramelizing, unlike scallions and chives which are better as a garnish. Sauteing yellow onions brings out their sweet flavor if you plan on using them as a base for tomato sauce or another dish.
They are also excellent for making onion soup and onion rings or adding to an omelet or hash browns and fried potatoes.
What are White Onions Good for?
Since white onions have a more robust flavor than yellow ones, they don't work for the same types of dishes. Here are some ways to use these onions when you desire something with a strong onion flavor.
We commonly use white onions in Mexican dishes, including tacos, enchiladas, and salsa. They are the ideal onion for bringing flavor to everything from soup and stew to hamburgers and hot dogs.
Try adding diced raw white onions to relish, salads, and dressings if you enjoy a good crunch with flavor.
Pickling is an excellent option for white onions. Do pickled onions go bad? Like any food, pickled onions can spoil but it takes quite a while.
There are so many types of onions, and each one has a unique appearance and taste. Some are ideal for a Mexican dish, others taste better if caramelized, and some are perfect as a garnish.
Knowing how white and yellow onions differ goes a long way to creating the tastiest dish, whether you use them raw or cooked.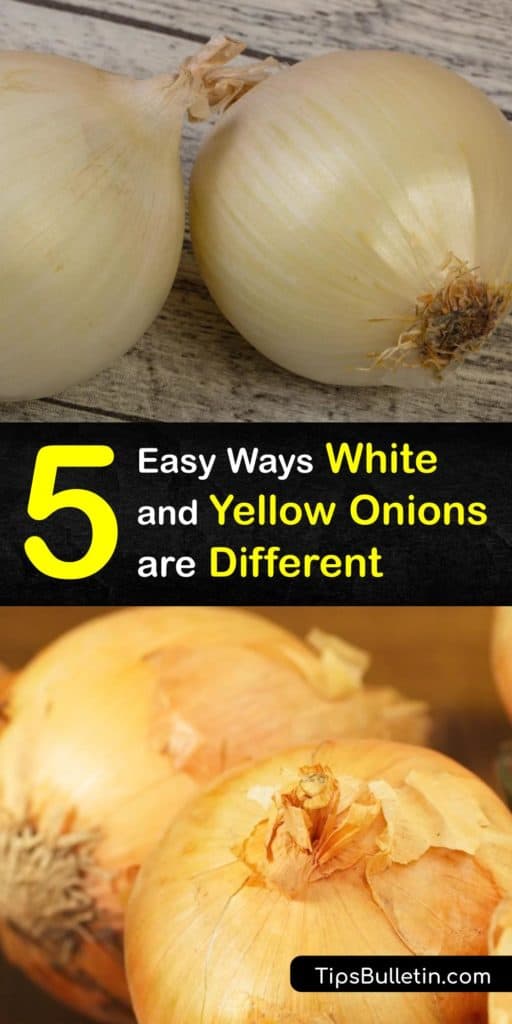 Now that you know the difference between a white onion vs yellow onion when it comes to flavor and nutrition and ways to use them both in recipes, why not share our white and yellow onion guide with the onion-lovers in your life on Pinterest and Facebook?