Will nail polish remover stain clothes? Some people forget to consider this before using it as a stain remover for stubborn marks like ink, paint, or glue. Others are left asking, does acetone bleach clothes after spilling or splashing nail polish remover on their outfit while taking the color off their nails?
When thinking of nail polish remover, we associate it with cosmetics, although it is often recommended as a stain remover, too. Most nail polish remover contains a chemical named acetone. It's available at most drug stores and in the cosmetics section of supermarkets for an affordable price.
You're probably wondering, does nail polish remover stain clothes? Though it is an efficient cleaner for challenging stains, nail polish remover may leave a blemish on some fabrics. It's wise to make a small test spot before applying acetone to materials, but don't panic if you forget or if you have a spill while fixing your nails.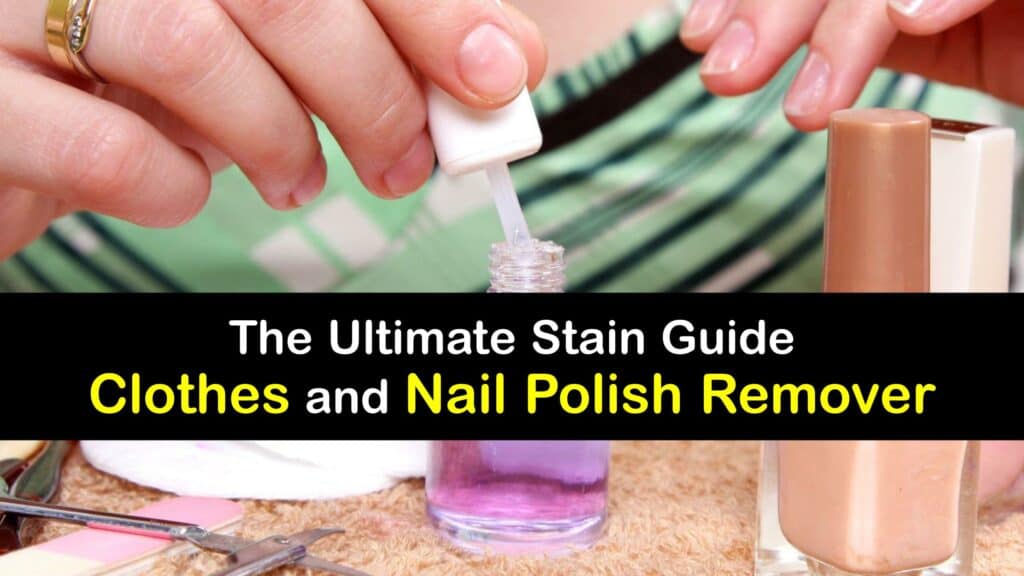 Does Nail Polish Remover Stain Clothes?
There are several uncomplicated home remedies to get nail polish remover stains out of your garments without wearing or fading them.
After seeing multiple home hacks recommending acetone as a stain remover, you might wonder, "Will nail polish remover stain clothes?" Facing a heavily pigmented stain like nail polish or ink is overwhelming, and it's even worse if you're unsure if the solutions you find will do more damage or good.
Does nail polish remover stain clothes? Some acetone-based nail polish removers can stain particular types of fabric. To be prepared when you need to get old nail glue off clothes or carpet, explore which materials are sensitive to acetone and what to do if the worst happens, and you have an acetone stain.
Will Nail Polish Remover Stain Clothes?
Nail polish remover is used for removing nail polish, and it works fantastically for getting stains out of an article of clothing or carpet. Acetone makes grease stain removal or cleaning up an ink stain, super glue, or acrylic paint a breeze, yet this stain buster can leave a mark of its own.
Some fabrics are marked by acetone, but colorfast materials usually don't show acetone stains. Ensure no other chemicals are added to the acetone nail polish remover to reduce the risk of discoloration.
Delicate fabrics should not be treated with acetone. It's prudent to test acetone on a hidden spot prior to using it for comprehensive carpet cleaning, clothes treatment, or to get nail polish off of couch fabric. Always test before you use nail polish remover as a way to get nail polish out of leather clothes and other leather items.
What is Acetone Made of?
Acetone is an organic compound, despite its name suggesting it is an inorganic chemical substance. Acetone or propanone is a liquid made of carbon, oxygen, and hydrogen that is very combustible. Oils, rubber, fats, and plastics are all broken down when they come into contact with acetone's unique organic structure.
It is found at home in products like paint thinner, nail polish remover, cosmetics, and face treatments. Acetone is a naturally occurring product of metabolism in our bodies, yet when used outside the body, it can cause harm if mishandled.
Does Acetone Bleach Clothes?
If nail polish remover can stain some fabrics, you probably want to know does acetone stain clothes? Acetone itself is not responsible for bleaching or staining your outfit, as it's colorless.
Multiple brands of nail polish remover include unnecessary extra chemicals accountable for the staining that occurs when the liquid contacts your clothing. If you're planning to use liquid nail polish remover to treat stubborn marks on your clothes, select a bottle containing as few additives as possible to reduce the likelihood of splotchy discoloration.
Though acetone does not leave stains, it comes with several health and safety warnings that must be carefully followed during use to get lipstick out of jeans fabric or any other type of stain.
Address an Acetone Nail Polish Remover Spill Immediately
Acting fast is essential for getting rid of residual acetone stains. Like many difficult stains, acetone nail polish remover marks become more arduous to remove the longer they sit on the material. Try to begin cleaning the spots promptly. Use an old towel or absorbent cloth to blot and soak up nail polish remover spills.
Use the rounded edge of a metal spoon or another blunt object to gently scrape up any solids that have begun to form. Starting work to remove stains sooner results in a less stubborn stain to wash out later. Acetone will also take pen ink out of clothes and carpet but use as sparingly as possible to prevent another stain.
Remove Acetone Stains from Fabric with Dish Soap
Can acetone bleach clothes? Unfortunately, this stain remover might leave behind new stains on some fabrics. Luckily, it's easy to remove using only liquid dish soap and water.
Dish soap erases harsh, dried-on food stains and breaks down grease to leave your silverware sparkling. Applying this cleaning power to the nail polish remover stains on your clothes makes quick work of them. While spray paint will not wash off clothes quickly after it has dried, applying acetone may help.
Pat the stain with dish soap and warm water with a clean cloth. Utilizing a rag, gently rub the mixture into the stain. Use a dabbing motion and work your way into the center of the stain from the edges.
Refrain from rubbing or applying pressure, as this will further harm the garment. Continue until the stain disappears, then rinse with warm water and wash as usual.
Dry Cleaning Removes Nail Varnish Remover Stains
Taking stained clothes to the dry cleaners is an ideal way to deal with an acetone stain if you don't feel confident using a DIY technique. Dry cleaning solvent removes stains by dissolving them without water.
Dry cleaners can handle the most severe staining on delicate items. If you accidentally blemish your clothes while trying to remove a nail polish stain or spill while using nail polish remover, head to your neighborhood dry cleaner and ask how they can help.
Remove Dried Nail Polish from Clothes
If you're unable to locate pure acetone to remove a nail polish stain from your clothes or remove permanent hair dye from clothes, use rubbing alcohol to avoid damaging your garments. Nail polish removal is one of the ideal uses for rubbing alcohol, despite its numerous other cleaning and first aid applications.
Since alcohol is a solvent, it can dissolve the colored pigment in nail varnish. To remove the nail paint, dab with a cotton swab to soak the discolored spot in rubbing alcohol for ten minutes before washing it with cold water.
If you don't have rubbing alcohol, other commonplace items with a lot of alcohol can be helpful. Most homes have hand sanitizer with enough alcohol to remove a fingernail polish stain.
After soaking the nail polish in hand sanitizer for 20 minutes, rinse. The alcohol loosens the nail paint, so it rinses clean. Repeat the process if any stains are still present.
Hairspray Gets Rid of Excess Nail Polish
If you have an ink stain or acrylic paint splatter on your jacket and want to avoid acetone stains, use hairspray to remove them. Hairspray is typically associated with keeping hairstyles in place, yet this isn't its only function. Hair spray works well on a nail paint stain thanks to its high alcohol levels.
The alcohol solvent in hairspray breaks down the bonds holding the acetone stain to the clothes. Spray hairspray directly onto the stained area, apply some to a paper towel, wipe it onto the fabric, and leave it for ten minutes. Rinse the hairspray out with warm water and allow the area to dry. Repeat until no staining remains.
Safety Precautions When Using Acetone Nail Polish Remover
Though it features in familiar household products like nail polish remover and other cosmetics, acetone is a potent chemical found in industrial solutions like paint thinner. In addition to being harsh on your skin and hair, acetone is dangerous when its vapors are inhaled and highly flammable.
Always read the safety guidelines on the acetone product before you begin working with it. Many health and safety experts recommend wearing safety goggles to protect your eyes and using acetone only in a well-ventilated space to minimize inhalation.
If you feel uncomfortable using acetone, numerous acetone-free nail polish removers are entering the market. Though these products may take a little extra effort to remove your nail polish, they won't expose you to the risks associated with using acetone.
Does acetone bleach clothes? Pure acetone is unlikely to leave stains on clothing or other textiles. However, because it degrades plastics, it can harm some synthetic materials.
Acetone can leave stains when combined with additives like conditioner or other chemicals. Knowing which fabrics are appropriate for acetone stain removal and how to deal with any resulting discoloration saves your clothes from ruin and lets you use nail polish remover confidently.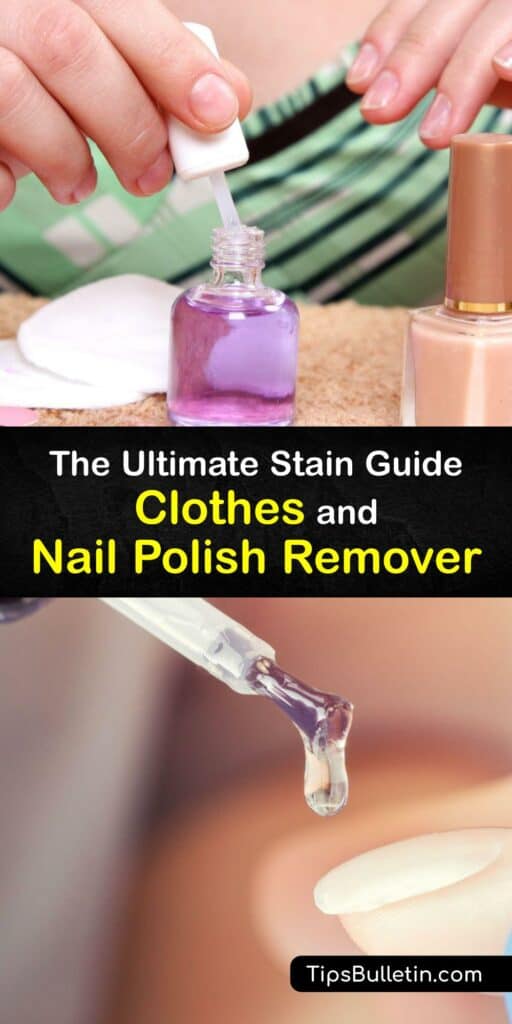 If you loved this article answering will nail polish remover stain clothes, please share this brilliant information discussing, does acetone bleach clothes with your family and friends on Pinterest and Facebook.