Has a trip to the garden store left you confused about worm castings vs compost? You may be considering starting a composter to reduce your food waste but don't understand the benefits of worm compost vs regular compost. Many growers aren't aware of the properties and processes behind earthworm castings or compost.
To the naked eye, these substances appear very similar. Both look like soil with a coarse, dark, granular texture. Yet, their nutritional properties and production procedures are not the same. Worm castings and compost are two very different soil amendments.
Compost is a slow-release fertilizer – perfect for feeding your plants over time, whereas castings give immediate sustenance. Traditional compost is the outcome of decomposition, whereas worm castings are a by-product of worm digestion of organic matter, namely, worm poo. Learn about fast composting methods with worms to decide which system is right for you and which soil amendment is best for your flowers.
Worm Compost vs Regular Compost
Don't worry if you can't wrap your head around worm castings vs compost. A worm bin relies on a composting worm population for breakdown and generating manure; composting uses helpful microbes.
Make knowing when to use earthworm castings or compost easy by learning the facts concerning each amendment. Find out what compost and worm castings are, how they differ nutritionally, and how they are used as fertilizer to keep your plants healthy.
You can begin with a lot of different types of manure to start your worm compost, as well. Follow our recipe for using rabbit manure for worm composting to find alternative methods.
What Is Traditional Composting?
Most people imagine a compost heap while thinking of composting. Traditional compost results from the correct decomposition of organic material (such as food scraps, grass clippings, leaves, and animal products).
It is a nutrient-rich, dirt-like substance that enhances soil and feeds plants to promote growth. While this process requires time in nature, a composter helps it move faster by creating an optimum atmosphere for beneficial microbes.
You generate a nutrient-rich substance by combining organic material with carbon (browns), nitrogen (greens), and plenty of oxygen and water. Compost may be used as natural fertilizer in your soil, maintaining future growth.
There are many traditional composting techniques, the most basic being a compost heap. It's easy to start with a compost pile and requires little maintenance. Indoor composters, tumblers, and large outdoor bins mean there's an appropriate composter for every household.
What Are Worm Castings?
You've probably heard of people keeping a worm bin to harvest worm castings. Worm composting is similar to regular composting in that organic material like kitchen waste is broken down to produce organic fertilizer.
A compost worm population does this processing in a worm compost system. Worm castings are the manure produced by the worms, and though technically a waste product, they're full of nutrients for plants.
Compost worms consume the sustenance provided to create earthworm castings or worm poop fertilizers. The worms make the decomposition move faster, producing larger volumes of fertilizer in a shorter time. Vermicomposting has the benefits of being able to be done in a small space or even indoors.
The downside of worm composting is the worms require extra care. You must maintain conditions, or the worms fail to thrive or die. Setting up a worm farm requires additional steps and specialist equipment compared to a compost pile; it's a larger initial investment to get your home composter up and running.
Differences in Worm Castings vs Compost
Worm compost from vermicomposting contains a greater spectrum of nutrients and has higher nutrient availability than ordinary compost. This is due to major plant nutrients (nitrogen, phosphorus, and potassium, or N-P-K) and secondary and micronutrients. Worm poop frequently has a greater N-P-K ratio than compost from a compost pile.
Traditional compost is a more gradual-release fertilizer – not all nutrients are readily available. This distinction does not make one substance superior to another. Slow-release organic fertilizers, for example, are ideal for long-term feeding. Fast-release fertilizer is perfect for providing plants with an immediate boost.
Worm castings contain more nitrogen, giving it an advantage because most garden soil is nitrogen poor. Consider your requirements, availability, and personal preferences when choosing the most appropriate type of compost for your vegetable patch or ornamental plants.
Earthworm Castings or Compost as Fertilizers
Both worm compost and finished compost are excellent alternatives to chemical fertilizers and manure can help compost speed up the process. The nutrients in worm manure and traditional compost promote plant growth by enriching potting soil.
Give your hanging baskets a boost or introduce more beneficial bacteria into your vegetable beds by fertilizing them with worm or regular compost. If you're focused on food waste, setting up a hot compost bin or a worm farm helps as both process scraps.
Making worm tea or compost tea is an excellent option for gardeners who prefer to work with liquid organic fertilizer.
Fill the bucket about half full with your chosen compost and the rest of the way with water. Leave the tea to brew in a warm spot, stirring it daily for at least a week. The worm or traditional compost nutrients release into the water, so they're easily applied and conveyed to the plant roots.
Strain the liquid into a watering can or sprayer using a sieve and use it on your outdoor or indoor plant instead of regular watering.
Did this article help you understand the differences between worm compost vs regular compost? While worm farming and a compost pile process organic waste, worm casting compost and conventional compost are different products.
Worm castings are the waste of worms breaking down organic matter in a worm farm. Compost results when nitrogen and carbon-dense materials decompose under controlled conditions. Knowing the similarities and different properties of the two allow you to select the best soil amendment based on your garden needs.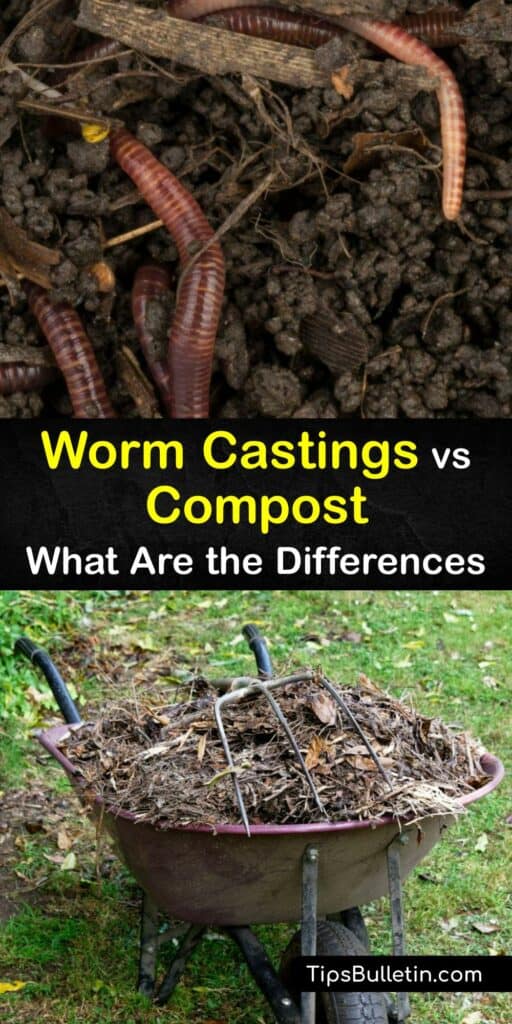 If you loved this explanatory article on worm castings vs compost, please share it with your friends who are curious about gardening with earthworm castings or compost on Pinterest and Facebook.