The home composting market in the United States is experiencing significant growth, driven by increased awareness of sustainability and waste reduction.
Various sources indicate a promising future for this market, with projected substantial growth rates and rising market values.
How Much Is the Home Composting Market Growing in the US?
The US residential organic compost market was valued at $395.80 million in 2022.
By 2030, composting is estimated to expand to $743.51 million.
The household composters market was valued at $459.7 million in 2021. By 2028, it has a forecasted value of $725.5 million, a growth rate of 6.6%.
The household composters market size is expected to increase by $317.23 million, with the US holding 33% of the global market share.
The household food waste composting machines market is anticipated to hit $4119.3 million by 2028, growing 6.4% from 2022-2028.
| Year | % Households Home Composting |
| --- | --- |
| 2015 | 50 |
| 2016 | 52 |
| 2017 | 54 |
| 2018 | 56 |
| 2019 | 58 |
| 2020 | 60 |
| 2021 | 68 |
| 2022 | 74 |
| 2023 | 75 |
| 2024 | 84 |
Sources: Grand View Research, SkyQuest Technology, Million Insights, PR Newswire, Global Newswire
How Many Households Are Composting in 2023?
About 40-60% of households in the United States compost their waste themselves or participate in curbside compost collection.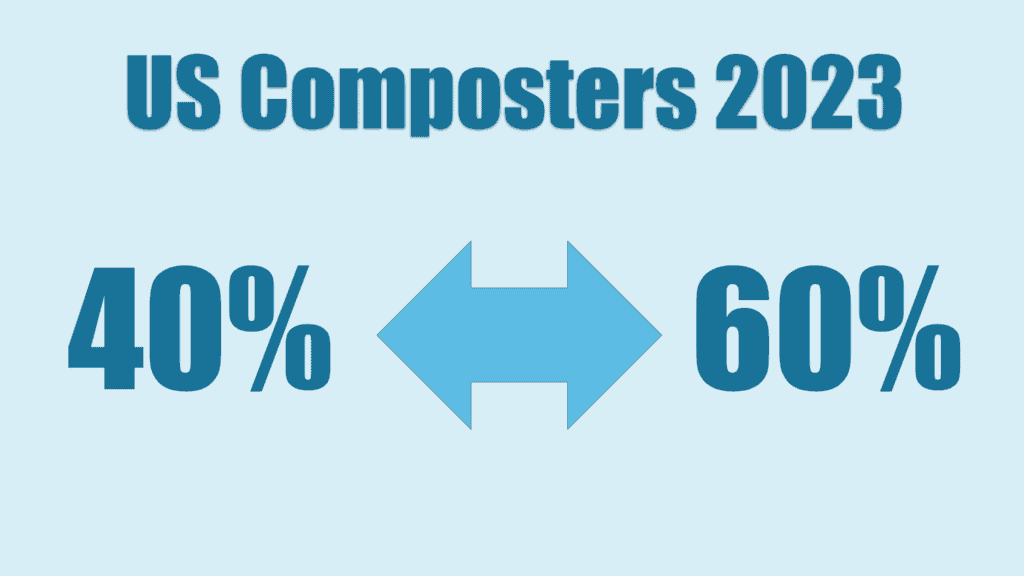 Source: Benefits of Recycling
How Many Households Do Not Compost in 2023?
72% of US households do not compost food waste.

67% of non-composters would be willing to compost if it were convenient within their community

62% of households would not support an increase in waste disposal costs if the program were implemented
Source: Benefits of Recycling
How Many Communities Have Compost Collection Programs?
The 2023 BioCycle Nationwide Survey on Residential Food Waste Collection Access finds strong program growth since 2021. There were 400 programs that included 710 communities. Some programs (like those managed by a county or solid waste authority) report data for several communities.
The number of US households with composting access is 14.9 million.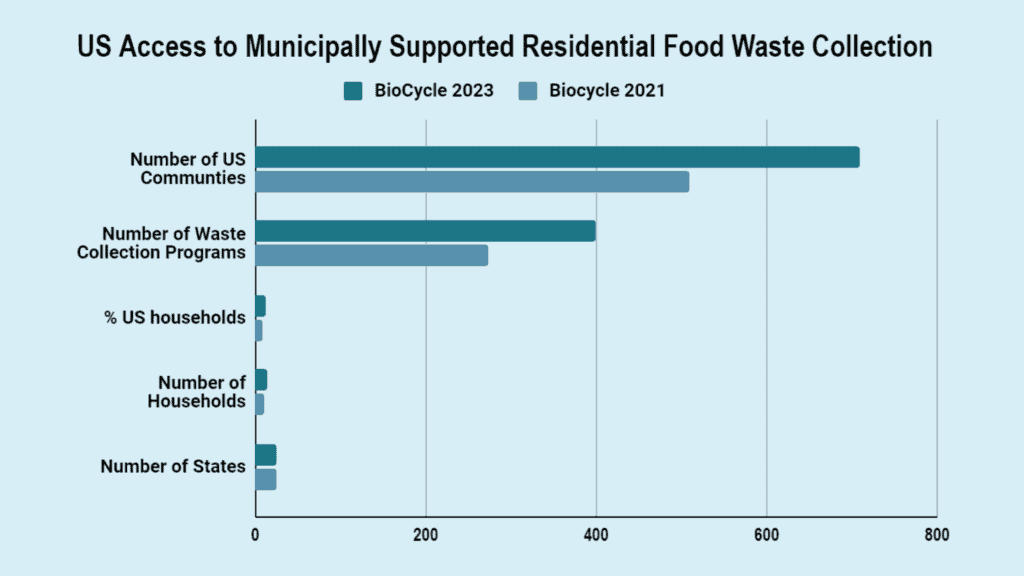 Source: Biocycle
Which Countries Compost the Most?
Germany recycles and composts 65% of its waste

.

South Korea at 59%

.

Austria and Slovenia tied at 58%

.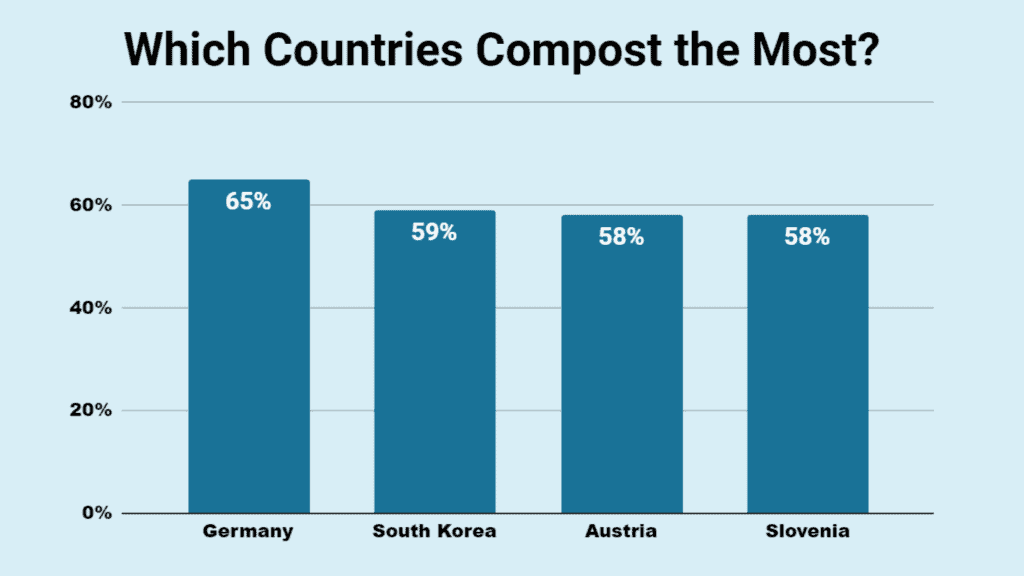 | Country | Percentage |
| --- | --- |
| Germany | 65% |
| South Korea | 59% |
| Austria | 58% |
| Slovenia | 58% |
Source: Batch GEO
Do You Need a Composting App?
Several composting apps are available that aim to facilitate composting and promote sustainability.
NYC Compost – Available on App Store, Google Play. Features: Enables finding and unlocking compost drop-off at curbside bins in the NYC area and provides information about composting.
ShareWaste – Available on App Store, Google Play. Features: Connects people who wish to recycle their kitchen scraps with neighbors who are already composting, worm-farming, or keeping chickens.
GoCompost – Features: Promotes composting as a solution to the food waste crisis and provides information and resources related to composting.
Betterbin – Features: It makes it easy for consumers to properly recycle and compost based on local guidelines. Allows users to scan the UPC barcode or text search for any product to get recycling and composting instructions.
CompostNow – Features: Offers composting services for homes and businesses to turn food scraps into nutrient-rich compost.
These apps offer various features, including connecting individuals for composting, providing information on composting, and offering composting services. Users can choose the app that best suits their needs and location.
Fast Composting Facts
In 2019, the food retail, food service, and residential sectors composted 3.3 million tons of wasted food, about 5 percent of the total.

Between 2015 and 2018, composted food and yard trimmings increased from 23.4 million to 24.9 million tons in the United States.

In the US, only 4.1% of food waste is composted annually, translating to 2.6 million tons of food.

From 2010 to 2018, the U.S. saw a 23% increase in municipal solid waste composted.

Less than 2% of facilities composted more than 100,000 tons of organic waste in 2022, while 31% composted less than 10,000 tons. Medium-scale operations account for 38% of the facilities reporting.
These statistics highlight the growth in composting initiatives and the ongoing efforts to increase composting rates in the United States.
Sources: NPR, US EPA, Environment America, Cooped Up Life, House Grail, RTS, BioCycle
Conclusion
The statistics indicate a robust growth trajectory for the home composting market in the United States. With rising market values and increasing CAGRs, the future of home composting looks promising, reflecting a growing commitment to sustainability and organic waste management.