When thinking about bamboo, we often picture tropical areas of tall, thick, and slender bamboo poles leading endlessly into mysterious forests. However, this is a common misconception because bamboo grows almost anywhere and in a variety of sizes. If you are considering growing bamboo as shrubs in your yard, you've come to the right place.
Bamboo is a group of extremely durable plants that grow in many styles and sizes. These exotic plants grow in tidy formations, depending on the type, and are perfect for creating a dense wall of vibrant woody stems and foliage. Some have bright green stems, while others have striking stems in shades of black. Bamboo plants are tree-like in style, but they are actually a type of grass.
They are very diverse and grow almost everywhere, from hot and tropical areas to cold and mountainous regions. Their versatility makes them a great candidate for growing as a shrub or privacy screen in the yard.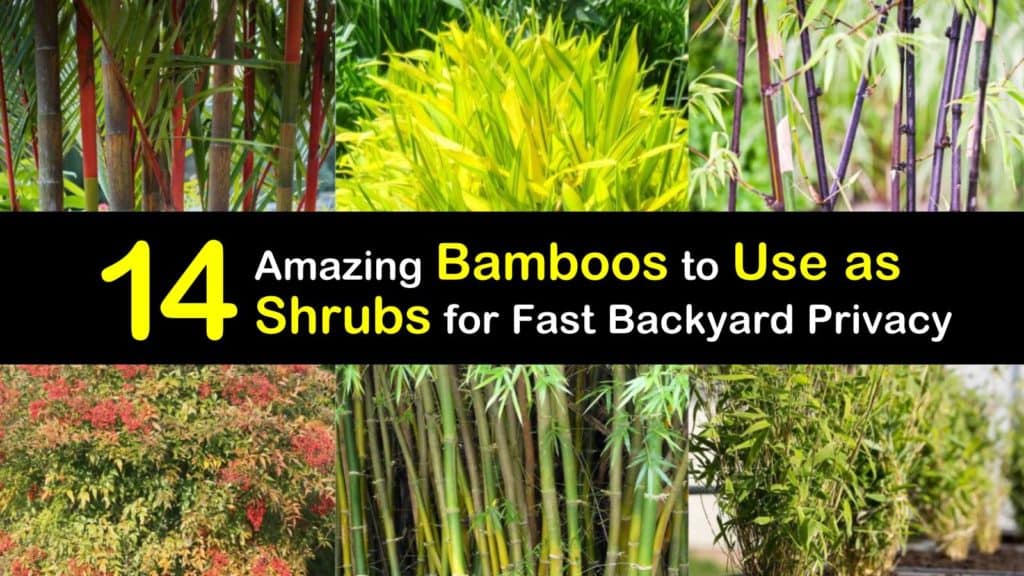 Growing Bamboo in Your Backyard
Before you get overzealous and start filling your yard with various bamboo plants, there are a few things to consider.
While many bamboo types are easy to maintain, some bamboo species are invasive and tend to get out of control. We'll help you pick the perfect bamboo shrubs for landscaping in your area.
One benefit for some growers is that bamboo is typically a deer resistant shrub. Although sometimes deer do nibble on it, they prefer other plants instead.
What are the Benefits of Landscaping with Bamboo?
Bamboo is naturally resilient and requires no fertilizer, herbicides, or pesticides like many other plants and shrubs. The stem of bamboo is hollow, lightweight, and extremely strong, making it highly resistant to wind.
Depending on the growing conditions, bamboo plants are fast growers, making them a good choice if you're searching for a shrub to create privacy in your yard.
They consume more carbon dioxide than many other plants and produce 35% more oxygen than trees.
Which Types of Bamboo are Best for My Yard?
There are two main types of these plants, clumping bamboo and running bamboo. The clumping kind has rhizomes that turn upward to form culms. In comparison, runners spread underground through rhizomes.
Clumping bamboo is great if you love a non-invasive plant that is straightforward to control. Running bamboo is easy to grow and a smart choice if you have a large area you are trying to fill quickly with lush plants.
Where is the Ideal Spot to Grow Bamboo?
These plants handle many conditions and areas. They prefer full sun but do handle lower light, so choose an area of your yard that receives the most amount of daily sunshine for the best growth.
Consider planting bamboo shrubs in a spot that offers your outdoor area the most privacy. Picture your plants as a resource for solitude and wind protection, and choose areas of the yard that benefit from these natural fences.
Is Bamboo Hard to Maintain?
Bamboo plants are very easy to grow and do not desire much more than the right growing conditions to thrive. Give them one inch of water a week, and water them thoroughly to encourage deep roots.
Spread mulch around the bottom of the plants and avoid raking up fallen bamboo leaves from the ground. The leaves return nutrients to the soil during decomposition.
Heavenly Bamboo (Nandina Domestica)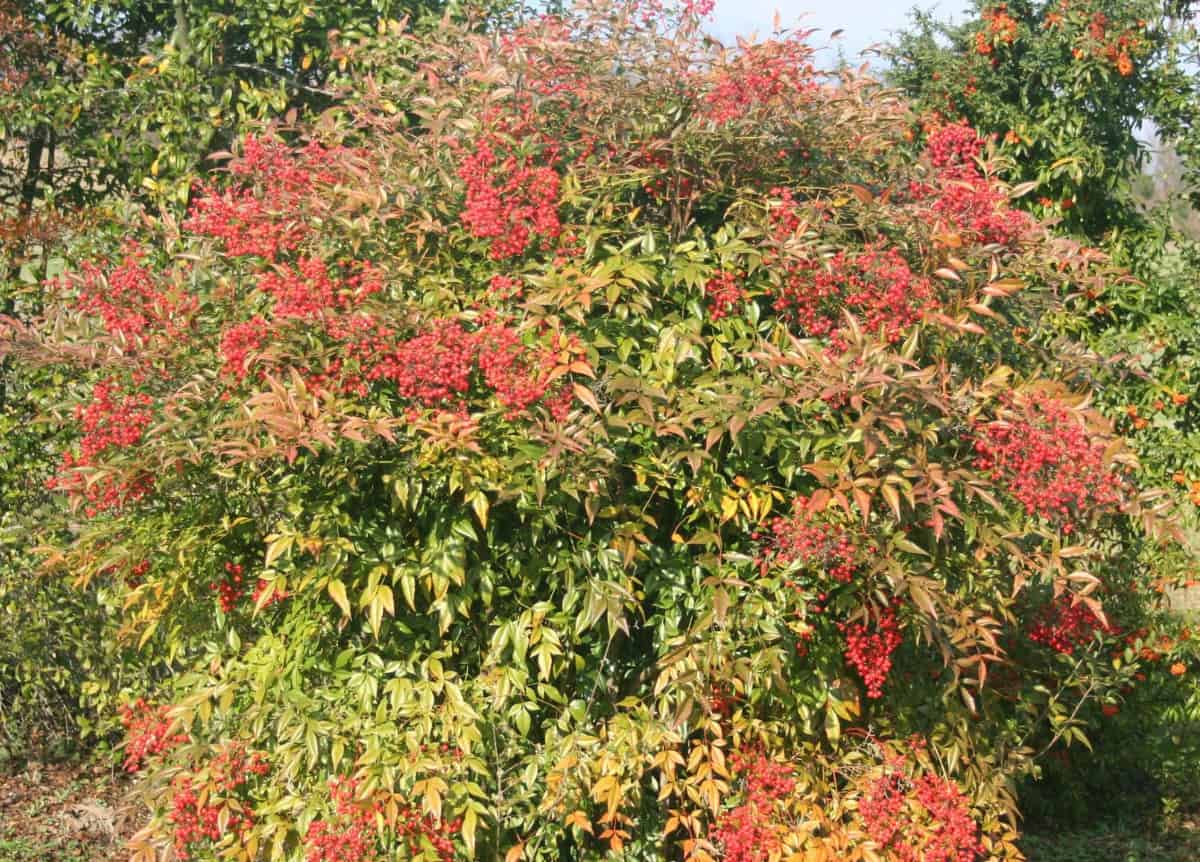 Heavenly bamboo, or sacred bamboo, is technically not a bamboo plant but rather a flowering evergreen shrub. However, it has all of the characteristics of bamboo with finely textured leaves and cane-like stems.
These short evergreen shrubs have spring-time, dainty white flowers followed by red berries that last throughout the winter. This shrub has leaves that turn from green and pink to red during the fall and thrives in shade or sun.
This bamboo is a low-maintenance plant that grows 7 feet tall and 5 feet wide. Heavenly bamboo is hardy in zones 6 through 9 and also grows well indoors as a houseplant.
Fargesia Bamboo (Fargesia murielae) – Clumping Bamboo as Shrubs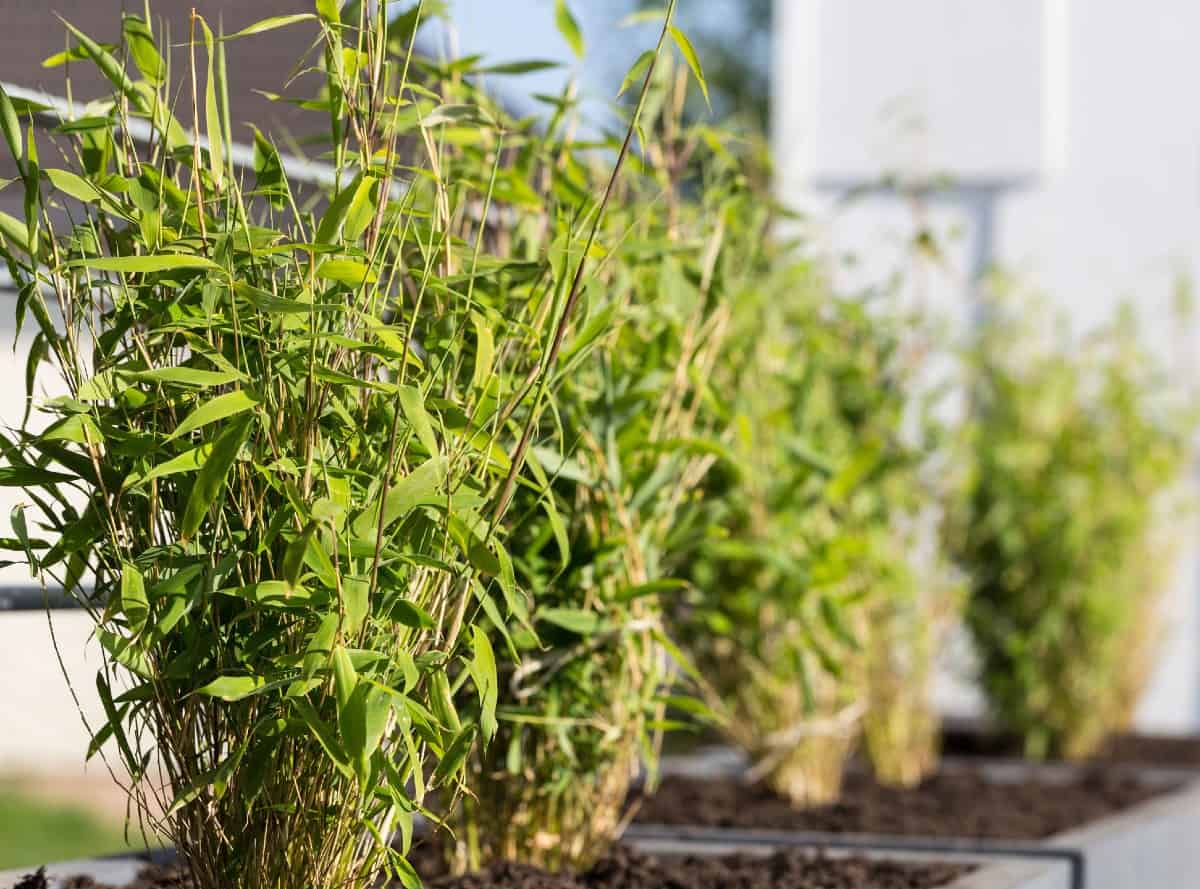 This clumping bamboo is native to China and belongs to the flowering section of the grass family. There are many types of Fargesia bamboo, and some have upright shoots that are powdery-white. As they age, the shoots get a weeping fountain habit and turn green-yellow to yellow.
Fargesia bamboo plants range in size, but the small ones grow 6 to 8 feet tall, making them an ideal shrub specimen. They love full sun but tolerate a bit of shade and grow in USDA hardiness zones 6 through 9.
Royal Bamboo (Bambusa textilis)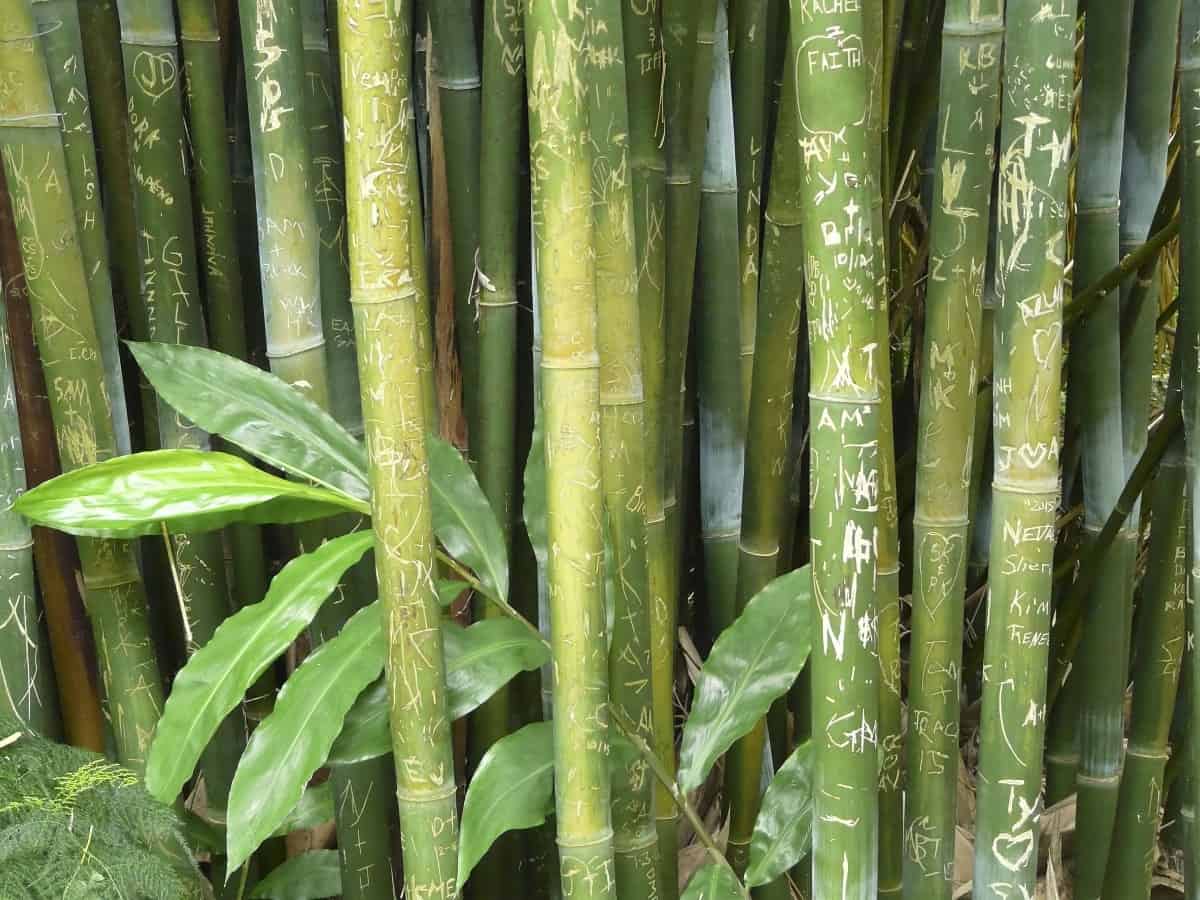 This visually stunning plant has perfectly straight canes with long internodes that are whitish-blue. The lower portion of the canes is leaf-free, which enhances the distinct hue of the culms.
Royal bamboo plants grow quite large and have a full size of up to 50 feet, but are relatively easy to maintain on a smaller scale. They are an excellent choice for privacy landscaping due to their height and width and are hardy to zone 8.
Arrow Bamboo (Pseudosasa japonica) – Easy-to-Grow Bamboo Plant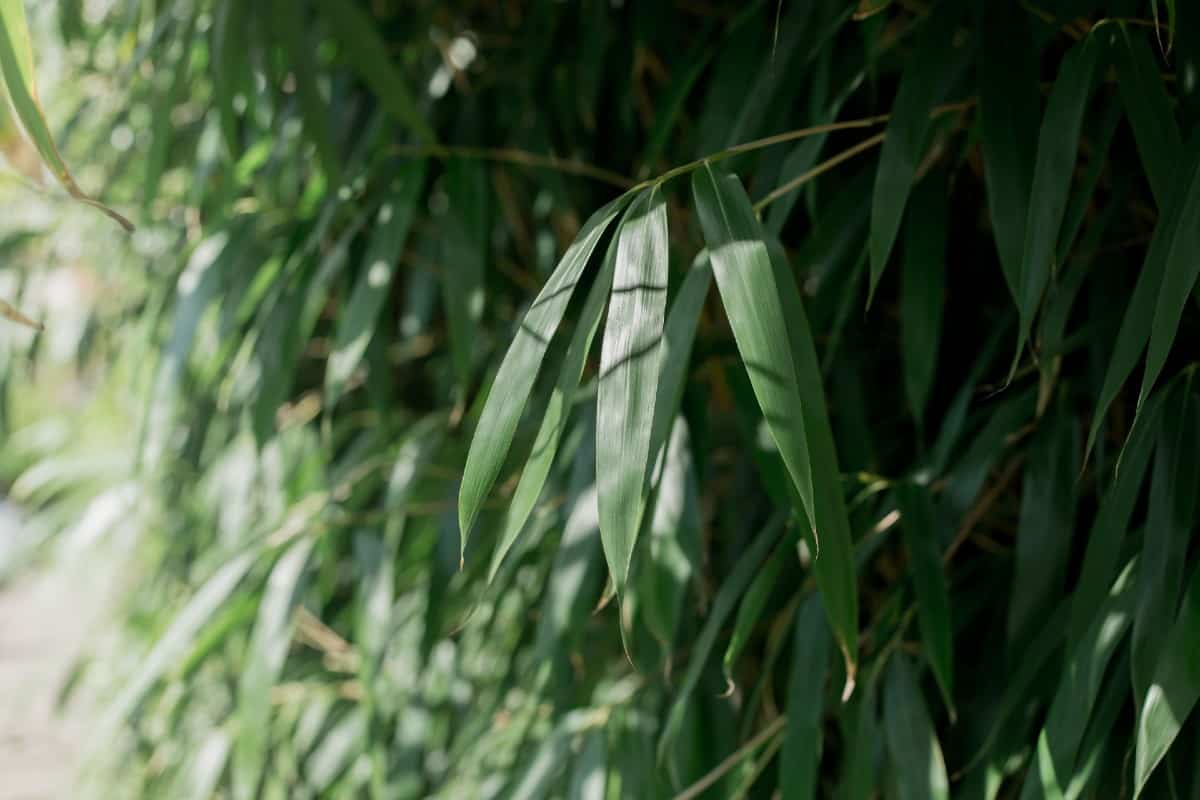 This semi-clumping bamboo plant is cold hardy and very easy to grow. Its erect canes are covered with pointed leaves that reach one foot in length.
The lush foliage of the arrow bamboo makes it one of the best hedges for privacy when planted in a row. This plant tolerates dense shade and full sun and has a mature height of 12 to 18 feet tall.
Arrow bamboo is wind and salt tolerant and easy to control in a yard setting. This fast-growing plant is hardy in zones 7 through 11.
Golden Bamboo (Phyllostachys aurea)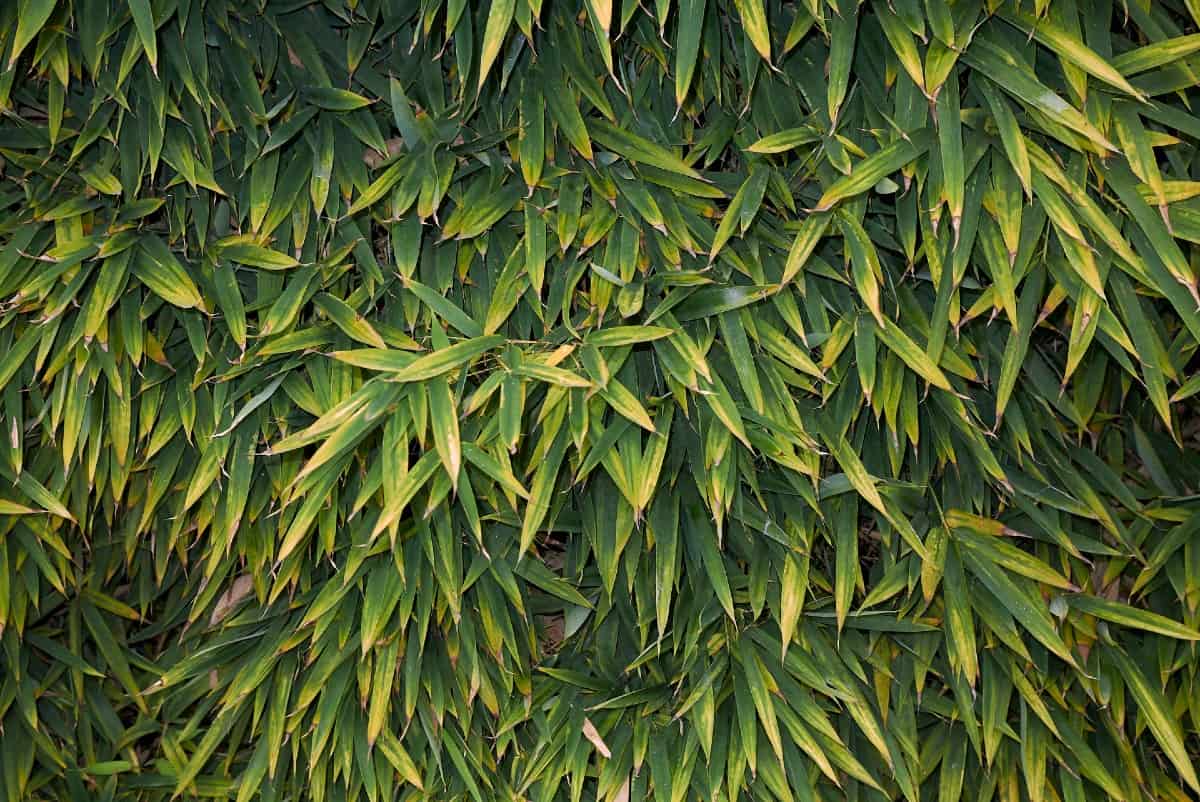 Golden bamboo, or fishpole bamboo, is what grows fast with a strong and upright form and sturdy green canes that turn golden yellow with more sun exposure. Space them five to six feet apart for the ideal privacy hedge or fence.
These plants grow 15 feet tall or more but reach up to 30 feet when grown further south. Golden bamboo is hardy in zones 6 through 11 and tolerates temperatures down to 5°F.
Dwarf Green Stripe Bamboo (Pleioblastus viridistriatus) – Low Growing Bamboo with Striking Foliage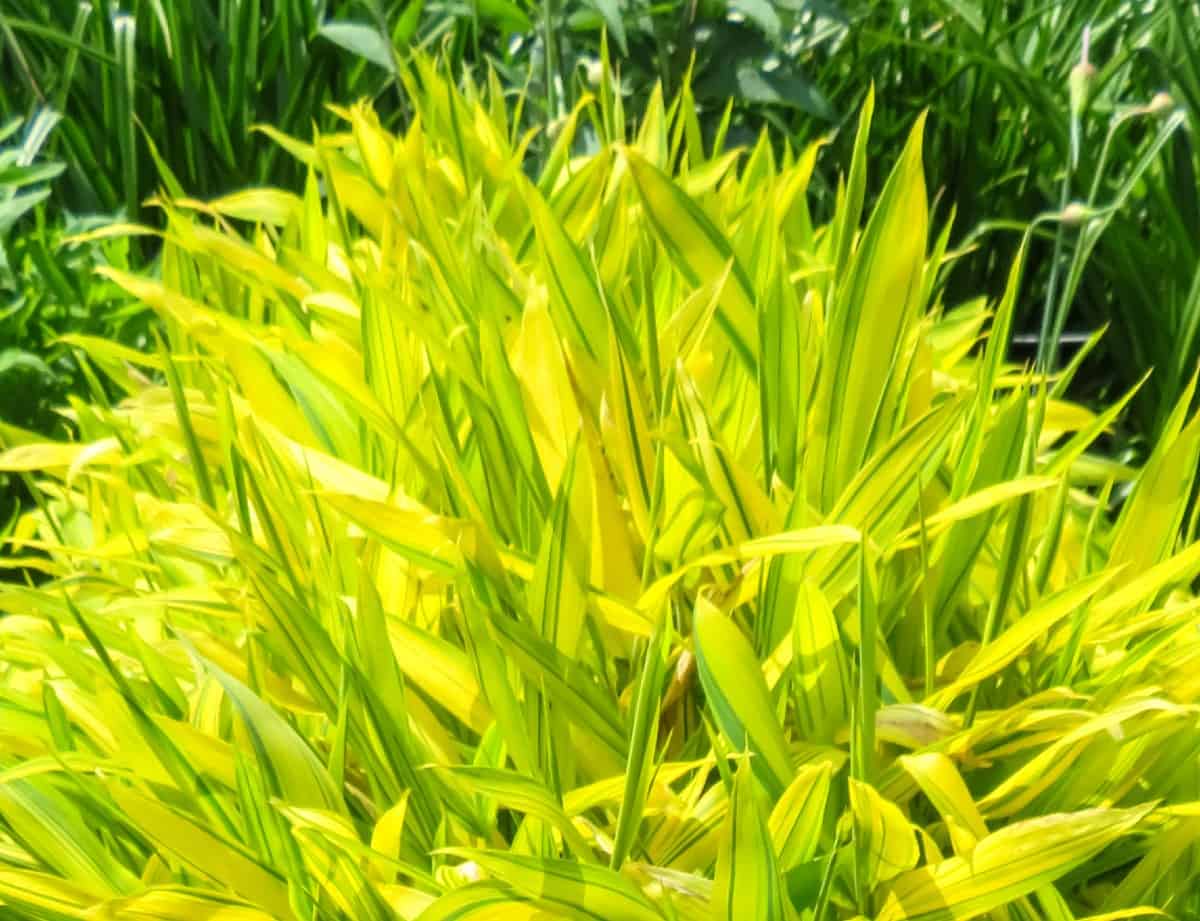 The dwarf green striped bamboo plant has long yellow leaves with green stripes that stand out in the garden. It is a medium to fast-grower, and its dense foliage suppresses weed growth. While it is a running variety, this plant is simple to maintain.
This bamboo plant has a mature size of 3 to 6 feet tall and is a great option for a border plant or tall groundcovers. It requires a minimum of four hours of sunlight daily and grows in hardiness zones 6 through 11.
Green Hedge Bamboo (Bambusa multiplex)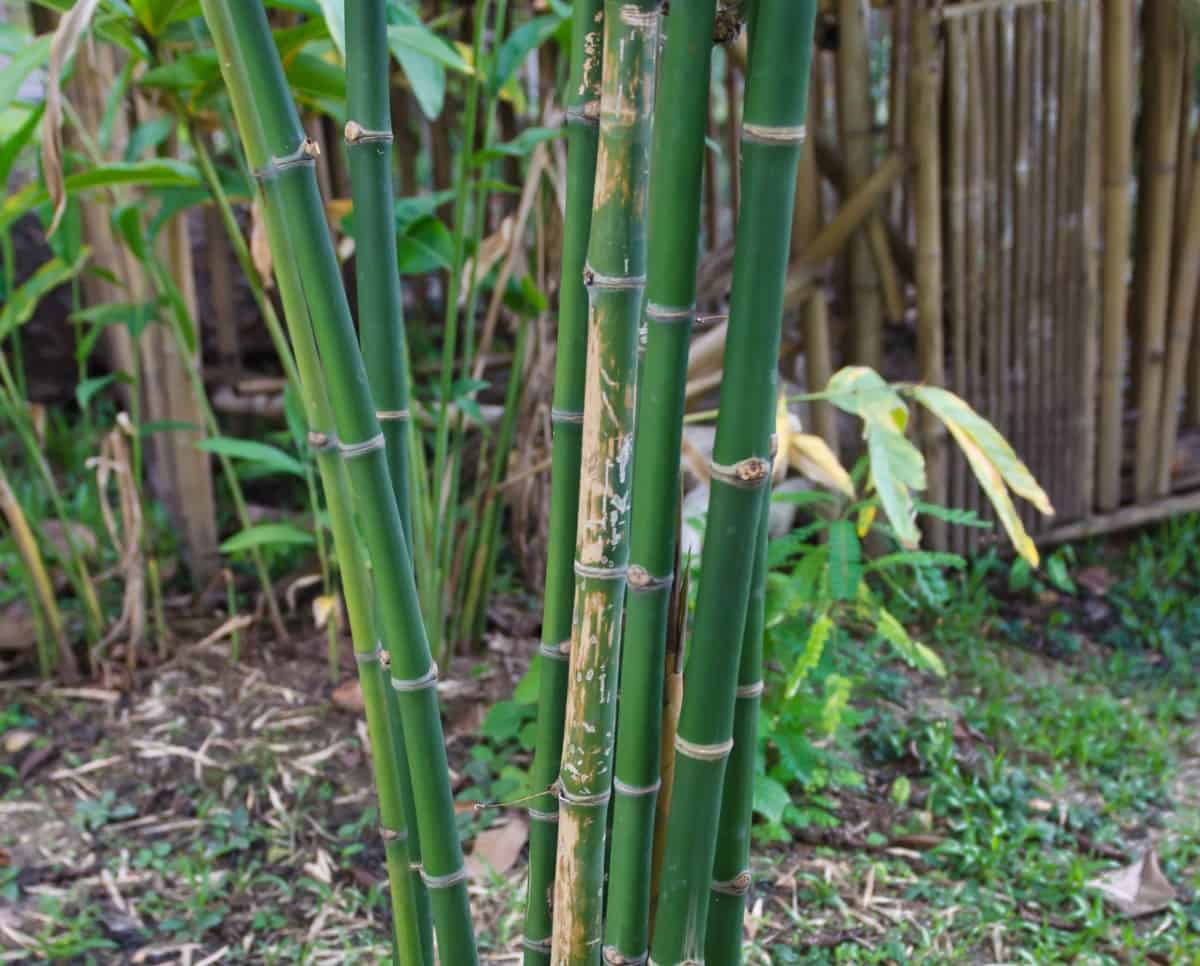 Green hedge bamboo grows in an upright manner with a slightly arching habit. This dwarf clumping bamboo grows in many styles, some with yellow and green stripes and others with multi-colored culms.
Its straight stems and full foliage make it an excellent plant for screening or buffering. This evergreen bamboo is suitable for both loamy and sandy soil.
It grows quickly and has a mature size of 14 feet tall and 15 feet wide. Green hedge bamboo is hardy in zones 3 through 11 and loves semi-shade or full sun.
Black Bamboo (Phyllostachys nigra) – Striking Bamboo for an Ornamental Landscape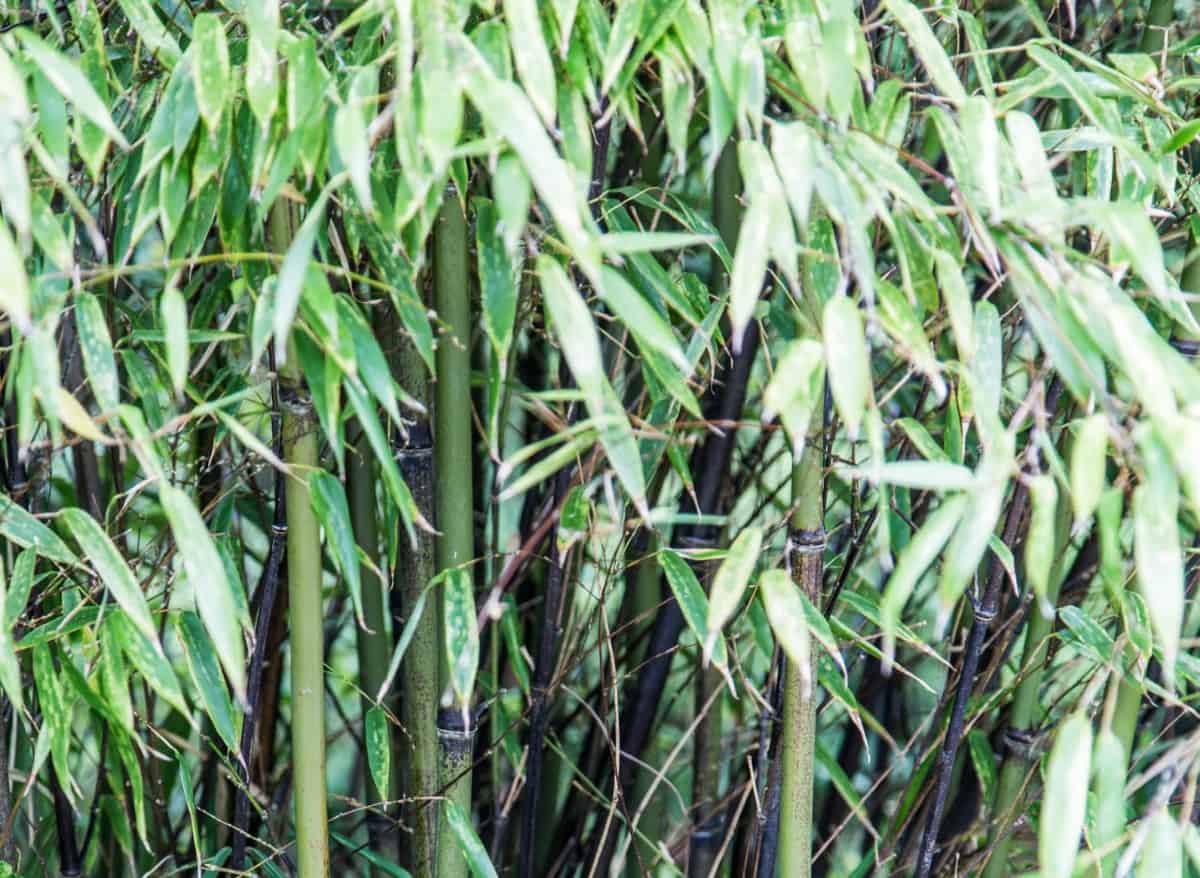 Black bamboo has canes that begin as a pleasant green color, but as it ages, the culms change to a bold, ebony tone that is truly a sight to see in an ornamental garden. It has handsome green leaves that are a beautiful contrast to the dark canes.
This shrub grows well in containers or a landscape setting and enjoys bathing in at least six hours of sunlight daily. Black bamboo is hardy in zones 6 through 11 and grows 16 feet or more, depending on the location.
Buddha Belly Bamboo (Bambusa ventricosa)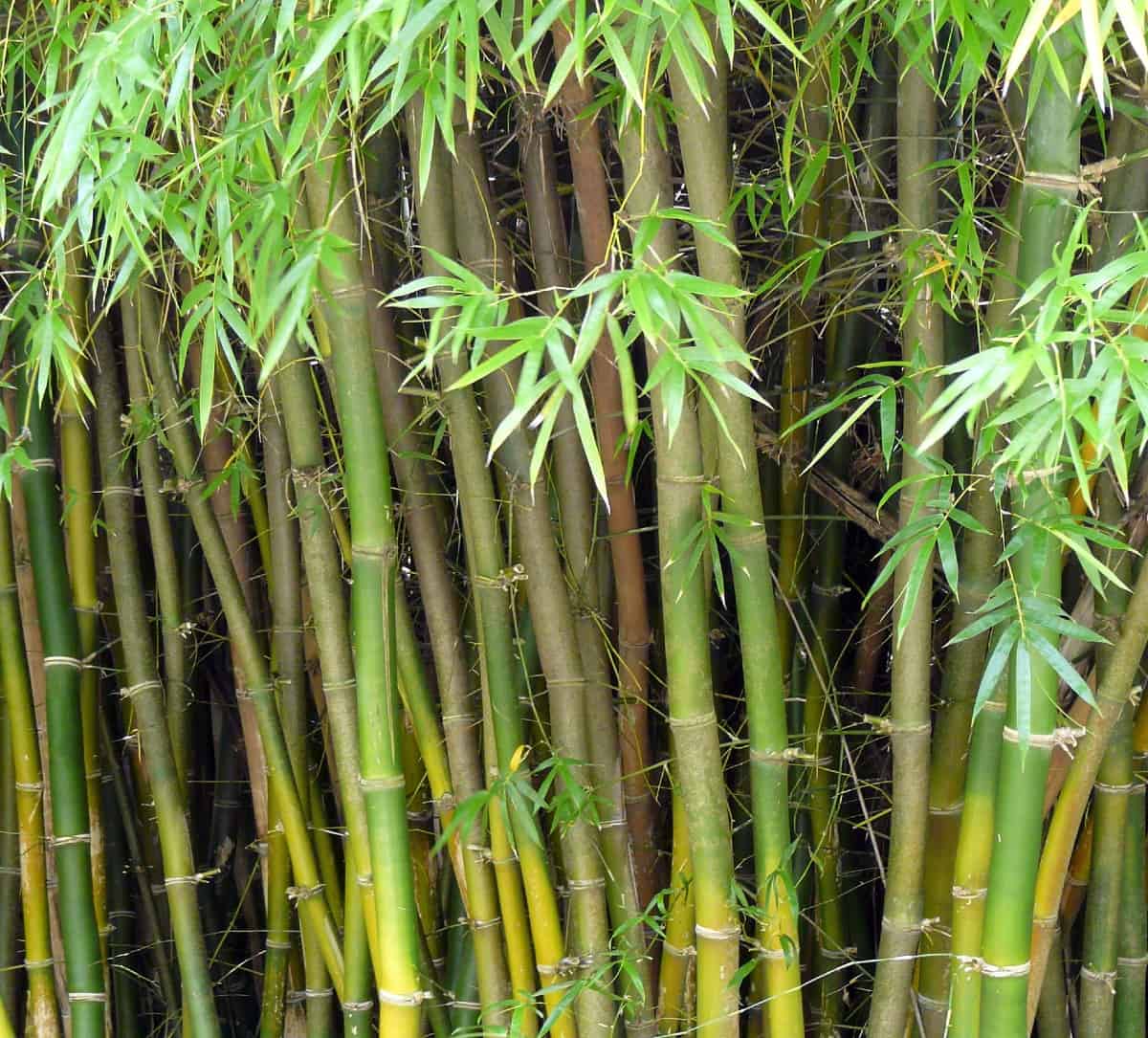 This highly adaptable plant is one of the easiest bamboo shrubs to grow. It has green canes that turn golden-yellow with dark green stripes, and in hot, dry climates, the internodes swell like a belly, giving the plant its name.
Buddha belly bamboo is drought tolerant and easy to grow both outside or in the home as a houseplant.
In an outdoor area, it grows very tall but is easy to maintain as a shrub in the right conditions. This bamboo desires full to part sun and lives in hardiness zones 9 through 11.
South Kalimantan Bamboo (Gigantochloa luteostriata) – Bushy Bamboo with a Weeping Top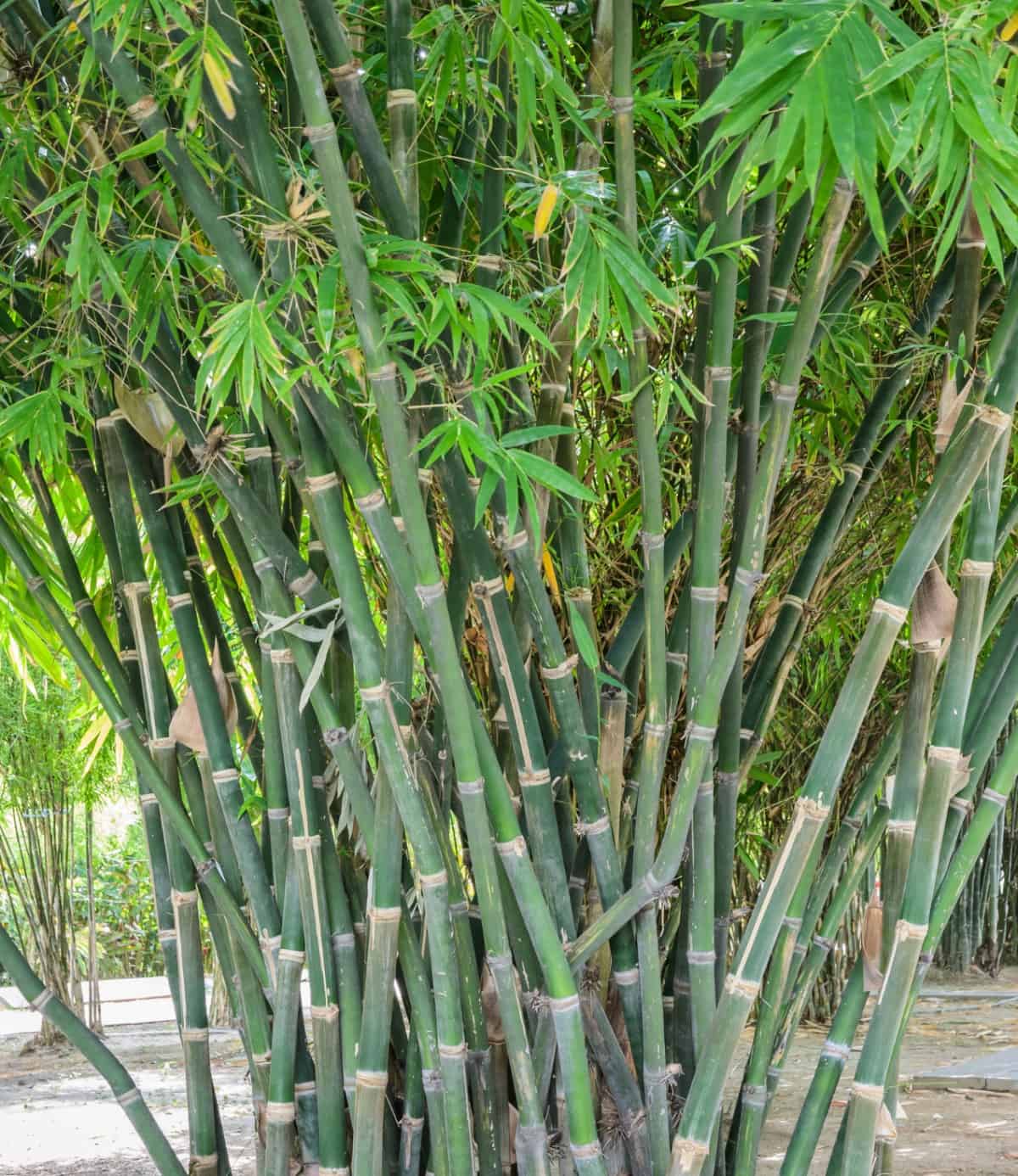 This garden ornamental bamboo plant has dark green culms and large leaves with creamy stripes. It has a tight-clumping growth pattern and is topped weeping foliage, giving it an elegant mushroom-shaped appearance.
South Kalimantan bamboo grows quite fast in part or full sun at roughly six inches a day, reaching a height of 10 to 20 feet in no time at all. Its growth rate makes it a winner for creating quick privacy around the home.
Dwarf Buddha Belly Bamboo (Bambusa vulgaris cv. Wamin)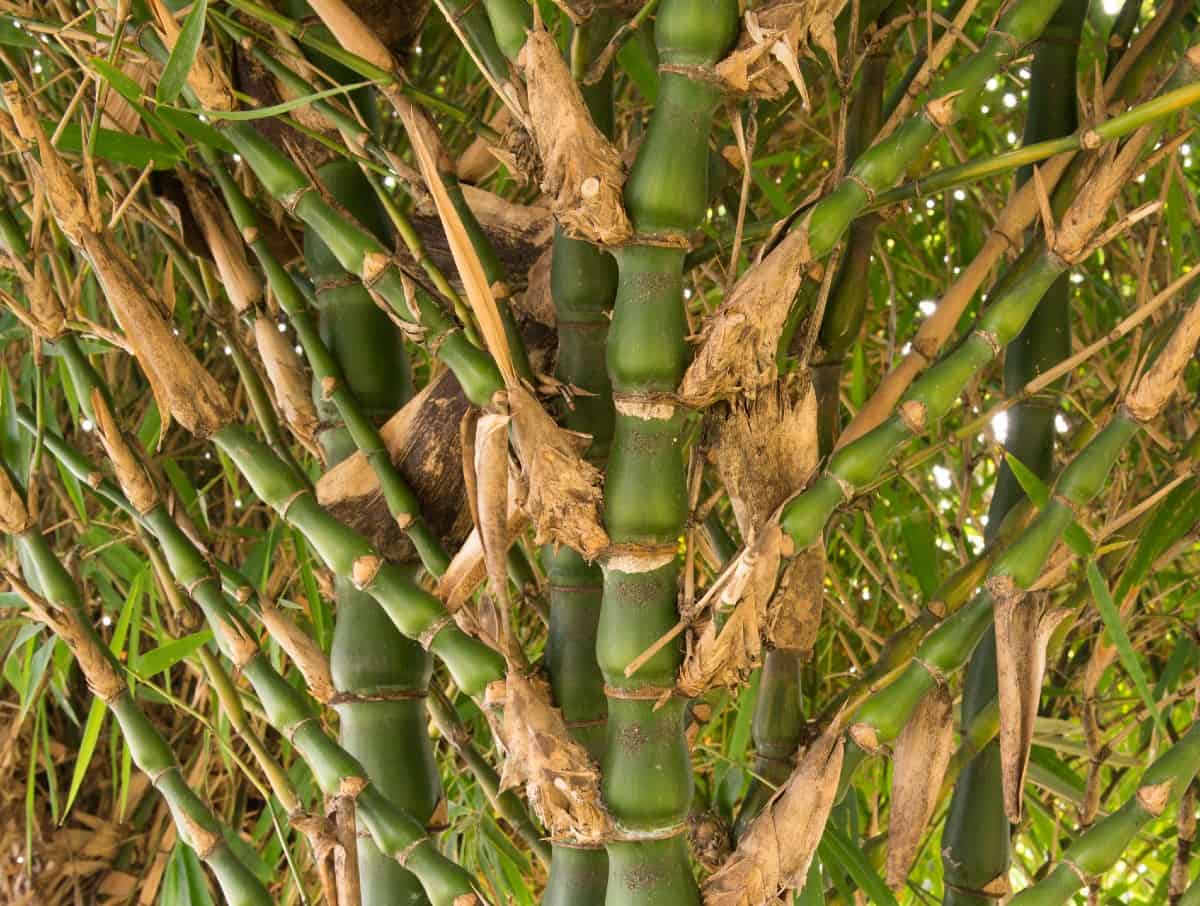 This impressive-looking bamboo has a distinct bulge above and below each cane's internodes with a buddha belly aspect. It is a clumping plant that grows in an outward spiraling root path.
Unlike the large species of this plant, the dwarf variety only grows 12 to 15 feet high. It reaches a mature size in about three years and is hardy in zones 9 through 11. It craves full sun or partial shade and well-drained, continuously moist soil.
Lipstick Bamboo (Cyrtostachys Renda) – Exotic Plant with a Bamboo Appearance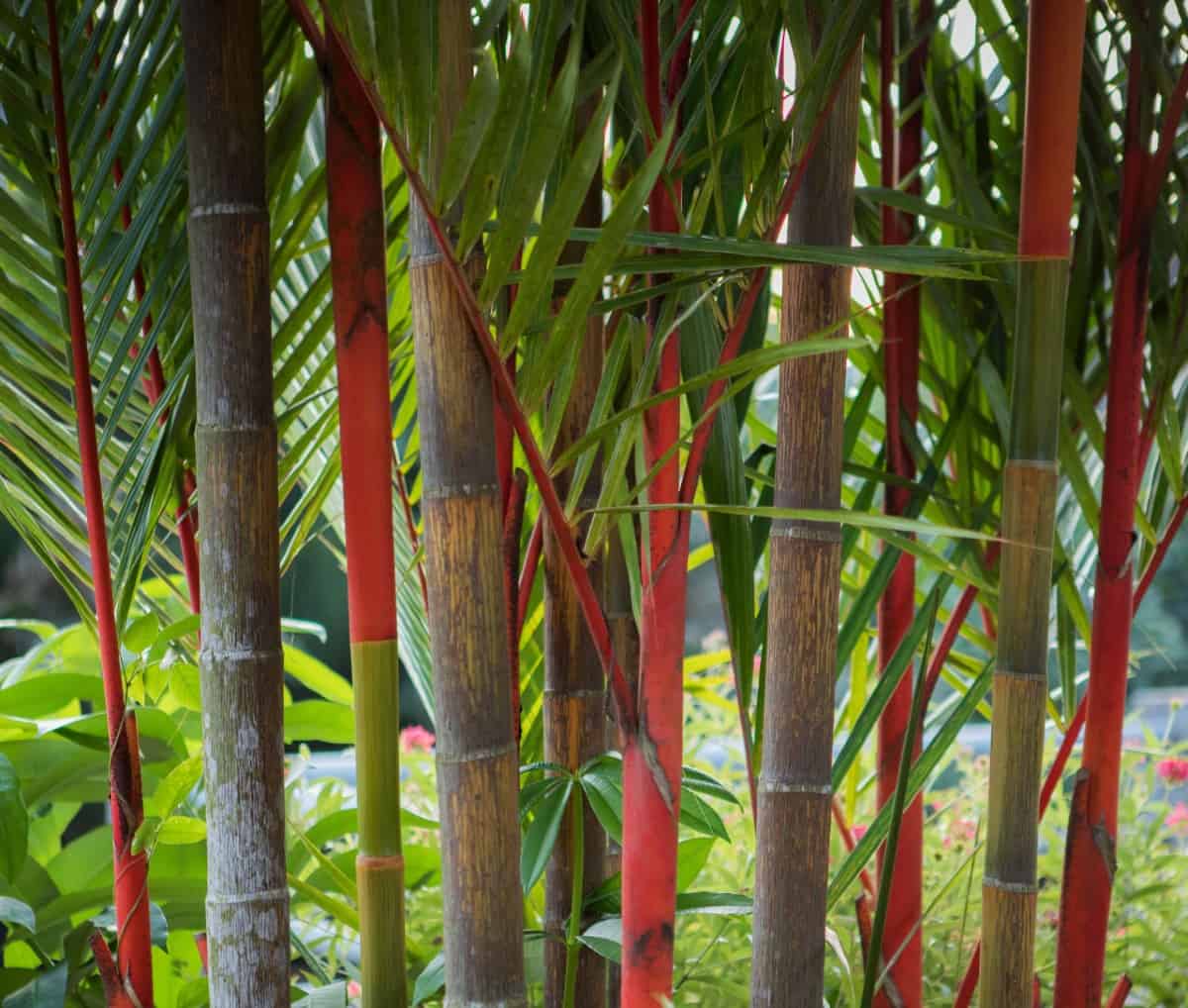 While the lipstick bamboo, or lipstick palm, is not technically a bamboo plant, it has cane-like stems that resemble culms and is easy to grow if you prefer something a little different. The trunk is bright red with fronds that are green to red.
This exotic-looking plant grows in zones 9 and above and requires full sun to thrive. It prefers high humidity and warm temperatures and grows to about 25 feet tall in a home yard environment.
Jaculans Bamboo (Schizostachyum jaculans)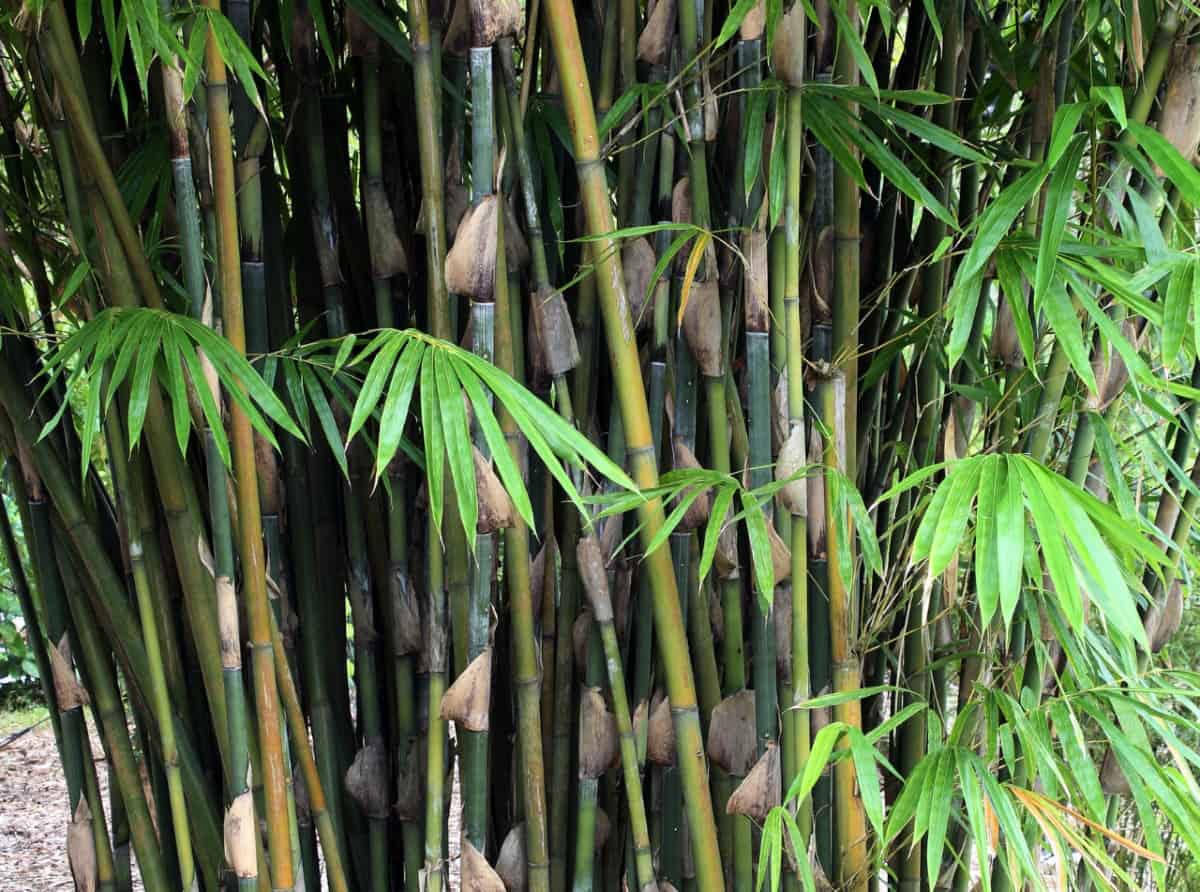 This hedging plant has a tight growing practice and thin culms. It has an erect and slender style with a drooping tip of long, green leaves. The stems are one-inch in diameter when mature, giving this tropical plant a delicate look.
This evergreen bamboo plant maintains foliage all year round and has a full height of 20 to 30 feet, depending on growing conditions. It enjoys part to full sun and grows well in sandy to clay loam soil.
Timor Black Bamboo (Bambusa lako) – Eye-Catching Bamboo Plant
Timor black bamboo plants feature eye-catching culms with a shiny, dark brown or black tint. The bushy foliage is dark green and looks distinct growing above the upright canes. This plant is a slow grower when it comes to bamboo but still reaches maturity in three to four years.
This bamboo grows to 30 feet tall or more but can be trimmed to the desired size for hedging. It is a low-maintenance plant that likes growing in part to full sun in hardiness zones 9 through 11.
Picture exotic clumps of vibrant woody stems, topped with graceful foliage, and you are picturing bamboo.
These hardy grass plants quickly fill dull backyard spaces with tropical appeal and tranquility. Not only that, but they grow almost anywhere and are easy to grow and maintain.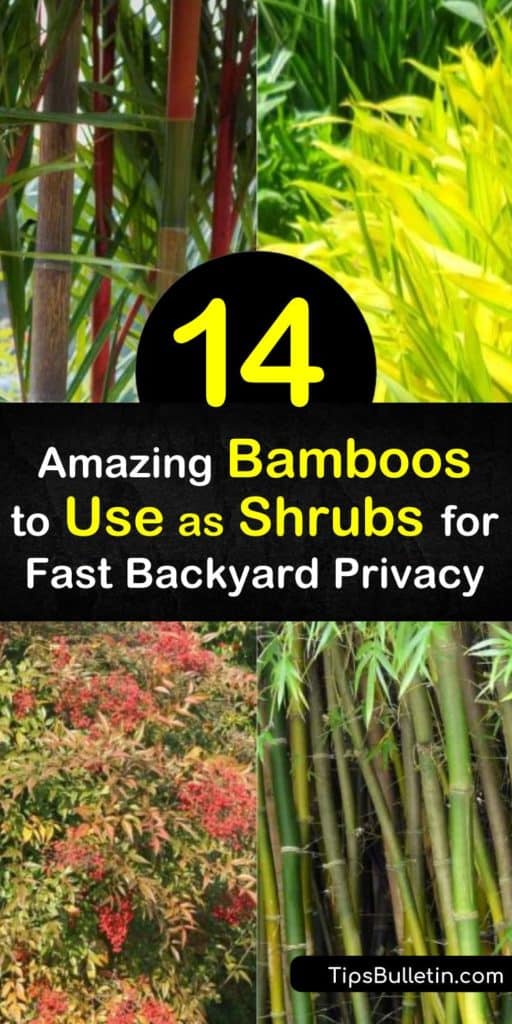 Planting bamboo as shrubs in your yard is a great way to create a natural screen of privacy with tropical foliage, so why not share our bamboo shrub guide with your nature-loving friends and family on Pinterest and Facebook?