Hydrogen peroxide, or H2O2, is a low-cost, handy household supply that you can use for cleaning, healing, hygiene, and more. It's likely that you already have a bottle of it in your home, but if you don't, you can purchase it at any drug store or grocery store for a couple of dollars.
In this article, we're going to cover hydrogen peroxide uses and hydrogen peroxide benefits. We're also going to address a couple of other topics, such as what is hydrogen peroxide and what grades of hydrogen peroxide are available.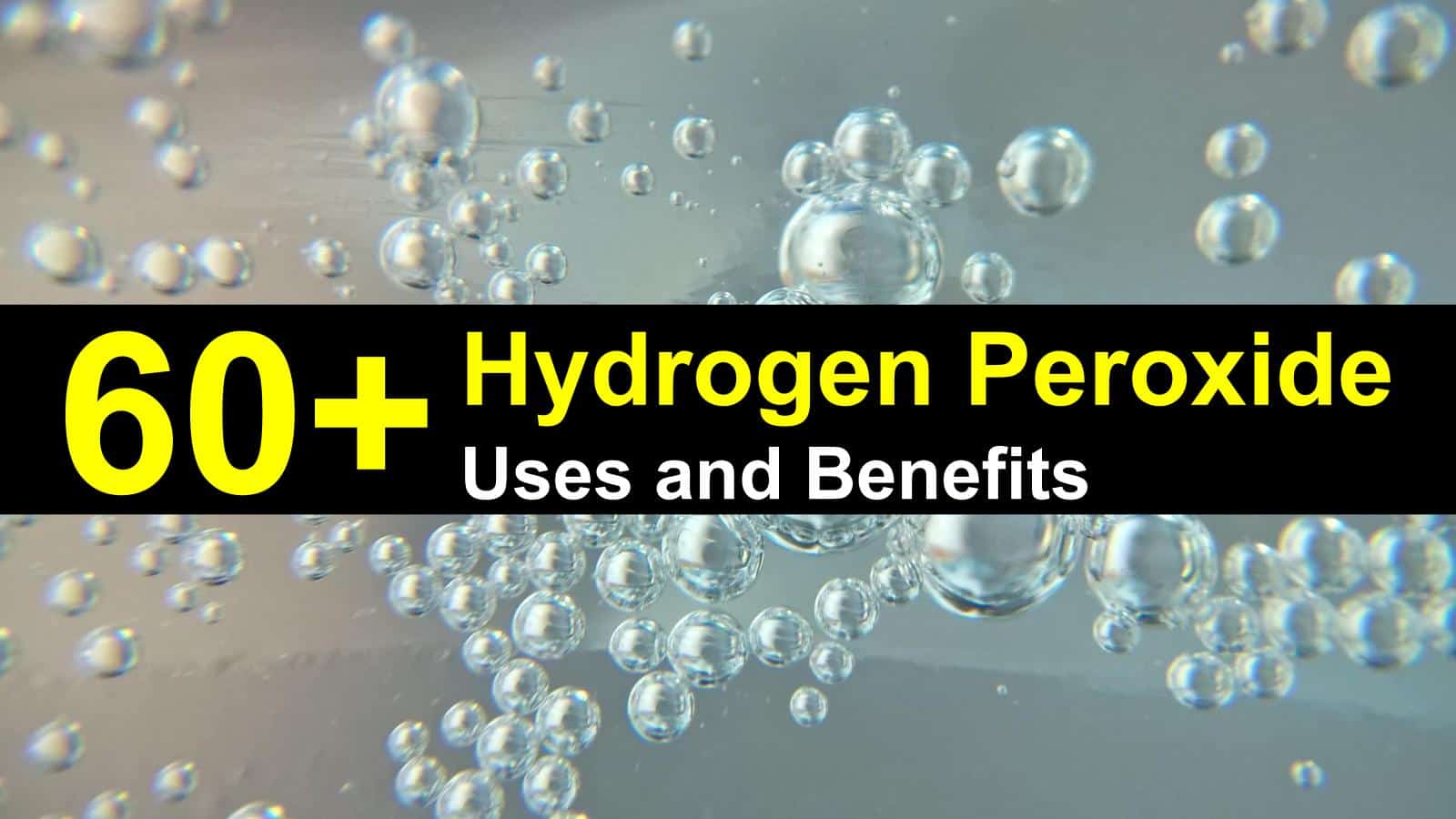 What is Hydrogen Peroxide?
It's the only germicidal agent that consists of only oxygen and water, which kills disease organisms through the process of oxidation, and it's thought to be the world's safest, all-natural sanitizer.
Amazing Hydrogen Peroxide Uses
Most people associate hydrogen peroxide with its ability to be used to treat minor medical conditions, which is why you will find the chemical compound in the pharmaceutical section of your local store. Here are some common medical uses of a bottle of hydrogen peroxide and a few uses you may never have considered.
Ease a Sore Throat
You can treat a sore throat with hydrogen peroxide in a couple of different ways. You can gargle a mixture of peroxide and warm boiled water, or you can dip a wool covered stick in 3% peroxide and coat your tonsils – how to get rid of a sore throat.
Soothe Dry Skin
Hydrogen peroxide can be an excellent natural remedy for dry skin. When you add half a pint of peroxide to your bath water, the extra oxygen helps to rejuvenate the body and leaves your skin hydrated. Its antiviral and antibacterial properties can also help with various skin infections and skin conditions.
Clean and Disinfect Small Cuts
You can apply it directly to the wound to clean away any dead tissue. Doing this will help the wound to cease bleeding, and it's capable of clearing up infections and preventing new infections from forming.
Using peroxide on small cuts and wounds is one of the most popular uses of the chemical. To ensure you don't inhibit friendly bacteria from facilitating the healing process, you only want to apply it to the affected area once.
Get Rid of Acne
If you suffer from acne that has become infected, use hydrogen peroxide instead of antibacterial soap to help speed up the healing process. Applying it to acne on the skin will work in the same way as it does on wounds. It will not only clean the area, but it will also kill unwanted bacteria.
Only apply it to the infected area once to avoid killing the good bacteria that your body needs to facilitate healing.
Get Rid of Canker Sores
Canker sores or small shallow ulcers that form in your mouth can be cured with the help of hydrogen peroxide.
Combine it with some water and swish it around in your mouth for about thirty seconds, spit out and rinse with water and it will help you to get rid of a canker sore. It's important to remember to combine it with water since too much concentration can cause irritation and blistering.
Get Rid of Bad Breath with a Peroxide Mouth Rinse
Unhealthy organisms that hang out in your mouth are the cause of bad breath. If you can't seem to get rid of bad breath with brushing alone, swish a bit of hydrogen peroxide around in your mouth as a mouthwash for thirty seconds to help rid your mouth of the unhealthy bacteria and organisms.
Just swishing with the chemical compound once a week can eliminate bad breath for seven days. Not to mention, it has teeth whitening properties. Watch how much you use, as overusing the mouthwash will end up killing the good bacteria that is in your mouth.
Battle Foot Fungus
If you're tired of the itching and burning that comes with athlete's foot and foot fungus, hydrogen peroxide's antifungal properties may be the perfect antidote.
Combine equal parts water and peroxide, and apply to the foot to see your athlete's foot cured. You can also use the mixture on your shower shoes to get rid of foot fungus in its tracks and prevent athlete's foot before it can form.
Treat Colds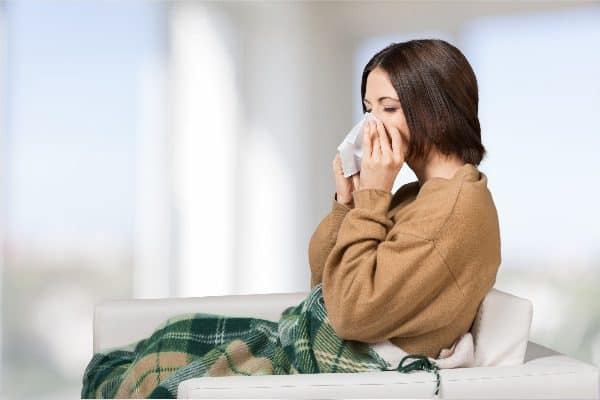 While there is no cure for the common cold, you can use hydrogen peroxide to help manage many of the symptoms that are a part of the flu and the common cold.
You can mix it with kosher salt and baking soda to remove infections out of your nasal passage and put a couple of drops in your ears to kill any bacteria that have taken up residence in them.
Get Rid of Ear Infections
Just a couple of drops of H2O2 can help you kill the bacteria that cause ear infections. Keep in mind that ear infections can get serious, so you may still want to visit the doctor if you are unable to cure your ear infection with this method.
Side note: Peroxide is not just used for human ear infections but also an ingredient of a good homemade ear cleaner for dogs.
Get Rid of Ear Wax
If you have trouble hearing, it may be a result of a buildup of excess ear wax in your ears. Just like using hydrogen peroxide to get rid of ear infections, you can use it to remove ear wax. You'll hear better before you know it.
Carefully place a few drops of olive oil in your ear and follow up with a few drops of hydrogen peroxide. A medicine dropper works well for this purpose and keeps too much olive oil or peroxide from getting into your ear. Keep your head tilted for 60 seconds and then lean the other way to let the liquid drain out. Follow this by flushing your ear out with a little warm water.
Treat a Sinus Infection
Its antibacterial properties can help kill off the bacteria that is responsible for sinus infections. Mix the chemical compound with equal parts of water; this will help dilute it, so you don't end up burning the insides of your nasal passages.
Place the mixture in a nasal spray container and spray it into your nose, blowing it back out after fifteen seconds. Spraying hydrogen peroxide into your nasal passages should help kill the infection. In addition, to help with a painful sinus infection, inhaling a few drops of puremint oil will dissolve any sinus cavity quickly.
Treat a Toothache with Hydrogen Peroxide
Holding a mix of hydrogen peroxide and warm water in your mouth for several minutes will help ease tooth pain. Keep it in your mouth for around ten minutes if you can, to get the most benefit.
Doing this will help significantly reduce the amount of pain you may be experiencing until you can get to a dentist. Avoid overusing this method to ensure you don't kill the good bacteria that live in your mouth.
Detoxifying Bath
You can add two quarts of peroxide to your bath to give the water a detoxifying boost. It's perfect for helping you rid your body of all kinds of infections from the lower half of your body, including many STDs. Soak in the tub for at least 30 minutes to ensure you emerge from the clean bathtub free of germs.
Treating Yeast Infections
Hydrogen peroxide is something that occurs naturally in the vagina and, in most cases works to prevent yeast infections by killing the main culprit, Candida albicans.
Yeast infections occur when your body produces too much yeast, overwhelming the peroxide that occurs naturally in the body.
Teeth Whitener
To keep your smile looking bright, swish hydrogen peroxide around in your mouth for at least thirty seconds, once a week.
Doing this will not only assist in whitening your teeth, but it will also kill the bacteria that causes bad breath. Along with being a germicidal agent, it also acts as a bleaching agent.
Use as a Toothpaste
To create an all-natural toothpaste, void of the artificial ingredients that are common in the name brand tubes of toothpaste, simply mix a small amount of baking soda and hydrogen peroxide and use to brush your teeth.
Making this kind of paste is not only easy, but it also doesn't contain any harsh, artificial chemicals. Peroxide also serves as an excellent DIY denture cleaner.
Use as Deodorant
Mixing hydrogen peroxide with dish soap at a ratio of 1:2, you create an effective deodorant. Apply the mixture to your underarms, leaving it in place for 30 minutes, then rinse it off.
Doing so will help you keep dry and odor-free for up to 24 hours. While you may not want to use this method every day, because dish soap is rather sticky, it can work great in a pinch.
Clean Contact Lenses
If you wear contact lenses, you know that over time, they can accumulate a buildup of proteins. While you probably use a commercial contact lens cleaner to get rid of these proteins, a cheaper alternative is to use hydrogen peroxide. It's one of the active ingredients found in commercial cleaners, but it less expensive and can clean your lens quickly and easily.
Whiten Your Nails
Just like it can whiten your teeth, hydrogen peroxide is an excellent way to whiten your nails. If you're looking to lighten their appearance and make them brighter, soak a cotton ball with peroxide and then dab each fingernail.
Cover Your Darker Roots
If you bleach your hair blonde, you may get frustrated when your roots start to show in between hair appointments. You can remedy this situation by bleaching hair some hydrogen peroxide to your roots and letting it bleach for half an hour before rinsing it out.
If you do this often enough it can help conceal your dark roots before your next hair appointment.
Lighten Your Hair
If you want to subtly lighten or dye your hair over a period, without resorting to coloring your hair, hydrogen peroxide is a great alternative.
To employ this method, mix peroxide with equal parts water and place it in a spray bottle. Spray your hair with the solution and comb through your hair to help distribute the mixture. Allow it to dry. Doing this on a regular basis will gradually add blonde highlights to your hair.
>> Sidenote on peroxide for dying your hair: Use it to get hair dye off your face or skin
Disinfect Your Toothbrush
It's a frightening thought but there are more than 100 million bacteria, including staphylococci bacteria and E. coli, that live on your toothbrush. That's why it's essential to sanitize your toothbrush from time to time, especially after you have been sick, and replace it periodically, as well.
Clean your toothbrush by pouring hydrogen peroxide over it every week. This makes the most of its natural disinfectant properties and will help to kill the many bacteria that can live on your toothbrush. Disinfecting your toothbrush on a regular basis will decrease the chance that the bacteria will find their way into your mouth. (..)
Treatment for Gum Disease
A potent antibacterial agent, hydrogen peroxide is great for killing the germs and bacteria that cause gingivitis. To help battle gum disease, mix a teaspoon of peroxide with a teaspoon of baking soda to create a paste. Place it on your toothbrush.
Begin to gently brush the paste onto your gums and along your gum line. Spit the paste out and thoroughly rinse your mouth out with water. Complete this a couple of times a week for several weeks to help battle gingivitis.
Soften Corns and Calluses on Your Feet
Corns and calluses can make moving your foot not just uncomfortable, but even painful if not treated. Hydrogen peroxide is a great natural agent that can significantly soften those pesky corns and calluses.
Simply mix one cup of the peroxide with ½ a cup of water in a bowl, stir well, and let sit for five minutes. Soak the affected foot for fifteen minutes.
Remove your foot from the solution, rinse it with clean water, and dry it thoroughly. Continue doing this several times a week for three weeks to get permanent relief.
House Cleaning Uses of Hydrogen Peroxide
Its antibacterial properties make hydrogen peroxide ideal for disinfecting the various surfaces around your home. Cleaning your home with it not only helps to prevent members of your house from becoming sick, but it's also perfect for keeping illnesses from spreading.
Disinfecting Countertops
You can use hydrogen peroxide to clean your bathroom and kitchen countertops, and any other hard surface where germs and bacteria may collect.
Simply mix it with equal parts water and put it in a spray bottle. Spray down your surfaces and use a sponge to wipe them down.
Whiten Your Grout
The collection of dust and dirt on your grout can quickly make it look dingy and dirty, and nothing is worse than dirty grout. To make the best DIY grout cleaner, and bring it back to its original white, simply spray hydrogen peroxide onto dry grout and let it sit for several hours.
Once you've given it enough time to penetrate the dirt and grime that has accumulated, come back with soapy water and a toothbrush and vigorously scrub the grout. After drying it off, the grout should look clean, white, and new.
Clean Your Mirrors
Most commercial cleaners that you use on your mirrors will leave unsightly streaks, no matter how hard you try to avoid them. Hydrogen peroxide has been proven to be a great no-streak cleaner for mirrors. Simply spray the chemical on your mirrors and wipe off with a paper towel. A bonus to using peroxide to clean your mirrors: it kills bathroom germs that have taken up residence on the glass.
Clean Your Toilet
Do you need to know how to clean a toilet? Disinfecting your toilet bowl has never been easier. As part of a homemade toilet cleaner, pour four ounces of a bottle of hydrogen peroxide into your toilet and let it stand for twenty minutes.
Come back and scrub out the toilet with your toilet brush, and flush. You can also douse your toilet brush with the peroxide to disinfect it and keep it sanitary and clean.
Get rid of a clogged toilet, too, with some hydrogen peroxide, vinegar, and baking soda. The DIY way is almost always the best solution!
If you have accumulated some unwanted hard water stains, peroxide can also help in this situation. How to clean toilet bowl stains involves adding some peroxide to the bowl, scrubbing with the toilet brush, and letting the solution sit for a while.
Overnight soaking offers the best results. It may be necessary to repeat the process several times to completely eliminate the stains.
Clean Your Bathroom Tiles
The tiles in your bathroom can become incredibly ugly due to the buildup of soap scum and stains, and you can use hydrogen peroxide to brighten the tiles while killing germs and mold and mildew that has begun to form.
Mix it with flour to form a paste and apply it directly to the tiles. Cover the area with plastic wrap and let the mixture stand overnight. The next morning, you simply have to rinse the tiles until they become clean.
Peroxide is such a powerful bathroom cleaner, it can even be used to get rid of rust stains in your in your toilet and tub.
Hydrogen Peroxide Kills Mold
If you come across mold or mildew in your house, you can spray it with hydrogen peroxide and wipe it clean. It's efficient against various types of molds and mildews and can help you clean and detoxify a wide array of household surfaces.
Hydrogen Peroxide Uses in the Kitchen
When used as an antibacterial and germicidal agent, hydrogen peroxide is great for cleaning just about everything around your house. It's also convenient to use in the kitchen. There are numerous specific applications for the compound that can help you keep your kitchen clean and free of germs.
Clean Your Cutting Boards
Cutting boards are prone to the accumulation of deadly germs and bacteria. After you use your cutting board, you can rinse it off with fresh water and then spray it with hydrogen peroxide to take care of the germs before they can find their way into other foods that you are preparing your utensils.
Add It to Your Dishwasher
If you find that your dishes aren't as sparkling clean as you want them after running them through the dishwasher, you can use hydrogen peroxide to boost your dishwasher's performance.
Add a couple of ounces of peroxide to your dish detergent to help your dishwasher do a better job. It helps and is also a great way to clean a dishwasher regularly. You can also add some to your regular dish soap to give it a boost in killing germs.
Removes Stubborn Caked-On Food
If you're struggling to remove stubborn caked-on food from your pots and pans, hydrogen peroxide can help. Just mix it with some baking soda to form a paste and rub it into the problem spot and let it sit for several minutes.
Use warm water to scrub to problematic stain away. The baking soda cleans as an abrasive, while the peroxide assists in breaking up the particles.
Disinfect Your Sponges and Dishrags
The more you use your sponges and dishrags, the more germs and bacteria they will pick up, and when they sit around, the bacteria and germs can multiply and an alarming rate.
To stop this from happening and to kill the germs and bacteria, soak them in hydrogen peroxide, or simply spray them with the compound while they are sitting in the sink. Using peroxide to disinfect your sponges and dishrags will not only keep you safe from deadly germs, but it will extend the life of your sponges.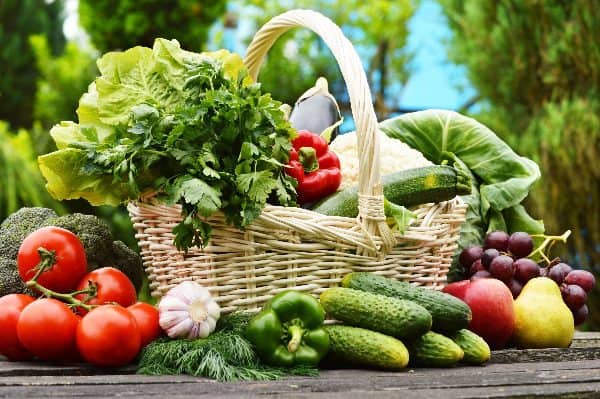 Clean Your Fruits and Vegetables
Hydrogen peroxide works great for cleaning your fruits and vegetables of harmful pesticides. There are several ways to accomplish this.
First, you can spray some food-grade peroxide on them and let them sit for a couple of minutes before rinsing off and letting them dry. You can also add some vinegar to another spray bottle and combine it with the peroxide. The two work together to detoxify your food.
Keeping Fruits and Vegetables Fresh
Hydrogen peroxide can extend the life of your fresh vegetables and fruits. With a sink full of water, add a quarter cup of food grade hydrogen peroxide and soak your produce in it for twenty minutes.
After they've soaked, rinse them and dry them off. The peroxide removes the chemicals that have accumulated during the growing process and preserves freshness.
Keeping Salad Fresh
Salads tend to wilt pretty quickly. If you want to keep your salad fresh for longer, you can mix two tablespoons of peroxide with one cup of water and spray it over your salad. Make sure you use food-grade peroxide and properly dilute the peroxide.
Cleaning the Fridge
If your fridge has started to smell a bit funky, you can use hydrogen peroxide to get rid of the unpleasant odors, while disinfecting the surfaces. Wipe down the shelves and the insides of the fridge with peroxide to get rid of ugly food stains, kill germs, and neutralize many of the odors. To take care of the rest of the odors, add a box of open baking soda to your fridge.
Grow Mushrooms in Your Refrigerator
You can use hydrogen peroxide to grow oyster mushrooms in your refrigerator. The process takes about six months, from start to finish, but will result in a ton of free mushrooms.
Watch this video on how to grow mushrooms in your refrigerator, an astonishing way to use peroxide.
Cleaning Windows
Use hydrogen peroxide to clean your windows without having to worry about harmful chemicals.
Take one of your spray bottles and add hydrogen peroxide, dish soap, and water. Apply the mixture to windows and allow it to sit for several minutes to help loosen the dirt, oils, and grime that has accumulated on the surface of the windows.
Then wipe the window down with a clean paper towel. If the windows still have some residue on them, you can repeat the process. More homemade window cleaner here.
Miscellaneous Uses of Hydrogen Peroxide
There are numerous other ways you can use hydrogen peroxide to clean and disinfect around your house. Here are several more ways you can utilize the amazing chemical compound H2O2.
Clean Your Rugs, Carpet and Mattress
You can spray hydrogen peroxide on your rugs, carpets, or mattress to get rid of mud or urine stains and unsightly food stains. Make sure you only do this with light colored fabrics, because you could end up bleaching dark colored fabrics, leaving new, ugly patches instead. We cover various cleaning recipes on our how to clean a mattress tips.
If you make your own homemade carpet shampoo, please make sure you don'toveruse HP. To see if this will bleach your rug or carpet, test it on an inconspicuous spot, like inside your closet or under an item of furniture.
Clean Makeup Brushes
Using hydrogen peroxide to clean makeup brushes makes the painful process easier.
Using hydrogen peroxide to clean makeup brushes makes the painful process easier. Mix 3% peroxide with water and soak your brushes for five minutes, followed by rinsing the brushes clean. For squeaky clean brushes, repeat this process once a week.
Clean Your Child's Toys
Children, in particular infants and toddlers, tend to stick everything in their mouths, leaving them crawling with germs and bacteria. As a result, your child can end up becoming sick.
To disinfect their toys, occasionally wipe them down with hydrogen peroxide. Be sure to get the toy box and play areas as well. It's a much safer cleaner than many of the commercial cleaners because it will not cause their lungs to become irritated.
Use Hydrogen Peroxide in the Laundry Room
Instead of using harsh bleach with cold water in your laundry to wash whites, swap it out with hydrogen peroxide and cold water, to get your whites looking bright. You can even go a step further and clean your white Vans shoes with it.
Soak the fabrics for about 30 minutes to pull the unsightly yellowing from your whites to make them look cleaner and feel fresher. Be sure to separate laundry carefully and only use it on white fabrics as the peroxide can end up bleaching your other clothes by mistake.
Peroxide, oxygen bleach, vinegar, and baking soda can all help remove mildew from clothes, as well.
If you left wet laundry in the machine overnight accidentally or put wet clothes in the dryer without turning it on, you likely have mold and mildew that has formed on clothing. Rewash the clothes with one of the previously mentioned cleaners to get rid of that unsightly and smelly mold.
Brighten Your Curtains and Table Cloths
If your white curtains and tablecloths have become yellow and stained, you can wipe down the yellow areas with some hydrogen peroxide to bring new life to your linens and curtains. You can also toss them in the washing machine with a little hydrogen peroxide to brighten them and make them look like new.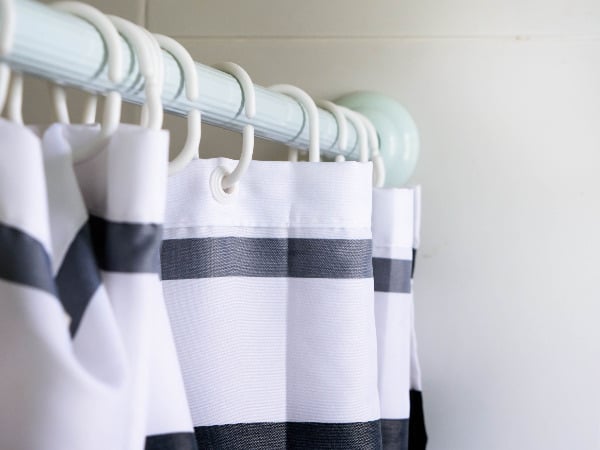 Wash Your Shower Curtains
Your shower curtains love to collect soap scum and mildew like they are going out of style. To kill the mildew and remove tough soap scum from your shower curtain, use hydrogen peroxide.
If your shower curtain can go in the washing machine, run it through the rinse cycle with some hydrogen peroxide, or you can wash it by hand, by spraying it down with the peroxide and scrubbing it down with a sponge and rinsing with fresh water.
Remove Tough Stains from White Clothing
Several types of stains are particularly tricky to get rid of, like blood stains or sweat stains that form in the armpits of shirts.
You can use a mixture of two parts hydrogen peroxide and one part detergent to deal with these hard to remove stains. Place the solution directly onto the stains and let sit.
Then run the clothes through a cycle in the washing machine and watch them disappear. Make sure you only use this technique on white colored clothes, as the peroxide will bleach dark or patterned fabrics.
Remove Odors from Your Clothes and Carpet
If your clothes, upholstery or carpet smell a bit musty, you can use hydrogen peroxide to eliminate the foul smelling odor and make your clothes smell fresh.
Remove odors from your clothes by mixing peroxide with white vinegar and adding it to your wash. Make sure you only do this with your light colored clothing.
In addition to getting rid of any carpet or upholstery smells a mixture of hydrogen peroxide, baking soda, and liquid dish soap works best. To get cat urine smell out of carpet or upholstery spray it on and let it dry. When you vacuum the residue all smells will be gone.
Disinfect Your Kid's Lunchboxes
How often do you wash out your child's lunchbox? Chances are not very often, which can result in it getting nasty with the buildup of overlooked food residue.
To keep their lunch box clean and free from germs and bacteria, spray it with hydrogen peroxide at the end of the week.
Let it sit for a few minutes before rinsing with clean water and wiping it down. Making sure to disinfect your children's lunchboxes on a regular basis to help keep them healthy.
Disinfect the Inside of Your Cooler with Peroxide
Coolers tend to have the same problem as lunchboxes. After a summer of continuous use, they tend to go neglected, resulting in a buildup of food residue. To help disinfect them and keep your entire family healthy, simply wipe them down like you would the lunchbox.
Sanitize Your Reusable Bags
Many people are starting to use reusable shopping bags when they head to the grocery store, which is an excellent way to eliminate waste and protect the environment. Just like with your kid's lunchboxes and coolers, these bags need to be disinfected from time to time.
To properly clean your reusable shopping bags, turn the bags inside out and spray the fabric with hydrogen peroxide. Not only with this disinfect the bag, but it will help to eliminate any lingering odors from the food.
Clean Your Humidifier or Dehumidifier
Because of the constant flow of moisture through these devices, they tend to accumulate mold.
To keep this from getting out of control and becoming a sanitation issue, you can run a mixture of water and hydrogen peroxide through the device to kill the mold that has accumulated inside. If you want to continue to process clean air, it's important to clean your humidifiers regularly.
Increase Plant Growth with Hydrogen Peroxide
Have you ever noticed how rainwater helps your plants grow faster? Hydrogen peroxide for plants is found naturally in the rain. To simulate rain and help increase the growth of your plants, you can soak the seeds in a solution of one ounce of peroxide for every two cups of water.
Soak the seeds overnight, then plant as usual. To boost the health of your current plants, spray them with a solution of 1-part peroxide to 32 parts water.
It can also help protect your plants from the harmful sun damage. The plants use the chemical, that occurs naturally as a by-product of photosynthesis, to control how their cells react to the varying levels of light. (..)
Kill Mites
While mites or spider mites may not be harmful to humans, they can be a pain when you find them in your home. To get rid of them without contaminating your house or yard with toxic chemicals, simply spray some hydrogen peroxide wherever you find them.
Eliminate Algae from Your Aquarium
Home aquariums not only bring beauty to your home décor but can offer you therapeutic benefits as well. The only downside is having to clean the fish tanks, especially when algae begins to accumulate.
To clean your fish tank, safely and efficiently, without causing harm to the inhabitants, is to use hydrogen peroxide. To keep your fish and plants from being hurt, you want to only use about 60 milliliters of three percent peroxide per 66 gallons of water.
Slowly add the peroxide to the tank using a syringe or dropper for five minutes. If you can, try and apply it directly to the algae. It will react with the algae, killing it, and then diluting.
Help Transport Fish
If you are transporting fish in a bag, adding hydrogen peroxide to the water will help keep your fish more comfortable and safer during the carriage. For this, you want to use the little white tablets that dissolve in water for a more controlled release of oxygen.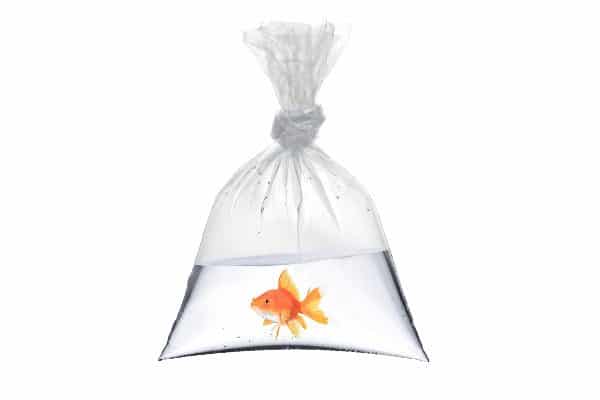 Treat Animal Wounds
You can use hydrogen peroxide to treat wounds in animals, just like you would treat your injuries. Dabbing it carefully onto the wound will help to remove any dead flesh and kill any bacteria that may be in the wound.
Induce Vomiting to Save Your Pet's Life
You can use the 3% peroxide to help induce vomiting if your pet has ingested something toxic. Use for cats, dogs, ferrets, and pigs. Do not use this method on rodents, rabbits, horses, squirrels or birds, or ruminant animals. Before giving peroxide to your pet, try and get them to eat something, increasing their likelihood of vomiting.
If they don't eat anything, use a syringe to squirt 1 millimeter of peroxide per pound of weight, into the back of the animal's mouth. Within fifteen minutes, your pet should begin vomiting. If it doesn't work after a second try, take your pet to the vet.
Water Sanitation
A powerful oxidizing compound, hydrogen peroxide can be an excellent way to treat well water that contains iron bacteria, iron, or sulfur. When you add it to the water, a large amount of oxygen is released and begins to oxidize, killing any coliform and iron bacteria in the water without leaving metals, salts, or other chemical residuals in the water.
Remove Skunk Odors
Mixing dish soap, baking soda, and hydrogen peroxide is a good way to get rid of skunk odor. It works because the oxygen molecules help to neutralize the scent by bonding to the thiols.
Altering the chemical makeup contributes to eliminating the stench quickly. Skunks also do not like the smell of hydrogen peroxide so the liquid makes a natural skunk repellent, too.
Get Rid of Weeds
If you're tired of always pulling pesky weeds from your grass and garden, hydrogen peroxide makes an excellent DIY weed killer. You simply have to mix one ounce of three percent peroxide with one quart of water and spray on the weeds. Let it stand for approximately fifteen minutes then rinse with water.
Cleaning Compost Buckets
While compost buckets are great for the environment, they tend to harbor harmful germs and bacteria and can begin to smell atrocious.
To keep it from developing an unbearable stink and becoming gross too quickly, add an inch of 3 percent hydrogen peroxide into the bottom of the bucket to clean it out and start off right. As you add food to the bucket, the peroxide allows you to keep it in your kitchen for a bit longer with quite a bit less stench.
Hydrogen Peroxide Benefits
Not only is it non-toxic, but it's also environmentally friendly, so you can keep your family and pets from ingesting harmful chemicals.
Safe and Natural Cleaning Compound
Hydrogen peroxide is a natural antibacterial, antifungal, and antiviral agent, so it's a safe and effective compound for many natural cleaning products at home.
Peroxide is also an inexpensive solution for keeping your entire house free of germs and bacteria. It is the best way to clean shower tiles and all parts of the bathroom.
Safe and Chemical-Free Stain Remover
The chemical compound, H2O2, is excellent at removing stains from all kinds of materials. You can use it to get blood stains out of carpet and from different types of fabrics, like stains in clothing, upholstery, carpeting.
It removes stains that have settled in the grout of your floors and cleans your shower walls, and remove numerous kinds of stains from your light colored clothing. Hydrogen peroxide is a safe stain remover that won't leave harsh chemicals on items that you treat.
How Does Hydrogen Peroxide Work?
It works by oxidizing compounds that are common in organic life. It reacts particularly well when in the presence of catalase, an enzyme that occurs naturally in cells, by releasing water and oxygen. When the water and oxygen are released, it causes the fizzing process that you associate with hydrogen peroxide.
The hydrogen peroxide molecules contain two hydrogen atoms that bond with two oxygen atoms. It dissolves proteins by breaking apart and releasing water and oxygen free radicals. Giving it the potential not only to disinfect but oxidize water, open cuts and wounds, and other biotic environments. (..)
Are There any Side Effects?
Even though hydrogen peroxide is a natural chemical compound, it can still cause some serious side effects if not used correctly or ingested. Undiluted and high concentrations of the chemical can cause the following side-effects if swallowed.
When using hydrogen peroxide for medicinal reasons, always be careful and following directions carefully.
Only use the lowest grade of peroxide, 3 percent, that you can find in the pharmaceutical section of your local grocery store. Higher grades of the chemical, known as food-grade, can be extremely dangerous and should be avoided at all costs. (..)
Where Can You Buy Hydrogen Peroxide?
You can purchase 3 percent grade hydrogen peroxide from your local supermarket or drugstore. You can also order most grades of the chemical online from places like Amazon.
Are There Different Grades of Hydrogen Peroxide?
Peroxide that is 3.5% is considered pharmaceutical grade, and you can purchase it in local drugstores and grocery stores. It's the most favorite type and the one that is most familiar.
It contains a variety of stabilizers, including acetanilide, sodium stannate, phenol, and tetrasodium phosphate and even though it's high in oxygen, it's not intended for internal use.
6% is known as beautician grade and is used in beauty salons to color hair.
30% is the reagent grade, used for a variety of scientific experiments. It also contains some stabilizers and is not intended for internal use.
30- to 32% is an electronic grade, and it's mainly used to clean electronic parts.
35% is known as technical grade and is more concentrated than the reagent grade. It differs slightly due to the added phosphorus that is used to help neutralize any chlorine found in the water that is used to dilute it.
35% is also known as food-grade hydrogen peroxide. It sees use in the production process of cheese, whey-containing products, and eggs. 35% is also common in products like fruit juices and milk stored in aseptic packages.
90% grade hydrogen peroxide is used in rocket fuel as an oxygen source.
Is Hydrogen Peroxide Flammable?
It's a colorless liquid that is chemically stable when at room temperature, which means that it's not a flammable substance. However, it needs to be kept far away from open heat sources and other materials that are flammable as it can act as a combustion agent.
64 Uses and Counting…
Hydrogen peroxide is a simple chemical capable of performing dozens of different tasks. You can use it virtually anywhere in your home.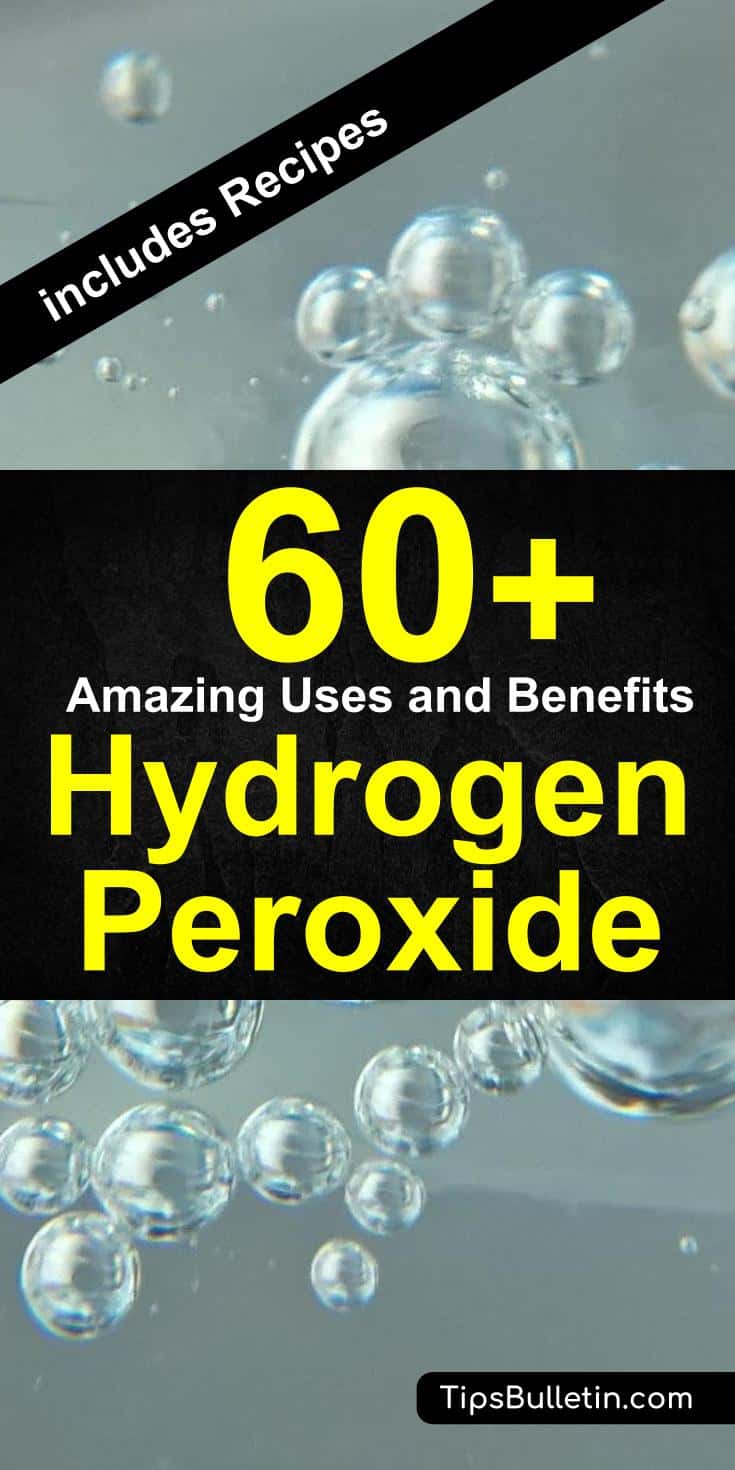 In this article, you learned what hydrogen peroxide is. Then, you learned about hydrogen peroxide uses and hydrogen peroxide benefits. What uses have you found for hydrogen peroxide? Let us know in the comments, and use the buttons below to share to Facebook, Twitter, and Pinterest!