When it comes to getting your floors clean, many of the commercial cleaners you can buy at the store won't cut it. Not only are they ineffective, but they are full of dangerous chemicals that can make your family sick, not to mention being harmful to the environment. You probably already have the ingredients you need to make homemade floor cleaner, one that will clean just as well, if not better, than a store-bought cleaner.
Using a commercial cleaner when cleaning your floors dramatically contributes to indoor air pollution, which can be an enormous problem for those who suffer from asthma or allergies.
They also leave toxic residue behind, which can cause other dangerous health conditions, making your family ill. Making homemade floor cleaners are not only safer, but they are relatively inexpensive to produce.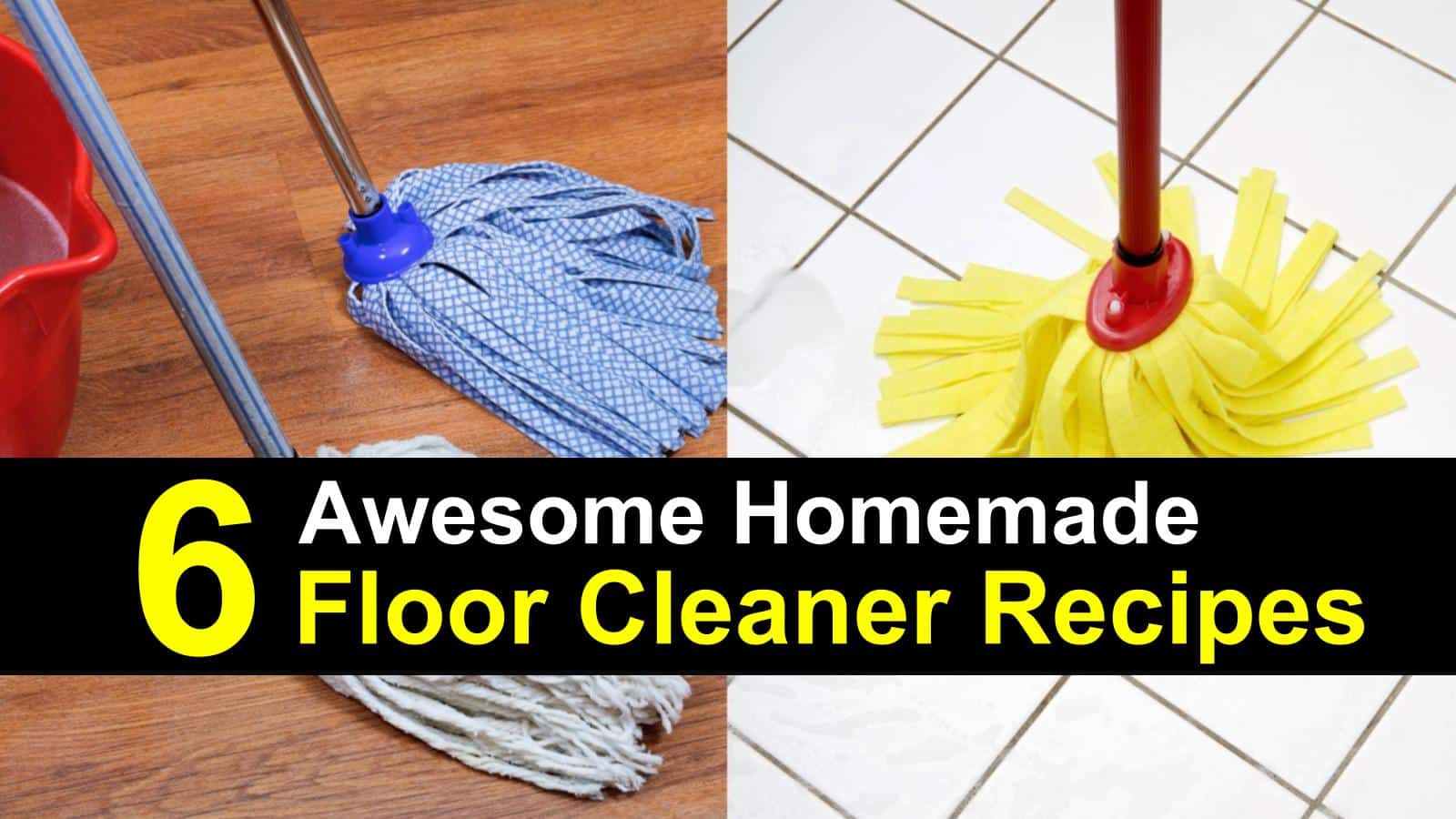 How to Make Homemade Floor Cleaner
There are many reasons why making a homemade floor cleaner is a good idea. Not only is it better for the environment, but it is safer for your family.
Using some basic ingredients that you can find in your kitchen, you can make a cleaner to tackle even the toughest of messes without leaving harsh chemicals behind. Include one of these recipes as part of your checklist to clean the kitchen and other areas of your home.
All Purpose Cleaner
Cleaning linoleum floors is often easier than some other floor types. This fantastic cleaner will work on every hard flooring surface in your home, including your hardwood floor, laminate, vinyl flooring, linoleum, and tile.
Be careful to use it to clean marble and granite, since the vinegar might harm any porous stone. It's a powerful cleaner for cutting through grime and leaves a gorgeous shine.
Combine the ingredients in a large bowl. For how to clean vinyl floors or other types of floors, add the ingredients to a plastic or glass spray bottle and shake well. Spray the cleaner liberally on the floor and wipe with a mop.
You can also combine the ingredients in a bucket, but you'll have to dump out any leftovers once you've finished cleaning the floor. This recipe is ideal for eliminating many different types of stains and will leave your floor smelling and looking like new. Add this recipe and regular floor cleaning to your weekly or monthly house cleaning checklist.
Note: Don't swap Castile soap for the liquid dish soap as it is an oil-based soap. Using Castile soap will end up leaving your floor full of smears and streaks that you will just have to clean again.
Homemade Wood Floor Cleaner
With our homemade wood floor cleaner You can use warm water and a mop to clean your floors daily. If your wood floor is filthy, you can use this recipe to get it clean. This formula does double duty as it polishes your floor, leaving them with a beautiful natural sheen.
Mix the ingredients in a bucket. Using a mop that you've thoroughly wrung out, apply the solution to your floors. Allow it to air dry.
The hot water and the lemon juice clean the floors, while the olive oil works to polish them. You don't need to rinse the solution when you've finished, once it's dry your floors will look great.
Best Disinfecting Floor Cleaner
For your floors that need regular deep cleaning and disinfecting, like cleaning bathroom tiles and shower, this is a great homemade bathroom cleaner that does a fantastic job of disinfecting. The recipe uses Borax, which can you can purchase at your local grocery store, in the laundry aisle or online.
In a mop bucket, mix the water and Borax and stir thoroughly. Dip a mop in the bucket and wipe down your floors.
Borax is great for cleaning up even the grossest messes on a variety of surfaces. Add it to your cleaning repertoire for your granite floors or as a marble tile floor cleaner. Your tiles will shine once again.
Homemade Laminate Floor Cleaner
Laminate flooring is relatively easy to take care of, but occasionally you may need to clean a mess that requires a bit more cleaning power.
If you use the wrong kind of cleaning product, you can end up damaging the finish on your floor and then you have even worse problems to worry about. This homemade laminate floor cleaner will clean your laminate floors without damaging them.
Mix the ingredients in a mop bucket or spray bottle. Using a clean mop, soak it in the solution, and mop your laminate floors. There is no need to rinse the mixture off. Let it dry. This recipe can be used for how to clean bamboo floors, as well.
You can also clean your floors by spraying them with a spray bottle filled with the cleaner, then wiping it off with a mop. You'll have to rinse your mop in the sink a couple of times when it gets dirty, but this way you won't have to throw away any unused solution.
Not only is this homemade floor cleaner ideal for laminate floors, but you can also use it for washing dirty walls, too. For wall cleaning, you can dip a sponge in the solution and use it that way or use a microfiber mop like a Swiffer to reach walls from top to bottom.
DIY Vinegar Floor Cleaner
The white vinegar you have in your home is extremely versatile and does everything from making pickles tart to adding to a salad for dressing to shining mirrors in the bathroom. It is also great for cleaning a variety of kinds of flooring.
It is strong enough to remove dirt and grime without damaging the finish, even as a natural tile cleaner. Make it even more efficient by adding a little liquid dish soap and baking soda to the mixture for extra cleaning power.
Take care of how to clean tile floors the easy way with this recipe. Add the ingredients together, stirring until all the clumps dissolve. Pour the mixture into a spray bottle. Working in small sections, spray the solution onto the floor and mop it off. Be sure to rinse the floor thoroughly with clean water to avoid leaving streaks.
Vinegar mixed with baking soda, water, and dish soap not only cleans your floors and makes them shine, but the mixture can be used for many other purposes, as well.
Take care of grimy countertops, the toilet, tub, shower, painted walls, and even get some stains out of your carpet or mattress, too! You can't go wrong with this combination for cleaning and sanitizing all kinds of areas in your home or office.
Homemade Natural Tile Floor Cleaner
If you have tile floors in your home, you can use some common household ingredients to clean away layers of grime, dirt, and dust. The cleaner will help to loosen the dirt while gently cleaning the tiles. The best part is they won't leave a soapy residue. You can eliminate the need for stronger commercial cleaners by using this cleaner weekly.
Fill a bucket with the ingredients, stirring well to dissolve the baking soda. Pour the mixture into a spray bottle. Working one section at a time, spray the cleaner directly onto your tiles. Mop the floor using a bucket of one cup vinegar and ten cups of hot water. Allow time to dry.
Cleaning your floors with a natural homemade floor cleaner is an excellent way to go green at home. Using natural ingredients in your pantry and essential oils gives your entire house a clean, fresh scent while getting rid of dirt, bacteria, and germs.
Recipe for Homemade Floor Cleaning Spray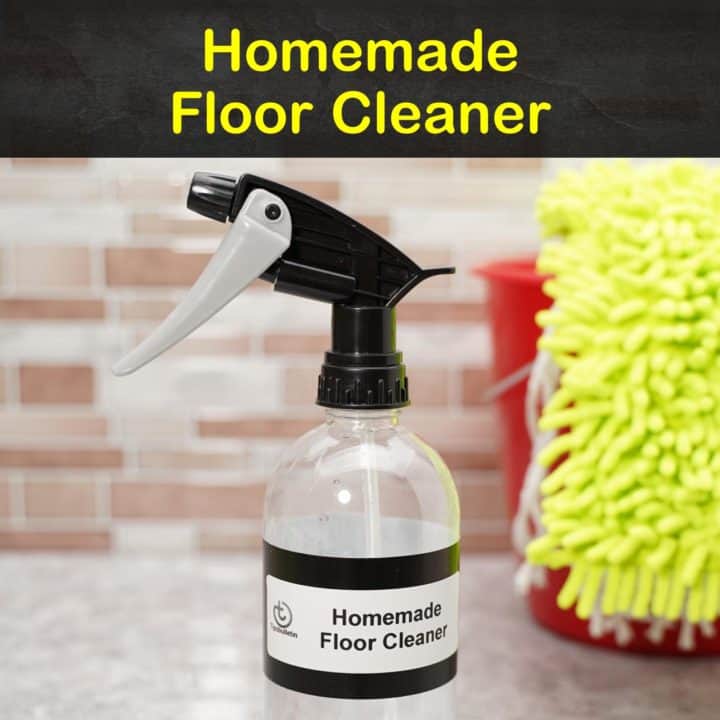 Homemade Floor Cleaner
Excellent for vinyl and laminate surfaces.
Materials
16 drops orange essential oil
4 ounces isopropyl alcohol
8 ounces vinegar
6 drops plain liquid dish soap with no additives
32 ounces of water
Tools
64-ounce glass spray bottle
Measuring cup
Mop
Instructions
Thoroughly mix the ingredients in the sprayer.
Liberally spray one area of the floor at a time.
Wipe with a damp mop.
Let air dry or use a dry mop.
Notes
Apple cider and white vinegar work equally well.
We've provided you with several natural cleaning products that you can make at home and we hope you find them useful and share these homemade floor cleaner recipes with your family and friends on Facebook and Pinterest.