Butterflies are beneficial to the garden with their pollinating habits and are fascinating to admire. A yard filled with colorful butterflies is every gardener's delight, but there are other ways to draw pollinators to the area than with nectar rich flowers. It's easy to attract these fluttering insects to your yard with butterfly host plants.
While it is true that planting nectar plants attracts many types of butterflies to the yard, these flowers do not keep them in the area. Butterflies need a place to lay their eggs safely, and providing them with the right kinds of host plants to get the job done ensures that your yard has plenty of fluttering butterflies year after year.
Different host plants attract diverse types of butterflies. Filling your garden with a mixed variety of plants attracts an assortment of butterfly species.
Not only are these plants a great way to draw butterflies to the yard, but they are easy to grow and fill the area with colorful flowers and foliage.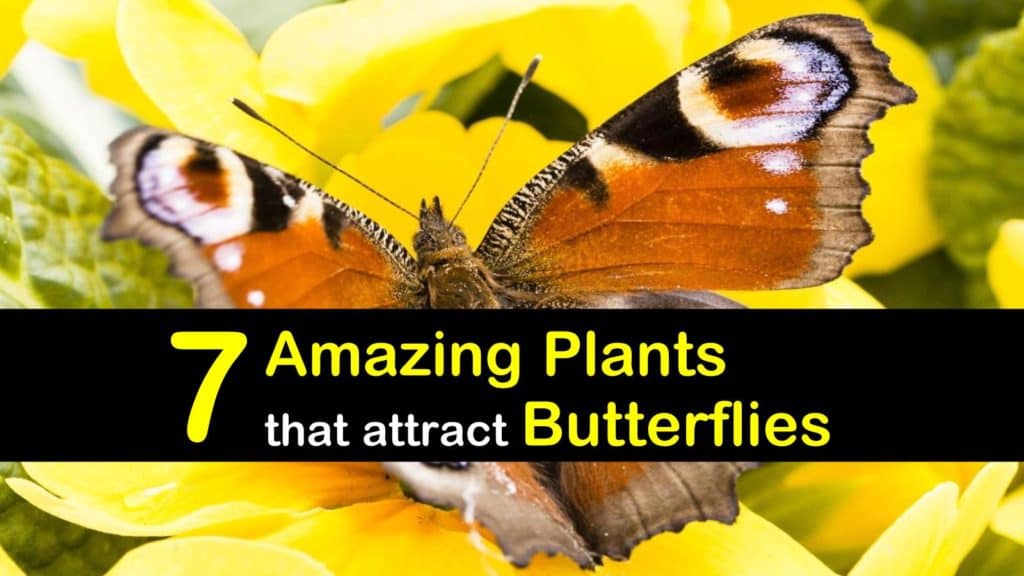 Creating a Butterfly Garden with Host Plants
Creating the perfect butterfly garden filled with nectar flowers and host plants is a great way to lure in all types of butterfly species. It's essential to understand how these plants work as hosts, where to plant them, and which ones are best for your yard.
Many of the plants that butterflies love are also popular with other flying critters. Use a variety of plants for bees and pollinators like butterflies and hummingbirds for a diverse garden filled with fliers.
What are Butterfly Host Plants?
Butterfly host plants, such as the common mallow or Prunus serotina, are like the nursery of the garden by providing butterflies with the perfect place to lay their eggs.
Some butterflies lay their eggs on the top-side of the leaves, while others prefer the bottom-sides to protect them from predators. After ten to 14 days, the butterfly eggs hatch, and the larvae munch on the leaves to help them grow.
Along with host plants, grow plants that adult butterflies can feed on, as well. Choose from attractive vines, fast growing shrubs, and even trees to entice butterflies to stick around.
Which Types of Butterflies do Host Plants Attract?
Host plants release a combination of chemicals that draw female butterflies to the area. Eastern swallowtail and black swallowtail butterflies are attracted to plants such as dill and fennel.
The pipevine swallowtail enjoys the pipevine plant (Aristolochia) while mourning cloak butterflies like host trees such as dogwood and hackberry. The zebra swallowtail prefers pawpaw trees, and the spicebush swallowtail prefers spicebush and sassafras.
Are Host Plants Hard to Grow?
Host plants are no more challenging to grow than any other plant. Learn as much as possible about the plant and its requirements before growing it in your garden.
Make sure that the plant's USDA hardiness zone matches your area and choose plants that thrive in the shade or full sun, depending on your garden.
Where Should I Plant a Butterfly Garden?
Butterflies need water, sun, shelter, nectar, and a nursery to have a complete life cycle. These cold-blooded insects need to warm their bodies in the sunshine, a water source such as a puddle or moist dirt, and a place to roost safely at night away from predators.
Consider planting a butterfly garden near an area that provides them with all of these needs, near a small water source, shady trees such as the willow (Salix), and open sunshine.
Choose an area of the yard that is perfect for butterflies to flourish, where you can enjoy watching them dance from blossom to blossom.
Aster (Asteraceae)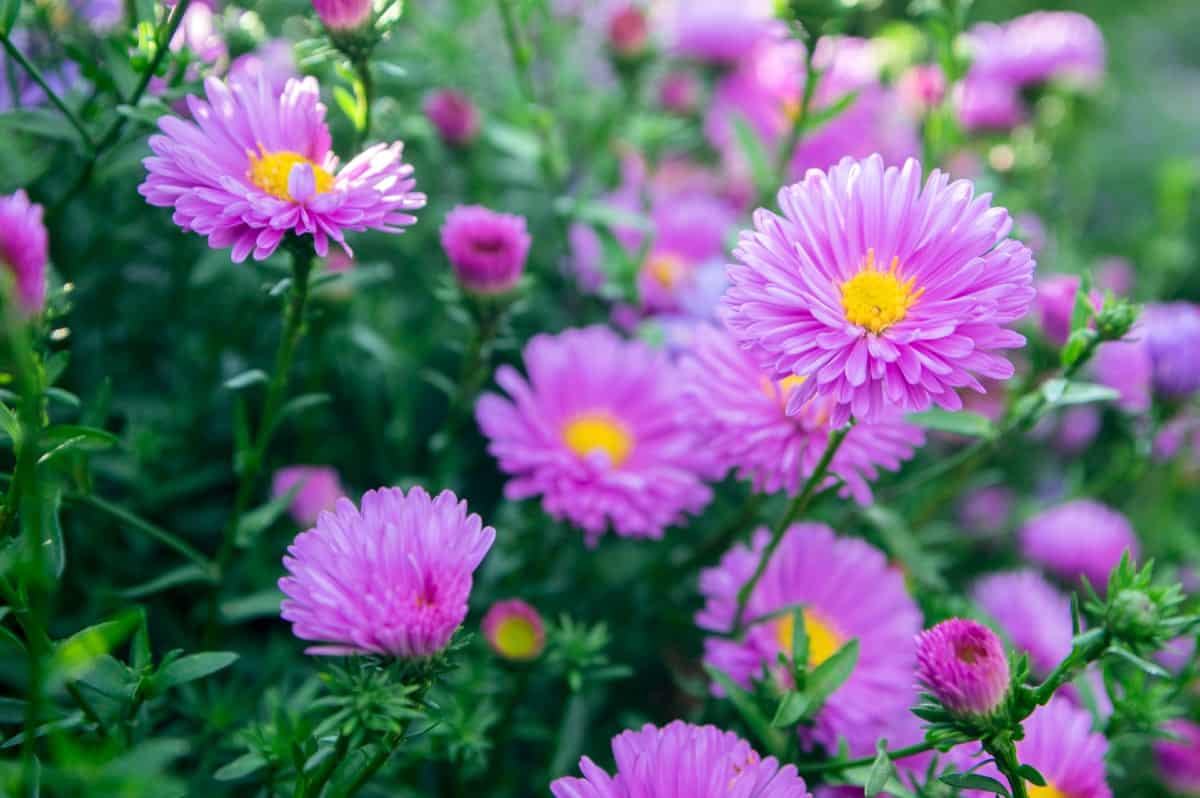 These easy-to-grow plants grow in a variety of sizes and shapes. Butterflies love their flowers in shades of white, pink, purple, and blue that bloom from spring through fall. The blue/green foliage provides caterpillars with a food source.
Asters have an average height and spread of 3 feet and enjoy part to full sun. These perennial flowers are drought tolerant and grow best in zones 3 through 9. They flourish in a container or a garden setting.
Milkweed (Asclepias) – Butterfly Host Plants that Attract Monarchs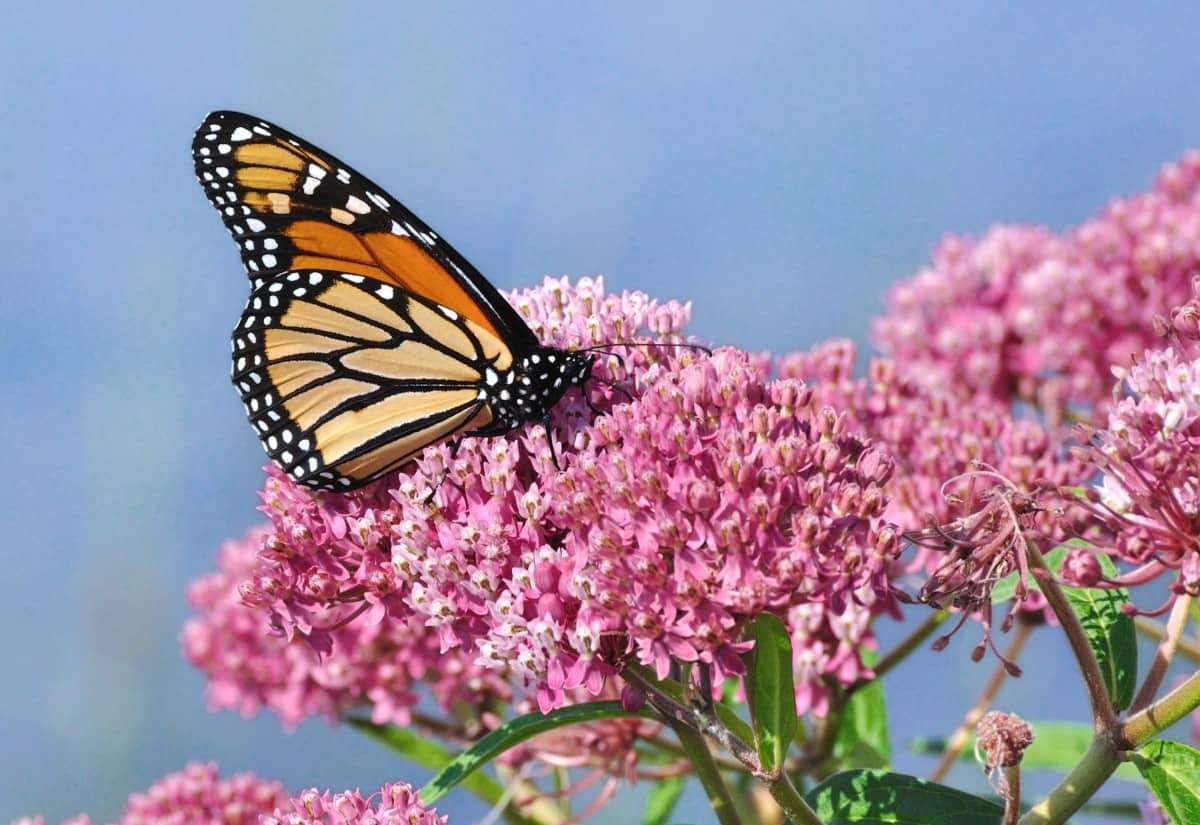 The common milkweed is a favorite among butterflies and is the primary food source for monarch butterfly caterpillars. Unlike milk thistle, milkweed produces nectar-rich flowers in shades of purple, red, green, orange, white, and pink flowers during the summer months.
This tough perennial has an average height and spread of 3 feet, and is deer resistant and drought tolerant. Milkweed thrives in zones 3 through 9 and enjoys full sun. This low maintenance flower also attracts birds to the yard.
Unfortunately, aphids also love milkweed plants. Get rid of aphids on milkweed with a steady stream of water or pick them off with a gloved hand.
False Nettle (Boehmeria)
Unlike stinging nettle, this plant does not produce stinging hairs. Question mark, red admiral, and comma butterflies love the false nettle as a host plant. It produces pale green and white spike-like flowers from summer through fall.
False nettle has an average height and spread of 3 feet and prefers moist soil. It thrives in zones 4 through 10 and grows well in sunny or partially shady areas.
Passionflower (Passiflora) – Vining Host Flower that Attracts Butterflies and Birds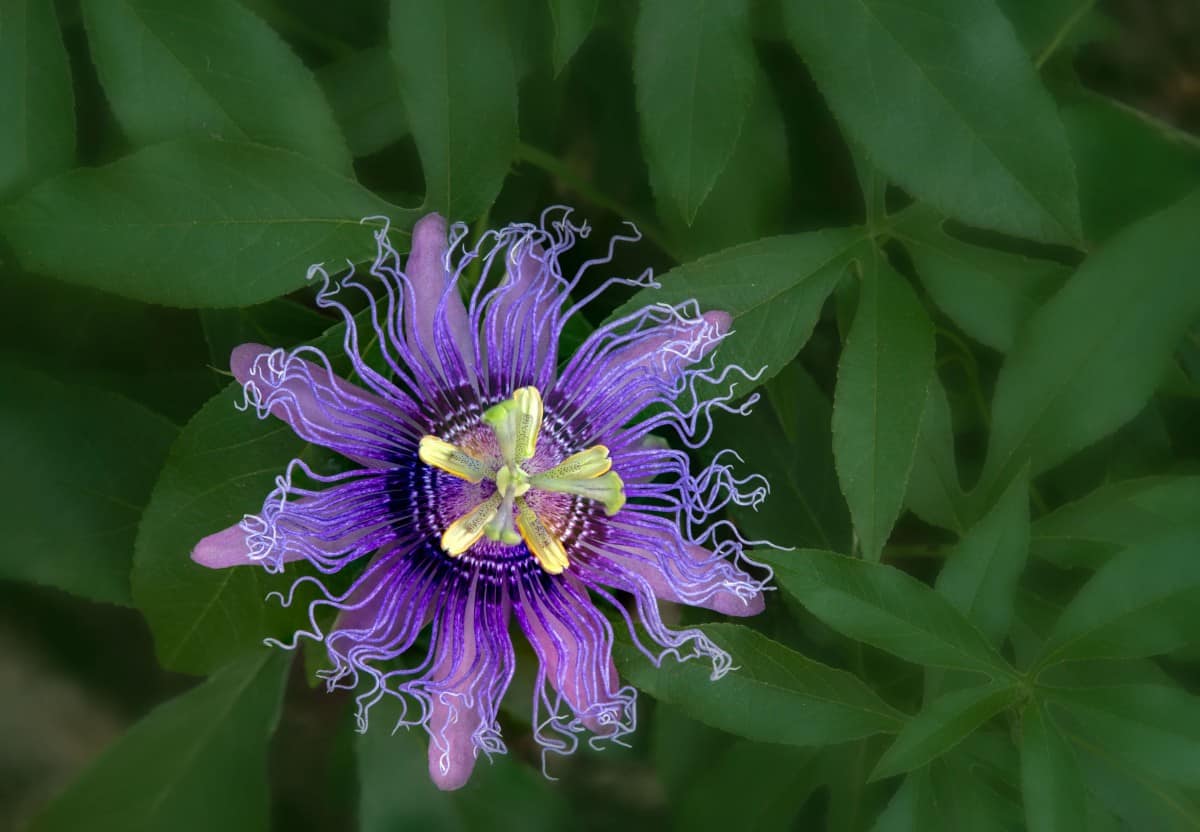 Passionflower has intricate blooms in shades of green, red, white, purple, pink, yellow, and blue that flower from spring through fall. The tropical-looking flower has blue/green foliage that is host to fritillary, longwing zebra, and Julia butterflies.
This vining flower grows up to 20 feet in length, making it an excellent choice for natural privacy. It thrives in sunny areas of zones 6 through 10. Its fragrant flowers attract birds to the yard.
Black-Eyed Susan (Rudbeckia hirta)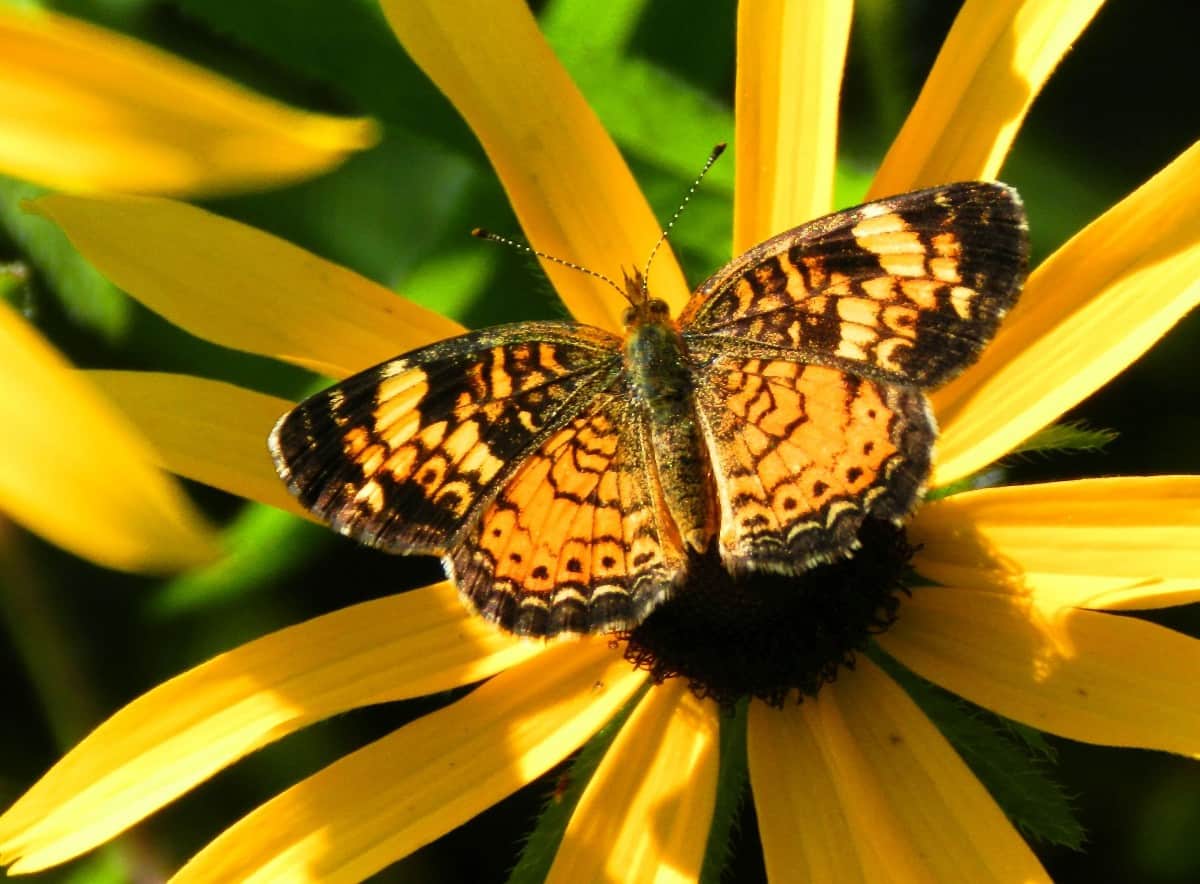 Butterflies love this host flower with its beautiful yellow-orange petals and contrasting purple-black center. This perennial blooms from summer through fall and grows well in mass plantings or borders.
Black-eyed Susan grows 3 to 8 feet tall and spreads up to 3 feet, depending on the type. It thrives in full sun and grows best in zones 3 through 11. This low maintenance plant is deer resistant and drought tolerant.
Snapdragon (Antirrhinum) – Old Fashioned Garden Flower that Attracts Butterflies to the Yard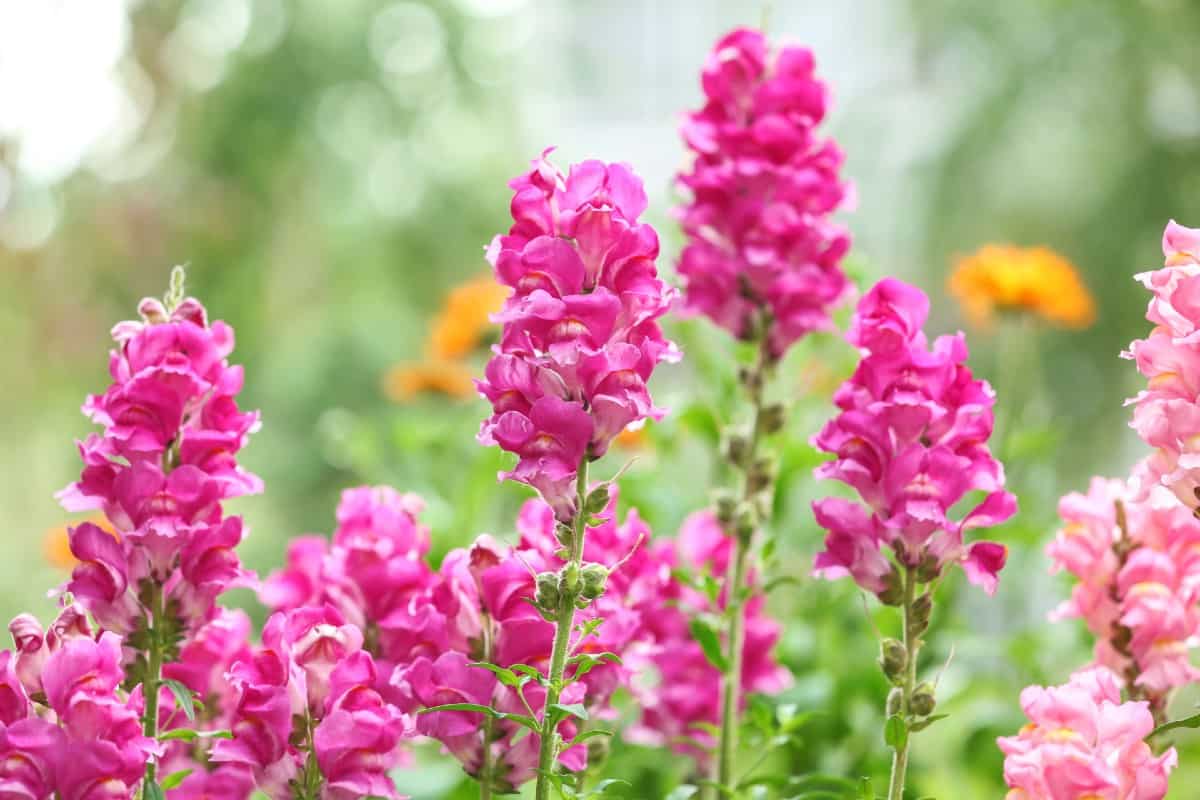 This old fashioned garden flower attracts the common buckeye butterfly to the garden and it is also one of the flowers that attract hummingbirds early in the season.
It blooms in a variety of colors, including red, orange, white, yellow, and pink, and has a colorful display of flowers from spring through fall. While most snapdragons have no scent, a few varieties make smelling flowers like these worthwhile.
This low maintenance host plant has an average height of 1 to 3 feet with a spread of 6 to 18 inches wide. It is an annual flower and enjoys part to full sun. It is low maintenance and grows well in containers or a flower garden.
Hollyhock (Alcea)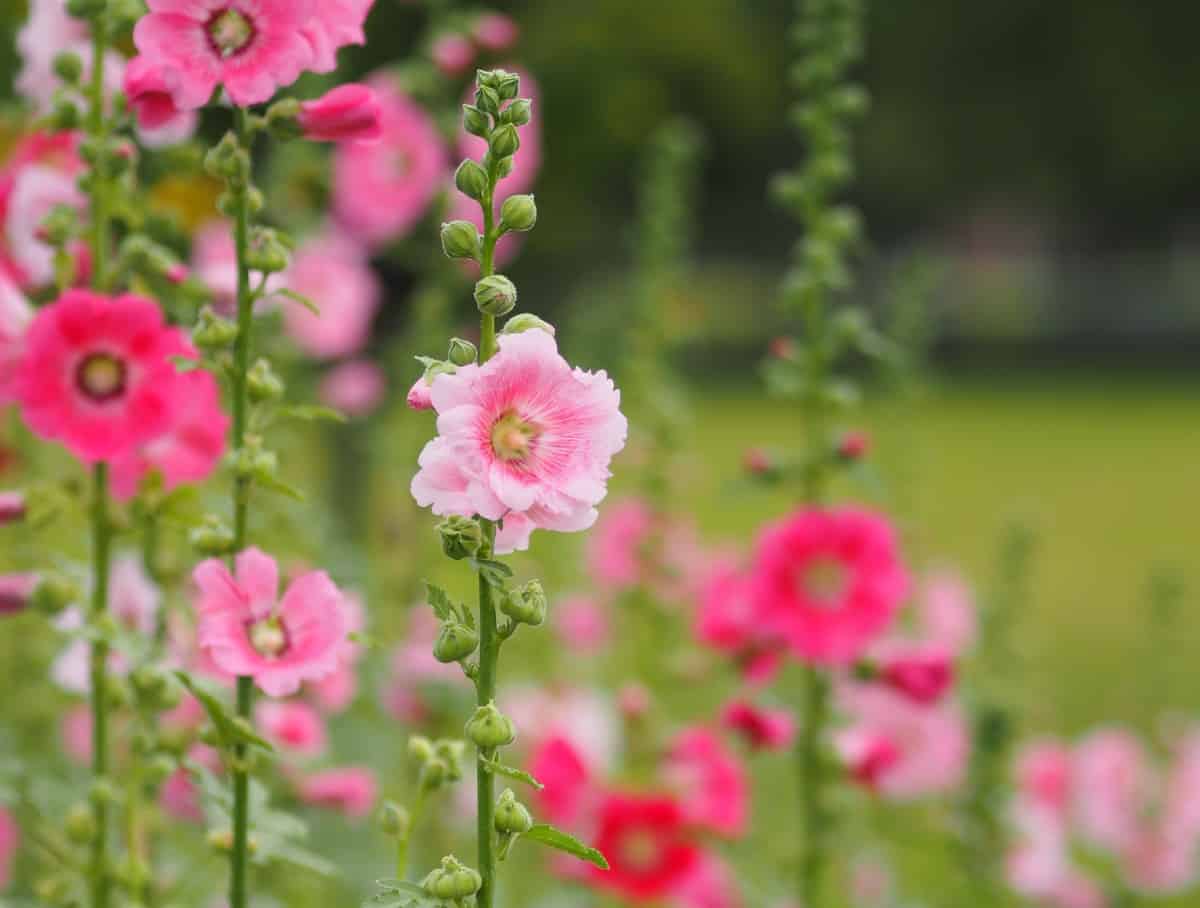 The eye-catching color of the hollyhock flower soars above the rest with its majestic height. It produces tall spikes of colorful blooms in shades of white, purple, yellow, pink, and red, and attracts painted lady butterflies to the yard.
Hollyhocks reach a height of 3 to 8 feet and spread up to 1 to 3 feet. This perennial grows best in sunny locations in zones 3 through 8 and blooms all summer long. The size of these low maintenance flowers makes them ideal as a privacy fence.
There are so many butterflies to admire, including the tiger swallowtail, hairstreak, viceroy, and red-spotted purple butterfly. The key to having the perfect butterfly garden is to fill your outdoor space with native plants, nectar flowers, and host plants to draw these colorful and beneficial insects to your yard.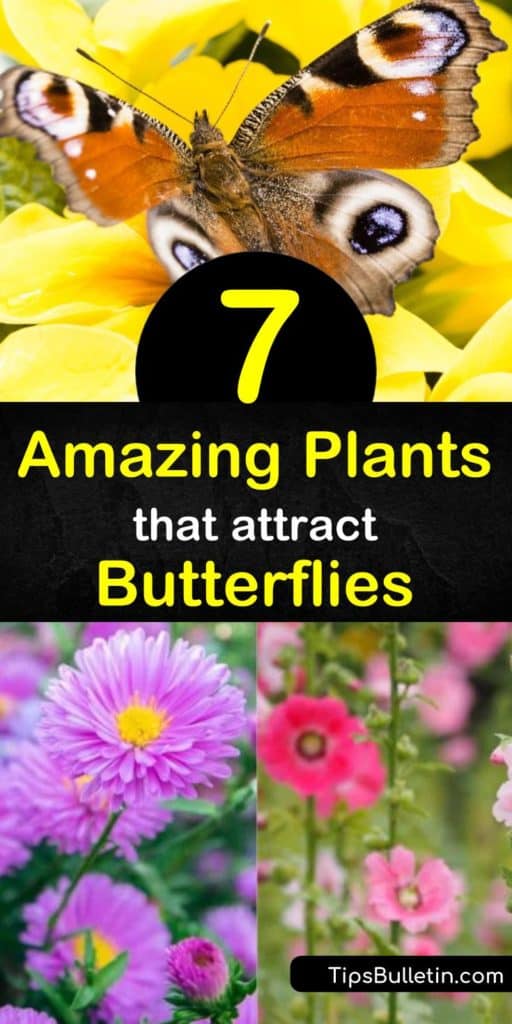 It's easy to create an oasis for butterflies by planting butterfly host plants and nectar flowers in the garden, so why not share our butterfly plant guide with your family and friends on Facebook and Pinterest?