Do you own a Coach® bag? If so, your purse could be leather or Coach® signature fabric. That brings us to our next question, does your Coach® purse ever get dirty? Do you ever accidentally get a stain on it, have a pen unexpectedly explode inside, or, does your make up accidentally rub off on the inside of it? You're most likely wondering if there is a Coach® bag cleaning tip out there that would help you in your struggles.
Well, there's good news for you today. There are plenty of ways to clean your Coach® bag using products like a fabric cleaner, Coach® leather moisturizer, leather cleaner, liquid soap, and a damp cloth that you can use.
Here, you'll learn how to clean a Coach® bag, including but not limited to, a leather purse, a fabric purse, a shoulder bag, and any of your Coach® handbags.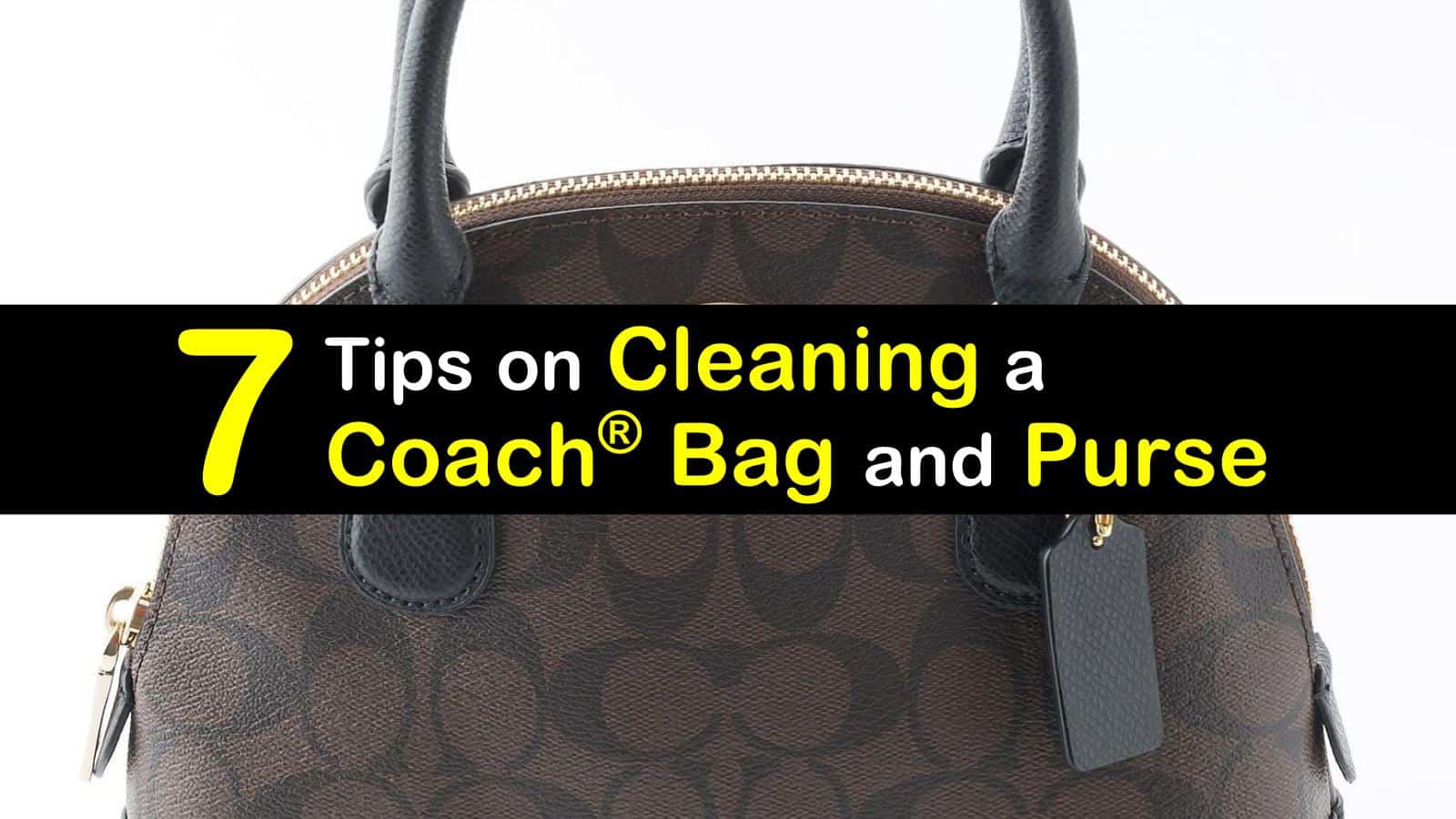 How to Clean a Coach® Bag
Keep your Coach® products in the best condition possible so they always look brand new. Remove pen ink from a leather bag and eliminate all kinds of stains with items you probably have in the kitchen or bathroom.
The Sig C Fabric Cleaner
This Coach® Signature fabric cleaner can be purchased directly from the Coach® store, and it acts as a perfect stain remover technique and is an excellent way to learn how to clean a Coach® purse.
Put a small amount of the fabric cleaner on a clean white cloth. Rub the Coach® product in circular motions, and then wipe off with a soft cloth. Blot area dry with another rag and allow the product to air dry before using it again.
Leather Cleaner
Learning how to clean a Coach® bag with coach cleaning products is easy. With the leather cleaner, apply a small amount to a clean, soft cloth, and move it in circular motions. This will get rid of almost all dirt.
After a few moments, wipe off any excess cleaner and allow the product to dry for approximately half an hour. For the best results, allow the Coach® representative to sell you a moisturizer set; the moisturizer set will enhance the look of the coach purse.
Leather Moisturizer
After using the leather cleaner, spread a thin layer of the leather moisturizer from the Coach® store onto the leather bag. Always apply the moisturizer with a clean, white cloth. Wipe off any excess and then buff the entire purse to enhance the look and shine.
Warm Water
Using warm water as a Coach® bag cleaning mechanism is the most cost-efficient method. Find a clean, white cloth, and dampen it with warm water. Do not scrub the area that is dirty, dab it instead. Remove excess water with a second cloth. Then, with the third cloth, pat the areas dry that you've already cleaned.
When using water, you can add soap or dish detergent to the mix. If you have questions about this technique, double check with a Coach® representative, and do not put the purse in the washing machine or bring to the dry cleaner, as this could damage the fabric beyond repair.
Baby Wipes
Make sure you're prepared for future stains on your Coach® bag by carrying baby wipes with you. When you notice a stain, immediately take out the wipes and start gently rubbing it out of the material. If you don't have baby wipes, a dampened clean cloth will do the trick.
Suede Purses
Suede purses need cleaning, too. If you have a suede purse, and you're eager to learn Coach® bag cleaning to protect it, we've got your back.
Try not to spill any liquids on your suede purse, as this could start a significant problem. This type of leather is smooth and velvety, but that means that stains are more difficult to get out. Water is your worst nightmare with suede.
The second you see the stain, grab a towel and start applying a moderate amount of pressure to the area to help the water or liquid fade away. Use a suede brush to clear whatever debris comes off the purse.
Grab the pencil suede eraser and gently rub until the stain disappears. Make sure if there is any signature stripe on the Coach® purse, you apply less pressure than other areas.
Ugg® Boots
In addition to cleaning your suede purses, you're probably wondering how to clean your suede Ugg® boots.
Like suede purses, you'll want to grab your suede brush to remove any unwanted debris before cleaning the boots. If you don't do this, and there is dirt present on your shoes, you'll end up forcing the dust down into the fibers of your boot, therefore making it extremely hard to remover later.
Scrub the boots with a dampened clean cloth. Don't use too much water; you don't want to be cleaning Uggs® and suddenly get water stains all over them. Also, using too much water can stretch the boots.
Once you've finished cleaning the boots, stuff them with either old socks, newspaper, or rags. Doing this will allow them to dry and keep their shape at the same time. Finally, place them in a cool and dry area to dry for at least 24 hours.
Learning different leather cleaner techniques to go about Coach® bag cleaning is a necessity, especially if you have one or more purses from the company. Considering each bag is rather pricey, you'll want to keep up with the leather cleanings regularly. Keep all of these ideas in mind next time you're looking for a great cleaning method to adopt for your favorite Coach® purse.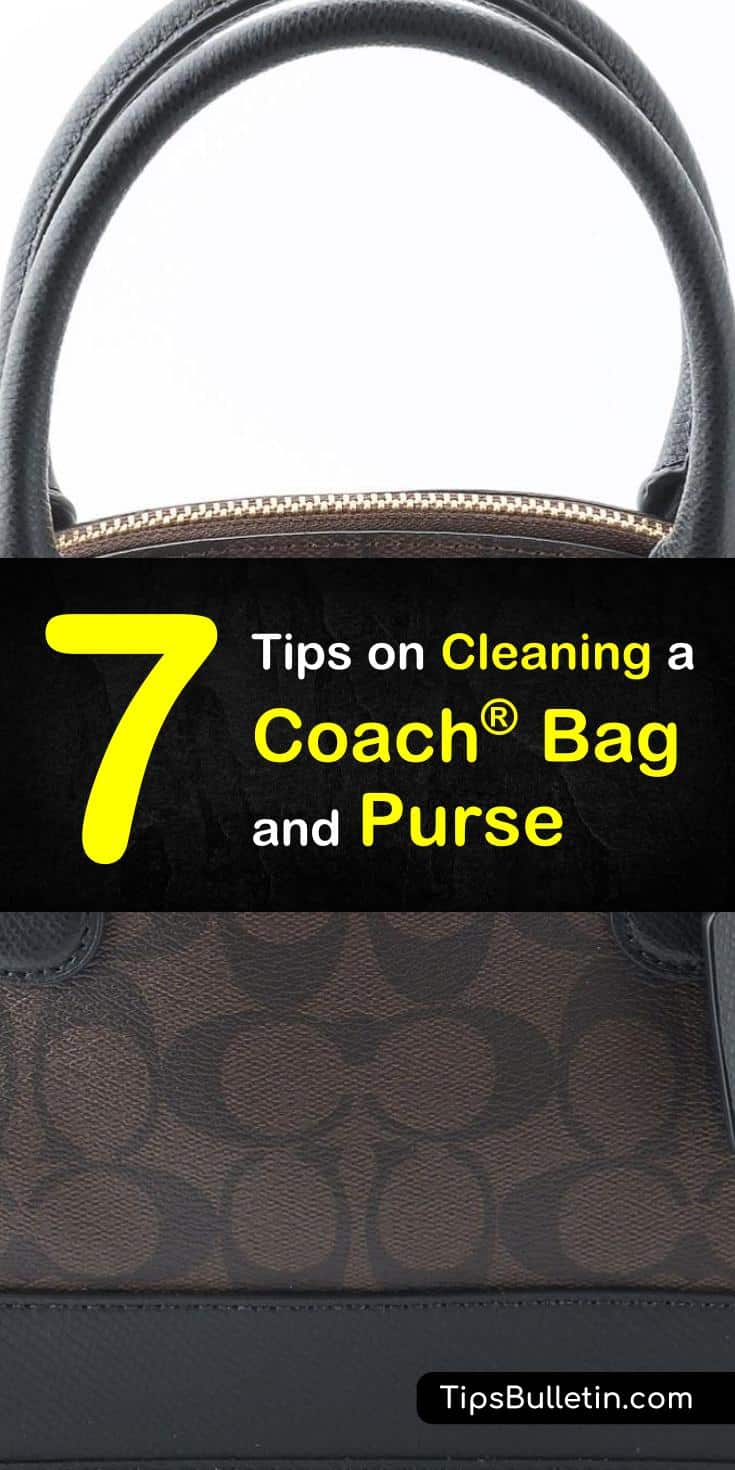 We hope you enjoyed our tips on Coach® bag cleaning. Please share these how to clean a Coach® purse ideas on Facebook or Pinterest with your friends.