Compost vs soil; what does it mean, and how does the difference affect your garden? Discover answers to this popular question in our handy garden guide to compost and soil. If rich soil and vigorous plant growth are your goals, you need to start with these beginner-friendly basics to get the most out of your soil.
It's easy to look at a pile and think it's just dirt, but there's so much going on under the surface it might surprise you. Understanding the subtleties of soil balance and how to assess your soil for signs of deficiency are skills every home gardener needs to succeed.
It's time to learn a little bit about your native soil and how you can make it the very best for your growing plants. Learn the biggest difference between compost and soil, how to tell which kind of soil you have, and what soil conditioner strategies you might try to help your garden soil reach new nutritional heights.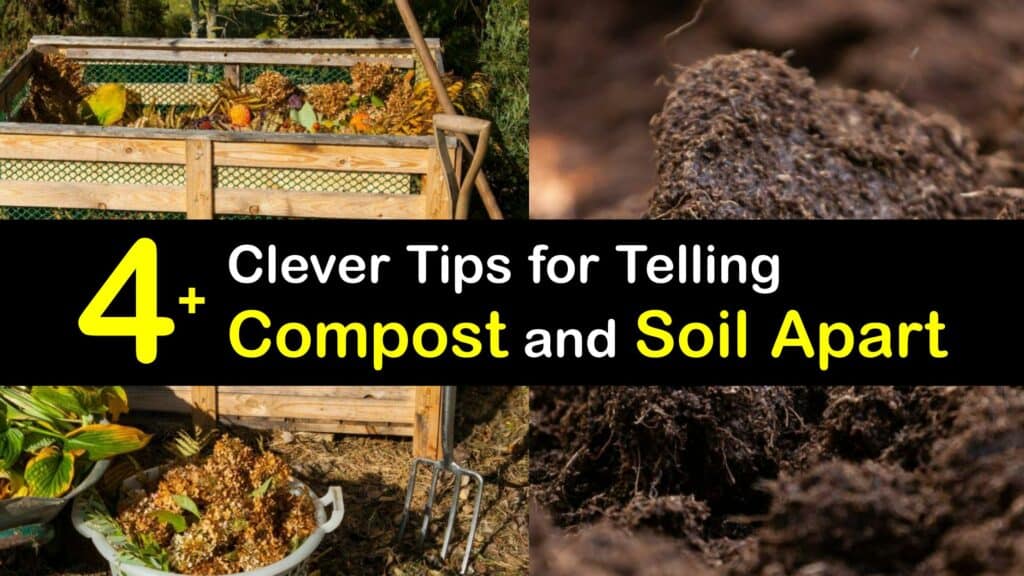 Compost vs Potting Soil – Discover the Difference
Have you ever wanted to learn the difference between potting compost vs potting soil? Find out how to tell and what to do with the knowledge. In this handy, helpful garden guide, determine your soil type and ideal soil conditioner.
Compost vs Soil – What Is Soil?
Compost vs soil – is there a difference? In short, soil is a complex mini-ecosystem. A cubic yard of healthy soil contains decomposing organic matter, water, air, and essential minerals like sand, clay, and silt. All these elements work together to support microscopic bacteria, worms, fungi, and other beneficial soil life.
There are three main soil types: clay soil, sandy soil, and loam soil. Clay soil makes for challenging growing because it compacts easily and is slow to drain, which is hard on the plant roots. Sandy soil has a low moisture and nutrient capacity and is susceptible to water and wind erosion.
Loam soil is the benchmark for most farmers and home garden enthusiasts. When you hold a handful of loam soil in your hand and squeeze gently, it retains its shape and then crumbles. The idea is to introduce a soil conditioner based on your soil type. This brings us to the next plant-related point. What is compost if it's not soil?
Compost vs Soil – What Is Compost?
At its simplest, compost is organic, like grass clippings, plant material, and fresh manure, which have undergone decomposition to become finished compost. Think of the fall, when the leaves descend to the ground, and herbaceous plants die for the season; the organic waste is recycled by nature and returned as nutrients to the soil.
Organic compost is a soil improver for topsoil. It comes in many forms, from the traditional compost pile to mushroom compost, vegan compost, and even compost manure made from animal poop. Composting is as unique as the composter because everyone has their preferences when creating finished compost.
What's the point of compost? Compost supports soil structure, prevents erosion, and helps retain moisture during drought. You can make your own compost booster with manure or yard scraps in existing soil to stimulate nutrient production by attracting beneficial organisms.
One word of caution when composting yard waste, the pile must get hot enough to kill every weed seed; otherwise, they will simply repopulate in your garden.
Potting Compost vs Potting Soil – What's the Difference?
Potting compost vs potting soil; are they similar in any way? Here's a spoiler alert for you; they're the same. The term potting mix is often used interchangeably with potting compost in gardening.
The average bag of garden mix soil is manufactured to be a growing substrate, a nutritious home for potted plants to put down roots and grow. Potting soil or potting compost usually consists of peat, wood fiber, coconut coir, vermiculite, and more.
It is important to note that while potting compost and potting soil are the same, they differ entirely from the organic compost mentioned above. Organic compost is a soil amendment added to topsoil or existing soil to encourage healthy growth, water retention, and soil structure; it is not actually soil itself.
How to Tell Compost and Soil Apart at a Glance
Compost vs potting soil – what do they look like? Knowing the benefits of compost and nutrient-rich soil is helpful, but how do they look compared to each other? Discover the subtle differences between the two and learn to tell them apart at a glance.
How do you know whether you're holding a handful of potting mix or compost? For this experiment, you need a handful of potting soil and one of fresh, finished compost. Hold the soil in your hand, and smell the earthy scent. Note the soil texture; it may feel sandy, or it may be cold and clay-like.
Pure compost holds its shape when you squeeze it in your hand and gently crumbles away. Healthy finished compost should be dark, fluffy, and have a chocolate cake consistency with a slightly sweet aroma. All you need to tell the difference between soil and compost is a good handful, an eye for texture, and a nose for organic material.
How to Tell Which Soil Amendment to Use
At the end of the compost vs potting soil debate, it's time to consider some ways you might use either to your advantage in the home garden. Start by determining your soil type; feel the consistency in your hands, consider your local climate, and slowly add things to amend your soil's weakness.
When introducing soil amendments, keep an eye on soil structure, soil texture, and your desired soil pH. Heavy clay soil benefits from peat moss and perlite; the extra texture stops clay soil from compacting, meaning better drainage and structure. Sandy soil needs enrichment from composted manure and organic vegetable compost.
We hope this article has been helpful and cleared some confusion around the compost vs soil debate. Understanding the soil and how you interact with it brings more confidence when heading into the garden; you know what works, what to look for, and how to make soil amendments that benefit your plants.
Remember, compost supports the soil and is not the soil itself. Add an inch or two of finished compost to your topsoil before the planting season for incredible results.
Only good things happen when you pay attention to soil structure and moisture retention in your home garden. Don't forget to finish with a layer of wood chip mulch to seal your soil amendment for extra effectiveness.
If you enjoyed learning about the compost vs soil conversation, share this article with your friends on Pinterest and Facebook who love gardening and always want the best soil tips and tricks.