Are you ready to find the best home remedies for getting rid of rats? Rats are a struggle no one wants to face, yet sometimes they're likely to crop up. Many families across the US struggle with rats invading their residences, and while the issue is upsetting, it's easy to fix with the proper knowledge. Having rats does not mean you are dirty.
Rats come indoors seeking shelter and an easily accessible source of food. They damage everything from electrical wires to essential documents and even textiles. The cost of destruction may run into the thousands, so it's vital to halt a rat invasion as soon as you observe signs of rodent activity.
Skip toxic chemical pesticides and use natural remedies for rats. Don't let rats get out of control. Use proven home remedies to kill a rat to oust these pests from your space and restore order.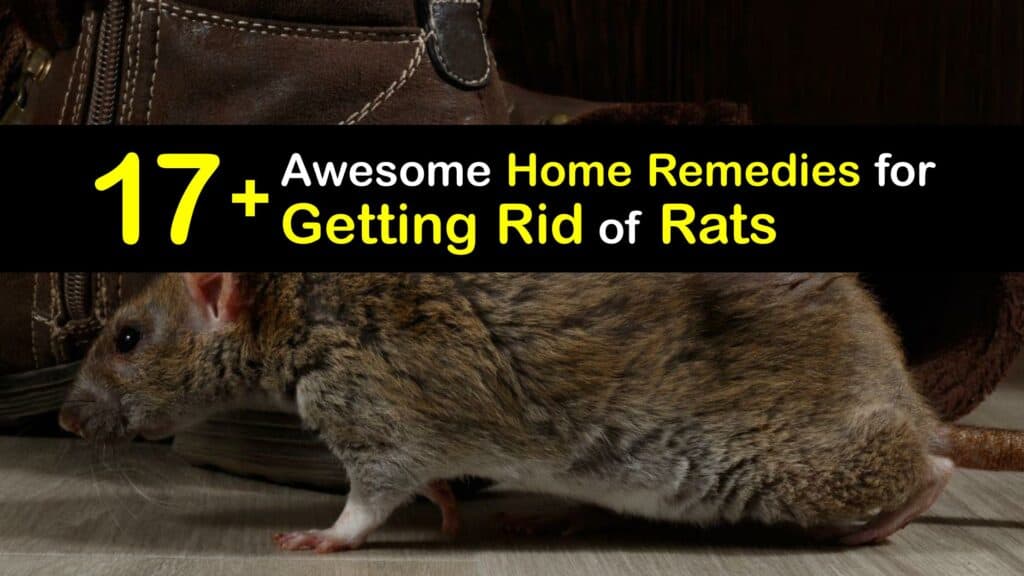 Home Remedies to Kill a Rat
Seeing rats scuttling around while you're relaxing or finding valuable items chewed or soiled is upsetting. Learn the signs of rat activity, the types of rodents responsible, and ways to prevent them, as well as home remedies for getting rid of rats.
Use supplies you already have to employ natural remedies for rats and take back your space from these annoying intruders.
Signs of a Rat Problem
The first stage in getting rid of a rat infestation is recognizing the signs of rats in your building. Keep a general lookout as you go through your day and check seldom visited spaces such as the attic and basement at least once a month for signs of rats and other issues.
A rat or mouse invasion is overwhelming, but it's crucial to begin rat control immediately upon noting activity. Rats reproduce rapidly and if left unchecked, quickly take over. Hold the destruction and eliminate rats with prompt pest control.
Species Behind Rodent Infestation
Several different types of rats could cause an upset in your garage or office, though the presence of rats is troubling no matter their kind.
Fortunately, the treatment to keep rats out of the garage with simple natural solutions is the same for all species. Whether you suspect you have black rats or roof rats, commence with home remedies to eliminate rats as soon as possible.
Benefits of Home Remedies for Getting Rid of Rats
Using DIY remedies rather than premade and synthetic rat treatment has some advantages. Unlike dangerous chemical pesticides, such as rat poison, DIY treatments are usually safer and less toxic.
Putting rat poison around your house risks your pets or family accidentally touching or consuming it. Many home remedies contain safe ingredients to eliminate rats without harming those around you.
Homemade rat deterrents focus on using products you already have, allowing you to save money and a trip to the store. Natural remedies for rodents help lower the risk of adverse effects and let you start addressing your rat issues immediately without wasting money on unnecessary supplies.
Natural Remedies for Rats With Essential Oil
Essential oils are cheap and organic techniques to eliminate rats. Rats detest numerous essential oils, allowing you to select your favorite scent to fragrance your space while repelling rodents.
To make a DIY rat repellent made with essential oils, add half a dozen drops of your favorite essential oil to a cotton ball and leave it in a location where rat activity is problematic. Alternatively, mix 20 drops of essential oil with one cup of hot water in a spray bottle to make a rat deterrent spray.
Replace the cotton balls weekly and respray to ensure the fragrance of essential oils remains strong enough to keep rats at bay.
Home Remedy to Keep Rats Away
Castor oil is a fantastic natural rat repellent for the garden, but it's often too messy for use inside. Rats, voles, and other creatures that dig and tunnel, including armadillos, are deterred by the smell of castor oil.
Castor oil is a safe, natural approach to discourage pests like rats from your garden without harming them or accumulating harmful toxins in the soil and groundwater. The oil is non-toxic and suitable around children and pets as a pesticide.
Rats are repelled rather than killed with castor oil. Spray it directly onto the ground to achieve the desired result. The recipe is effective for about a week even during the wet season.
Using weekly sprays will effectively control rats outside of the house. Combine one part dish soap and two parts castor oil and mix the two ingredients until frothy. Use two tablespoons of this concentrated solution per gallon of water. Spray the liquid evenly over the impacted areas using a hose attachment.
A Bay Leaf Will Get Rid of a Rat Naturally
Bay leaves are a popular herb used for cooking. These leaves are typically sold dried in the supermarket spice section and are added to stews and soups for extra flavor. Though bay leaves are quite pleasant to us, rats hate their smell and will avoid regions where they are present.
Distribute bay leaves around rooms where you find rat activity. Place the leaves along the baseboards and in any spots where rats congregate. Change out the leaves once a week so the aroma stays effective.
Natural Ways to Get Rid of Rats With Peppermint
Rats detest the smell of peppermint. Ousting rats using peppermint essential oil is a natural pest control method. Add several drops of pure peppermint essential oil to cotton balls and disperse them around the area. Alternatively, mix a DIY rat-repellent spray with peppermint oil and water.
Measure and pour the water and peppermint oil into the sprayer, and shake until thoroughly mixed. Spritz the peppermint oil spray around baseboards, behind appliances, and anywhere rats are suspected. The pungent aroma of peppermint keeps rats away. Reapply the peppermint spray twice a week to ensure it remains effective.
Pest Control With Mothballs
Moth balls are a cheap solution to get rid of rat burrows, despite being incredibly deadly. Because of the strong smell mothballs or naphthalene balls create, rats are quickly driven from the vicinity.
Only use mothballs with discretion since they are hazardous to you, your family, and your pets. Wearing rubber gloves, distribute the mothballs strategically across the rodent-infested space, especially in the cabinets and close to the entrances. Place mothballs in spots where it is unlikely that your kids or pets might find them.
Used Kitty Litter Discourages Rat Activity
Rats won't enter your building if you pour used cat litter in plastic cups and arrange them close to probable access sites. Rats are natural prey for cats; hence, rats avoid your home if they believe you have a cat. To escape being captured by the cat, rodents flee if they catch a whiff of its urine.
This method effectively eliminates rats without pesticides, although it is not pleasant. Cat owners with used litter on hand may use this technique to eradicate rats without any financial investment.
Peanut Butter Is Efficient Rat Bait
If you set up a humane live trap and need reliable bait, head to the pantry and grab some peanut butter. Peanut, almond, or cashew butter is the perfect bait for rats as they smell it from a distance and are lured by its sweet and salty flavor.
There's no reason to spend money on expensive store-bought rat bait, which could harm you and your family. Other pantry staples, such as cocoa powder, work well if you don't have peanut butter.
Bucket and Spoon Humane Rat Trap
Construct a humane trap to catch rats for relocation using only a bucket, spoon, and some bait. This trap doesn't hurt rodents or leave you with unpleasant cleanup and makes it effortless to relocate rats without touching them.
Using a live trap and freeing the rats in an area where they won't cause issues is the most responsible and kind way to handle your rat problem.
Scoop a blob of nut butter onto the spoon and balance it on a table's edge with the bait hanging above the bucket. As the rat climbs up the spoon to eat the peanut butter bait, the spoon and rat both fall into the bucket.
Place the lid over the bucket to transport the rodent. Release the rat far away and repeat each night until no more rats are caught.
Cayenne Pepper Can Repel Rats
Cayenne pepper is a delicious seasoning that packs a punch; it is very uncomfortable for rats. Their olfactory systems provide an enhanced sense of smell to help them locate food, leaving them sensitive to pungent odors. Cayenne pepper is an excellent solution if you seek a natural and safe way to drive rats away.
Sprinkle cayenne pepper flakes around rat-infested regions. Rats catch the scent of the spicy pepper and rapidly leave the area. The pungent smell of pepper hurts the rat's delicate nose.
The unpleasant cayenne pepper is safe to eat, and like dangerous chemical treatments, it will not harm your child or dog if they find the rat deterrent. Refresh the cayenne pepper every week or as it starts to lose potency.
Rat Control With a Humane Glass Trap
A humane live trap makes rat removal uncomplicated and limits exposure to unpleasant situations with dead or dying rats. Craft a simple live trap using a glass cup and coin.
Set a blob of peanut butter bait on a flat surface, such as a tabletop or counter, and place the glass tumbler over it so the food is covered. Raise one side of the glass and use the coin's edge to wedge it up and keep it balanced.
As the rat sneaks under the tumbler to get the food, the cup falls, trapping them in place. Place the lid by the edge of the counter and slide the cup over until the mouse is contained inside the cup with a lid beneath. Carefully transport the rat away from your property for release.
Onions and Garlic Aid in Rat Removal
Start getting rid of rats naturally using the strong aroma of onions and garlic. Onions and garlic are a staple in many culinary dishes; most of us keep them in the kitchen. Rats' delicate noses can't handle the smell of these potent veggies. Use onions to deter rats by placing them near access points or removing those already inside.
For maximum potency, peel and slice the garlic and onions. Place them in small paper cups or dishes and distribute them around the rat-infested zone. The onions and garlic lose efficiency over time as their smell deteriorates. Chop and replace the veggies every few days to ensure the stench stays potent enough to discourage rodents.
Ammonia Drives Rats Out
Ammonia naturally deters rats in two different ways. Ammonia smells similar to cat urine, produced by a natural predator of rats. The indicator of cats in the region prompts rats to move on for fear of being hunted. Additionally, ammonia has a sharp smell, making rats uncomfortable enough to leave.
Ammonia is an excellent alternative if you don't have a cat or don't feel comfortable working with used cat litter. Pour small amounts of ammonia into a few disposable cups and set these out around the infested areas. Set the cups where kids or animals are unlikely to contact them. Refresh the cups once a week to keep the scent of ammonia potent.
Issues With Glue Traps
Glue traps are rat and mouse traps that use adhesives to catch rodents. A glue trap consists of a large board with glue on one side. A glue trap is not a humane or natural rat control method and is best used as a last resort.
Food bait is placed in the center of the glue, and as the rat crosses to reach the food, it becomes stuck. Rats are often left to die a slow and painful death while adhering to the board.
Users are tasked with dispatching and disposing of dead or dying rats. Glue traps are not reusable or cost-efficient, and they are not humane. These traps stick to human skin, pets' fur, and innocent wildlife and insects. Use glue traps with caution only after other options are exhausted.
A Snap Trap Is a Last Resort
Snap traps are traditional mouse or rat traps often depicted on TV or in the media. These traps consist of a small board with a weight plate baited with desirable food such as peanut butter. The rat walks onto the weight plate to retrieve the food, and the killing arm snaps down, beheading or maiming the rodent.
Most hardware stores sell snap traps in their pest control section. Snap traps are inhumane as rodents are left to suffer and die a protracted death. These traps produce messy cleanup for the user and forced proximity to the remains of the rats.
Aside from being cruel, snap traps can seriously hurt children, family members, and pets. While setting the trap, anything putting pressure on the weight plate is at risk of being harmed by the killing arm, including your fingers. Using a more humane and less dangerous press control option is wiser.
Rat Infestation Prevention Ideas
Performing rodent control is an inconvenience. After the rats are removed, taking precautions is prudent to deter them from returning. Rats generally venture inside dwellings, searching for a reliable food source, abundant nesting material, and hiding places. Take simple steps to make your residence less appealing to rodents.
Pet food crumbs and dirty dishes are a common source of rodent sustenance. Rats quickly repurpose papers, trash, and clothes into nesting material. Limiting the amount of food, hiding spots, and bedding material available discourages rats from setting up camp. Make your surroundings unattractive to rats and save yourself the trouble of an invasion.
Are you armed with all the home remedies to kill a rat you need? Discovering you have a pest problem is never fun, whether it's rats, mice, or moles. Don't despair if you spot signs of rats around your property. Though it seems daunting, the rat invasion is easily handled, and there is no need to turn to toxic chemical pesticides to get rid of the rats.
Begin pest control as soon as you note rodent activity indicators to avoid the rat population growing out of control. Rely on proven home remedies to eliminate the rat from your building so you don't have to worry about rodent damage or disease.
If you loved this insightful article on home remedies for getting rid of rats, please share it with your friends and family who seek natural remedies for rats on Pinterest and Facebook.