Are you tired of spending money on commercial fabric softeners? Are you looking to get rid of the artificial scents left behind by store-bought laundry products? Do you need a homemade fabric softener to go along with your homemade laundry detergent?
DIY fabric softeners are the perfect answer to all of these situations and more. One of the great things about using a homemade laundry softener is how great your clothes feel when you pull them out of the dryer. Using a homemade fabric softener your clothes won't have that artificial scent that store bought softeners leave behind.
Clothes washed or dried with homemade fabric softeners will not have that soft chemical feel to them. Using a homemade fabric softener might get your clothes as soft as store bought softener, but it will leave your clothes feeling softer than if you had used nothing at all and no more static cling.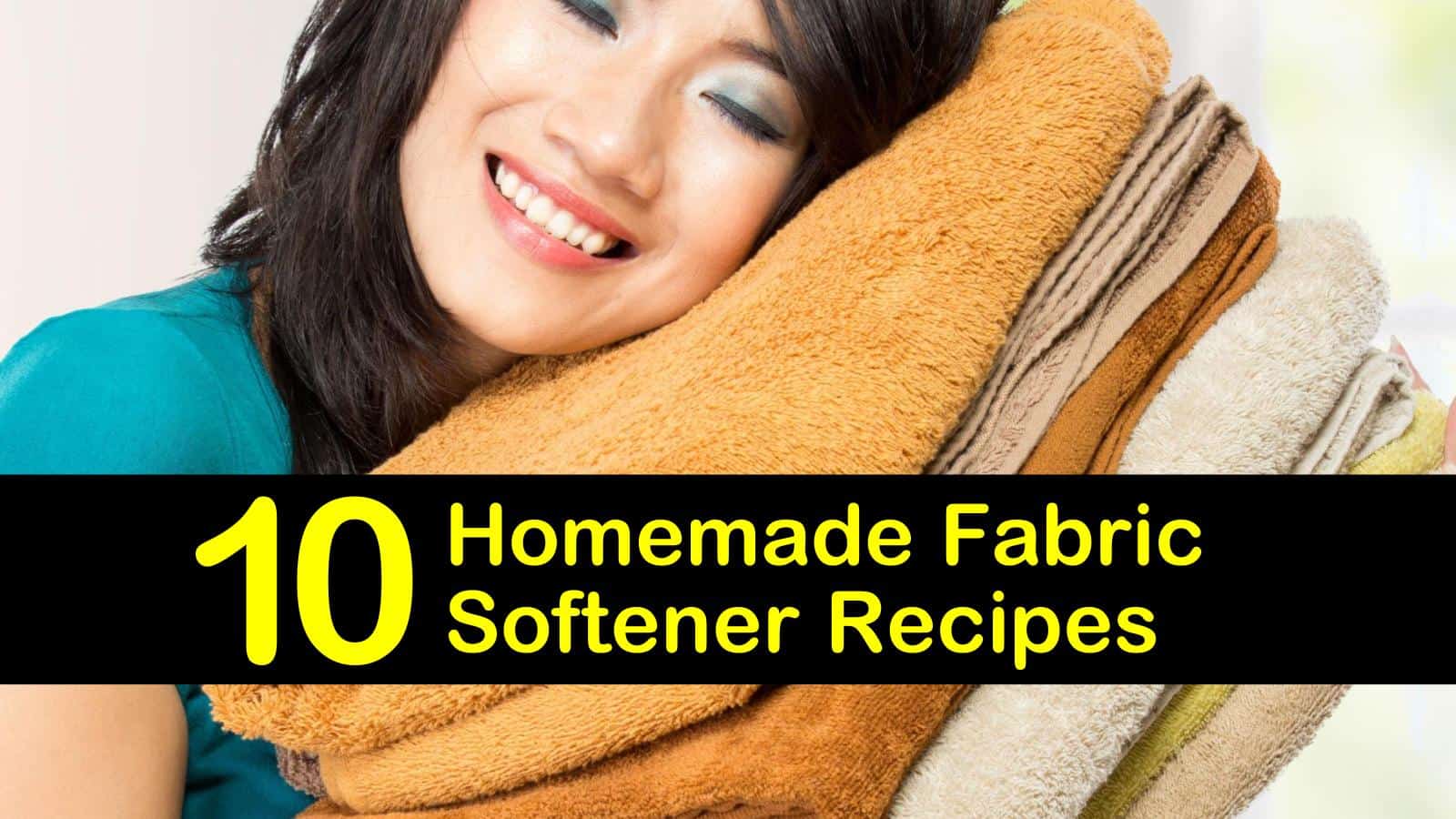 DIY Fabric Softeners
There are two types of homemade fabric softeners, just like the store-bought versions. You have the choice between fabric softener you add to the rinse cycle of your washing machine and the fabric softener for the dryer. There are homemade laundry softener recipes for both types, what one you use depends on personal preference.
Wool Dryer Balls
These are one of the easiest homemade fabric softeners to use as they don't require you to add anything extra to your laundry. The wool balls are merely tossed into the dryer and will last up to 1000 loads.
With wool dryer balls you only want to dry medium or small sized loads as the balls need room to work. Most people find that three dryer balls are the most effective. You can also add a few drops of essential oils to each ball if desired.
If you use essential oils, allow the oils to soak into the balls for 20 minutes before using them. Before using dryer balls with essential oils you need to dry your laundry completely, then add the balls and run a non-heat setting for ten minutes. Non-heat settings will also prevent clothes from shrinking.
Vinegar Fabric Softener
Using a vinegar spray is much better than washing towels with vinegar to get the same softening effect, as the vinegar smell goes away with the spray.
Mix white vinegar and essential oil in the spray bottle and shake to mix well. Shake the bottle before each use. Spray ten squirts directly into the dryer with the wet clothes. Make sure clothes dry thoroughly to prevent a vinegar smell.
Baking Soda Fabric Softener
Add ½ cup baking soda to your washing machine with the rinse water for a natural fabric softener. The baking soda works to restore the pH levels inside the washing machine.
As baking soda doesn't contain harsh chemicals, it is a great fabric softener for people who have allergies or sensitive skin and works well with homemade laundry detergent.
DIY Fabric Softener Crystals
Fabric softener crystals leave your laundry smelling clean and fresh for days to come. Crystals can be used per load or mix into your homemade laundry soap.
Place Epsom salts into a plastic container and add the essential oils. Mix well. Place in an airtight container and add one to two tablespoons to each load of laundry.
Homemade Naturally Scented Fabric Softener
Get your clothes smelling fresh and feeling soft with a naturally scented fabric softener. So quick and easy to make you can make several batches at once for a variety of scents.
In a glass bowl, mix salts and essential oils. Add the baking soda and mix well. Place the homemade fabric softener into an airtight container.
If you plan on making additional batches using different scents be sure to label the container. Add two tablespoons directly onto your clothes before the rinse cycle.
Baking Soda & Vinegar Homemade Fabric Softener
Baking soda aids in the elimination of bad odors, while vinegar works to leave clothes feeling soft. Add a drop or two of essential oils for a fresh and delightful scent.
Add vinegar and essential oils into a large mixing bowl. Mix in baking soda and allow the fizz to settle. Once settled pour fabric softener into a container.
Use one cup or less depending on the size of the load. Fabric softener needs to go into the fabric softener compartment.
Homemade Laundry Softener with Hair Conditioner
The liquid fabric softener can also create a dryer sheet, by pouring ¼ cup of the fabric softener onto a clean washcloth and tossing it into the dryer.
Add ingredients together in a large bowl. With a whisk combine all parts thoroughly. Do not shake the mixture as it will start foaming. Add two tablespoons to your washing machine for small loads and ¼ cup for large loads.
Homemade Liquid Fabric Softener
The vinegar in this recipe will leave clothes feeling soft and help remove any soap residue left on clothes during the wash cycle.
In a glass jar mix water, glycerin, and white vinegar. Add essential oils and stir all ingredients together. You can also secure the glass jar with a lid and shake to combine.
Add ½ cup of homemade liquid fabric softener to the final rinse cycle via the fabric softener dispenser or with a fabric softener ball.
Homemade Dryer Sheets
Using the homemade liquid fabric softener recipe from above these homemade dryer sheets use vegetable glycerin to soften and deodorize your laundry. Static comes out of clothes easily with these simple DIY dryer sheets you can use over and over again.
Cut the cotton clothes into 5-inch by 8-inch squares. You can sew the edges of the squares, or you can rip up old t-shirts or other fabric scraps to create the squares.
Place cotton squares into the jar of liquid fabric softener. Remove one cotton square and remove any excess liquid. Place the square in the dryer and dry the load as usual.
Natural Fabric Softener Sheets
One cloth square can be used for up to three loads. Refresh the sheets with oils and vinegar as needed.
Cut up old rags or t-shirts into five-inch squares. Make sure you are using clean material. Pour distilled white vinegar into the spray bottle.
Spray both sides of the cotton squares with straight vinegar until moist to the touch. Allow drying. Add three drops of essential oil to the cloth and allow the oils to spread. Place the sheets into an airtight container, place in the dryer as needed.
Downy and other commercial fabric softeners leave behind a lot of build-up, especially in a HE washer. With a HE machine in our laundry room, we want to do everything we can to prevent this build up. Using natural fabric softener works as it's free from all those harsh chemicals.
Recipe for Homemade Fabric Softener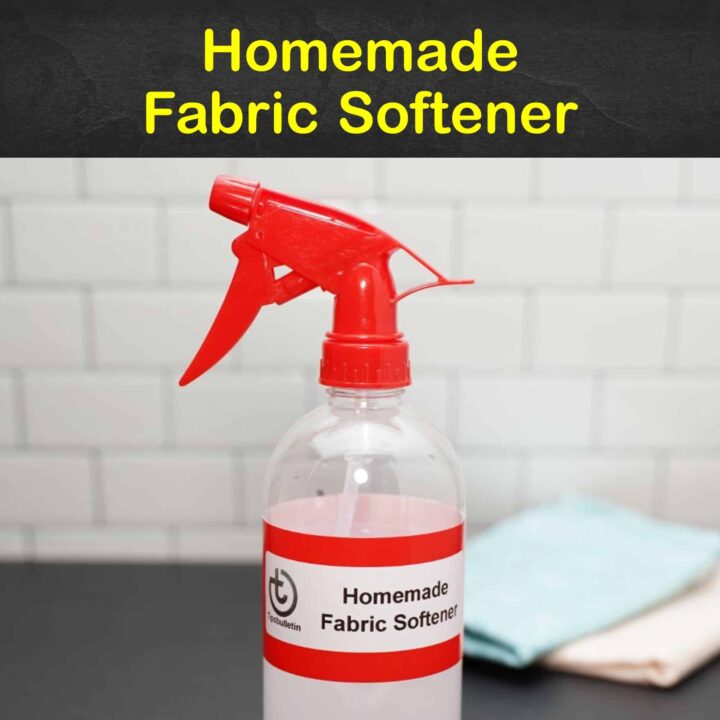 Homemade Fabric Softener
Vinegar and essential oils are all you need for fresh clothes right out of the dryer.
Materials
3 tsp lavender essential oil
16 ounces vinegar
Tools
Teaspoon
16-ounce glass sprayer
Measuring cup
Instructions
Combine the liquids in the sprayer.
Shake thoroughly.
Spritz 10-12 times on the clothes in the dryer before starting the cycle.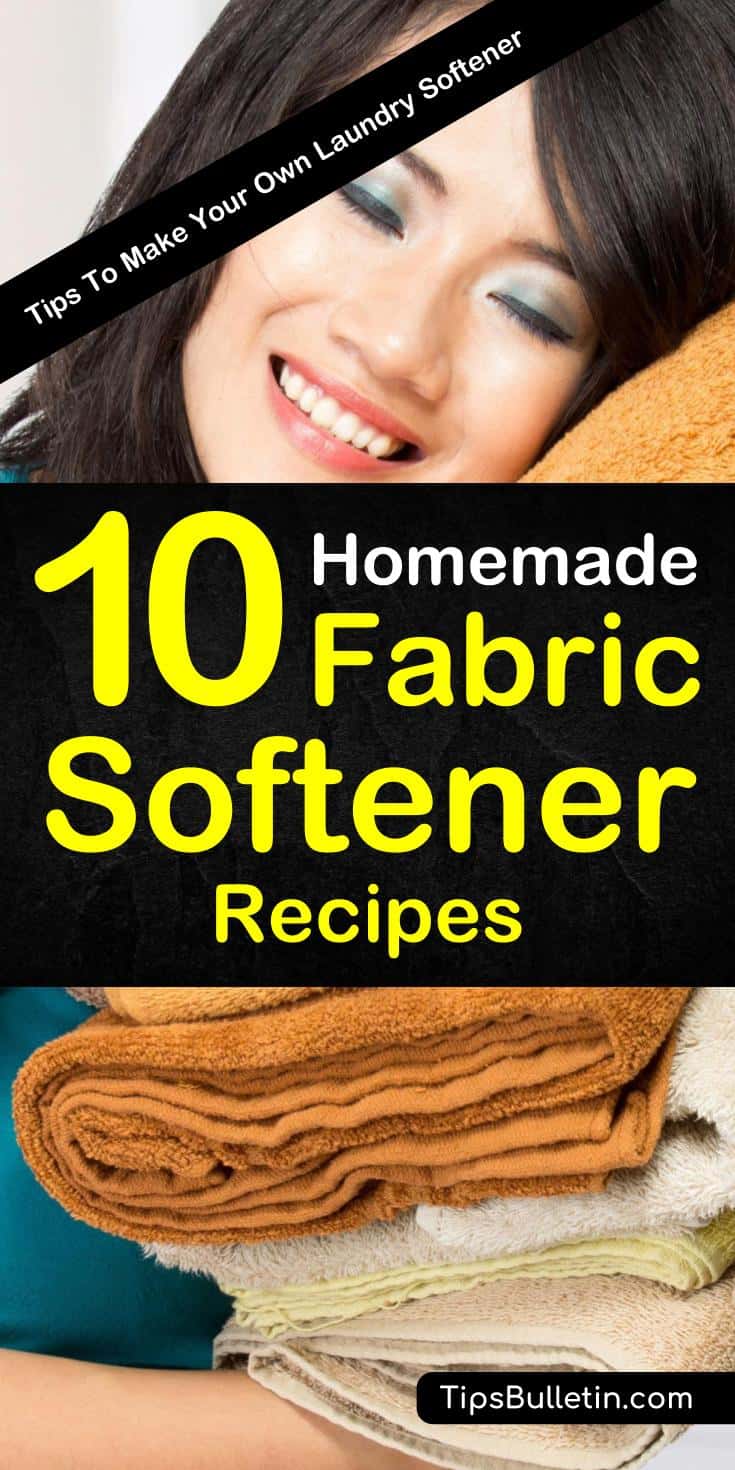 We want to thank you for reading through these simple ways to make fabric softener. If you have found any of these fabric softening recipes helpful, please take a few minutes to share these laundry tips on Pinterest and Facebook.