While you may consider the sewage that you get rid of as waste, the trees in your yard and near your sewage lines see it as a nutritious meal, and they will use any small opening in your pipes to get their roots to it. While the most effective chemicals for killing roots in a sewer pipe should only be handled by a professional, you can make a homemade root killer for sewer lines with some easy-to-find chemicals to help control them.
If the tree roots find their way into your sewer lines and grow unchecked, it can result in sewage backups and slow-running toilets.
Having trees in your yard can add much-needed shade from the harsh rays of the sun, as well as adding beauty to your yard. Unfortunately, the roots of these trees can and will invade your home's pipes and cause your sewer lines to backup or corrode.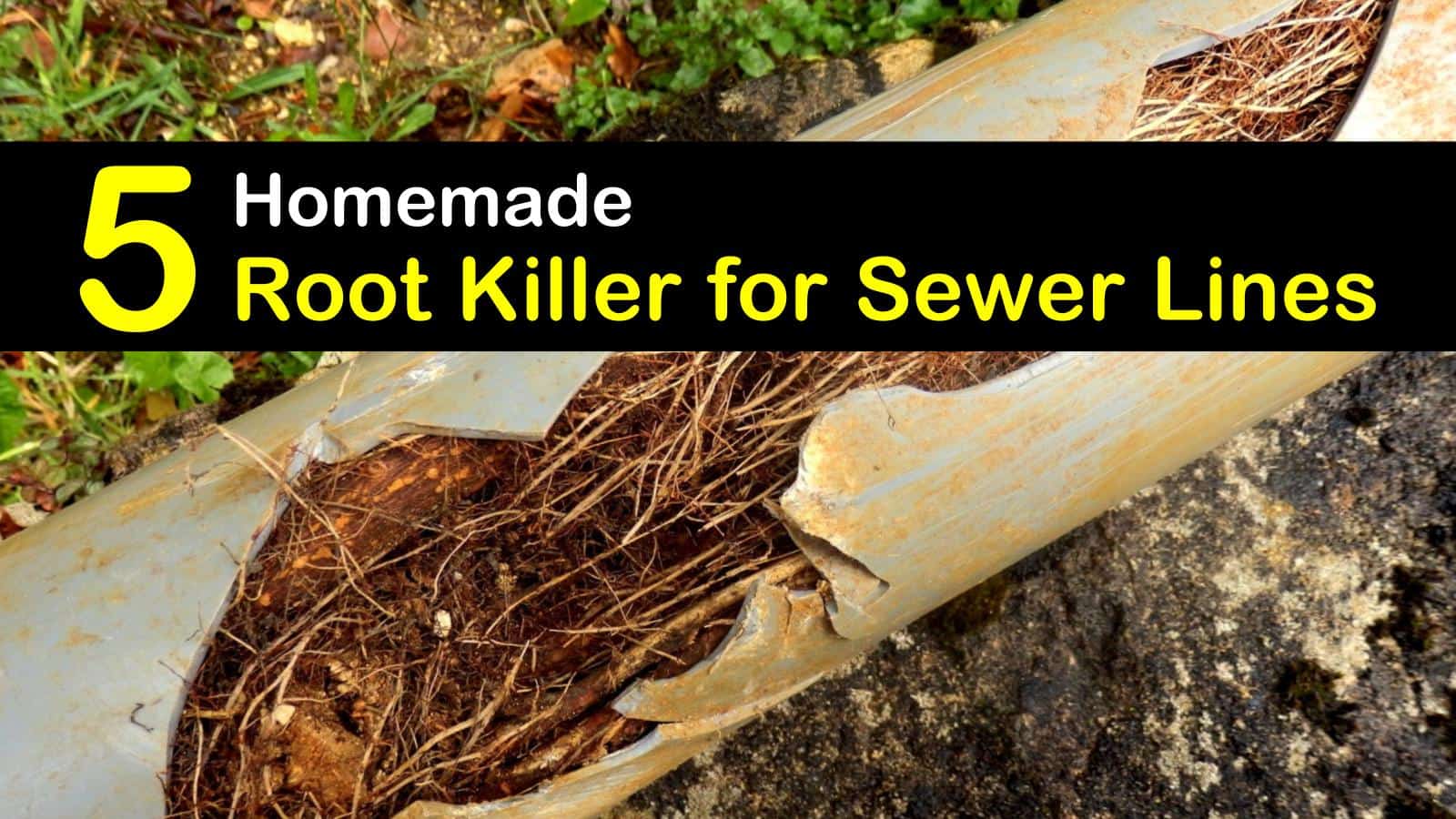 How to Make a Homemade Root Killer for Drains
The effects that tree roots have on your sewer lines can lead to a devastating plumbing and landscaping bill. To prevent these significant issues, here are some homemade DIY root killer recipes and tips.
Pour Rock Salt Down the Toilet
Rock salt is a harsh chemical compound that is mainly used to melt ice and snow on sidewalks and roadways. It is also an effective herbicide and sewer root killer that destroys roots that have invaded your pipes and septic system. To use rock salt as a sewer root killer, pour a handful of the ingredient into your toilet bowl and flush.
Do this once every couple of weeks. Flushing some rock salt down into the sewer will kill any roots that have made their way inside, as well as preventing new roots from getting any closer. You can pick up some rock salt at any local home improvement or hardware store.
Homemade Foaming Sewer Root Killer
You can use a homemade foaming solution to kill tree roots that have found their way into your sewer system. Roots typically enter the drain line from above, so using anything that combines with water will merely pass through the entire pipe without contacting the roots.
To deal with the root problems you can add foaming action to a salt solution to kill roots effectively.
Mix all the ingredients, then immediately flush down the toilet. The baking soda and vinegar start to fizz when mixed.
This fizzing action allows the salt solution to fill the pipes so that it comes in contact with the roots and kills them on contact. However, it will take some time for the dead roots to get washed from the drain so you won't see immediate results.
Powerful Sewer Root Killer – Copper Sulfate or Sodium Chloride
Place ½ pound of copper sulfate or sodium chloride into your toilet bowl and flush, so it entirely clears the bowl. Place another ½ pound into the toilet and flush again.
Do this four times, until you've flushed two pounds of copper sulfate or sodium chloride into the sewer where you're having trouble with root growth. For the next 12 hours, be sure you don't use the toilet or any water that will drain into the sewer.
This allows the chemicals to take effect. Make sure to repeat the process twice a year to keep the sewer lines open. You can pick up copper sulfate or sodium chloride at your local home improvement stores, like Home Depot and Lowes.
Use Epsom Salts to Kill Tree Stumps
Epsom salts are a common household item that is often used in footbaths but has plenty of other uses beyond the bathroom. You can use Epsom salts for plants to condition the soil in your garden, and in stronger doses can get rid of tree stumps and can act as an excellent weed killer.
If you have a felled tree stump in your yard, its roots could still be growing underground and searching for the water in your pipes and septic tank. Using an Epsom salts solution kills and rots the tree, including the roots that have found their way into your sewer lines.
Mix the Epsom salts and water in the bucket. Pour the solution over the top of the stump and around the most massive tree roots. Use a tarp to cover the tree stump. Repeat this process weekly until the stump dies.
Commercial Root Killing Chemicals
Professional plumbers use a mixture of foaming chemicals to deal with invading tree roots in sewer systems. However, you can purchase a less toxic combination, like RootX drain cleaner, to take care of the problem yourself. The product contains Dichlobenil, which is a safe ingredient to use and won't damage your septic system.
If your toilets and sewer system are regularly backing up, it could mean that you have tree roots in the pipes that are blocking the flow of the drains. Hiring a professional plumber to deal with this issue can get expensive.
You can take care of the issue yourself with an effective, homemade root killer for sewer lines. These simple recipes will kill the roots growing in your sewer system.
Recipe for Homemade Root Killer for Sewer Lines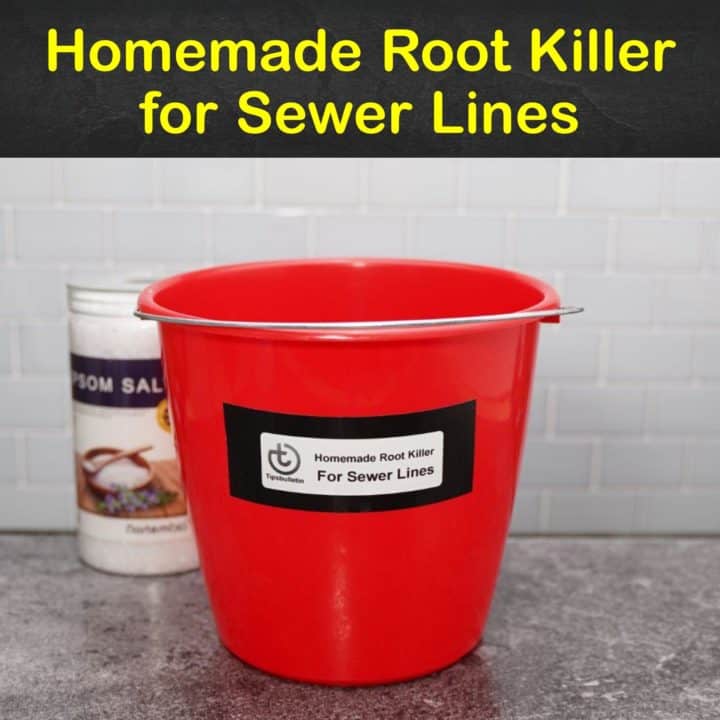 Homemade Root Killer for Sewer Lines
An all-natural and cost-effective solution.
Materials
1-gallon water
4 pounds of Epsom salts
Tools
Bucket
Heavy plastic sheet
Instructions
Pour the water into the bucket.
Add Epsom salts and stir well.
Carefully pour the mixture over the tree stump and exposed roots.
Cover the stump and roots with plastic and weigh down the edges.
Check weekly for progress and repeat as often as it takes to get rid of the stump and roots.
Notes
To speed the process, drill some holes in the top of the stump and roots above ground before applying the root killer.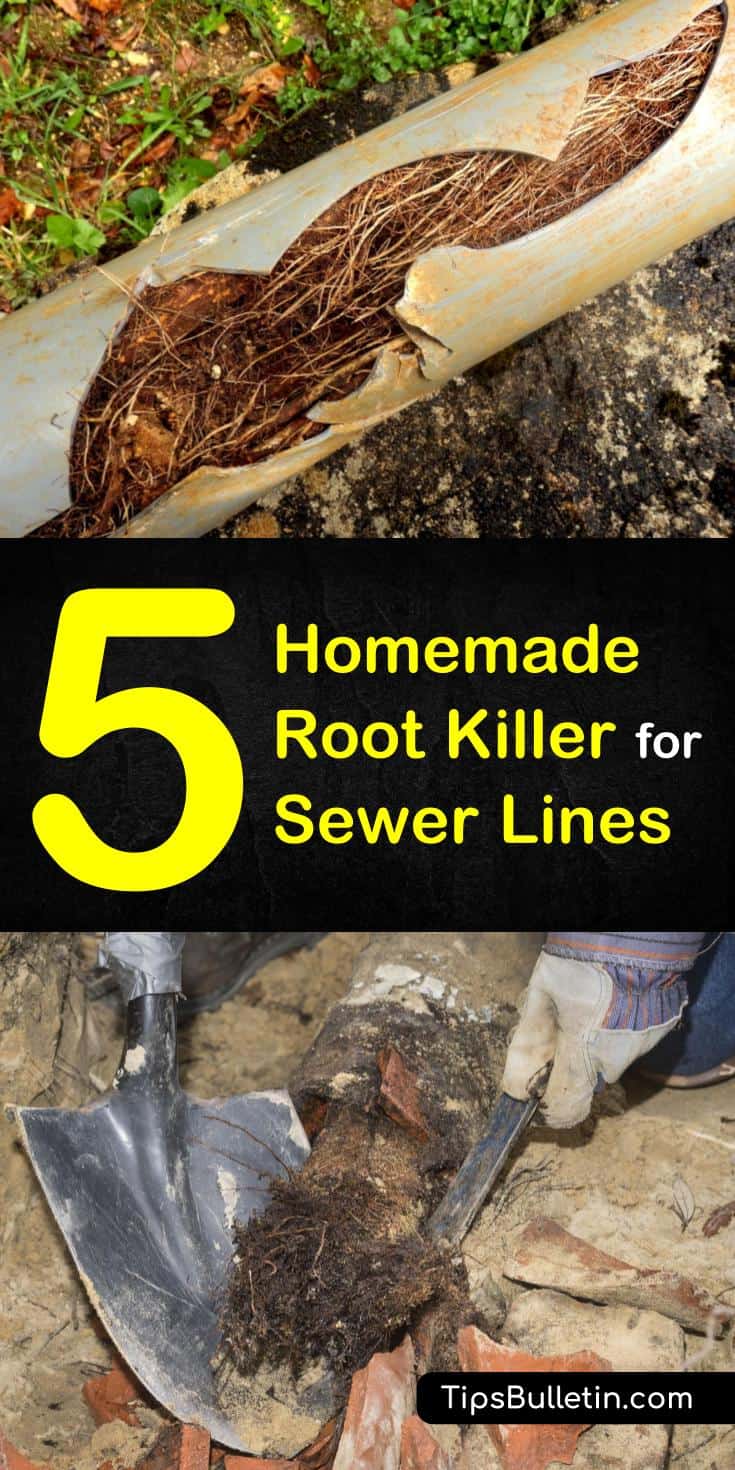 We hope you enjoyed learning how to make a homemade root killer for sewer lines. If you found these tips useful, please feel free to share the root killer recipes with your family and friends.