Teak is a beautiful wood that many homeowners invest in due to its visual appeal and durability. While it may be a fade-resistant and robust wood, teak does need regular cleaning and maintenance to prevent mildew growth and discoloration. Learn how to make homemade teak cleaner to remove stains and protect it from fading.
If you have outdoor wooden furniture, then chances are it's made out of teak. This type of wood is naturally more resistant to damage from the elements and is a common wood in decks, patio furniture, and other outdoor uses.
While teak may have some resistance to fading and other forms of damage, this tropical hardwood is more expensive than other woods and needs special care and cleaning to ensure that it stands the test of time.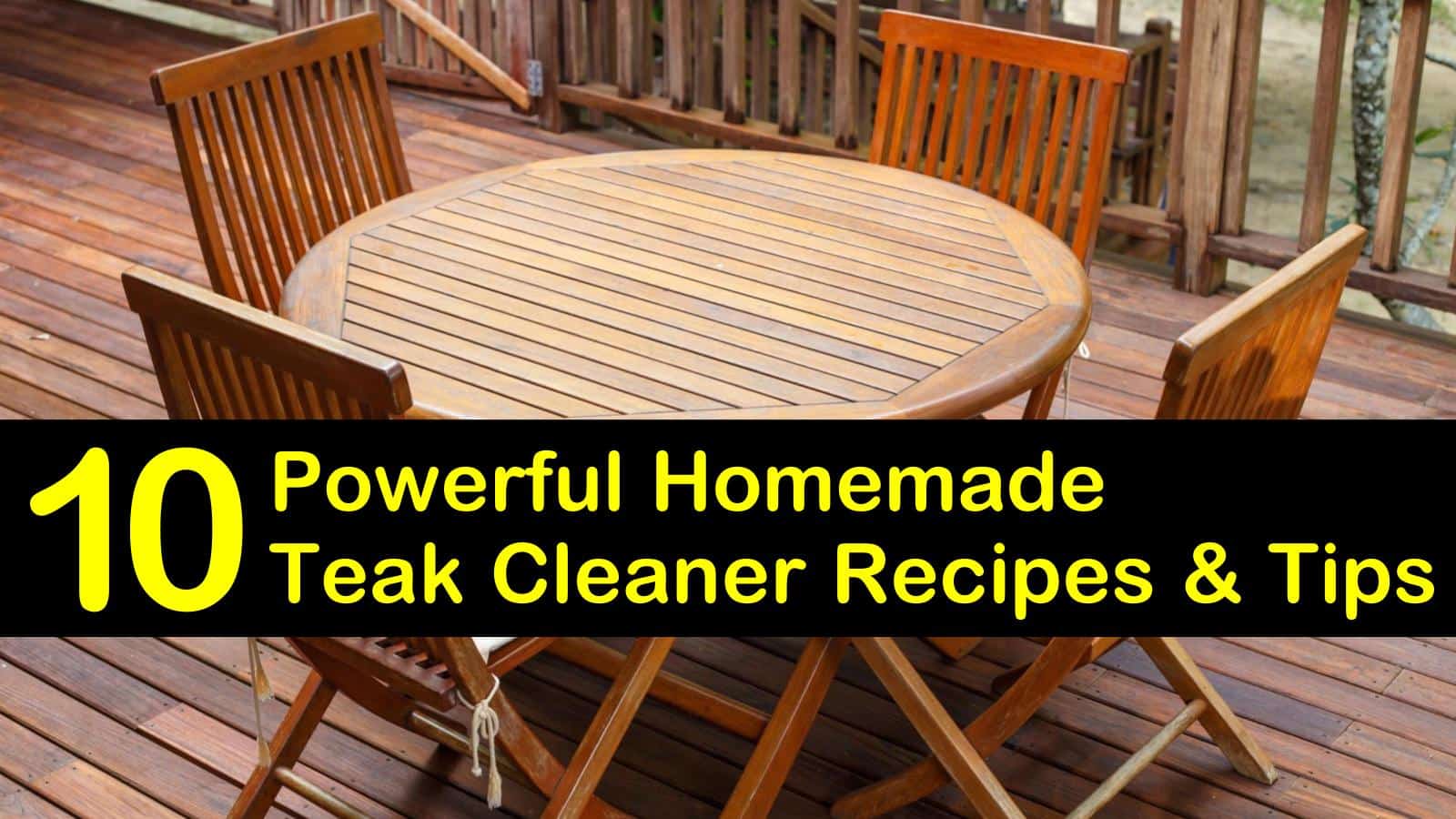 DIY Teak Cleaner
Learn how to perform regular cleaning and deep cleaning on outdoor furniture or indoor teak furniture using the right teak cleaning solution. Make a homemade cleaner using vinegar and remove patina using bleach. Finish the job by treating the wood furniture with teak oil to prevent future damage.
Preparing Teak Wood for Cleaning
Teak patio furniture and decks may accumulate more than everyday dirt, such as leaves, twigs, and loose debris. Here are a couple of steps to perform before cleaning outdoor wood with a liquid cleaning solution.
Use a broom to sweep away significant bits of dirt, pine needles, and leaves from the patio furniture and deck. Inspect the wood for other debris such as bird poop or seeds wedged between the wood. Use dry rags to wipe as much of this debris off the teak as you can.
Dry Cleaning Teak Wood
Relatively new and unstained teak wood furniture still needs proper cleaning. Performing routine cleaning means that you don't have to get out stronger cleaning solutions in the future.
After sweeping large bits of debris from the teak wood, use a soft-bristle brush to scrub the wood surface in sections from top to bottom along the grain. Use mild elbow grease to dry scrub areas that show discoloration and dirt build-up. Spray the wood with clean water to rinse away the loose dirt.
Making Teak Deck Cleaner to Remove Patina
Over time, teak decks and wooden patio furniture get a weathered silver-gray look. Use a teak deck cleaner to remove weather-related patina, brighten teak wood, and clean away the build-up of grime.
To make the best deck cleaning solution when your deck is made of teak, put on the gloves and protective glasses and combine one part chlorine bleach and three parts liquid laundry detergent in a bucket. Add two teaspoons of trisodium phosphate to the cleaner and mix.
Apply the cleaning solution to the wood with a scrub brush and work in sections to scrub away dirt. Move from section to section while cleaning and reapply the cleaner to previous areas to prevent drying.
Use a hose to rinse the deck with clean water, making sure to completely get rid of the cleaner residue. Use the scrub brush to scrub any missed or stubborn dirty areas as you rinse. Allow the decking to air dry.
Homemade Teak Cleaner Recipe for Routine Cleaning
Clean teak wood regularly to remove accumulated dirt and grime and prevent mildew growth. Use this basic teak cleaner recipe for routine cleaning of teak furniture.
Fill a large bucket with warm water and add several squirts of dish detergent. Swish the solution around to mix and dunk a sponge into the cleaner.
Begin at the bottom of the furniture and apply soapy water to the wood to scrub away dirt using a circular motion. After the entire wood surface is clean, use a hose to spray all of the soapy water residue away. Allow the furniture to air dry.
How to Restore Boat Teak Wood
Teak wood on boats is known for developing dark stains due to the elements. Use a boat teak cleaner followed by oxalic acid as a one-two punch process to eliminate black staining from boat wood.
Combine three parts laundry detergent to one part chlorine bleach in a bucket and use a brush to apply the solution to the boat wood. Scrub the cleaning solution into the teak wood by going along the grain. Let it rest for about ten minutes before rinsing away with clean water.
Sprinkle oxalic acid onto the wet wood and let it sit for a few minutes. Use a bronze wool pad to scrub away tough stains. Do not use a steel wool scrubber because it leaves rust particles in the wood. Rinse the wood thoroughly again with clean water and allow it to air dry.
Removing Tough Stains from Teak Wood
You may use a power washer to clean away mildew and stains from many surfaces, but you cannot use it to clean teak. It can cause cracks in the wood, which leads to further damage. Instead, use a teak cleaning solution of bleach and detergent to clean away tough stains.
Put on rubber gloves and pour the bleach and water into a bucket. Dip a paint brush into the solution and paint the cleaner onto the wood. Allow it to rest for 15 minutes.
Use a scrub brush on badly stained areas, making sure to go with the wood grain. Rinse the wood thoroughly with clean water and allow to air dry.
Cleaning Teak Furniture to Remove Mildew and Stains
While teak wood is generally resistant to fading, this doesn't mean that it's resistant to dirt and mold. Make a cleaning solution of white vinegar, dish soap, and water to clean away mildew and grime or to remove water rings from teak wood.
To clean teak furniture, combine the water, vinegar, and dish soap in a spray bottle and shake gently to mix. Spray the cleaner onto all parts of the furniture and allow it to sit for five minutes.
Use a scrub brush with soft bristles for scrubbing away water stains, mildew, and scum, and finish by rinsing the wood from top to bottom so that the soapy solution rinses downward. Allow the wood to air dry.
Try this simple remedy when you are removing sap from wood, whether teak or another type. If the stickiness doesn't come off, you may need to sand it.
Sanding Away Tough Stains on Teak Wood
Teak wood furniture and decking that have gone too long without proper care and cleaning may need more than just a scrub brush and cleaner. This method is particularly effective as the best way to clean old wood furniture that has been neglected for a while.
Carefully sand and oil teak wood to give it a fresh, new look and make it appear as if it just came off the showroom floor.
Make sure to use fine-grit sandpaper for sanding the teak wood. Work in sections and rub the sandpaper with the grain of the wood to prevent scarring.
Apply even pressure as you move along the furniture or decking. Use a sanding wedge to get into corners and hard to reach areas. Finish by wiping the wood clean with a tack cloth.
Painting Teak with Oil
To bring out the natural patterns and golden beauty of teak wood, paint it with teak oil. Doing this also brings out natural oils and may help it fight mildew and prevent UV rays from damaging the wood.
Clean teak wood thoroughly before applying teak oil to the surface. Use a teak wood oil with a base of either linseed oil or tung oil.
Use a paint brush to apply several coats of the oil to the surface, making sure to wipe up excess oil as you go along. When the wood is sufficiently covered, it has a matte appearance with no shiny areas.
Protecting Teak with Sealer
After cleaning and oiling teak wood furniture and decking, protect teak by using a sealer. Applying a sealer helps teak furniture and decking keep their natural golden color.
Before sealing teak wood, place the furniture in the sun for approximately two weeks to open up the wood grain and help the sealer adhere. Work in sections and spray the sealer onto the surface. Rub the sealant into the wood with a lint-free cloth. Reapply once a year.
Teak wood can add beauty to your home, both inside and out. The key to keeping your deck or patio furniture from discoloration is to perform a deep clean, followed by regular, routine cleaning.
The final touch to refinishing your teak wood is to make sure that you protect your deck and outdoor teak furniture by using natural oils. Following these steps ensures that your wood furniture remains as vibrant and stunning as when you bought it.
Recipe for Homemade Teak Cleaner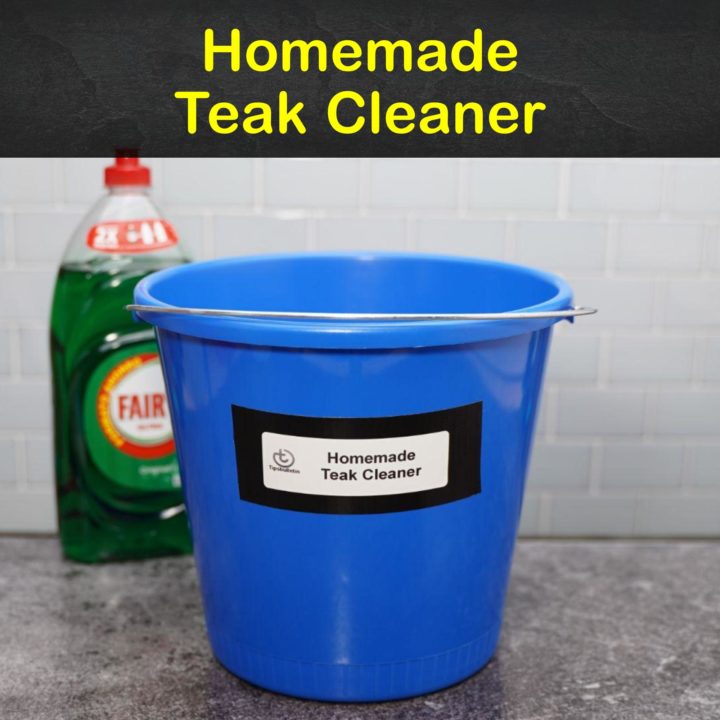 Homemade Teak Cleaner
Bring back the natural teak shine with this easy cleaning recipe.
Materials
1 gallon of warm water
4-6 squirts of dish soap
Tools
Bucket
Sponge or rag
Water hose
Towel
Instructions
Pour warm water into a cleaning bucket.
Add 4-6 drops of your favorite dish soap.
Stir well to mix.
Dip a rag or sponge into the solution and wipe down your teak furniture or other item. Be sure to get in all the cracks.
Spray with the water hose to rinse.
Wipe dry or allow to air dry.
Notes
Use an old toothbrush for easier access to tiny areas.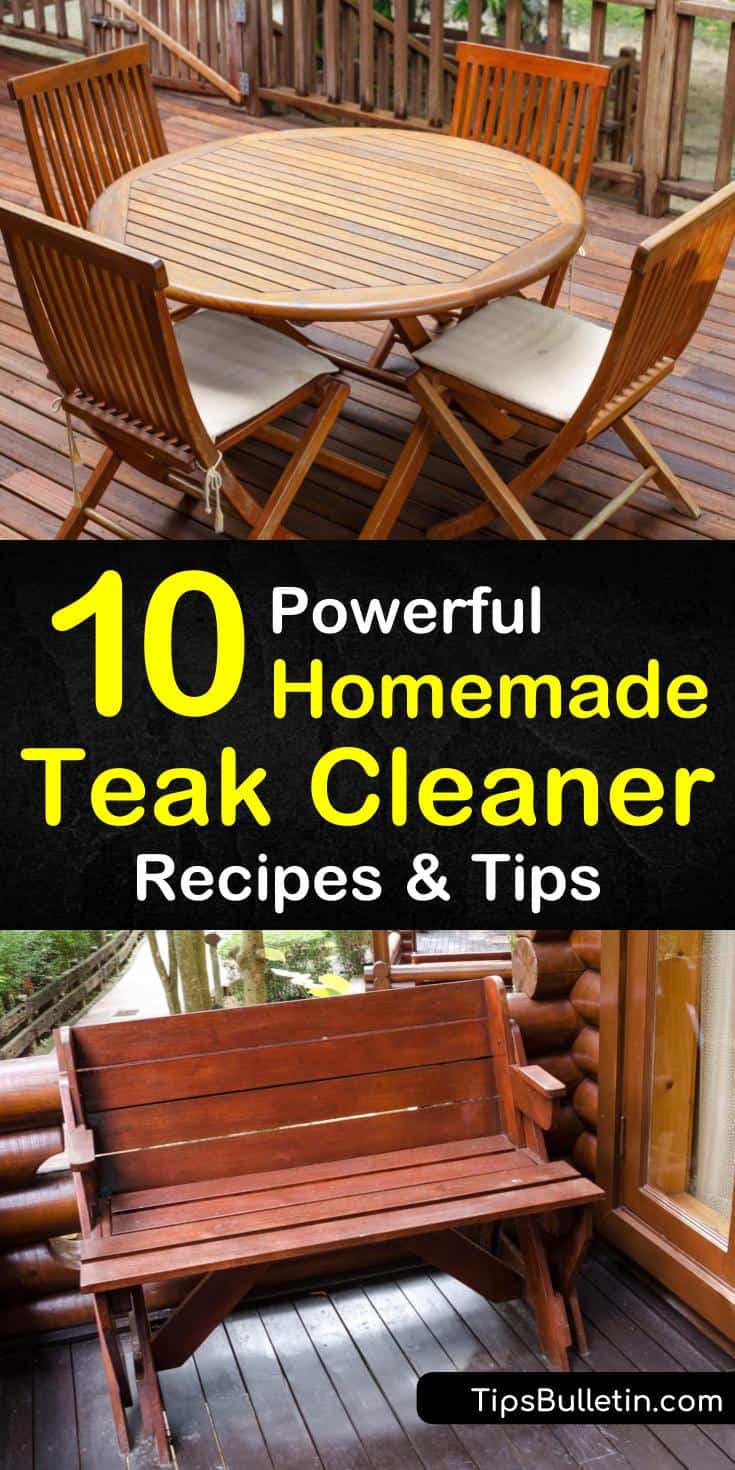 Making a homemade teak cleaner is easy once you know where to start, so why not share these teak cleaning tips and recipes with your family and friends on Facebook and Pinterest?