It's inevitable, if you have windows in your home, they are going to get dirty. However, before you reach for a commercial window cleaner to return them to their original sparkling shine, consider using a natural, nontoxic, homemade window cleaner.
The commercial window cleaners on the market are full of toxic chemicals that are unsafe and are contributing to environmental damage and issues with indoor air pollution.
There are many household ingredients that you can use to make a homemade window cleaner that is more environmentally friendly and safer for your family. It is easy to make homemade window cleaner and only takes a few simple ingredients that you likely already have in your pantry.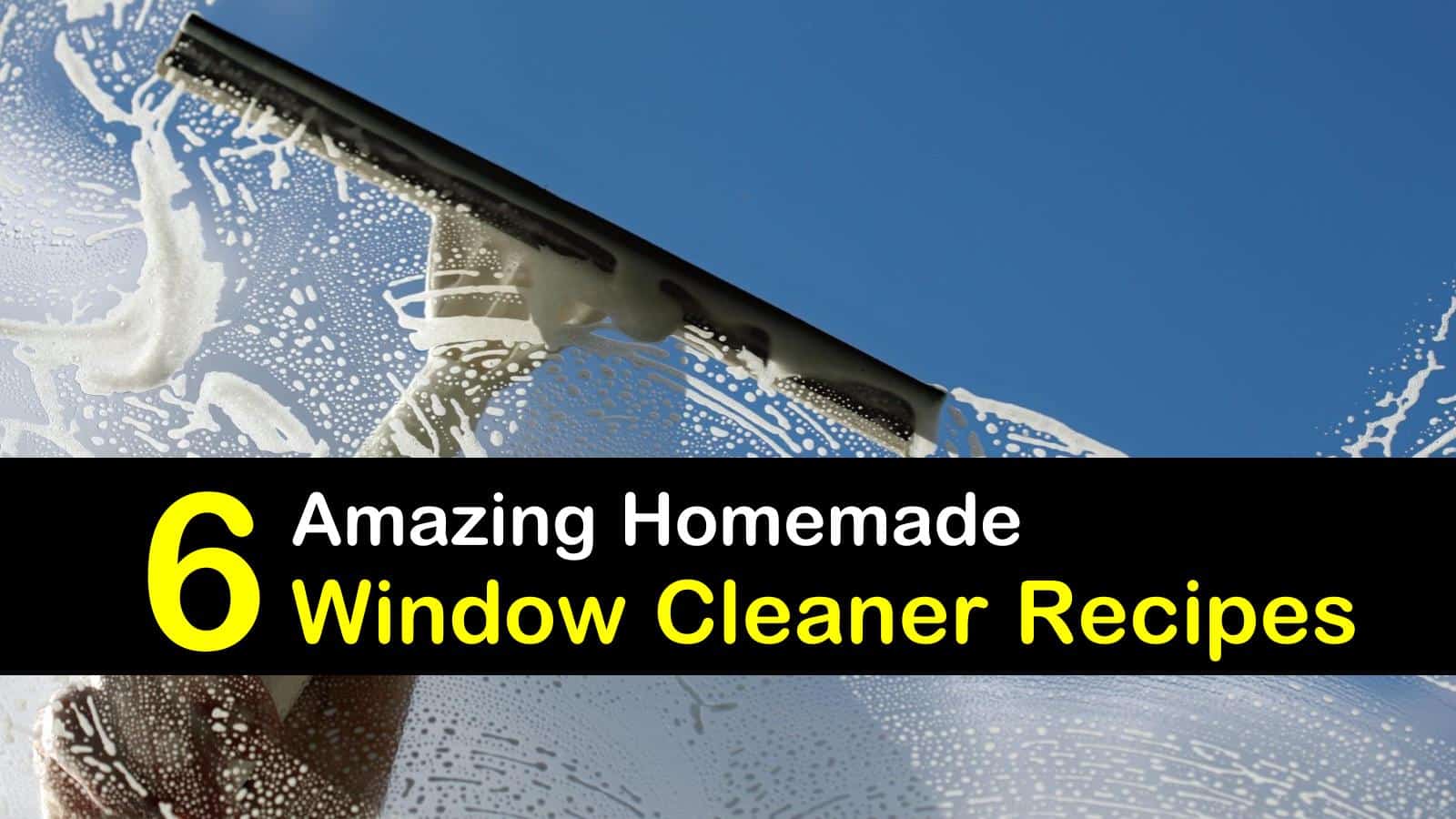 How to Make Homemade Window Cleaner
Making your window cleaner from natural ingredients in your home helps to remove the harmful toxins like propylene glycol, Mirapol Surf S-210, Liquitint Sky Blue Dye, and many others, from your house. Using natural ingredients that you find in your home, also helps to eliminate dangerous chemicals from damaging the environment.
Here are several great homemade window cleaner recipes that will not only get your windows clean but will save you money, as well.
DIY Streak Free Window Cleaner Recipe
One of the main complaints about many of the commercial window cleaners, other than the harsh chemicals, is that they tend to leave streaks on your windows.
This is where our homemade lens cleaner recipes come in. This recipe, which is similar to our homemade floor cleaner, uses several ingredients including corn starch, which is what reduces the streaking. You probably already have it sitting in your pantry.
Note: You can also use apple cider vinegar if you have that on hand.
In a glass spray bottle, combine all the ingredients. Shake well to ensure the solution is thoroughly mixed. It is essential to make sure the cornstarch is completely dissolved since it can clog the nozzle on your bottle otherwise.
Spray the solution on the windows and wipe clean. This solution may also be used in other applications around the house, including cleaning your oven glass.
This window accumulates lots of gunk, both inside and out, and can be challenging to clean if you have not taken care of it in a while. You may need to add a little extra pressure when scrubbing or try this method a couple of times before your oven glass is spotless.
Homemade Window Cleaner with Vinegar
You can make a general window cleaner using water and distilled white vinegar. The vinegar will remove any film that has developed on your windows and thoroughly gets rid of any smudges you might have while leaving your windows free of streaks.
Fill the glass spray bottle with all the ingredients and shake to mix thoroughly. Spray the solution on your windows and wipe clean with a lint-free cloth. If your windows are filthy, pre-wash them with soapy water to remove the dirt and grime.
Homemade Lemon Juice Window Cleaner
Lemon juice works a lot like vinegar. The acidic nature of lemon juice cuts through grease that may have accumulated on your windows and helps to polish the glass surface.
Mix the warm water and the lemon juice and pour it into a glass spray bottle. Spray the windows with the solution and wipe dry with a clean, soft cloth. Lemon juice is also the base ingredient for a very powerful homemade grout cleaner with baking soda.
DIY Ammonia and Cornstarch Window Cleaner
Ammonia is a suitable low-cost window cleaning alternative that cuts through dirt, fingerprints, and hard water spots. You can also use it to remove pine sap from car windows. This mixture is great for getting rid of all kinds of marks on your car windows.
Add the warm water, cornstarch, and ammonia to a glass spray bottle. Spray the windows with a light mist of the solution. Instead of using a soft cloth to dry the windows, use newspaper to prevent streaks from forming. Wipe the windows clean and wipe in one direction for a clearer window.
Homemade Car Window Cleaner
When driving, it is critical to be to see through your car windows. While you can use the same commercial cleaner that you use on your home windows, these tend to leave your car windows full of streaks.
With just a few household ingredients, you can make a car window cleaner that will leave your windows free of dirt and streaks.
Using a funnel, add the distilled water to a glass spray bottle. Next, add the rubbing alcohol and the vinegar. Reseal the container with the spray top and shake well. Spray the solution on your car windows and wipe clean with a microfiber cloth.
See our how to clean car windows article for more detailed instructions. We use this homemade car window cleaner a lot at home with our car carpet cleaner when we tidy up our car – ask my husband.
Speaking of the car, your windows are not the only crucial part of the car that should remain clear of debris for safe driving. Use this recipe as a headlight lens cleaner, too.
Hazy or foggy headlights can be dangerous at night or during inclement weather, so it's important to keep them clean. When you wash your car windows, be sure to clean the headlights at the same time.
Our Favorite – Best Homemade Window Cleaner
Our absolute favorite best DIY window cleaner is one that you can create using ½ cup ammonia, one tablespoon liquid dish soap, one pint rubbing alcohol and a ½ gallon of water mixed.
The tough cleaner will clean indoor and outdoor windows and cut through grime, grease, dirt, and more. This recipe also serves as an effective homemade whiteboard cleaner to get rid of lingering marker residue.
How to Clean Your Windows
Cleaning your home's windows doesn't have to be a difficult task. With the right tools and the following tips, you can quickly and easily clean your windows and avoid leaving streaks. You'll need the following materials and equipment to do the job properly.
When you are cleaning your windows, you need to choose a time of day when the sun isn't shining directly on your windows. If the cleaning fluid dries too quickly, it will leave streaks and water spots on your windows.
Using the brush, dust away loose dirt and cobwebs, making sure you get the sills, hinges, and tracks. In a small bucket, mix one cup of hot water with one cup of white vinegar. Using the sponge, wet the window with the vinegar and water solution. Rub the area to get rid of any dirt on the area.
Wet the squeegee. Starting in the upper corner of the pane, bring the squeegee down in a straight stroke. Return to the top of the window and repeat the step. Make sure you are wiping the squeegee on the sponge or a dry, lint-free cloth after each stroke.
When you are finished, draw the squeegee across the bottom of the window and, using the sponge or cloth, dry the window sill. Dampen a cloth with the all-purpose cleaner and wipe down the window frames.
Rinse them with water and immediately dry with a clean, dry towel. Take your time and make sure that you are drying the area with a clean lint free cloth to avoid streaking.
Commercial Alternatives
While vinegar tends to be the best homemade window cleaning product, you may not want to spend the time making any of the homemade window cleaning recipes listed above. For that, here is a list of the best commercial window cleaning products that you can purchase from Amazon.
Best overall commercial window cleaner –Windex has time and again proven that it is the best overall window cleaner. Both the original Windex and the no-drip, streak-free version is excellent for cleaning your windows of dirt and grease and leaving them free of streaks.
You can use it on both the inside and outside of your windows and can tackle tough grime instantaneously.
Best low-cost window cleaner -If you are looking a less expensive, but powerful window cleaner, you can try Glass Plus. This cleanser is excellent on grease and grime and is less costly than some of the other window cleaning products on the market. This inexpensive product does a great job on both the inside and outside of your windows.
Best natural window cleaner – If you want a window cleaner that is created from natural ingredients, Seventh Generation natural glass and surface cleaner is an excellent choice.
While this product doesn't do as good of a job as the other cleaners listed above, it is made from all natural ingredients making it not only safe to use around your family, but it is environmentally friendly as well.
Best smelling window cleaner – The cleaner that smells the best is hands down Method natural glass cleaner. This cleanser can stand up to the toughest messes on both the inside and outside of your windows.Plus, the soft mint smell makes a nice change from the other overpowering glass cleaners.
Having clean, streak-free windows doesn't have to be a pipe dream. With the homemade recipes found in this article, you can quickly clean your windows, leaving them sparkling and free of streaks.
The best part of making your homemade window cleaner is that you are using natural ingredients that won't leave any harsh residue, keeping your family and the environment safe and free of chemicals.
We've shown you several recipes for making homemade window cleaner and provided you with several suggestions for commercially produced window cleaners that you can purchase.
Recipe for Homemade Window Cleaning Spray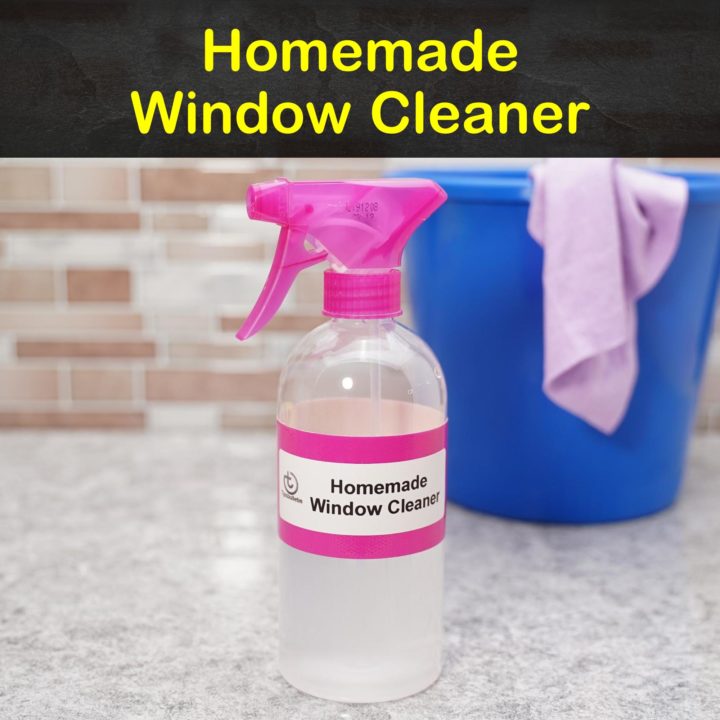 Homemade Window Cleaner
Making glass sparkle has never been easier!
Materials
2 cups water
12 drops orange essential oil
1/4 cup isopropyl alcohol
1/4 cup vinegar
1 tbsp cornstarch
Tools
24-ounce glass spray bottle
Measuring cup
Microfiber cloths
Tablespoon
Instructions
Add the ingredients to the sprayer.
Shake well to combine.
Spritz glass surfaces.
Wipe with a microfiber cloth.
Notes
You can substitute apple cider vinegar for white vinegar.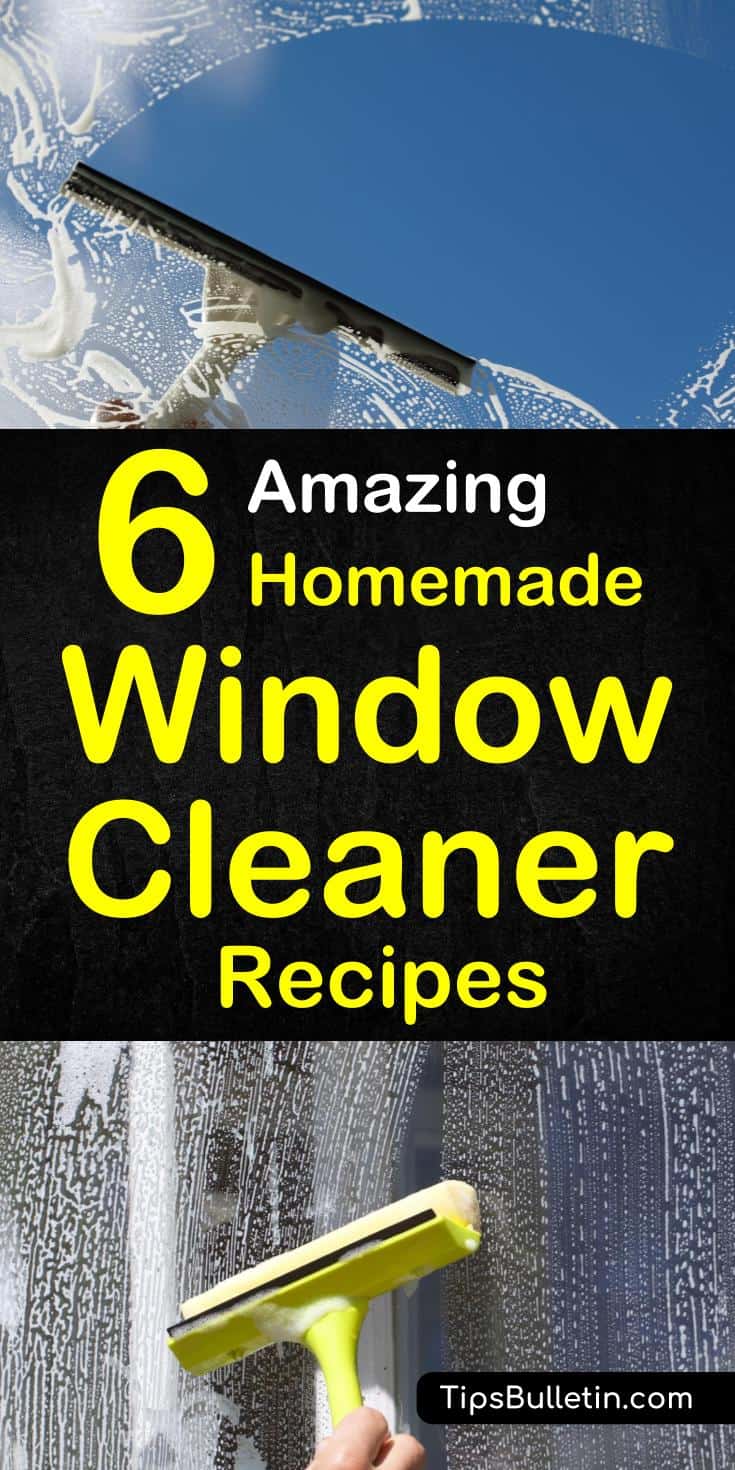 We hope you found the article about homemade window cleaner recipes helpful, and as always, if you know someone who would enjoy learning how to make their own window cleaning solutions, please feel free to pass it along on Facebook and Pinterest.