Are you confused about how to clean a sheepskin rug? Investing in a sheepskin rug for your living room or bedroom is exciting. These natural carpets add character and interest to any space and make an excellent place to read or relax. Despite being visually appealing, sheepskin is challenging to care for without the proper knowledge.
Like all natural materials, sheepskin requires careful maintenance to keep it looking its best. It's prudent to keep food and drink away from your rug, but if the worst happens and you have a spill, it's time to find out how to get stains off a lambswool rug.
Fortunately, cleaning a sheepskin rug isn't hard. Before beginning, it's important to note whether you have a faux sheepskin, a Sherpa rug, or natural, authentic sheepskin. Don't waste money on toxic and expensive chemical sheepskin cleaners. Use helpful tricks to clean your sheepskin rug with products you already have.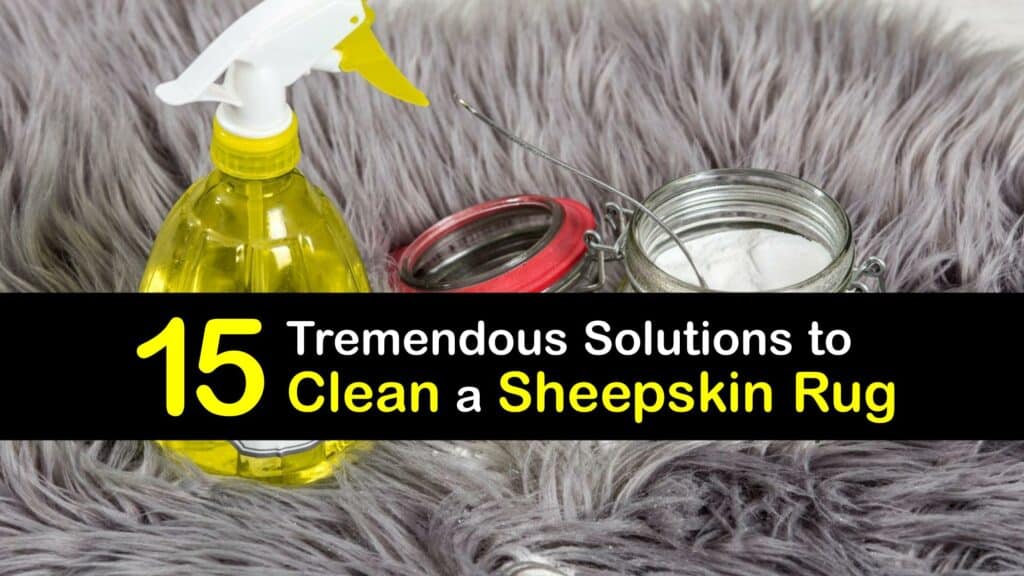 How to Get Stains off a Lambswool Rug
Finding out how to clean a sheepskin rug correctly is crucial to prevent accidental damage and ensure its longevity. Sheepskin is a worthy investment, and with proper care, it's a lovely and stylish centerpiece that lasts years.
Follow our instructions for cleaning a sheepskin rug with a washing machine, a vacuum, hydrogen peroxide, white vinegar, baking soda, dish soap, cornstarch, store-bought products, or dry cleaning.
What Is Sheepskin?
Sheepskin is also known as lamb skin and is derived from the hide of a sheep. Sheepskin is characteristically fluffy and woolly on one side, with soft, supple suede leather on the other. The wool side is typically placed facing upward in rugs for a smooth, luxurious surface and to add style.
Where most hides are stripped of hair before tanned, the sheepskin rug is a piece of leather tanned with the wool fiber intact. The tanning process alters the protein structure of the skin to make it hardwearing and ready to withstand foot traffic in the home. Some sheepskins are dyed to make the rug color more appealing.
Natural vs Faux Sheepskin Rug Properties
Faux sheepskin or Sherpa is produced with chemicals and takes many years to break down in a landfill. The fake wool fibers are glued to a base fabric and look blunt, with noticeable ends where the threads were cut during manufacturing.
Although a faux rug is generally easy to wash and care for, it traps bacteria in the synthetic wool fibre, sheds hair, and is less adept at insulating and self-cleaning than natural wool.
Real wool fibers maintain shape and stay soft longer than their manufactured counterparts. Natural sheepskin rugs like Icelandic sheepskin are incredibly dense and retain their loft and fluffiness longer. Both regular and medical sheepskin is non-flammable, breathable, and non-shedding.
Sheepskin Rug Care Tips
Sheepskin is incredibly simple to maintain. The fiber's special structure keeps it naturally durable and holds dirt at bay. Yet, a little consideration and extra care ensure your rug remains in peak condition. Although sheepskin is tough, it's quickly damaged when used or stored improperly.
Observe some basic rules for sheepskin to prolong its lifespan. Avoid laying your dyed sheepskin rug in the sun to prevent UV fading on darker-colored items, and keep the wool soft. Shake your rug often to keep the fibers erect, and routinely dry vacuum rugs. Never clean your rug with bleach or harsh enzyme cleaners.
Addressing Spills on a Sheepskin Product
Keep drinks away from your sheepskin rug wherever you can. Clean up liquid spills as soon as they occur to avoid giving them a chance to soak in. Pigments chemically bond with wool fiber to cause staining. Once this bonding occurs, removing the stain from the wool pile is more challenging.
Clean spills and soiling immediately. Never clean by rubbing, brushing, or massaging wool skin products if damp. Instead, lift the spill with a soft cloth and gentle blotting motion; pressing too hard forces the stain deeper into the wool.
How to Clean a Sheepskin Rug in the Machine
While machine washing is possible for sheepskin, your rug can only withstand so many trips through the washing machine during its life. It's vital to use machine washing extremely sparingly and as a last resort after spot cleaning.
Carefully place your sheepskin rug into the washing machine and run a warm water wash cycle. The ideal temperature for washing sheepskin is about 100°F. Use a small measure of mild and colorless liquid detergent or dish soap.
Air dry your sheepskin on the clothesline or by laying it flat where it will not be in direct sunlight. Periodically stretch out your sheepskin as it dries to avoid unwanted shrinking.
Cleaning a Sheepskin Rug With a Vacuum
Your vacuum cleaner is the perfect tool to remove dirt from a Sherpa rug or natural sheepskin carpet. Vacuuming speeds up and takes the labor out of the carpet cleaning process. It can do the same for removing dirt particles from your sheepskin rug.
Use regular suction to collect lint, dirt, and dander from between the wool fibers and freshen up the pile without using excess water. Vacuum cleaners with rotating brush heads or turbo suction motors tend to be too rough. They might damage the wool fibers as you clean them.
If you're unsure if your vacuum is safe on your sheepskin rug, test it on a small area first. If you notice the vacuum is leaving frizziness or altering the appearance of the fibers, switch to a lower suction or try a different vacuum cleaner.
Hydrogen Peroxide for Spot Cleaning
Hydrogen peroxide is an oxidizing solution that tackles discoloration with natural oxygen to brighten it. Hydrogen peroxide is an excellent tool to remove blemishes while hand cleaning a long fiber area rug. If you didn't notice a spill on your sheepskin when it happened, craft this clear stain removal spray to erase it quickly.
Measure and transfer the peroxide and water into the spray bottle and swirl to blend. Mist the peroxide over the stain, leave it for ten minutes and use a sponge to soak up any excess liquid. Let your rug dry and inspect the patch.
If evidence of discoloration persists, repeat the peroxide cleaning. Hydrogen peroxide is inappropriate for dyed or dark-colored sheep's wool as it may fade.
White Vinegar Cleans Wool Fiber
Distilled white vinegar is a natural and safe cleaner for a sheepskin rug. Use vinegar to clean urine smells off carpets and rugs. The acetic acid in distilled white vinegar, or cleaning vinegar, is mild and won't harm the fibers as it destroys staining. It's essential to dilute the cleaning vinegar with water to avoid drying out the leather backing of your sheepskin rug.
Stir the vinegar and water in the mixing bowl, dip a clean cloth into the liquid, squeeze it out, and dab the discoloration. Let the vinegar and water mixture sit on the wool pile for a few minutes, blot with a cloth dunked in clean water, and leave the rug to dry. Repeat the vinegar cleaning if required until the dirt is gone.
Freshen Your Rug With Baking Soda
If you remove the stains from your sheepskin rug but notice a lingering odor, baking soda helps. Baking soda is a well-known deodorizer, and since it's a food-grade product, it's safe for children and pets. Baking soda draws in unpleasant odors, so you can lift them once you clear up the powder.
Lay your rug flat and cover it with a fine layer of baking soda powder. Allow the baking soda to stay on the wool fibers for at least two hours, ideally overnight. In the morning, vacuum the baking soda with a gentle suction setting. Take your rug outside to shake it off and lay it back out.
Dish Soap Wool Wash
Grab the liquid dish soap from the kitchen if you need the perfect mild detergent to spot-clean your sheepskin rug. It's crucial to never use soaps with bleach or enzymes, as these may degrade the wool pile.
Dish soap eliminates blemishes without altering the structure of the wool, making it ideal for cleaning localized messes on your carpet. Mix dish soap and water for a cost-effective and efficient sheepskin cleaner.
Add the dish soap and water to the bowl, agitate until bubbly, and dampen a cloth with the soapy water. Move the fabric slowly over the fibers to lift the stain, taking care not to apply too much pressure.
Once the color lifts, leave the rug to dry. Choose a dye-free liquid dish soap for cleaning your sheepskin rug. Colorants and dyes could accidentally stain your carpet during the cleaning procedure.
Cornstarch Stain Remover
Cornstarch is an unexpected remedy for removing stains from a white wool rug. It's a great stain remover for coffee on a rug or carpet, as it soaks up the excess liquid. Cornstarch or potato starch is excellent for sucking up liquid spills on your sheepskin or cleaning up old marks.
To use cornstarch to get wetness out of your rug, first soak up as much as possible by patting gently with paper towels. Sprinkle a layer of the starch powder over the area, leave it overnight, and vacuum away.
Craft a paste from cornstarch and water to use as a stain remover. Use equal amounts of powder and water to get a thick, not sloppy, paste. Spread the paste on the sheepskin and leave it to dry. Gently brush and shake or vacuum up the dried starch, lifting dirt from the rug.
Commercial Sheepskin Detergent
A wide range of sheepskin cleaning products keeps your Icelandic sheepskin rug in top condition. Look for a sheepskin shampoo or stain remover appropriate for the type of rug you have, either faux sheepskin or natural.
Choose a cleaner listed as suitable for dyed or undyed sheepskin, and for the stain you're trying to remove. Always use store-bought sheepskin cleaners following the instructions, and perform a test spot before using it on your entire sheepskin rug.
Dry Cleaning Sheepskin
If you don't have much time or aren't comfortable getting stains off a sheepskin area rug yourself, consider taking it to your local dry cleaner. Dry cleaners use a potent chemical solvent to illuminate heavy staining without water.
Dry cleaning is entirely safe for sheepskin and guarantees no harm will come to your rug during the cleaning process. Ensure the dry cleaner you choose is comfortable working with sheepskin and knows whether your rug is a natural product or Sherpa.
Tricks for Keeping Your Rug Fluffy
Nothing is more luxurious than a sheepskin rug. Regular vacuuming is crucial if you want your sheepskin to stay fluffy. Your mat won't be as prone to flattening out if you stay on top of this from the beginning. Giving your rug a frequent shake outside is vital to keeping the fluffy texture.
How often you need to shake out your rug and how soon the fibers flatten out depends significantly on how often you use it. A metal bristle brush is handy to give the fibers support over time. A metal brush untangles the wool but may give your rug a frizzy appearance.
Test it on a corner first to ensure you like the result before brushing your carpet. To decrease the frizz, use a spray bottle of water and scrunch the wool in your hands after lightly brushing.
Storing Your Sheepskin Wool Rug
Storing your sheepskin rug correctly ensures it's just as soft and luxurious as you left it when you unpack it later. Thankfully, sheepskin rugs are easy to store. Vacuum and shake out your mat.
The most crucial storage tip for sheepskin goods is to ensure they're entirely dry before putting them away in a cool, dry environment, out of sunlight. Sheepskin rugs roll up neatly. Protecting the wool fibers by rolling them with the suede facing outside keeps them looking luscious longer.
Did this article help you determine how to get stains off a lambswool rug? Sheepskin rugs are a beautiful addition to a room and last dozens of years if correctly cared for. If you had a spill on your sheepskin rug, use our clever tips for removing stains to keep your sheepskin rug clean, soft, and fluffy.
If you loved this comprehensive article on how to clean a sheepskin rug, please share this advice for cleaning a sheepskin rug with your family and friends on Pinterest and Facebook.